F
or virtually as long as there has been money, something has been required to hold it. In modern times, that job has fallen to the humble wallet, something truly essential that no man can do without. It's part of that morning ritual of 'phone, wallet, keys', that we all fall into eventually. The design of the wallet needed to change. This led to the rise of titanium wallets for men, which are quickly becoming quite popular.
It makes sense too. Wallets are designed to keep our money and cards safe, with a quality wallet being dependable, familiar, and robust.
Something straight out of a James Bond movie, titanium wallets are seemingly futuristic. They're suave, sophisticated, and look like they can stop a bullet in its tracks. Although with the slim and lightweight design of most titanium wallets, that's not something that should be put to the test.
You might be the type to be eager for the big 'gadget reveal' in the latest spy movies. If so, pay close attention to this rundown of the top 12 titanium wallets for men as a perfect guide for you.
Titanium wallets for men are for the modern gentlemen who highly values strength and practicality in their wallet choice. Gone are the sections for dimes and nickels, and in are large card holders and plenty of room for bill storage. A chosen titanium wallet might just be able to replace a few essentials in your toolbox.
Make sure that you never have to wait a second longer than what's strictly necessary to crack open a beer.
Perhaps, you've been holding onto your old leather bi-fold wallet for too long. Maybe you're just wanting to understand what all the fuss is about with today's 'minimalist' wallet trends. Either way, read on.
What Are the Main Things to Consider When Looking Into Titanium Wallets?
If you're new to the innovative world of titanium wallets for men, then you may be feeling a little lost as to just what you should be looking for when buying the best titanium wallet for your needs. Once you've given our list of top 12 titanium wallets for men a read, we're sure that you'll have a better idea.
Especially to what makes each individual style of wallet stand out. For now, here are the top four things to consider when picking out a new titanium wallet:
Card Capacity:
One of the biggest deciding factors of any new wallet is whether it's going to be big enough to fit in everything you need. For titanium wallets, this can easily be judged on the card capacity of the wallet. Overall capacity varies, as there's a lot of variation between brands.
Some may hold a few cards and others might hold around twenty.
If It Holds Cash:
Some titanium wallets are designed to hold cash, either internally or via money clip or band. However, not all offer the same function. When checking out titanium wallets for the first time, the safest bet is to always check whether the wallet can hold bills.
If that's something that is a deal-breaker for you, you'll need to find the one that best suits you.
If It's RFID-Resistant:
Radio Frequency Identification (RFID) is a security concern for many people. It can allow an electronic form of pickpocketing to take place. It's always worth checking to see if a wallet offers some form of protection against RFID. If it doesn't, you'll need to weigh the pros and cons of RFID blocking over easier ID card accessibility.
Bands & Fastenings:
Some titanium wallets for men have elastic bands whilst others have fabric brands. Some even have none at all. The fastenings are almost always going to be weaker than the titanium chassis of the wallet. That means it's important to make sure they're either protected or made from a high-quality material.
What Are the Main Benefits of Buying Titanium Wallets For Men?
Going from traditional wallets to titanium wallets is a big move. It's like switching from normal soda to diet soda or trying out the light version of your favorite beer for the first time. You may have heard good things but it's difficult to be convinced until you experience the change for yourself.
When it comes to titanium wallets for men, the change is all about moving from the bulk of a traditional wallet to something sleek, streamlined, and incredibly minimalist. Here are a few of the benefits of buying a titanium wallet:
Thin & Lightweight:
Titanium weighs more than aluminum but a lot less than steel. Many titanium wallets are incredibly sleek with slim panels and lightweight bands. This makes them a great option for a wallet that weighs just a few ounces.
Strong & Durable:
For a hard-wearing and strong wallet, titanium is a prime choice of material. Titanium is generally stronger than steel and it can outperform aluminum when it comes to toughness. You'll often find that wallets made from titanium are also resistant to issues like rust and corrosion.
Better Security:
Many titanium wallets are designed to be RFID resistant. This helps to protect your cards from electronic pickpocketing. Generally, the fastenings used to keep titanium wallets together are very secure. They use tension to keep cards and cash between titanium plates.
The incredible strength of titanium is another beneficial security measure. It alone can help to stop cards from getting damaged.
Extensive Options:
Titanium wallets are available in a vast range of styles and designs. They are offered in everything from a classic-looking wallet appearance to a much more futuristic aesthetic. Different brands have managed to take the innovative concept of a titanium wallet and create their own unique style.
They range on offers, including minimalist wallets, wallets with multiple functions, and decorative options.
Will Titanium Be Comfortable in My Pocket?
It's not often that you see 'titanium' and 'comfortable' in the same sentence. However, does that have to mean the two are mutually exclusive? Certainly not! Titanium may not be considered a comfortable material by anyone's standards. Yet that doesn't mean that a titanium wallet is going to be any more uncomfortable than a leather or fabric wallet.
You may find that titanium wallets for men might be even more comfortable to carry around than what you're used to.
Titanium wallets have a much more limited capacity than most standard bi-fold or similar wallet designs. Once you have everything safely stored inside the wallet, it's still going to be very small and compact.
Depending on the capacity of the wallet, you may not notice a difference at all between a titanium to a normal wallet. However, comfort can vary between the different wallet designs available and largely depend on what you're used to carrying.
Some of the wallets on our list have a very small capacity, whilst others are suitable for carrying anywhere between one card and twenty cards. The fewer cards that you carry, the less noticeable the wallet will be in your pocket. This is especially if you opt for one of the lightweight wallet models.
In terms of size, the general theme for most titanium wallets for men is not to greatly exceed the size of a bank card. That said, the wallet is unlikely to feel bulky or out of place.
With slim designs, curved edges, and thin plates, you should feel right at home with most titanium wallet styles in your pocket. Still not 100% sure whether a titanium wallet is a perfect choice for you? Read on to discover the best of what the market has to offer for titanium wallets today.
1) Calti Tactical Titanium EDC Minimalist Slim Wallet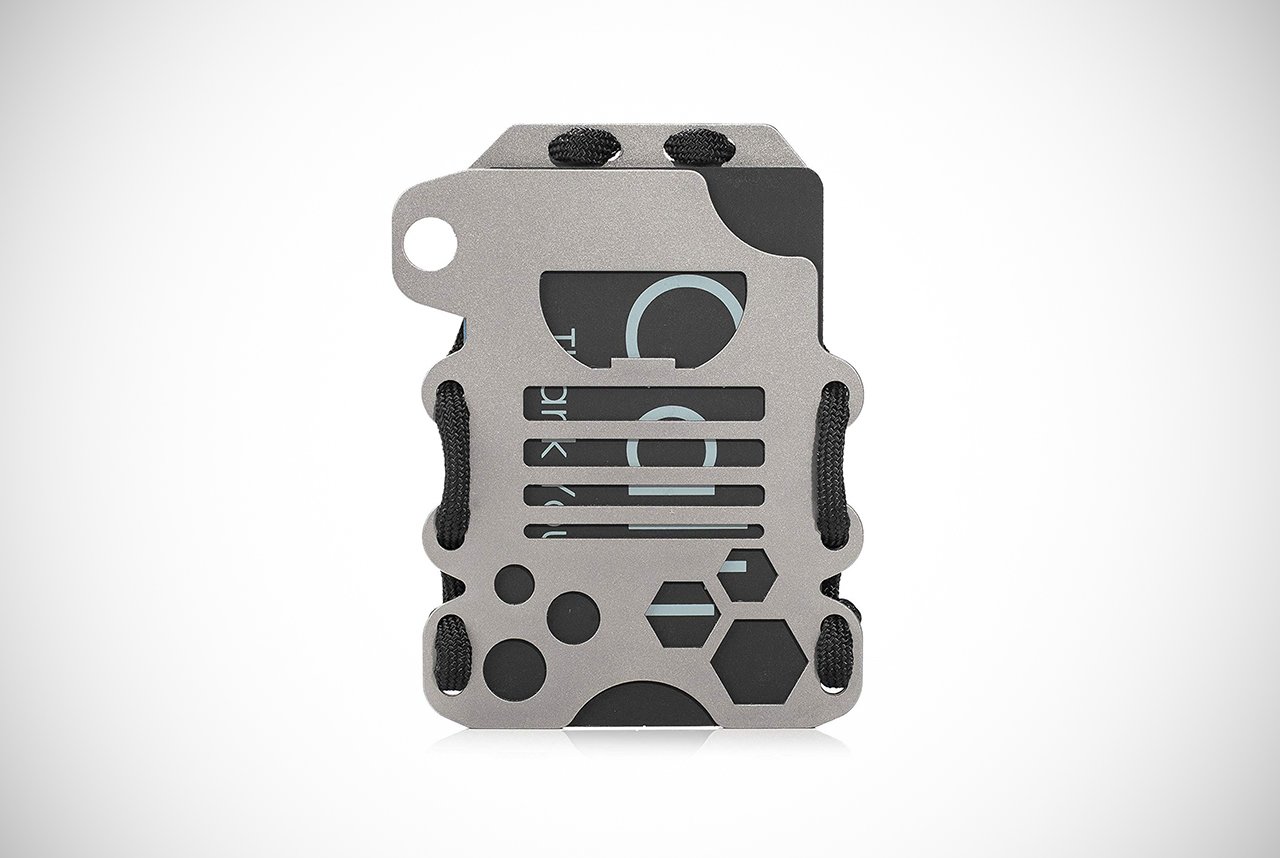 The Calti Tactical Titanium Wallet is the embodiment of multi-purpose, becoming almost the Swiss Army knife of titanium wallets for men. The two slim plates of the wallet contain a built-in bottle opener and three wrenches measuring 13mm, 10mm, and 8mm.
If that wasn't enough for you, the plates also feature seven further measuring holes.
Three round holes come in at 10mm, 8mm, and 6mm. Four straight holes arrive at 1/5″, 1/6″, 1/8″, and 1/25″.
The measuring holes are both practical and aesthetically pleasing. This leaves the wallet with a modern and minimalist design that is further encapsulated in the simple yet effective design of the paracord fastener.
Through laser-drilled holes around the outside of the wallet, the paracord is looped to keep the wallet tight. This way, your cards stay contained between the two plates. The paracord also adds an extra option for customization. You can alter the look of the wallet by choosing from more than a hundred paracord colors.
There's a card capability of between one and twenty cards and a separate money clip on the exterior of the titanium wallet. The Calti Tactical Titanium Wallet, overall, provides plenty of space.
It is lighter than steel, rustproof, and undetectable by metal detectors. It's also quite affordable. The Calti Tactical Titanium Wallet offers a lot. They have a precise and smooth finish, thanks to the glass ball sanded surface. Interestingly, the wallet itself is also designed to keep your cards safe, as once inside the wallet, RFID is blocked.
Check Product Price // Read More Reviews
2) EOS Titanium 2.0 Raw Stonewashed Wallet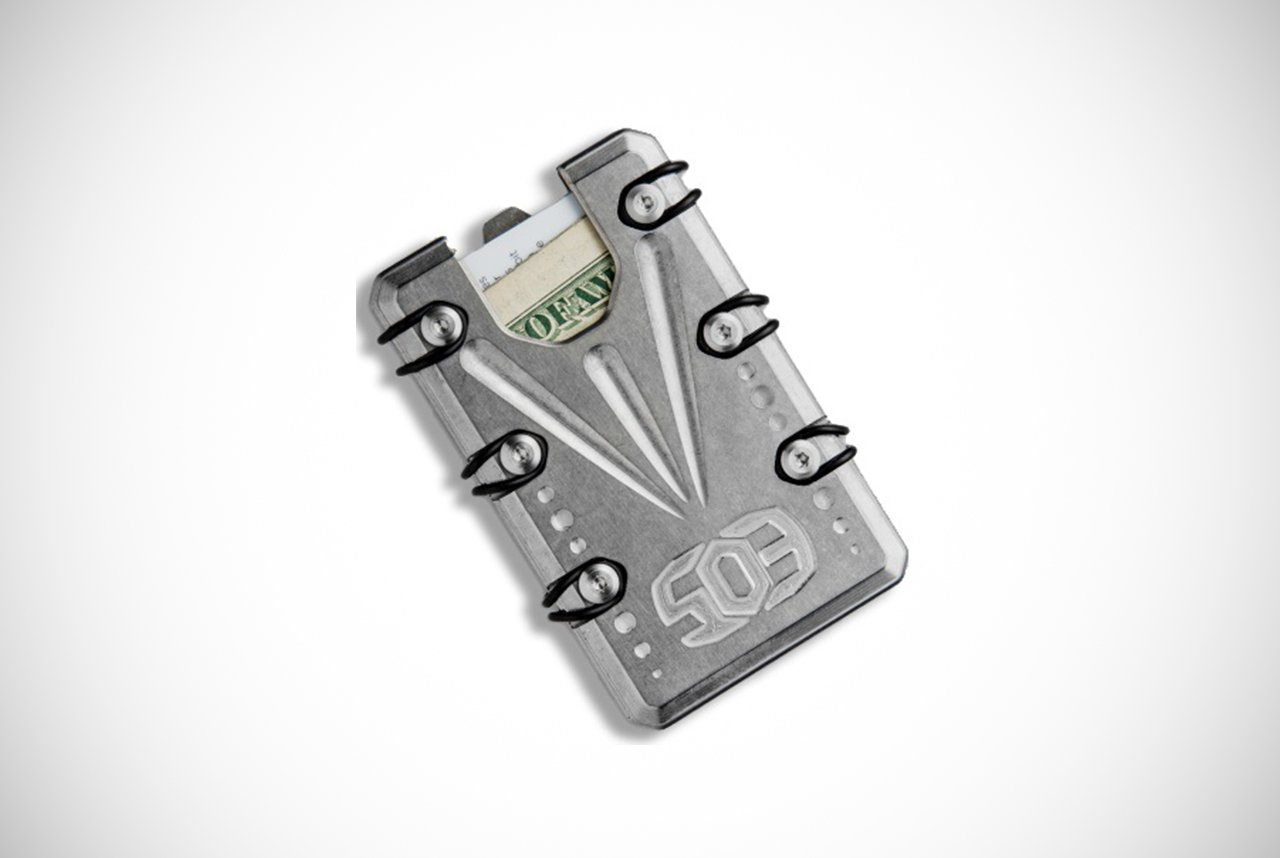 If you've ever encountered the EOS brand before then you'll already know just how unique their products are. EOS have a selective product range, as a company that operates primarily as a machine shop. From their unusual range of knives to their impressive range of titanium wallets for men, you're really getting something special with an EOS product.
The EOS Titanium 2.0 Raw Stonewashed Wallet is a development on a previous model of EOS titanium wallet. It delivers more features and an enhancement on the O-ring security design. This has become quite popular among titanium wallet users.
The O-rings are used to secure the two wallet plates.
Interestingly, in this model, there are six of them for increased security and a tighter hold. The EOS Titanium 2.0 Raw Stonewashed Wallet also features a twisted slot for your thumb for much easier everyday use.
On top of this, it includes the Fulcrum clip for bill storage on the back of the wallet.
What makes this wallet stand out is not so much the features but the bold and attractive design. Very industrial in appearance, the EOS Titanium 2.0 Raw Stonewashed Wallet features deep grooves and a bold brand logo. It leaves you in no doubt as to which brand is to be thanked for the interesting design of this wallet.
Secure, functional, and standout in appearance, this is a premium titanium wallet that you can be proud of.
Check Product Price // Read More Reviews
3) Minimal Slim Gear Carry Wallet by Ikepod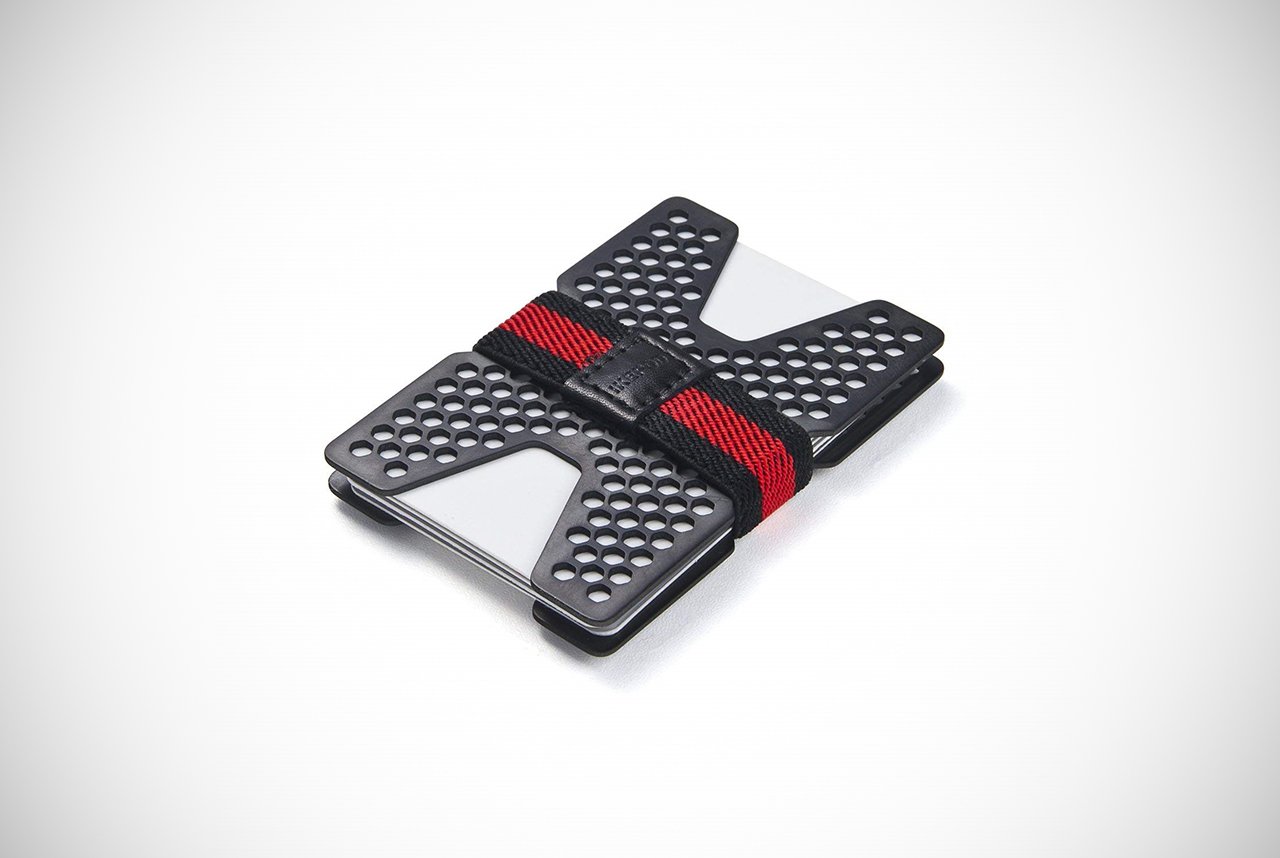 Titanium wallets are known for their minimalistic designs but the Minimal Slim Gear Carry Wallet by Ikepod takes it one step further. With an extremely lightweight design, you'll barely even notice nestled in your pocket. These titanium wallets for men have been created to only hold between four and twelve cards.
This may seem like a disadvantage over the competition, but then again, not everyone needs to cart around up to twenty cards at once.
The construction of Ikepod's wallet is very simple yet delivers exactly what it says on the tin. The two plates are constructed from MIL-spec titanium alloy and the wallet is held together with a fabric band. The wallet comes with large and small bands to secure material.
This is to account for those who have several cards or simply a few.
Despite the minimalist design, the essentials are all there with this titanium wallet. The plates are strong and durable, the wallet is resistant to RFID, and the design is suitable for cards and cash.
There is also a range of styles available, referred to as 'geek editions' by Ikepod. If you're after slim and easy to carry wallets, the Minimal Slim Gear Carry Wallet by Ikepod certainly delivers.
Check Product Price // Read More Reviews
4) Machine Era Ti5 Slim Wallet | Titanium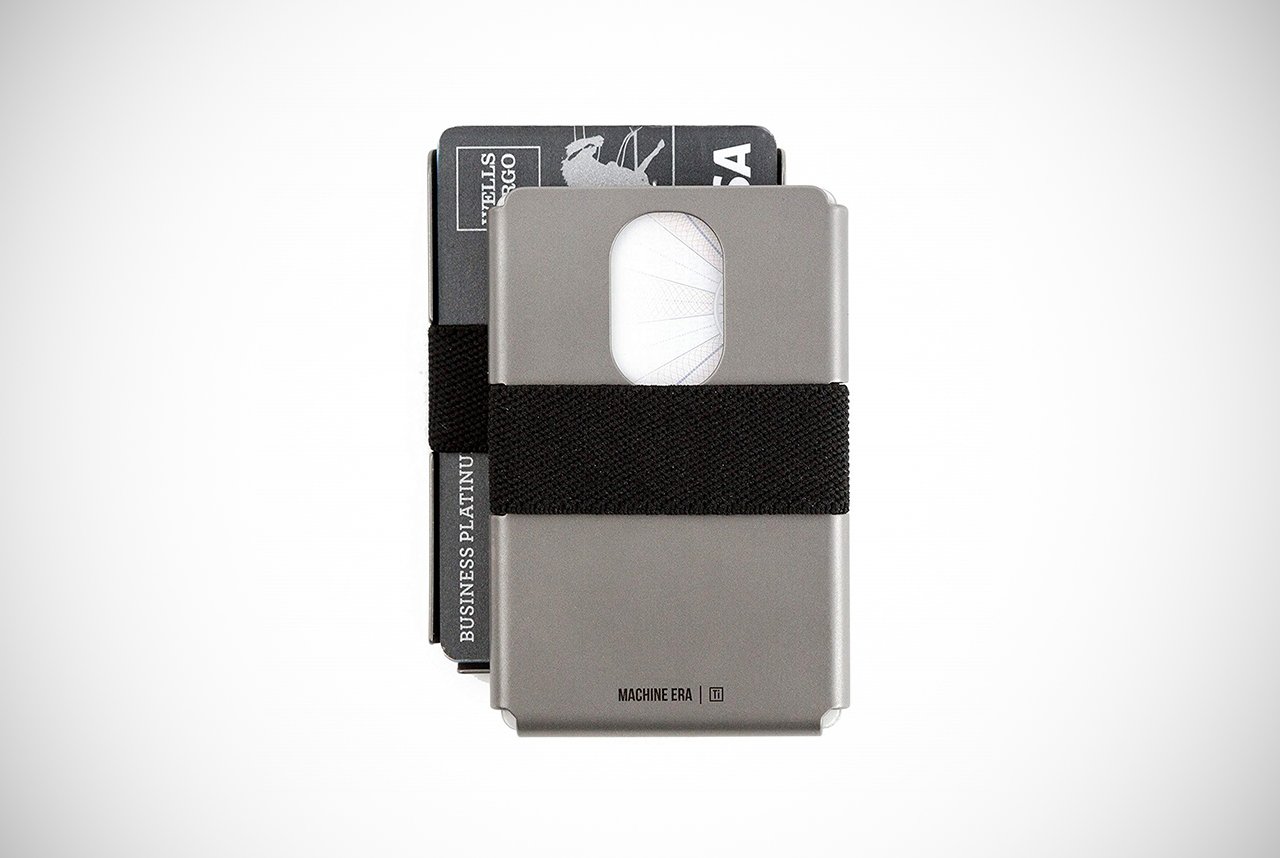 The Ti5 Slim Wallet from Machine Era is designed for those cards that you simply can't leave home without. The small seven-card capacity means that only the essentials are going to fit. Now you need to drop those old or useless cards. If you're truly tired of the bulk of a traditional wallet, then there is quite an intriguing offering from Machine Era.
This is a brand known for their high-quality products.
At first glance, it doesn't seem like there's a whole lot going on with the Ti5 wallet. On closer inspection, these titanium wallets for men are incredibly sturdy and very well-built. This forgoes the added extras that for functionalities sake, aren't always required.
The wallet stands out for its single-plate design that relies on the curved bottom and fabric strap to keep the cards contained. Despite sounding ineffective, this design has proven to do the job well.
Careful consideration over quality has gone into every element of the construction of the Ti5 wallet. Grade 5 aerospace titanium provides strength and protection from corrosion. The design is also RFID protected. The wallet is immensely light, incredibly streamlined, and the surface is completely smooth.
It also has a built-in bottle opener, so you're prepared for every eventuality. There is very little not to like about this small but well-crafted wallet. It is one of the most compact options for a minimalist titanium wallet that Machine Era has to offer.
Check Product Price // Read More Reviews
5) EOS Titanium 2.0 Flame Treated Wallet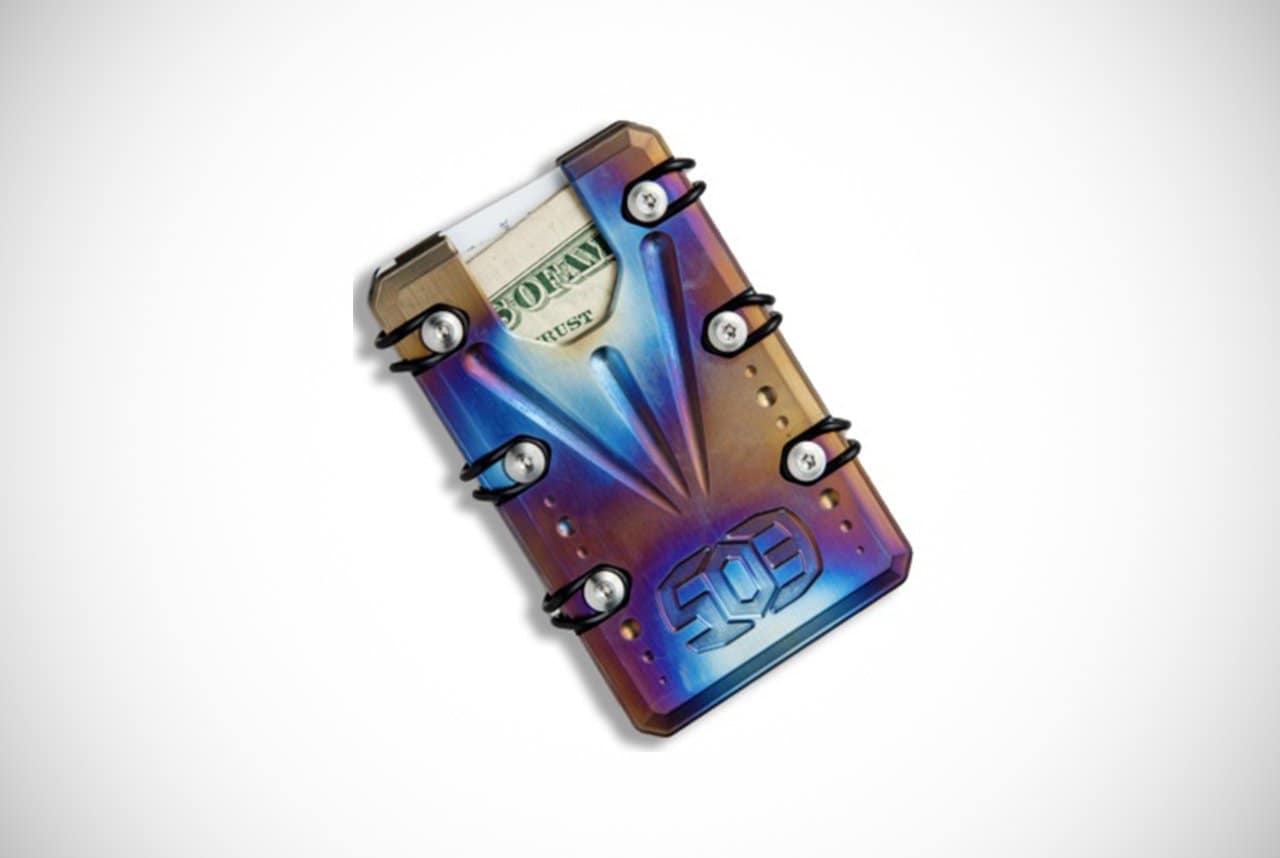 It's time to check out the EOS brand again with this Titanium 2.0 Flame Treated Wallet. As with any of the EOS titanium 2.0 wallet designs, this unique wallet instantly captures the eye with its bold machinery detailing. This in addition to the stunning colors.
Of course, that is something that many consider a signature style from the EOS brand. If the flame treated aesthetics aren't enough to convince you that this offering from EOS is right for you, then the design of the wallet certainly will.
The Titanium 2.0 Flame Treated Wallet utilizes the same six O-ring security design as its Stonewashed counterpart. The bands create just the right amount of tension. This unique security measure means that your cards are safe between the plates.
This is regardless of whether or not you're using the wallet to store ten cards or twenty.
Despite the strength of the O-rings, your cards can be accessed with ease thanks to the twisted thumb slot. With cash stored on the outside in the Fulcrum clip, you'll never have any problems grabbing a couple of bills.
The instantly recognizable EOS style is out to impress in the Titanium 2.0 Flame Treated Wallet. It's raw, robust, and very strong with a grade 5 titanium construction. If you want to make sure that your wallet stands out from the crowd, this is an excellent choice among the premium titanium wallets for men in the world today.
Check Product Price // Read More Reviews
6) Burnt Titanium Ridge Wallet
The Ridge has a very inspirational backstory that people will love. They have inspired several would-be minimalists out there to ditch the excess in their wallet. This is so they can stick to the essentials, rather than the overabundance of things unneeded.
The unique design of this wallet is inspired by the humble rubber band. The founder of The Ridge decided to replace his traditional wallet with a rubber band strapped around his cards. It's an interesting choice for sure.
Without this little burst of inspiration, we may not see this impressive wallet today. After years of design, that rubber band has now turned into one of the best titanium wallets for men on the market. This is thankfully a lot higher in quality in comparison to a thin strand of rubber.
The Ridge constructs an incredibly durable wallet design here. That means it's up to the task of standing up to everyday use with a relatively good card capacity. When you purchase the wallet, you also get the choice of either a money strap or a money clip.
This puts control in your hands over how you want to use the wallet every day.
The wallet consists of multiple Grade-5 titanium plates that fit together to create a strong front, middle, and back. These plates are screwed together, which makes the wallet perfect for anyone after a high-security design.
The wallet is thin, fairly lightweight, and blocks RFID for that added protection to keep your cards safe.
Check Product Price // Read More Reviews
7) EOS 2.5 Titanium Wallet 2 Tone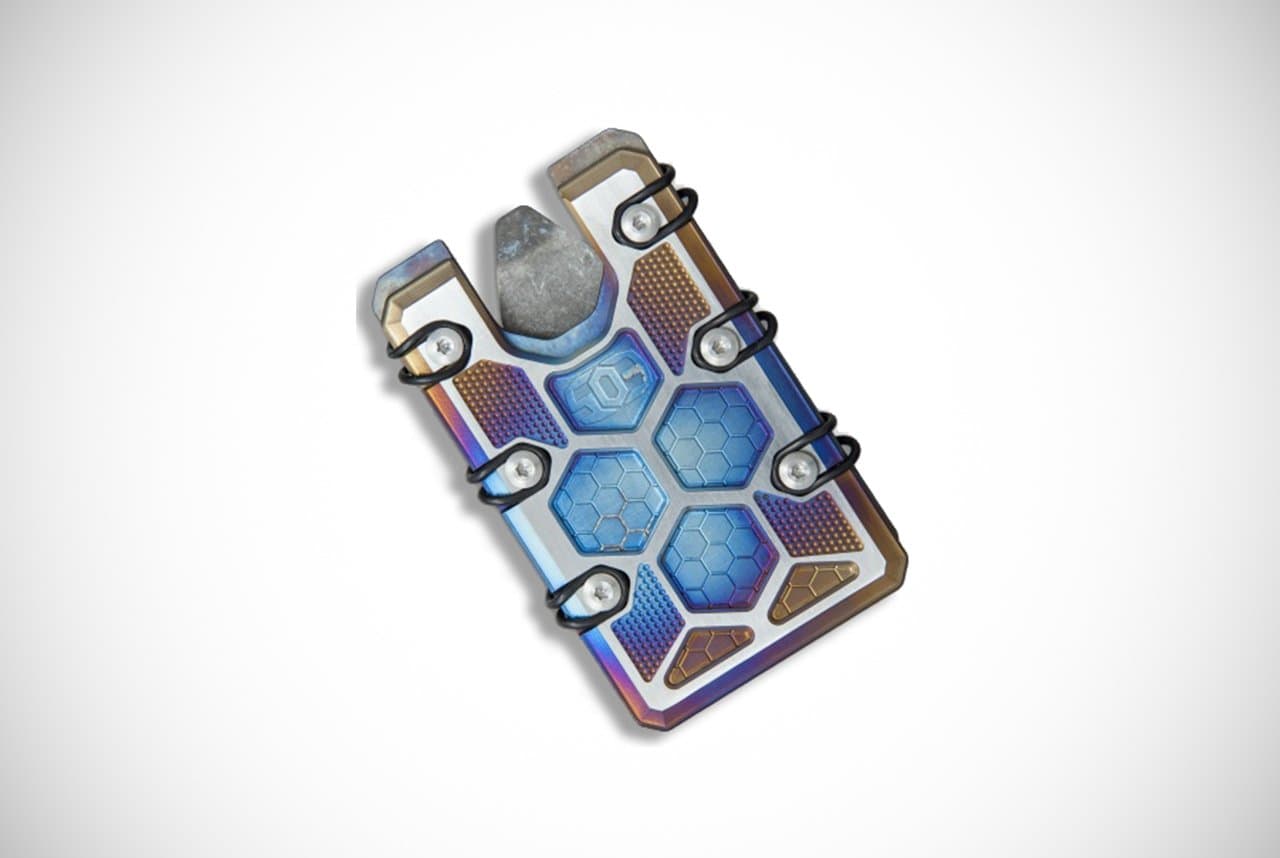 The 2.5 Titanium Wallet 2 Tone shares the same impressive style as our first two options from EOS. Though, they have slight differences. The design of the 2 Tone wallet still captures the overall EOS style that the brand is so well-known for.
However, this option offers a unique hexagon aesthetic.
This new design makes the wallet stand out for all the right reasons. This is due to these titanium wallets for men showing off the best of the EOS flamed aesthetic.
Computer numerical control (CNC) creates the 2.5 Titanium Wallet 2 Tone as well as its sleek lines with this wallet. It finishes to an exceptional quality, which is something we expect from any product with the EOS branding. The wallet can secure up to twenty cards between the two strong grade 5 titanium plates.
The popular O-ring design is back in this model, improving design security. This ensures that the cards inside are kept under the right amount of tension.
The raw titanium money clip blends well with the flaming color of the plates. It is surely a bold choice. However, it gives the wallet depth and creates a standout design that brings this wallet to life. The money clip also increases the capacity of the wallet.
This allows for the storage of bills alongside the interior card storage. If you're after a wallet that makes a statement, EOS certainly provides it with the 2.5 Titanium Wallet 2 Tone.
Check Product Price // Read More Reviews
8) T02 Titanium Tactical Wallet – Single Pocket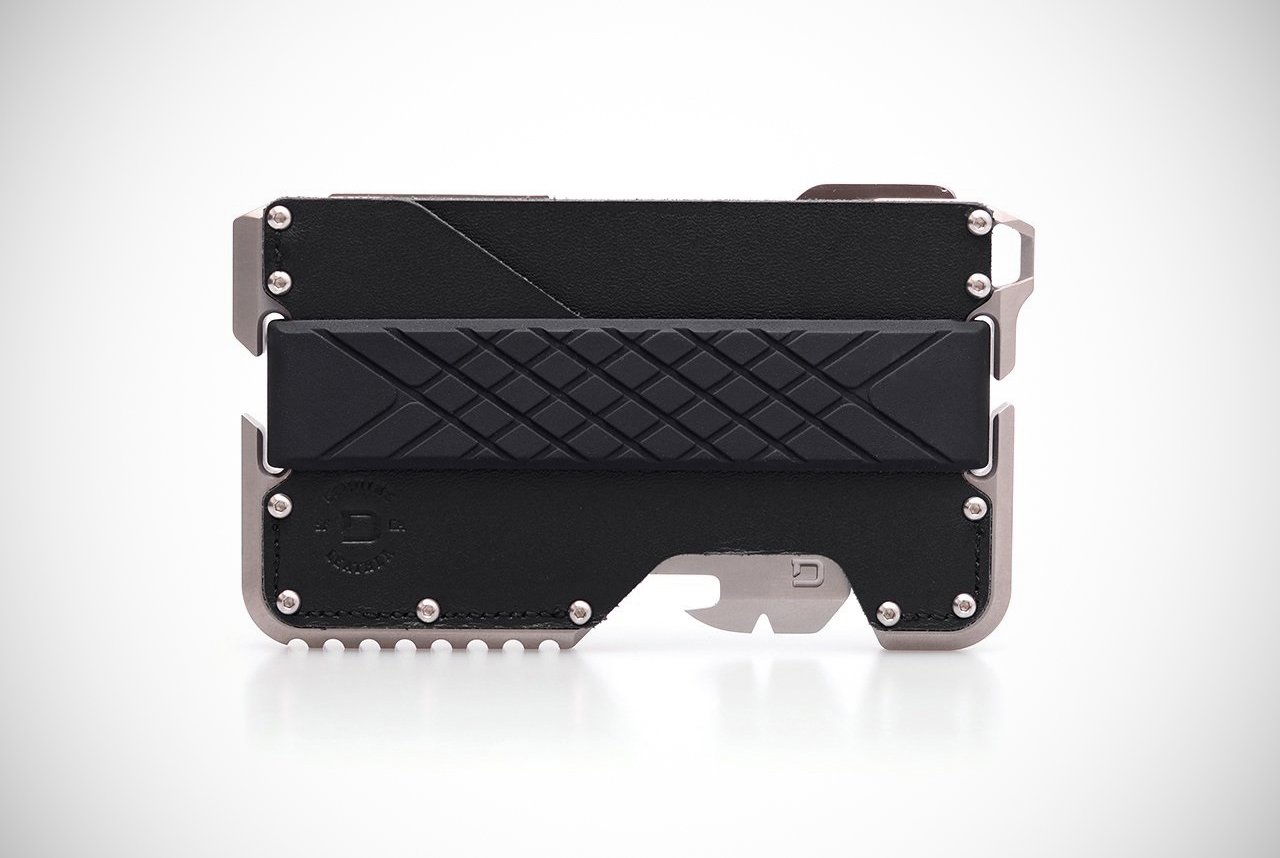 Spy movies have introduced the world to some exceptional gadgets (we're talking rocket packs) and some not so exceptional gadgets (radioactive lint, anyone?). Thankfully, the T02 Titanium Tactical Wallet would be right at home on the exceptional end of the list.
This slim and compact wallet design is not just to store your cash and cards. It comes fully equipped with a 14-function multi-tool that easily sets it apart from the more minimalist titanium wallets on the market.
Designed by Dango, the removable multi-tool in the T02 Titanium Tactical Wallet slides easily into the wallet chassis. It has additional locks included in the design to keep it firmly in place for extra security. Dango constructs this wallet from stainless steel and provides a wide range of functions.
From a stand for smartphones to a paracord tensioner, this wallet has it all.
One will notice quickly that one can use these titanium wallets for men to store up to twelve cards. They can be split between the different sections of the wallet even! It's hard to wave goodbye to our traditional leather wallet. However, the T02 Titanium Tactical Wallet is the perfect middleman for people looking to transition.
The composition of the wallet is split between the titanium chassis, stainless steel multi-tool, and top grain leather pocket for additional storage. The inclusion of leather gives this high-quality premium wallet a sleek and attractive look. This comes with a great function and a very modern outer appearance.
Check Product Price // Read More Reviews
9) Spine Titanium Wallet + Bottle Opener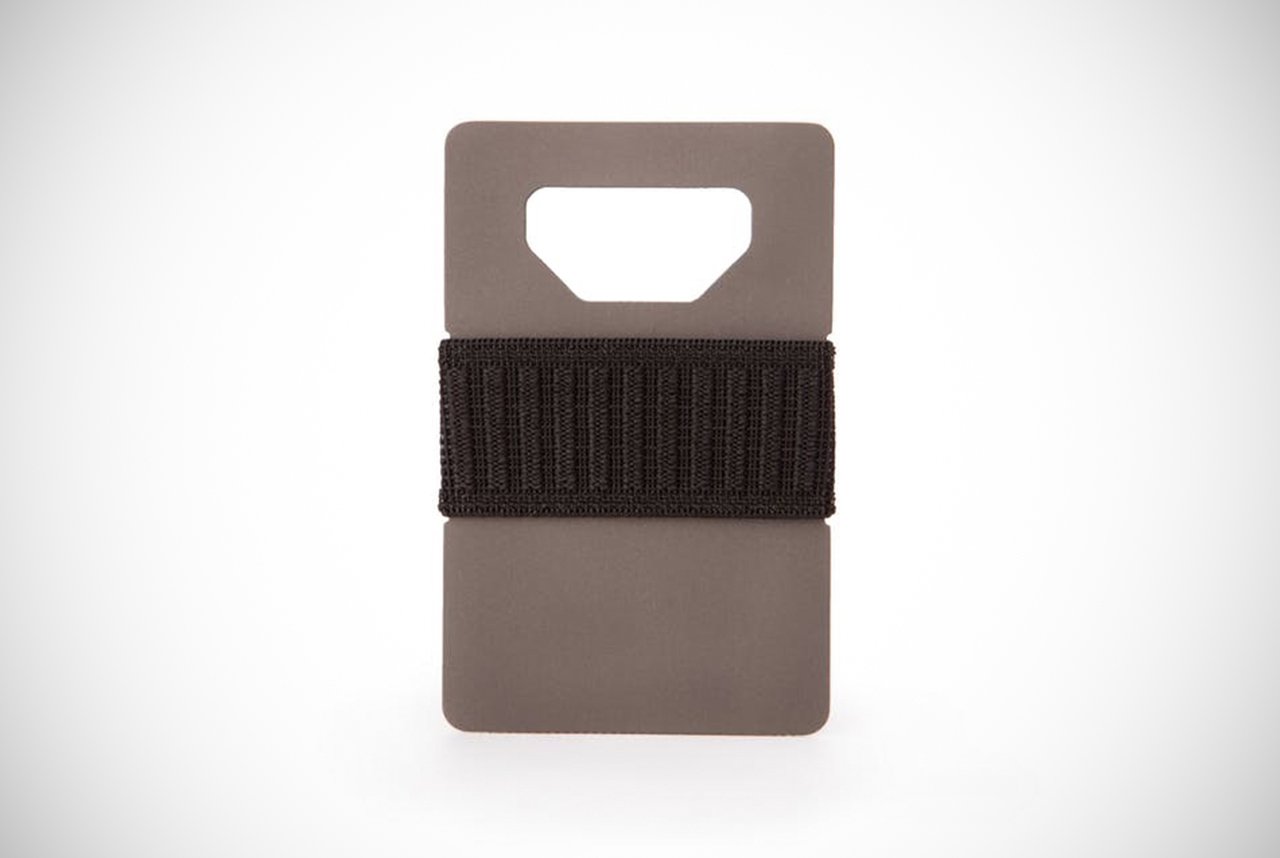 If simplicity is the key, then the Titanium Wallet + Bottle Opener from Spine is the answer to all your wallet needs. The Spine titanium wallet doesn't spare any time for additional features. Their sole purpose for this wallet is to keep your cards and cash secure.
It can also help you open bottles too. Of course, that's almost a given with modern-day minimalist titanium wallets.
Spine has really tuned into the mindset of the minimalist for this wallet design, and it really shows through. The wallet consists of only two parts. This includes a Grade-5 titanium plate and an elastic band to go around the plate and your cash and cards.
It may be a simple and basic design, but the wallet serves perfectly as lightweight storage for up to ten cards and a few notes.
Despite the lack of any flourishes, the design of the Spine titanium minimalist wallet still looks good. The curved edges, smooth surface, and sleek design keep things simple but certainly not boring. Spine has also managed to cram a lot of benefits into the two-piece design.
These titanium wallets for men are resistant to ID theft, it doesn't corrode or rust, and it's non-magnetic. Need a wallet that is simple but effective? The Titanium Wallet + Bottle Opener from Spine is ideal!
Check Product Price // Read More Reviews
10) Decadent Minimalist DM1 Titanium Wallet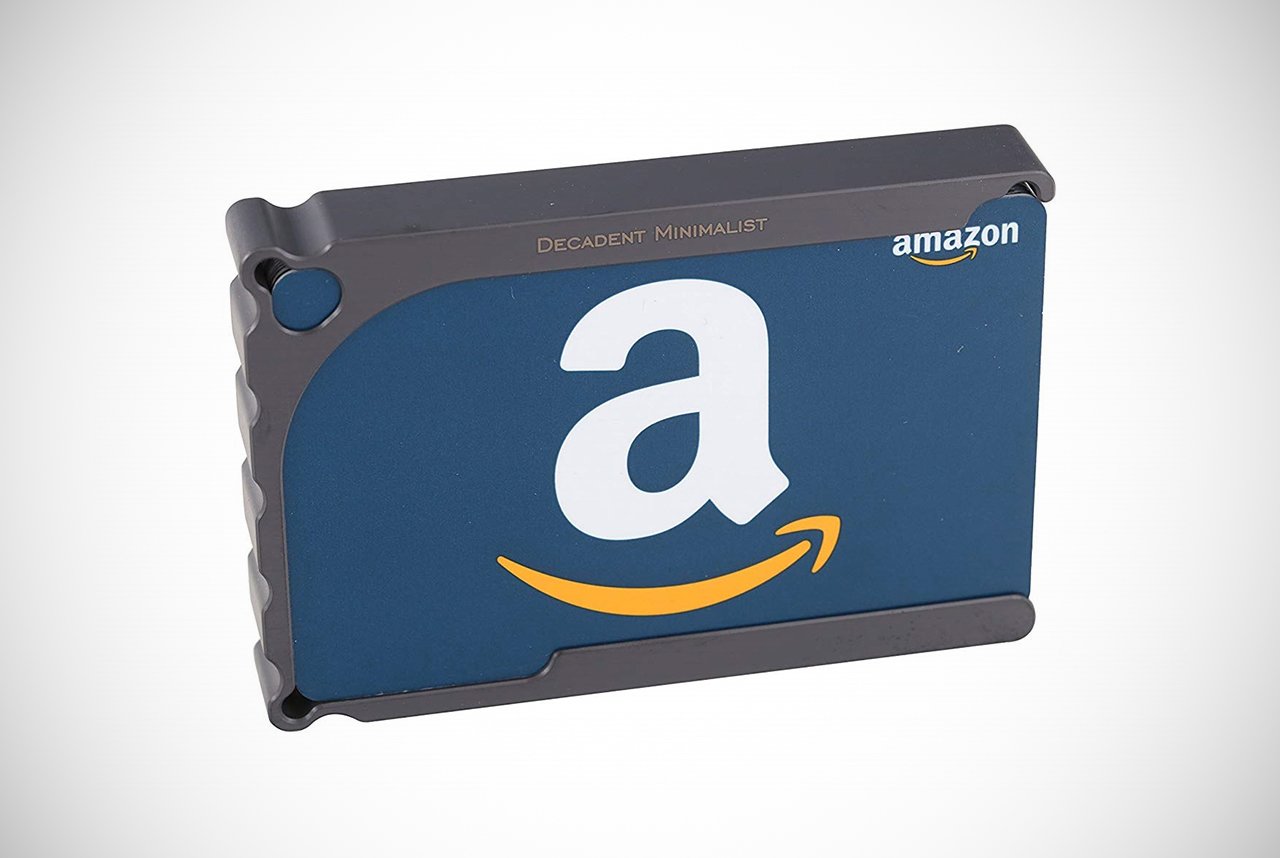 The Decadent Minimalist DM1 Titanium Wallet provides a whole different take on the classic titanium minimalist wallet design. The wallet doesn't contain plates or straps. Instead, it relies on the unique three-sided rectangular shape to keep bank and ID cards securely in place.
The basic design is solely for card storage. However, it's possible to attach a money clip to the wallet if you want to carry bills around.
Like the Spine titanium wallet, this wallet strips the design back to basics without compromising on usability or card security. Cards are slotted into the wallet and will click once the card is securely in place. It can hold four cards, eight cards, or twelve cards. All depending on the model you buy.
With this wallet, you'll never have to carry around a wallet that is bigger than what you really need.
These titanium wallets for men offer very little in the way of features. However, it still offers a very attractive design with smooth edges and a high-quality finish by the CNC machine. It is simple yet practical. The open face of the wallet makes this a great choice for any man.
This is due to the convenience of being able to scan access cards or provide an ID without having to root around in the wallet. We all know what it is like to be THAT guy.
Check Product Price // Read More Reviews
11) Obstructures A3 Wallet Titanium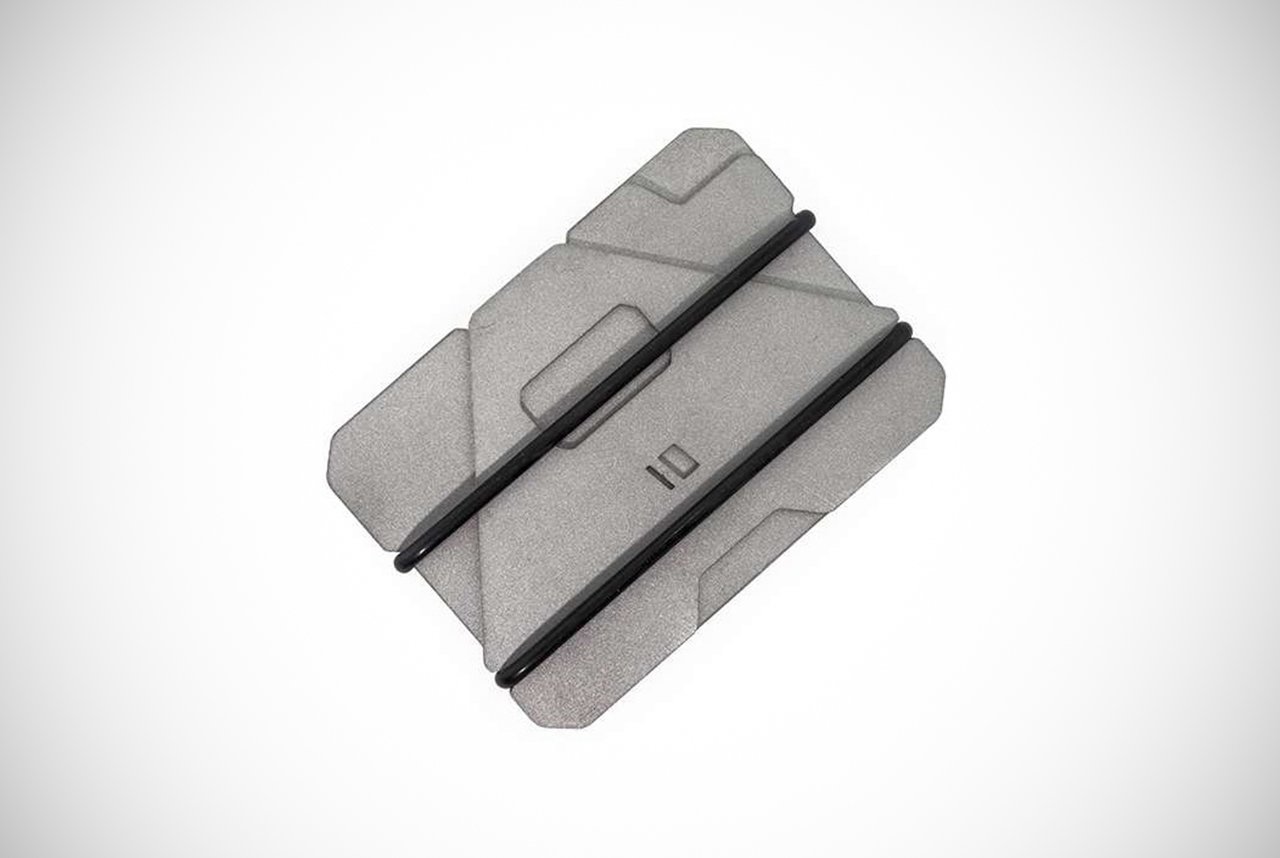 The A3 Wallet Titanium from Obstructures is slim, compact, and very durable. The design features three strong bead-blasted titanium plates held together by two sturdy O-ring bands. The combination of two rectangular plates and a single triangle plate makes the A3 Wallet Titanium incredibly easy to use.
The O-ring bands on the A3 Wallet Titanium create a strong tension between the two plates which keeps cards securely in place.
You can configure the three plates in multiple ways, allowing you to customize the use of the wallet to better fit your needs. This design also offers some protection against RFID as the titanium is unbroken. Except for the bottle opener, there are no frills on the A3 Wallet Titanium.
Yet these titanium wallets for men really don't need any added extras. It's attractive and effective without going overboard. It has a mid-range price tag and the ability to hold multiple cards and bi-folded notes.
It is a subtle take on a titanium wallet and should not be something any man after simplicity overlooks. These titanium wallets are among the finest in the field. Due to this, it provides all the things a man needs without going overboard.
Interestingly, many men do not care about the major bells and whistles in a wallet. As they just want one that does the job of a wallet. Crazy, huh? That is why the A3 Wallet Titanium seems to have such a happy fan-base.
Check Product Price // Read More Reviews
12) EOS 2.5 Titanium Wallet Raw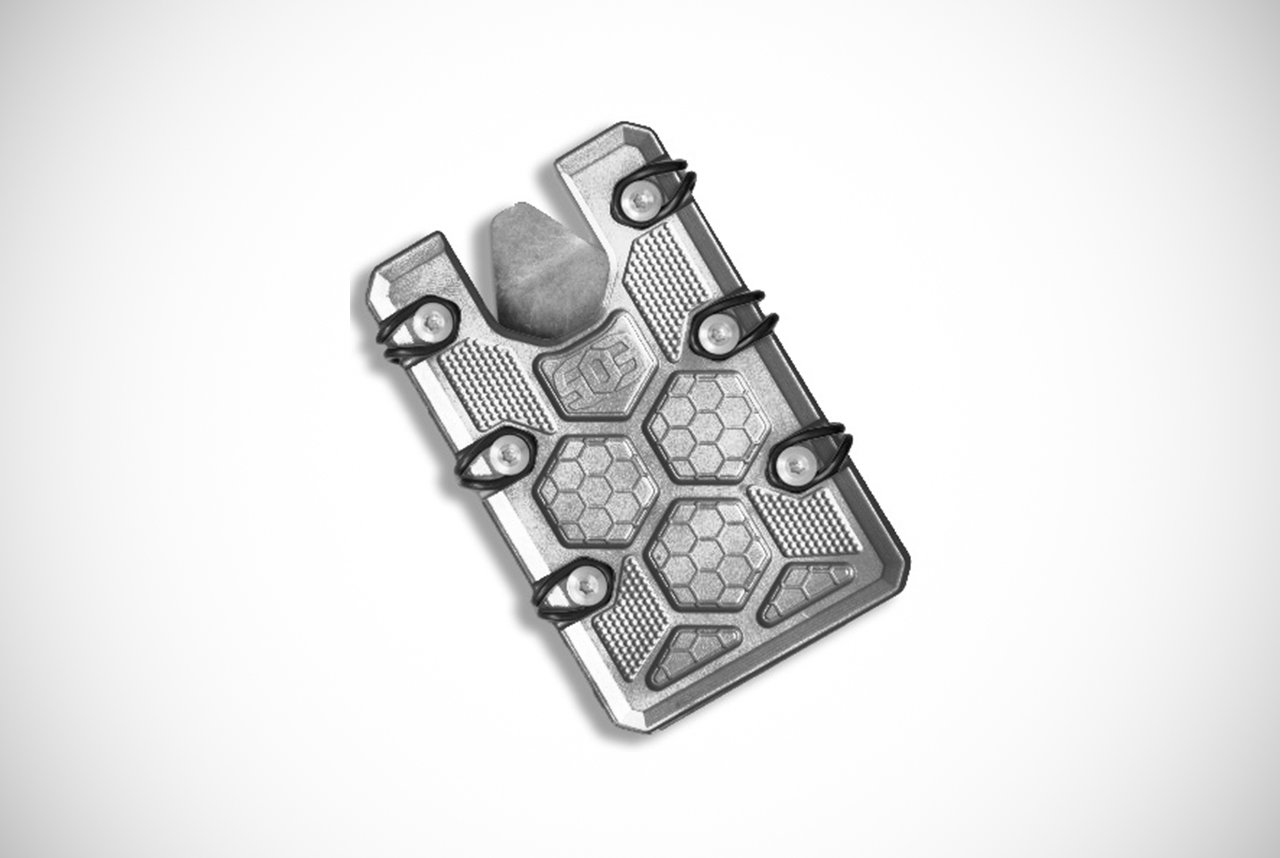 Just as our list of the top 12 titanium wallets for men comes to a close, we have one last wallet from the immensely popular brand of EOS. This 2.5 Titanium Wallet Raw stands out and re-introduces the hexagonal design that we saw in the flamed version.
However, this time it has a very different appearance thanks to the raw titanium aesthetics.
By foregoing the color, EOS has taken the 2.5 Titanium Wallet Raw in a completely new direction. They created a wallet that almost has a rugged appearance. This is in spite of the smooth nature the CNC machined titanium offers. These titanium wallets for men are highly decorative in an understated way.
The wallet option features a textured front and back plate with a contrastingly smooth money clip that EOS would engrave their logo on.
With EOS, great aesthetics don't mean poor functionality. The 2.5 Titanium Wallet features six highly secure O-rings, a strong construction, and a bottle opener/thumb slot. Designed to look good and keep your cash and cards safe, there is very little not to like about the 2.5 Titanium Wallet Raw from EOS.
Check Product Price // Read More Reviews
Ready for the Titanium Age?
We hope our guide has given you an insight into just what modern titanium wallets for men have to offer. Especially those looking for the convenience of going back to basics on one of life's everyday essentials. You've had the full rundown of the best titanium wallets on the market.
Are you now going to take the plunge and go minimalist with your wallet choice, or are you still in favor of the traditional design of men's wallets?
Switching your wallet choice from soft leather to solid titanium is not for the fainthearted. However, we're sure there is a perfect titanium wallet out there for you. In fact, we feel you'll find it amongst our list of the top decorative, minimalist, and multi-purpose titanium wallets!
Make sure to let us know what you think about these titanium wallets for men in the comment threads or by contacting us. If you have a favorite we did not include, let us know below. We may even add it to our list.