T
here aren't many more things worthy of a masculine pound to the chest in cave-man-like fashion than being the guy who gets the fire started. But why is that? Our earliest ancestors were the pioneers of making fires to protect mating partners and offspring, provide a source of heat while travelling to hunt, and it was also a way to cook the catch of the day. Today, not much has changed and we're still making fires in our back gardens and on camping trips for the same benefits. Proving to our fellow, contemporary, more developed homo erectus that we can keep them warm, safe and fed.
Yet, while the earliest humans probably struggled to get the fire going with methods not so dissimilar to the ones we may have tried during our boy scout days, we now have the help of some nice fire pits, so we don't have to struggle. In this post, we will take a look at eight absolutely awesome and portable fire pits on the market at the moment. Fire pits are a handy addition to any adventure into nature, letting you keep warm discussing ghost stories, cars, or cool products featured on Men's Gear while sitting around the campfire with a couple of beers as the burgers sizzle away.
If the thought of this has you itching to do some portable fire pit research, you don't need to. Thank us later. We've done the leg work for you and put together a nice round up of the best portable fire pits on the market in 2018 with all their details, their pros and even shown you their limited shortcomings. We've made sure this list is varied so there's something for every guy's taste and needs. From the supreme wilderness explorer to the stay-at home-dad, everyone's welcome. So, let's get the fire started!
What Are The Main Benefits Of Portable Fire Pits?
There are lots of ways you can benefit from purchasing a portable fire pit. Ultimately, a fire pit can be the difference between a dreary cold night preparing for an early night on a camping trip and a lively discussion with friends and family around a warm fire. Imagine being together as you gaze up at the stars with a cold beer to hand, as well as having the benefit of being able to swap cold beans and bread for a lovely piece of meat and veg.
Scientific research has been proven to show that sitting in a circle – as you would around a Fire pit – improves relationships and initiates meaningful discussion. A little trick you can also take to the boardroom to get your team pulling in the same direction? You and your buddies will be reenacting the knights of the round table without even realising it. All the while feasting yourselves on some of the day's delicious catch (yes, burgers and sausages are what we mean unless you actually intend to hunt something) and enjoying some blokey banter reminiscing about those funny college times.
That's not the only benefit either. If you've ever used a campground kitchen, you know the ones, packed with campers all fighting over the limited pots and pans and seating area while babies are screaming at their parents expressing their hunger, you'll be glad you brought a kitchen of your own. Many fire pits come with a cooking facility, which is one of the best benefits. No waiting around for other campers, instead you'll be serving up some authentic smoky bacon in no time.
What Sizes Do Portable Fire Pits Usually Come In?
Sometimes size does matter and with a portable fire pit it may be the case. The bigger or the more compact pits are both perfect in different scenarios. Manufacturers seem to get that you all have different needs from a fire pit. While some of you will need one to keep you and your family warm while roasting some marshmallows for the kids, or one to transport on a three-day hike, others may need a roaring blaze to keep a large party of friends from going hungry and catching a cold.
We've taken this into account when showcasing the year's leading fire pits. There's a wide range to choose from, all with different dimensions to cater for every need. We've included smaller pits at 13 inches to some bigger models nearer the 40-inch mark to give you food for thought. Despite the difference in size, they always remain portable and easy to carry or fit in cars. Some are more lightweight and portable than others, some come with their own convenient carry bags while one of our faves even fits into a backpack – a one that can cook we might add!
Can You Use Portable Fire Pits To Grill/Cook Food?
Did we already give this one away? Many portable fgire pits are a fantastic way to grill your catch after a day on the water or to cook some well-deserved shop-bought steak and kebab skewers after a day of tough hiking trails. However, if this is your main goal from your portable fire pit then you'll need to choose one that can be used for grilling and cooking. Some fire pits are made to just be a source of heat on a chilly evening, while others also provide a cooking function. Not to say you couldn't do some innovating of your own and transform a regular fire pit into a lean, mean barbequing machine?
When using your fire pit to dish out some pre-game steaks or post-hike burgers – *cue to pound chest* – don't be the guy who forgets the essentials. We aren't talking about the food, but don't forget that either. Remember some premium charcoal if possible, some tongs to stop yourself also cooking your fingers, all the eating essentials such as plates, bowls and napkins, and a brush and cleaning fluids. The last one's important; we aren't cavemen anymore and it's especially important if you want to keep your fire pit in flaming good condition.
Are Portable Fire Pits Safe?
Any portable fire pit that has been put on the market legally will have gone through the necessary testing and will be deemed safe to use. However, this is only half your concern when using these hazardous products. Along with making sure kids keep at a safe distance and you also approach with caution, you also need to be aware of any potential fire bans in the region.
Strong winds on hot dry days can cause innocent fires to rapidly turn into catastrophic blazes with disastrous consequences. A bushfire can ruin people's livelihoods as well as take lives. It's not often we get too serious on Men's Gear but in this case, we should. If that doesn't make you check with local authorities before lighting a fire, maybe the massive fines and consequences will?
A 15-year old American teenager was ordered to pay over 35 million American dollars and write 150 apologetic letters for being the cause of a colossal fire in Oregon. If he's fortunate enough to win the lottery, the state may well confiscate that as well. Although fines of this magnitude are a rarity, it's not uncommon to be fined in the region of $10,000 dollars and even receive a prison sentence for such neglect of the safety rules. Just a little warning from us – we don't doubt that Men's Gear readers are too smart for this anyway.
What Are The Main Portable Fire Pit Brands?
Like any product, there's always some manufacturers committed to designing quality and others just looking to make some quick bucks from hard-working guys like yourself. We filtered out the latter during our research into portable fire pits to only bring you trusted brands that have not only designed functional fire pits but some rather unique ones too.
To give you an example of the quality on show, let's discuss one of them in more detail. A Landmann's product features on our list and these guys really do build to last. Why? They are actually operating under the umbrella of a German company and if there's one thing we know, it's that Germans know how to build well. Their manufacturing heritage is evidence of that to say the least. The Landmann range can be found in all the biggest retailer's stores across the USA. It's only companies like these that we intend to feature.
Let's get straight into it…
1) Outland Firebowl 893 Deluxe Fire Pit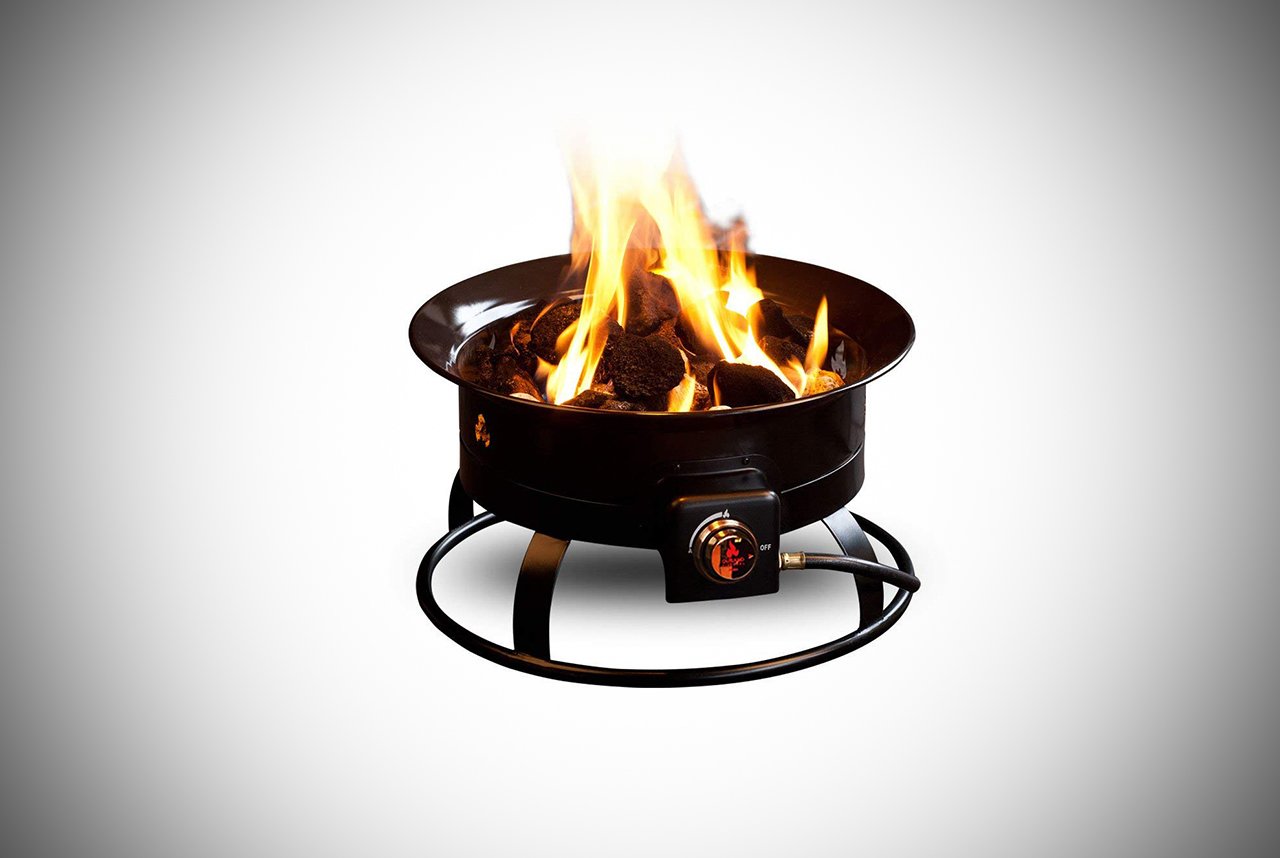 There isn't a much better way to kick things off than with the Outland Firebowl 893. This portable fire pit runs off propane gas and comes with a lengthy 10 feet hose. One of the nicest things about this fire pit is that its flame is completely smokeless. This means you and your buds won't be shuffling around the campfireall evening trying to avoid the changing wind direction blowing smoke straight into the back of your throat.
The fire pit is also light and rather compact so you can get it from A to B without issues. It comes with the option of a fitted carry bag to make transportation more convenient, while also protecting it from scratches and damage. One other perk from this fire pit is that it's gone through some rigorous testing and you can actually use it during most campfire bans relating to propane gas models – always check though or you might get one of those life-changing fines we mentioned earlier. If you and your friends are looking for a convenient fire pit to keep you warm during an evening in the wilderness, this may be the one for you.
Check Product Price // Read More Reviews
2) Solo Stove Bonfire Fire Pit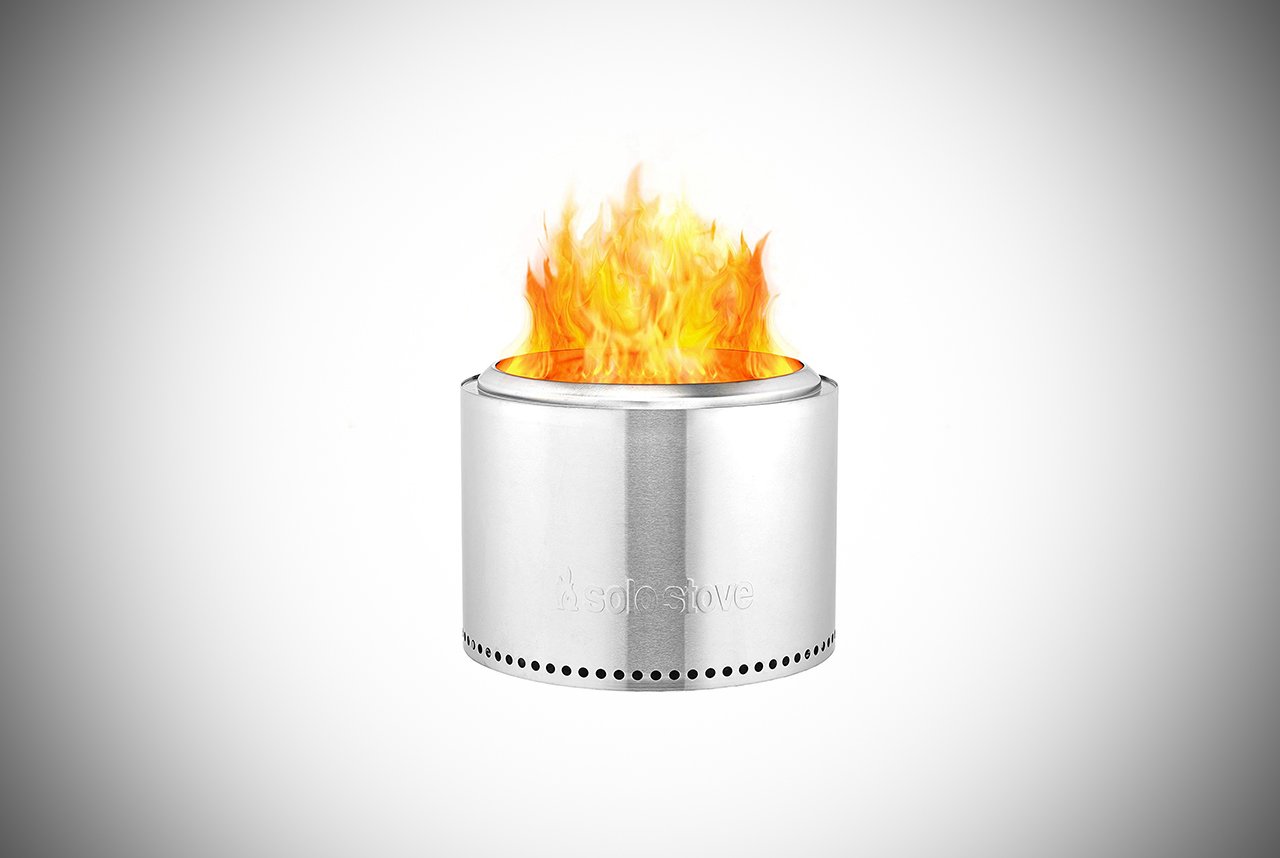 Alike the Outland Firebowl, the Solo Stove Bonfire Pit has prioritized the reduction of smoke given off during use but by a different means. The pits' secondary combustion is made possible by a double wall to improve airflow and the burning process means there will be a significant reduction of smoke. Less smoke equals less coughing over your buddy's hotdog and no more smoke scented clothes.
Smoke might not hit you with this fire pit but something else will. That something is its appearance. It has one of the most unique designs ever seen on a wood-burning fire pit. Its rather unconventional appearance is minimalist to say the least. You wouldn't be so crazy to think someone set a sleek-looking stainless steel bin on fire. Comparing it to a bin is a little harsh though, it's much more beautiful. Your mate Dave may have copied your latest smartphone purchase but he'll have more trouble tracking down this unique fire pit of yours. Overall, this fire pit is great for backyard bonfire parties with friends and family while supervising some marshmallow roasting between the kids.
Check Product Price // Read More Reviews
3) Fire Sense 29-Inch Folding Fire Pit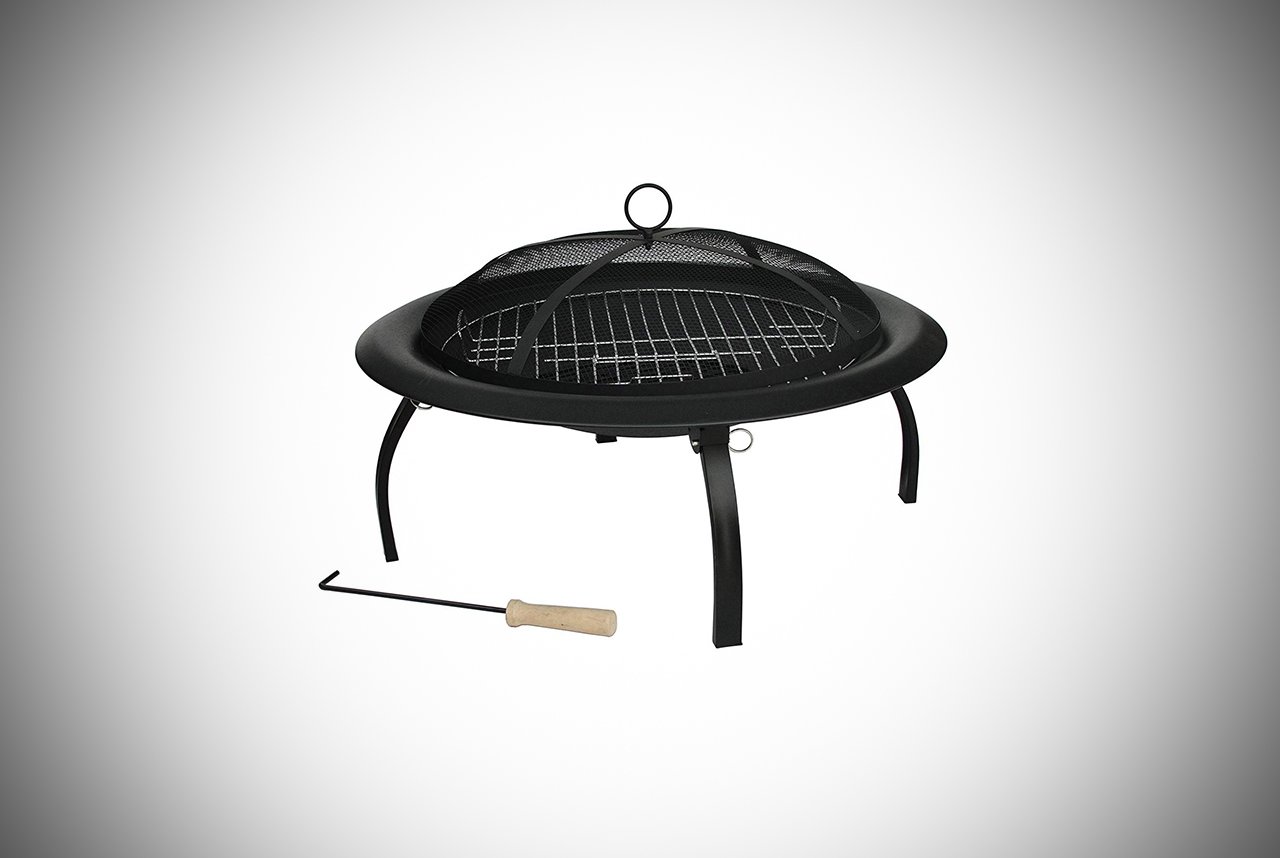 The Fire Sense 29-Inch Folding Fire Pit is a change of pace from the two we've shown you so far. While the others were all about keeping warm without choking on smoke, this fire pit is the ultimate in convenience. It's on the larger side in comparison to other models on our list but counters this with added portability. You can leave your tool kit at home as this pit assembles with just your hands and the legs fold nicely to fit in its accompanying carry bag so it takes up less room in the car.
It also has some additional safety with a mesh guard to contain flames dancing like your auntie Sherry after too many of her namesakes, and a tool to remove the screen so your pinky doesn't get mixed in with the hotdogs. We've given it away too early again; this is the first fire pit on our list that has a cooking facility. Just add the cooking grate and you'll be all set to start your BBQ and feed the family. When looking for a home away from home during your weekend adventure, this fire pit could be your best option!
Check Product Price // Read More Reviews
4) Rootless Portable Outdoor Fire Pit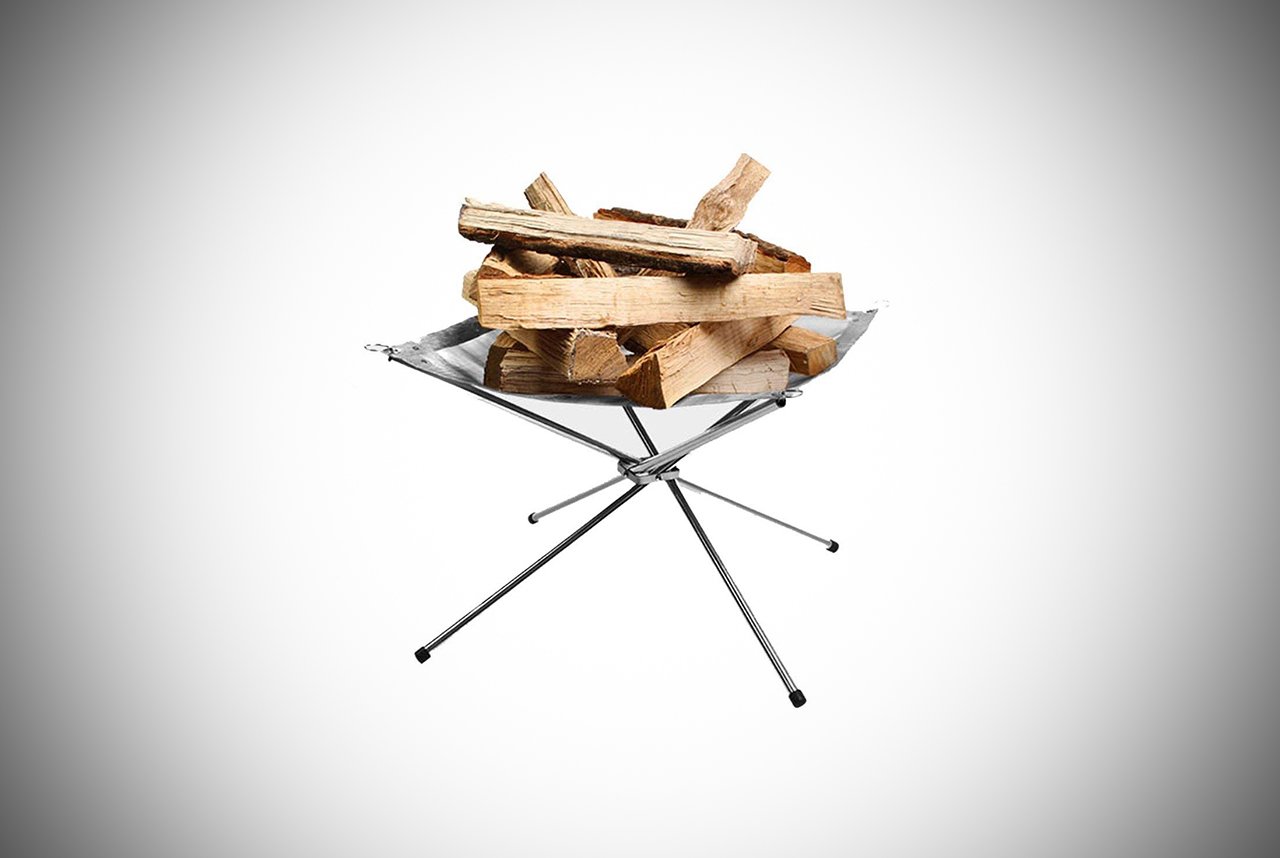 If the most important aspect of your desired fire pit is ease of transportation, the Rootless Portable Outdoor Fire Pit is exactly what is says on the tin. At only 2.4 pounds, it's an extremely lightweight addition to your camping kit and comes with its own bag. It has some pretty nice foldable legs to keep it compact. Actually, it's just like one of those camping stools but made from materials that allow you to place logs on top ready for a flaring campfire.
What makes it different from a camp stool exactly is a woven stainless steel which is both eco-friendly and anti-heating. This prevents debris and ash from slipping through the net. It's the perfect cheaper option for those that'll only use it a handful of times per year on camping trips or other outdoor ventures. If this sounds like you, consider the Rootless Portable Outdoor Fire Pit to up your camping game.
Check Product Price // Read More Reviews
5) UCO Flatpack Portable Grill & Fire Pit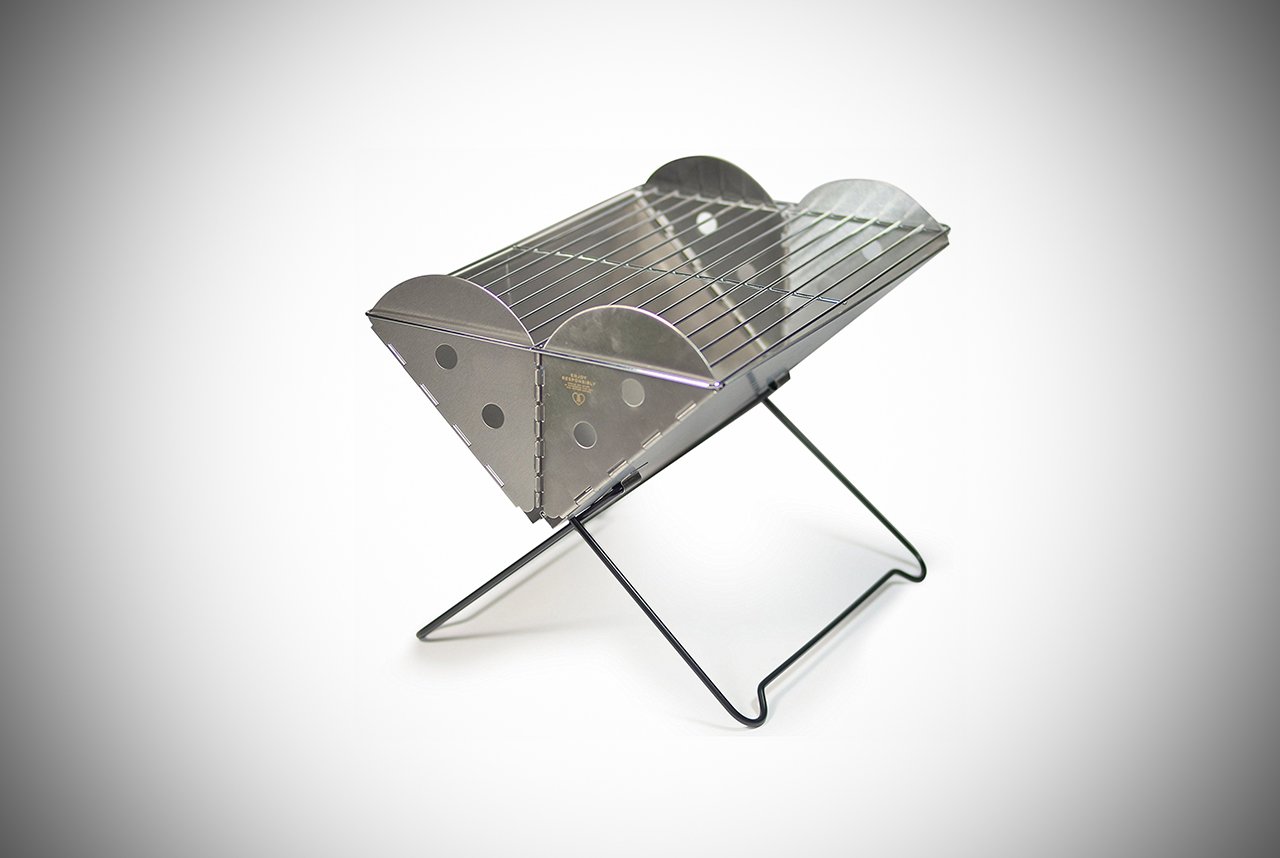 We've walked you through a mixture of heating-centred and convenience-focused fire pits so far. Well, now it's time to cater for the meat-loving guys amongst you. The guys that are here for their bacon and eggs, their sausages and steaks and their burgers and chicken. Let us introduce you to the Grilliput, a firepit-come-grilling machine.
When folded, the regular Grilliput (you can also get it in a mini edition!) is only 1.5 inches thick and stores in a backpack without any headaches. The regular model provides room for six servings while the smaller version has space for three fine servings. All of which can be setup in no more than 30 seconds without any tools needed.
One of the biggest issues when cooking on an evening near the beach, mountains, at a campground or on the banks of a lake is that the wind gets up and it can make a challenge of keeping the fire going. There's nothing more frustrating than a saignant or à point steak that takes half an hour to stop and start cook. Instead of getting everyone around the fire as human windbreakers trying to stare heat into the meat so it cooks faster, this fire pit is angled with wind-breaking sides built in. What are you waiting for hunters? Get amongst it!
Check Product Price // Read More Reviews
6) Landmann Big Sky Stars and Moons Fire Pit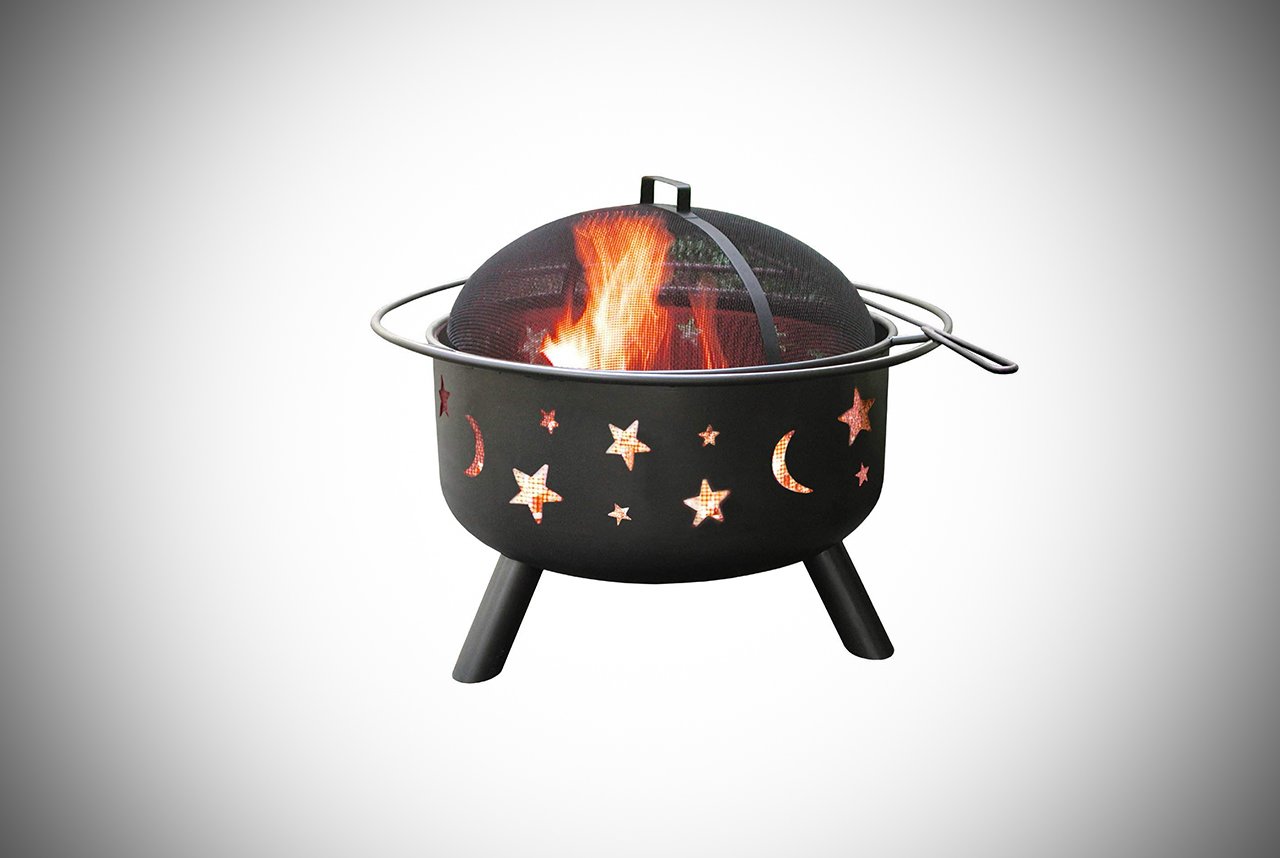 The next fire pit under the microscope offers something a little different yet again. The Landmann Big Sky Stars and Moon Fire pit is one in a range of cleverly designed pits. This cauldron shaped fire pit includes some star and moon cutouts running around its shell. When the fire is burning inside, these shapes light up just like your Halloween pumpkin does with a candle inside.
Not the most masculine of designs although it'll win you points with the kids as they'll love the shapes lighting up in the dark. It also provides a nice ambiance for a romantic night between you and your better half. If you're in the dog house at the moment, maybe get back in her good books by arranging a night to yourselves with this fire pit, some appetizers and a bottle of red in the open night's sky? It also doubles as a cooking grill so after you've impressed her with your attention to detail, you can dine her under the stars too, showing off your ability to provide like our predecessors did.
If stars and moons aren't your thing, these big USA players also offer the same wow-factor with wildlife and tree leafcut outs. Although this fire pit is more than portable, you can't help but feel that its homely details make it a better fit in your back garden than in some remote wilderness.
Check Product Price // Read More Reviews
7) Catalina Creations 26" Portable Folding Square Fire Pit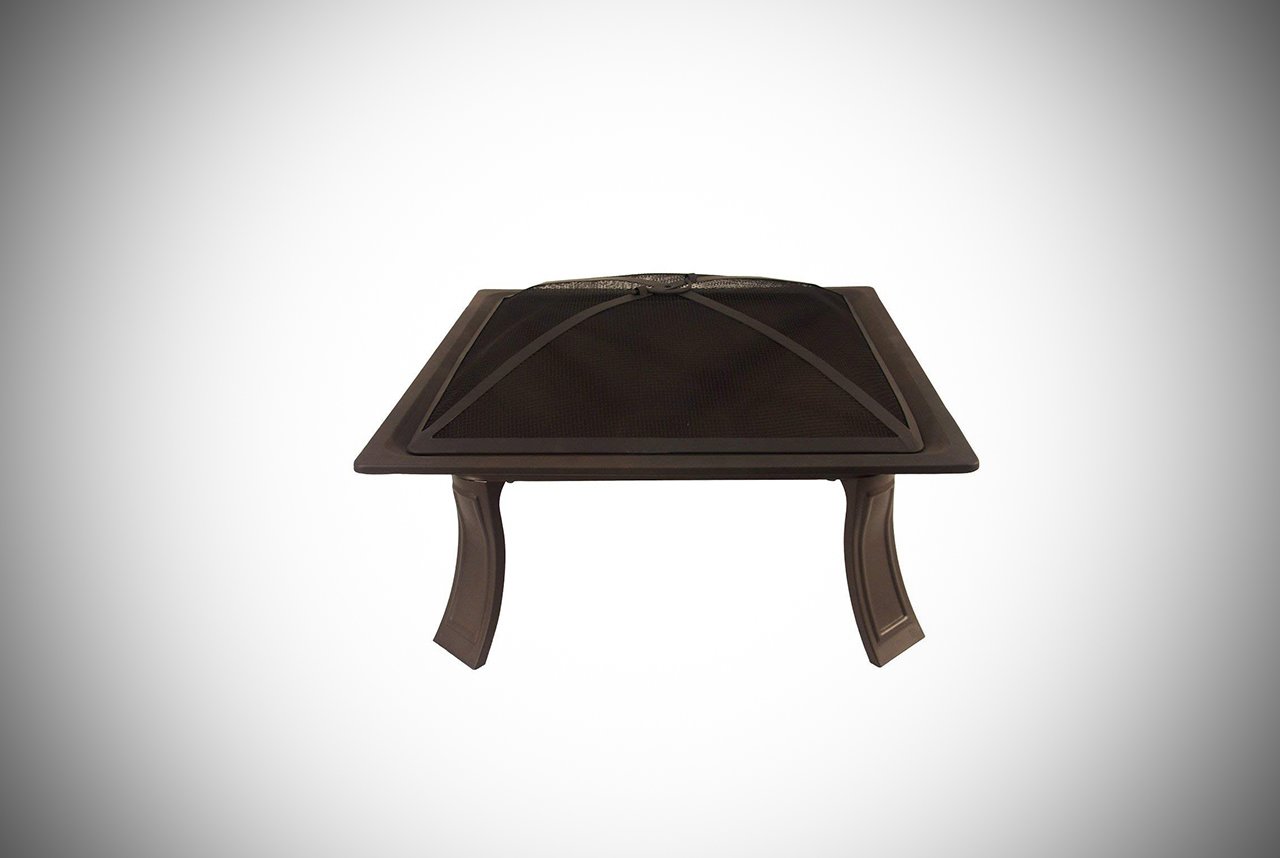 Catalina's Portable Folding Square Fire Pit is a bit of an all-rounder-the jack of all trades fire pit. It has the look of a solid campfire, maybe not the rustic outdoorsy look but a solid fire pit nonetheless. It's a bit like the biker with a great thick beard and no tattoos. Although, this is a positive as it makes it more versatile and not look out of place on a back patio as well as a remote campsite. Getting it out of your garden is easy. All that's required is you to fold up the legs, place it in its accompanying carry bag and take to the road.
It cooks too! Often you get a decent looking campfire but doesn't have much in the way of cooking ability – this one ticks both boxes. Some recent reviews have even testified to some delicious results when roasting a nice lump of meat. If you've been reading along with no real intention in mind, this campfire touches all bases and isn't going to cost you an arm and a leg. Why not take a punt on this one and get a good taste of aesthetics, reliability, portability and, you won't go hungry?
Check Product Price // Read More Reviews
8) Amazon Basics 34-inch Natural Stone Fire Pit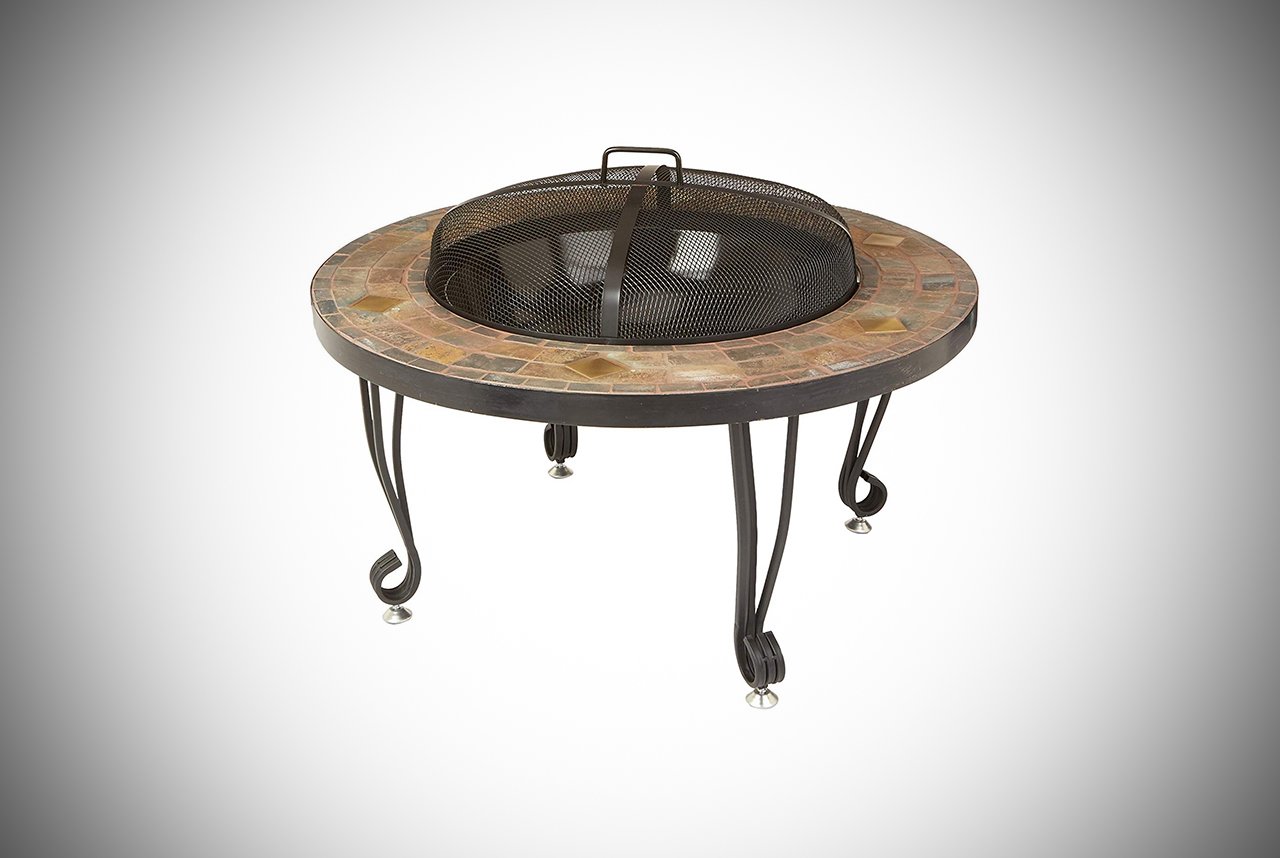 Amazon have produced probably the most beautiful fire pit on our list. The sleek steel basin is surrounded by natural stone aesthetics peppered with copper diamonds. This fire pit will be a real conversation starter at your next garden party or gathering. Wandering flames are kept in tow with a perfectly fitted fire screen so you can admire the flames on a dark night with a cold one to hand. Although it's a stunning fire pit, it doesn't provide a grilling function to turn the guys' post-game beers into a post-game barbeque. The kids might get their s'mores, but your buddies might not be offering you a home-cooked steak when they host you for the big game the following week.
Despite being the most stylish fire pit we have showcased here, it's a bit like your pal who keeps cancelling. By that, we mean it doesn't like leaving the home often. It's not as compact and travel-friendly as the other models in our post and is better suited for relocating within your garden rather than between fields and mountains. If you're not the most adventurous guy, not the Bear Grylls of the bunch, this more chilled out model could be the perfect addition to your property.
Check Product Price // Read More Reviews
A Final Word
It's clear that fire pits can be a lot of fun and very beneficial to any type of guy at any type of occasion from family events to bachelor parties. This old-aged tradition of man making fire isn't going to burn out anytime soon, so if you're going to get involved, you should do it right.
Our list of the best portable fire pits in 2018 are worthy of a second glance. We've showcased something for every man's needs. We had ones with smokeless flames, a unique minimalist one, ones that travel well, ones great for making a hot meal or hosting a barbeque, jack-of-all-trades fire pits and even some sophisticated pits that will get your wife back on side.
Whichever fire accommodating product is the one for you, be proud of being the provider amongst your pack!