H
ave you recently developed a passion for golf and all things related to it? Does nothing excite you more than teeing off and then working your way down the fairway trying to put the ball in the hole with the least amount of moves possible?
Whether you're competing with your buddies, members of the club you've recently joined or your personal best, there's no denying the lowkey, but exciting thrill that comes with golf.
Have you been struggling lately to master the basics of hitting a brick wall performance-wise? It may have something to do with the type of shoes you're wearing. Do you wear proper golf shoes or trainers? If you answered with the former, it may be that you just need to try a different brand or model of golf shoes. However, if you answered with the latter, it may be time to invest in a quality pair of men's golf shoes.
We would only ever recommend golf shoes anyway. At Men's Gear, we're incredibly excited to share some great golf shoes with you, but first, there's some important questions we need to address.
What Are the Benefits of Golf Shoes?
The above question is often asked by people wondering if golf shoes are actually worth investing in or if they're a waste of money. Like any other athletic shoe, they've been designed to help athletes take part in their specific discipline.
First and foremost, the main reason for wearing sports specific shoes is to avoid injury being caused. In the beginning, many newbie golfers avoid investing in them to begin with, but as they continue playing the sport, they should consider paying out for golfing shoes. Along with the safety aspect, there's other benefits, as outlined below.
Sturdy – Golf shoes have sharper tongs and wider-tracked rubber soles that stop you from losing your footing on the grass. The materials used throughout the shoes make them lightweight, but with a certain firmness. Compared to other shoes, they provide sturdy support for the arch of your foot.
Comfort and Support – Golf shoes tend to have additional padding that provides shock absorption. The support for your midfoot is necessary when you're driving the ball because you end strokes on the balls of your feet. Even though they contain leather, they are still comfortable and flexible which are essential properties when walking around a long course.
Ventilation – Most shoes for golf are made from fabrics and materials that improve ventilation. When they're made with Gore-Tex they help your feet breathe, eliminate sweating and absorb moisture. Charcoal and polyurethane are utilized in the footbed of some shoes along with other moisture absorbing components. Polyurethane, in particular, is known to cool and warm feet, as necessary.
Spiked Golf Shoes – Some golf shoes have spikes that give you a better grip while you walk. The new tech used to make these spikes helps keep golfers going and enables them to make the sharp turns needed when striking the ball. Some shoes have twist spikes that can be easily detached from the outer sole that provides stability and grip on various surfaces found on golf courses.
Spikeless Golf Shoes – It's more the ground than the golfer that benefits from spikeless shoes. They don't damage the course as much, but provide the same level of support, comfort and sturdiness of spiked shoes. They're also designed to spread the load of your body weight and give you enhanced flexibility. Generally, they're also less expensive and generally you'll find that most courses require golfers to wear shoes that don't have spikes.
Trainers Vs Golf Shoes
When it comes down to it, whether you should choose regular trainers or golf shoes will depend on a number of different factors. Predominately, the main issue will be whether or not the club and course you're aiming to play on prefers its players to wear golf shoes or is more relaxed. Generally, they are not. The one thing many have a problem with, as highlighted above is the wearing of spiked golf shoes. Trainers are frowned upon in most clubs and courses because there's usually a strict dress code that you must adhere to.
There's also some of the benefits mentioned that come from wearing golf shoes. Trainers may be fine on a day to day basis, but when you need shoes suited for the movements of your feet and body navigating over the various types of terrain, you're better sticking to golf shoes. They provide the support and stability you need.
Things to Consider When Buying Golf Shoes
As noted earlier, there's quite a number of different golf shoes available these days, which makes it difficult choosing a pair that are best for you. Therefore, let's discuss some things to consider when buying golf shoes, to help you make the right choice.
Price – Golf shoes vary considerably and can be anything from $35 to $300 and even more. Generally speaking, like most things in life, you get the quality you pay for in golf shoes. Inexpensive golf shoes, for example, have synthetic leather and more expensive shoes are made from high-quality calfskin leather. There are also numerous features that either are or aren't included depending on price. Generally speaking, as you'd probably imagine, the costlier pairs will last longer and will even have a positive impact on your game.
How Regularly You Play Golf – This is the one factor that'll have the most bearing on the amount of money you spend on your golf shoes. If you're only going to play golf a couple of times a year, it's hardly worth investing in an extremely expensive pair.
The Fit – It's important, and should go without saying, that you buy shoes that are the right size. This is important especially when buying online, as some customers leave feedback telling future buyers to order a size smaller or larger than they usually would – due to sizing issues in manufacturing.
Synthetic or Leather – The materials used to build them is also something you should consider when choosing golf shoes, as this will greatly affect the price. Synthetic leather golf shoes are less expensive than ones that have been made from the finest calfskin leather. They'll also be less comfortable than calfskin leather shoes, fit less comfortably and offer less stretch. Synthetic leather shoes also don't have any waterproofing whereas leather varieties do.
Now that we've answered the important questions in life…well, when you're looking for the right golf shoes, it's time to actually look at the best men's golf shoes on the market.
1) Adidas Tech Response 4.0 WD Golf Shoes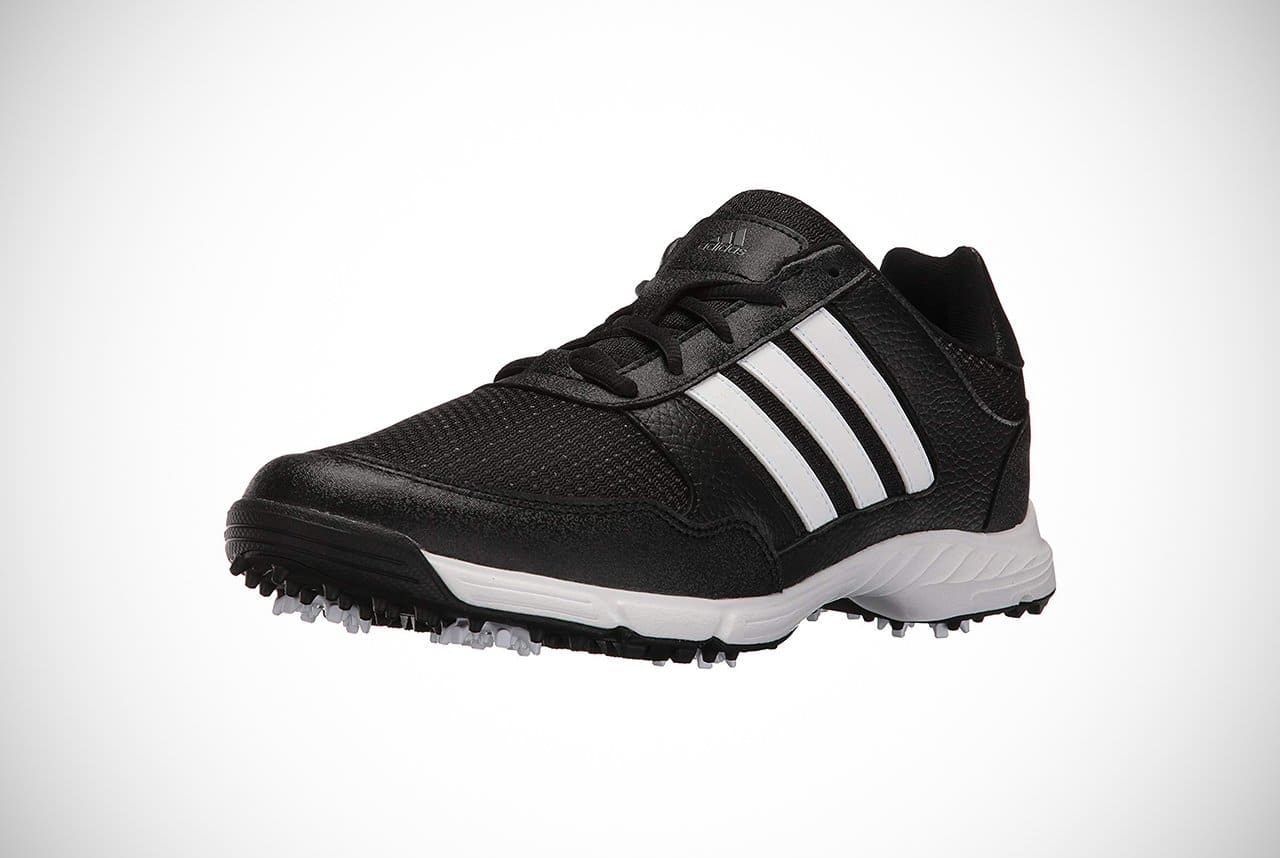 First up, we've got this sweet pair of Tech Response 4.0WD from Adidas. Adidas feature heavily on our list, which isn't very surprising considering the German sportswear's dominance in so many other athletic shoes market.
The golf shoes are made from a combination of high-quality synthetic leather and mesh which made them extremely lightweight and well-ventilated. There's an EVA soft inner sole to help you get through each hole, from 1 to 18.
This walking on air sensation is also thanks to the 6-spike configuration on the outer sole that utilizes the exclusive Thintech for increased stability and grip.
Check Product Price // Read More Reviews
2) Callaway Balboa Vent Golf Shoes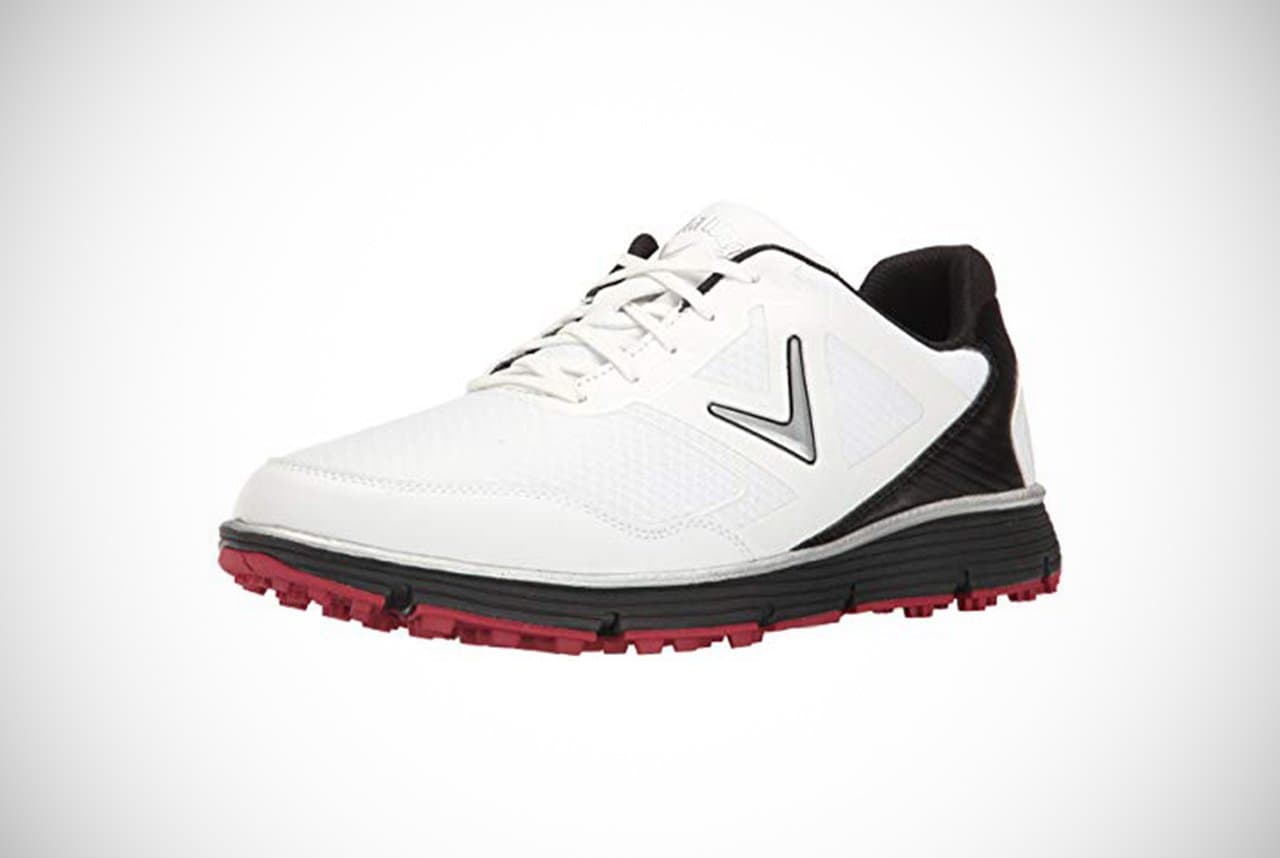 Callaway are known for making athletic shoes that are comfortable, but also incredibly affordable compared to others on the market. This Balboa Vent are a great example of stylish pair of high performance golf shoes.
The outer sole is particularly noteworthy because it's spikeless, but benefits from a Dura-rubber construction and traction-control lugs providing multi-directional grip. On the inside, there's the supportive Opti-soft EVA midsole and the sock liner. As the name suggests, it has Opti-Vent meshing to help provide breathability.
This is especially important when you're taking a leisured approach to those 18 holes.
Check Product Price // Read More Reviews
3) Adidas Adipower Boost 3 Golf Shoes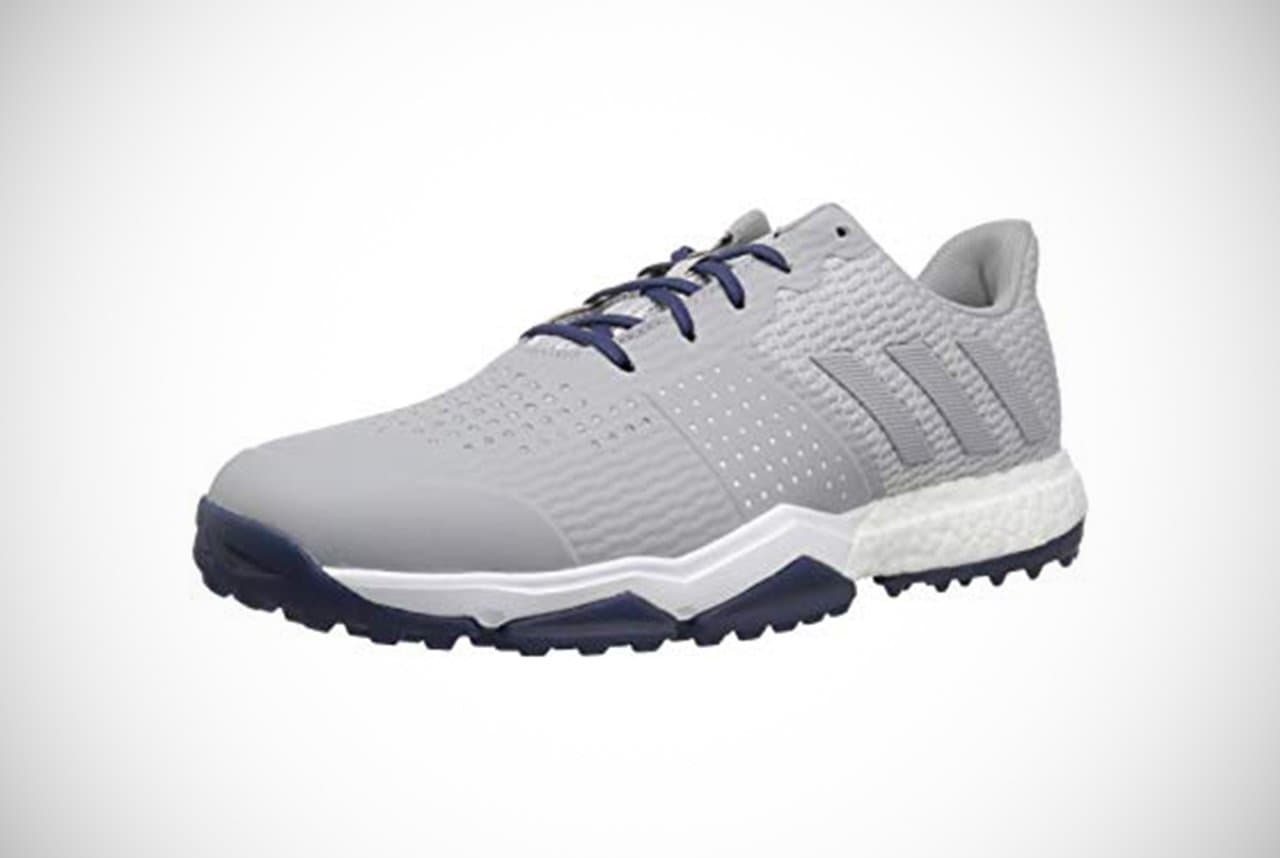 The next awesome pair of Adidas golf shoes on our list are these Adipower Boost 3. Made from a combination of both leather and synthetic materials, they benefit from Adidas's own Boost midsole design with additional cushioning for increased comfort when walking.
The Climaproof stretchable microfiber leather used in the upper ensures the shoe is lightweight while offering the protection and durability you need for those long games. Designed with long competitions in mind, the 6-spike TPU outer sole construction has secondary lugs placed strategically for extra stability and grip.
Even the tongue hasn't been left as an afterthought – molded EVA that hugs the top of your foot to make a snug and comfortable fit. Adidas show the reasons why they are market leaders with these amazing shoes.
Check Product Price // Read More Reviews
4) Woodworm Golf Surge V3 Waterproof Golf Shoes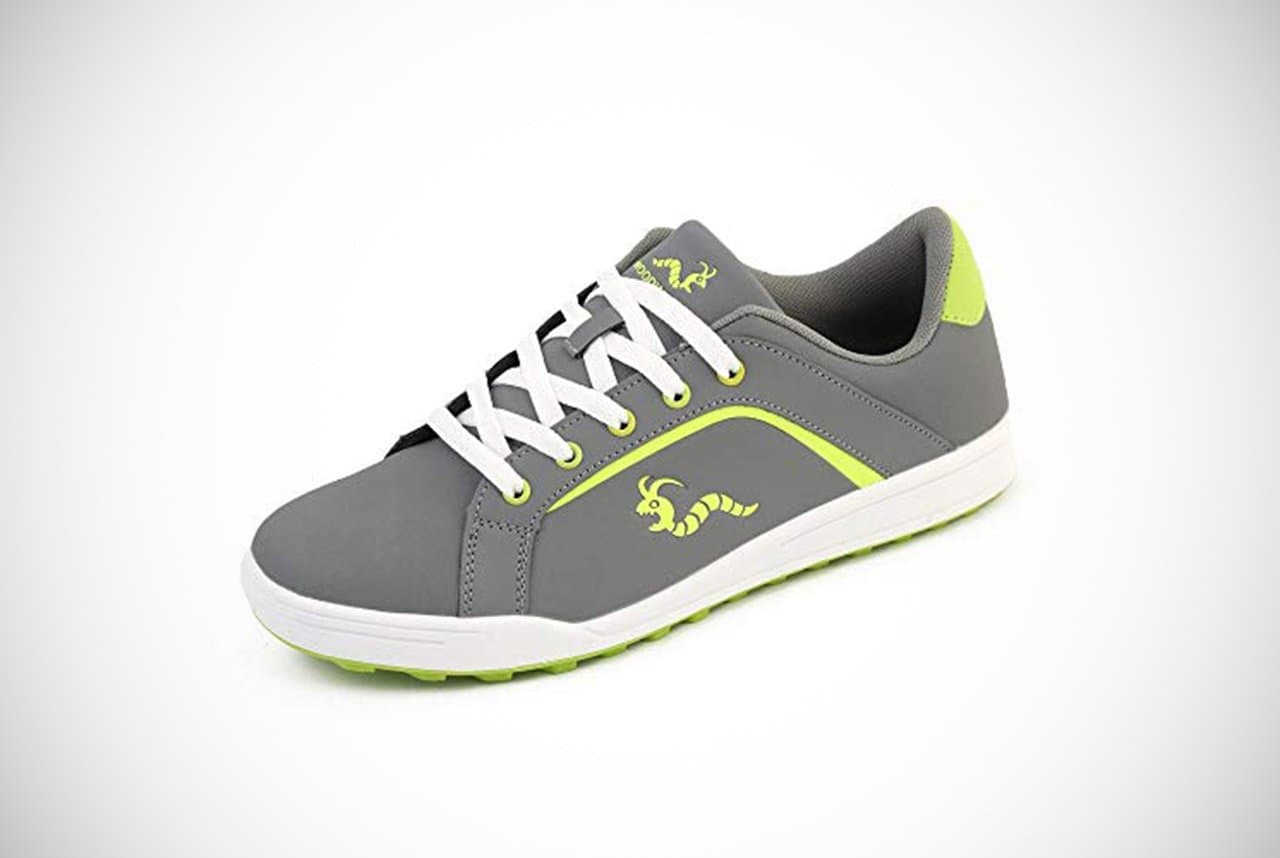 We'd be lying if we said we didn't think it was a little odd for a sportswear company to be called woodworm. Particularly as these Surge golf shoes are supposed to be waterproof.
Nevertheless, for the price, we're willing to take the bait. The funny thing is, with a 12-month waterproof warranty and firm gripping outer sole, these are a surprisingly good pair of shoes.
With a more stylish and traditional sneaker look, these are comfortable to wear and benefit from high-quality PU leather in the upper and a mesh inner for breathability and ventilation. The midsole is made from soft and responsive microfiber.
All in all, it might sound like a stupid name, but these budget golf shoes made us smile for all the right reasons. Ideal for those showery days of golfing from St Andrews to Oakmont.
Check Product Price // Read More Reviews
5) PUMA Grip Sport Golf Shoes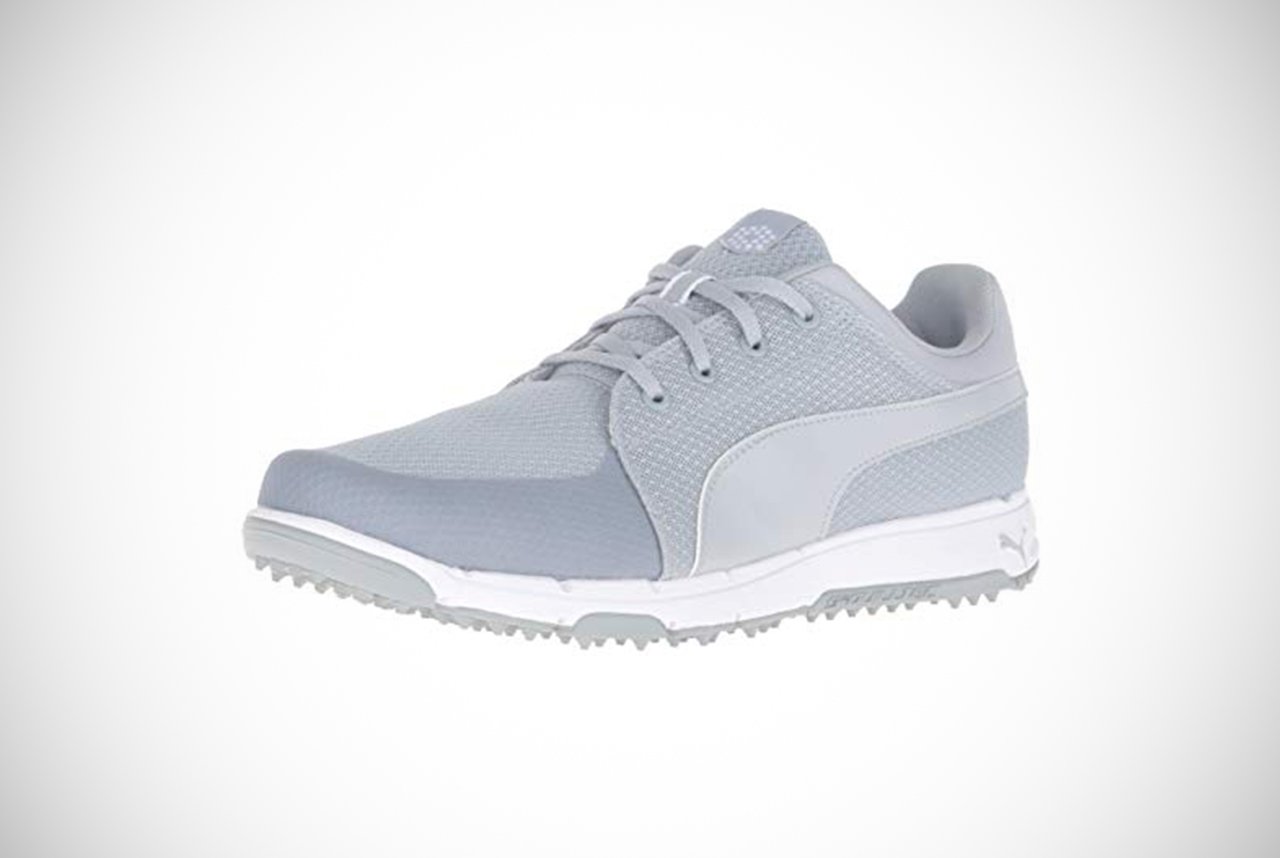 Although not nearly as popular as New Balance and Adidas when it comes to the bigger name branded golf shoes, Puma is still a reliable option. These are particularly notable for their use of the patented SmartQuill tech that provides amazing grip and stability in the outer sole.
They also benefit from the inclusion of a midsole comprising of the ingenious Fusionfoam. This is an EVA-constructed midsole that is both responsive and comfortable.
Adequate ventilation is given by the mesh lining. All in all, they aren't going to win a beauty pageant, but they'll give all you amateur golfers a decent return on your investment.
Check Product Price // Read More Reviews
6) Adidas Adipower Bounce Golf Shoes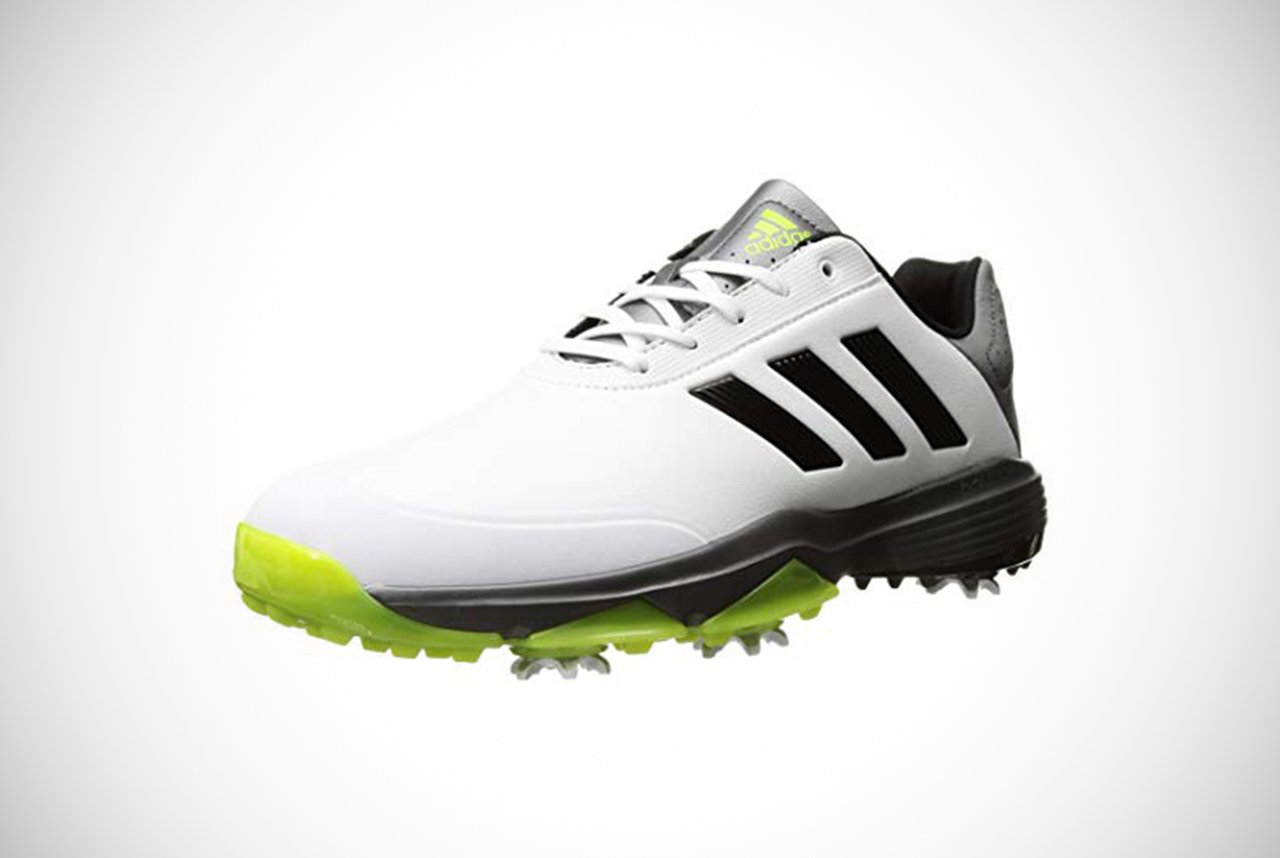 Adidas's commitment to producing tour-worthy golf footwear is evident in these Adipower Bounce shoes. Amazing stability, enhanced comfort and increased volume are all possible because of the wider forefoot the German company have given these shoes and the more rounded-off toe shape.
Bounce by name, bounce by nature, these shoes also benefit from a full-length foamed sole that provides you with amazing comfort and cushioning. The Climastorm upper made using Clarino microfiber requires little to no maintenance and offers superior durability without compromising on the weight.
You won't notice how durable and hardy they are because of the lightweight feel. This gives you the chance to concentrate on not looking a fool in front of your wife's boss, your best buddies or that client you're trying to impress with your chipping skills.
Check Product Price // Read More Reviews
7) New Balance NBG2004 Golf Shoes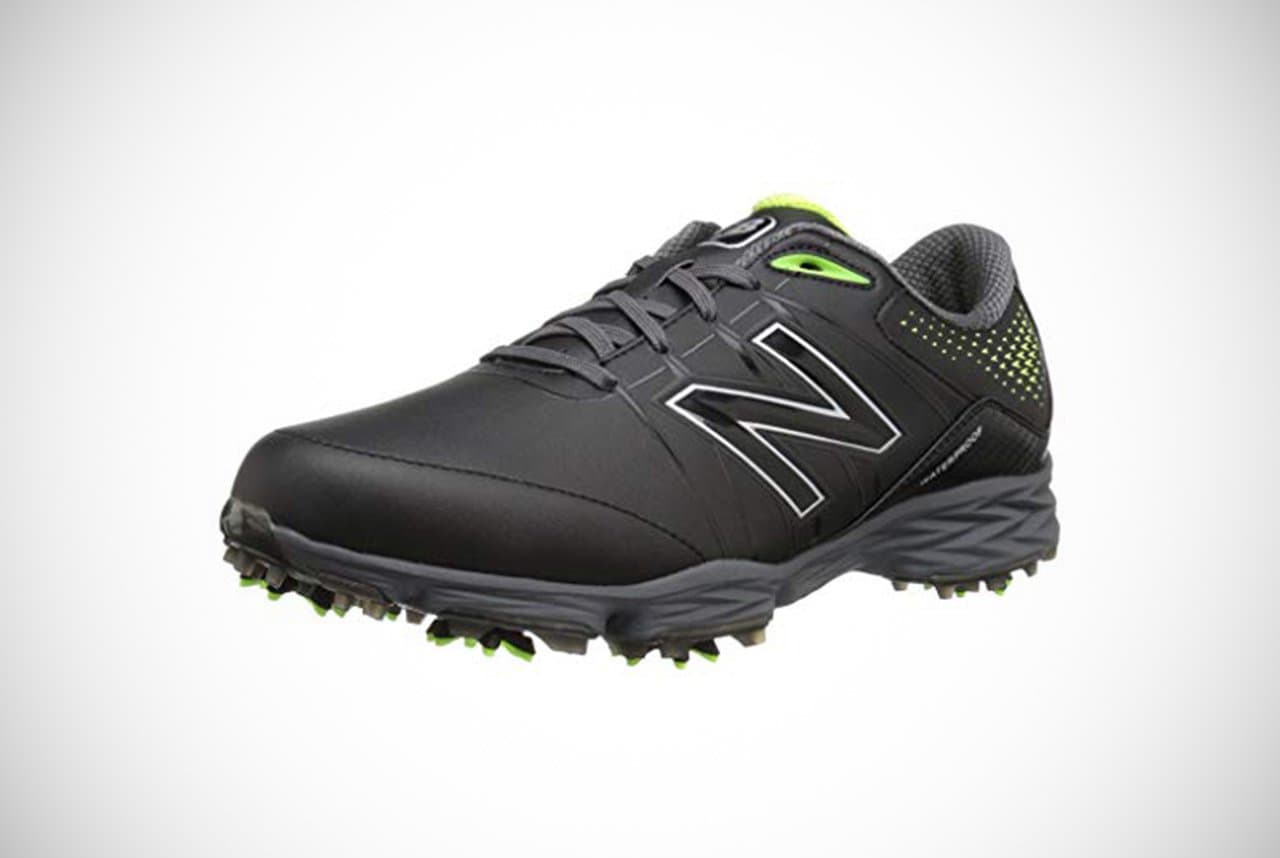 Although these were first released in 2004, these particular New Balance golf shoes are worth considering if you have a moderate budget to spend.
They have a REVlite midsole with a 10mm drop that offers an incredible level of responsiveness and cushioning. Despite the waterproof leather upper and sturdy construction, these shoes will never feel too heavy. Even after the 10th or 18th hole.
The TPU outer sole gives you the stability and confidence you need to concentrate on your swing, as it flexes with the movement and flow of your foot. Although it does include spikes, these are easy to remove.
Check Product Price // Read More Reviews
8) Skechers Performance Go Golf Drive 2 Shoes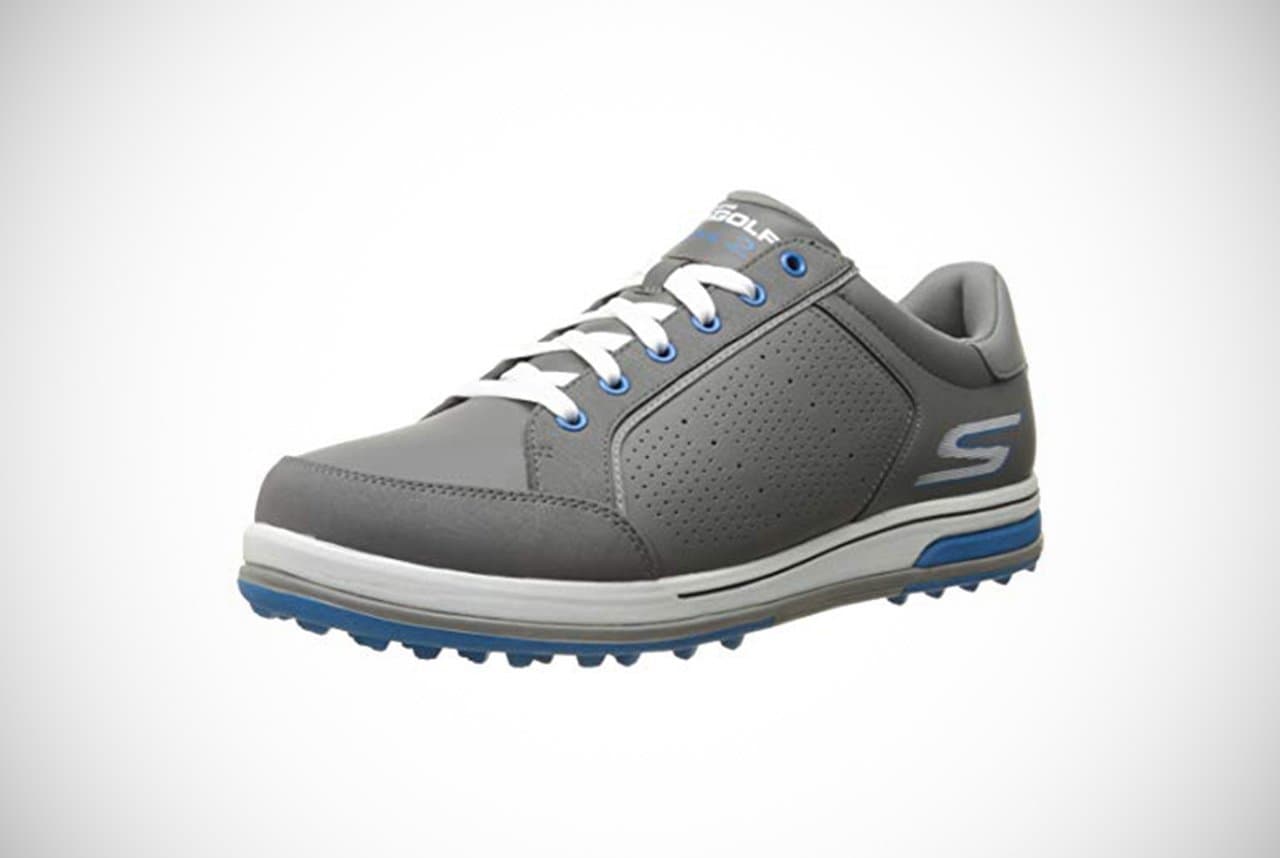 Skechers have been making high-quality and stylish looking athletic shoes for some time now. These Go Golf Drive 2 shoes are an excellent addition to the Skechers family.
They feature an upper constructed from perforated and smooth synthetic leather and have a traditional lace-up closure. On the inside is where the magic happens though, with the GoGa Mat Foam inner sole. Thanks to the low profile of these shoes, your foot is always kept low to the ground and positioned neutrally, which gives you a more stable foundation.
The midsole is also marvelous and features next-gen Resalyte which Skechers are well-known for in their other athletic shoes. The GOimpulse outer sole has sensors that provide responsive feedback and the type of grip and traction your feet long for on those tricky courses
Check Product Price // Read More Reviews
9) Skechers Performance Go Golf Elite 2 Shoes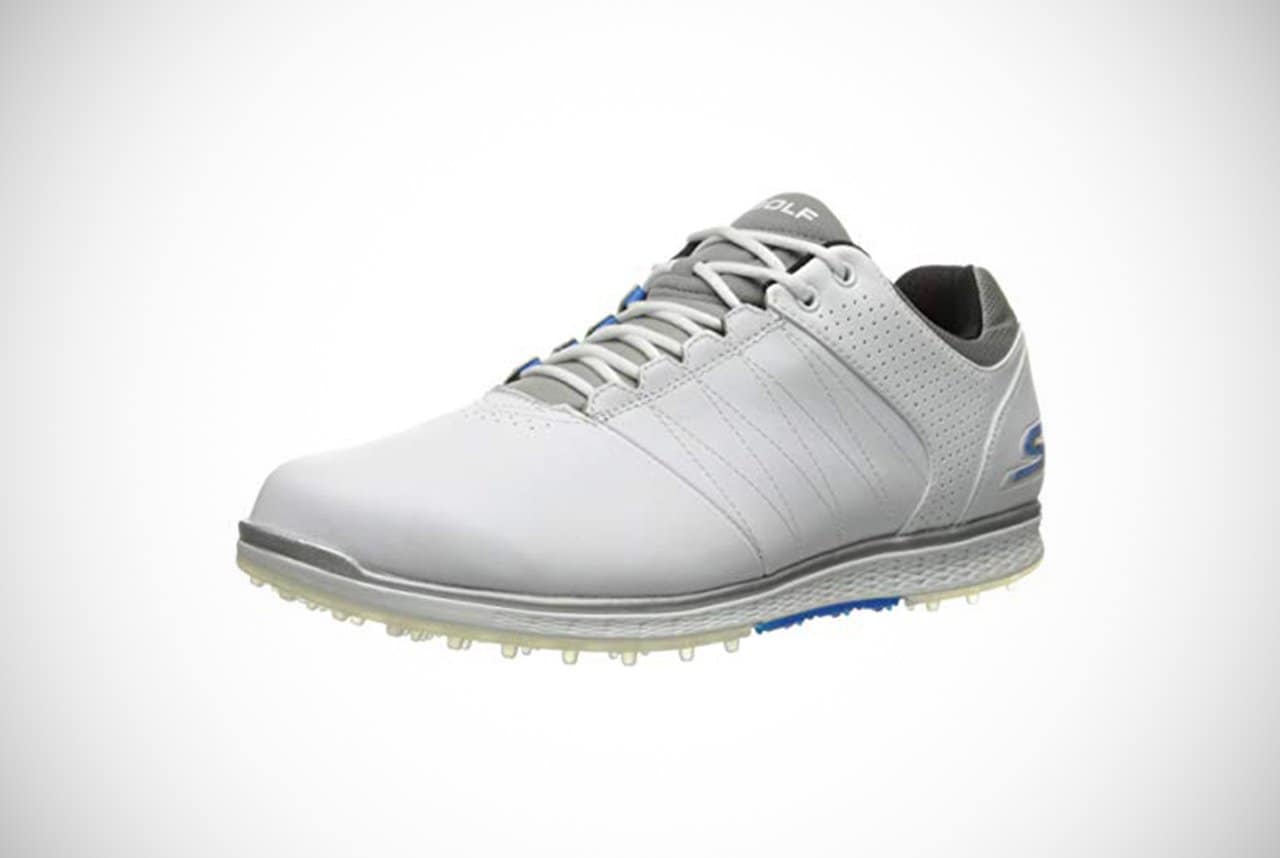 Sticking with Skechers and Skechers Performance for our next pair of shoes, these are the follow-up to the successful Elite shoes released by the formidable sportswear brand.
Made from high-quality leather, they feature the Skechers' own H2G) Shield which is a seam-sealed waterproof component that protects your feet from whatever the weather throws at you while you're on and off the course.
5Gen is another Skechers Performance technology. This is cushioning foam utilized in the Elite 2 shoes to provide an enhanced level of responsiveness with a lightweight fit and feel. Skechers also rather notably have taken the care of courses into mind with the Softspikes design. These cleats can be replaced, meaning you don't have to buy completely new shoes and they provide the necessary comfort and traction you're looking for without damaging surfaces on and off course.
The Elite 2 are an awesome pair of golf shoes and because of their low drop design, you're always close to ground level, which gives you more control on your body twists when you swing those clubs.
Look the part, feel the part and become the golfer you dream of being. Well, skill is important, but the blagging side of golf means you can at least give off the impression you know what you're doing, as confidence can be a distraction for your opponents.
Check Product Price // Read More Reviews
10) Puma Grip Fusion Golf Shoes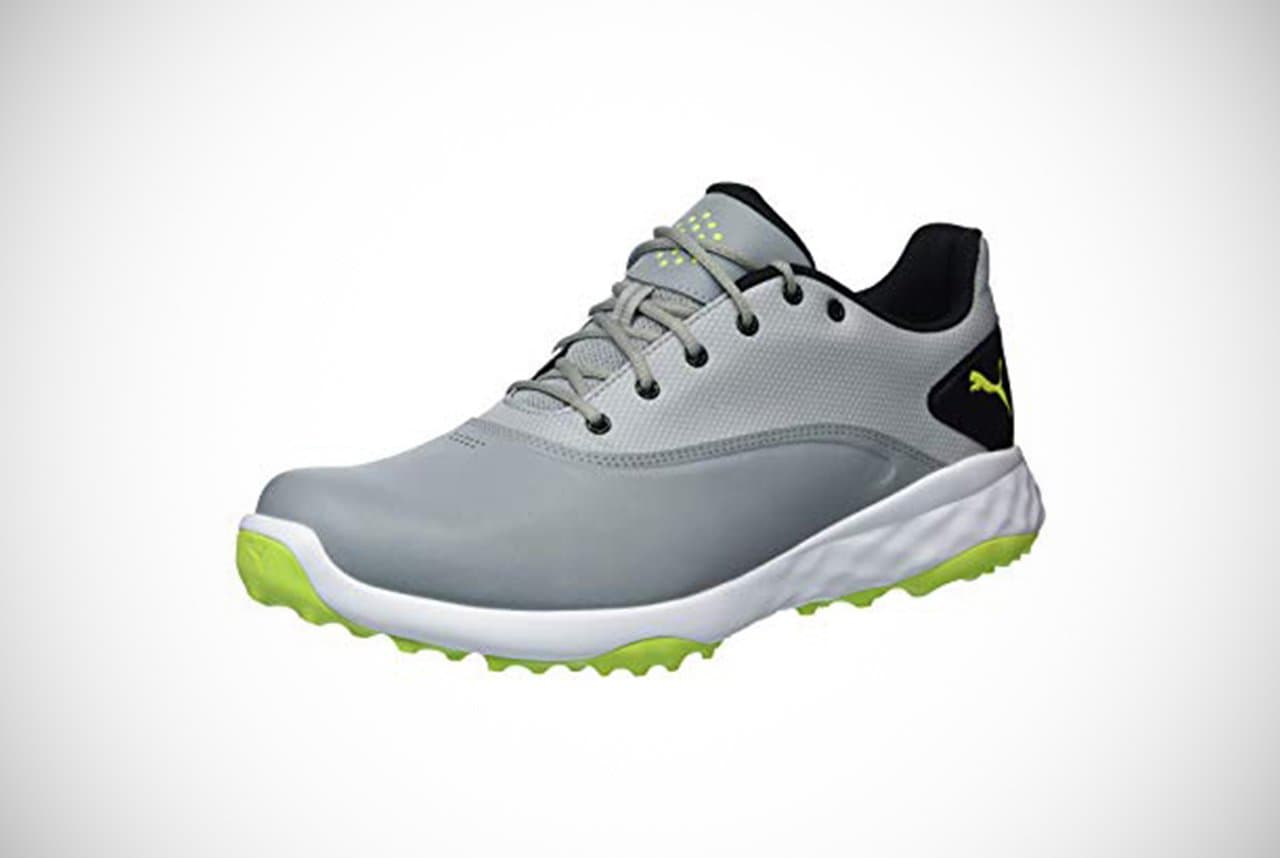 It's come to our attention that we may have been a little on the dismissive side about Puma earlier. Puma do in fact manufacture great golf shoes, as these Puma Grip Fusion shoes attest to.
Not only do they have seriously good looks, they also have some seriously good and reliable technology utilized in their construction and design. Take, for example, the foam-dual density inner sole, which provides not just one but two forms of unique cushioning. This helps to give you a more tailored fit, the unbelievable comfort that Puma consider to be unrivaled and incredible durability.
The Fusion foam-mix comprises of highly-responsive rubber and EVA foam that will ensure you feel comfortable and raring to go, no matter how long it takes you to get to the 18th hole. Even if you're on the toughest course, you won't feel it.
These also benefit from having what Puma refer to as Organic Traction. The multi-directional lugs are placed at strategic points with the goal of increasing grip and traction to give you better control and power when you swing. Did we mention that these also provide 1-year waterproofing?
Check Product Price // Read More Reviews
11) Puma Ignite Pwrsport Golf Shoes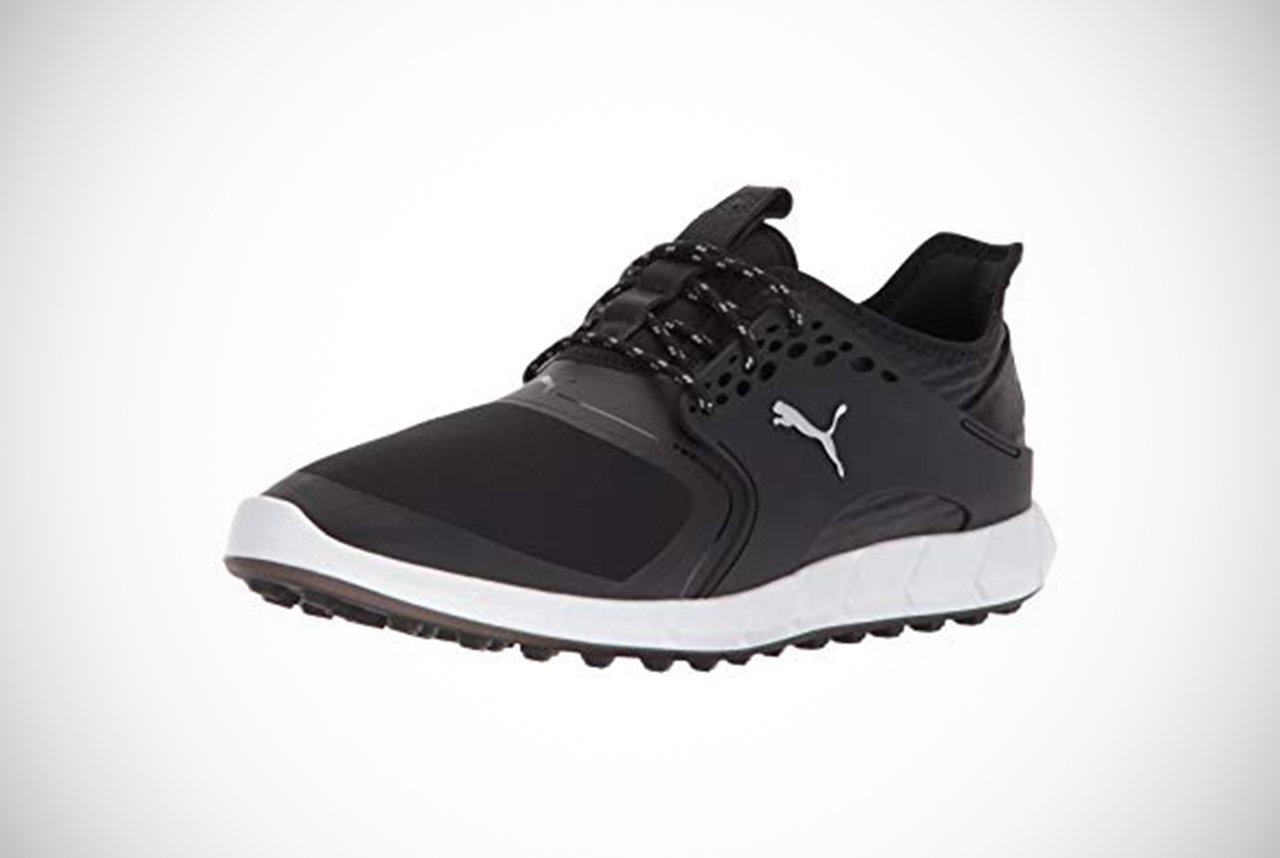 Power is important in the world of golf, so you know that a shoe is called Pwrsport and features several components using the 'power' word, it means business. And boy do these babies mean business!
Where to begin? The PWRCAGE saddle is made from TPU and provides you with adequate support without compromising on the weight. These are an especially lightweight pair of golf shoes. Next, there's the amazingly thin PWRFRAME reinforcement that Puma have utilized in the shoe's most high-stress areas.
The Ignite of the name refers to the foam that offers you all the stability, comfort and high-energy return you need when you're up against the best of your golfing opponents on those tough courses.
Another notable feature is the GripZone Traction outer sole. Aptly named, this ensures you're not going anywhere. Regardless of the weather conditions, when you tee off, make those complicated saves from the bunker or have to clear 15ft in one fell swoop.
Puma may just have outdone themselves and raised the bar too high for their own good with this shoe and we're grateful that they did. We think you might be too.
Check Product Price // Read More Reviews
12) Skechers Go Golf Fairway Golf Shoes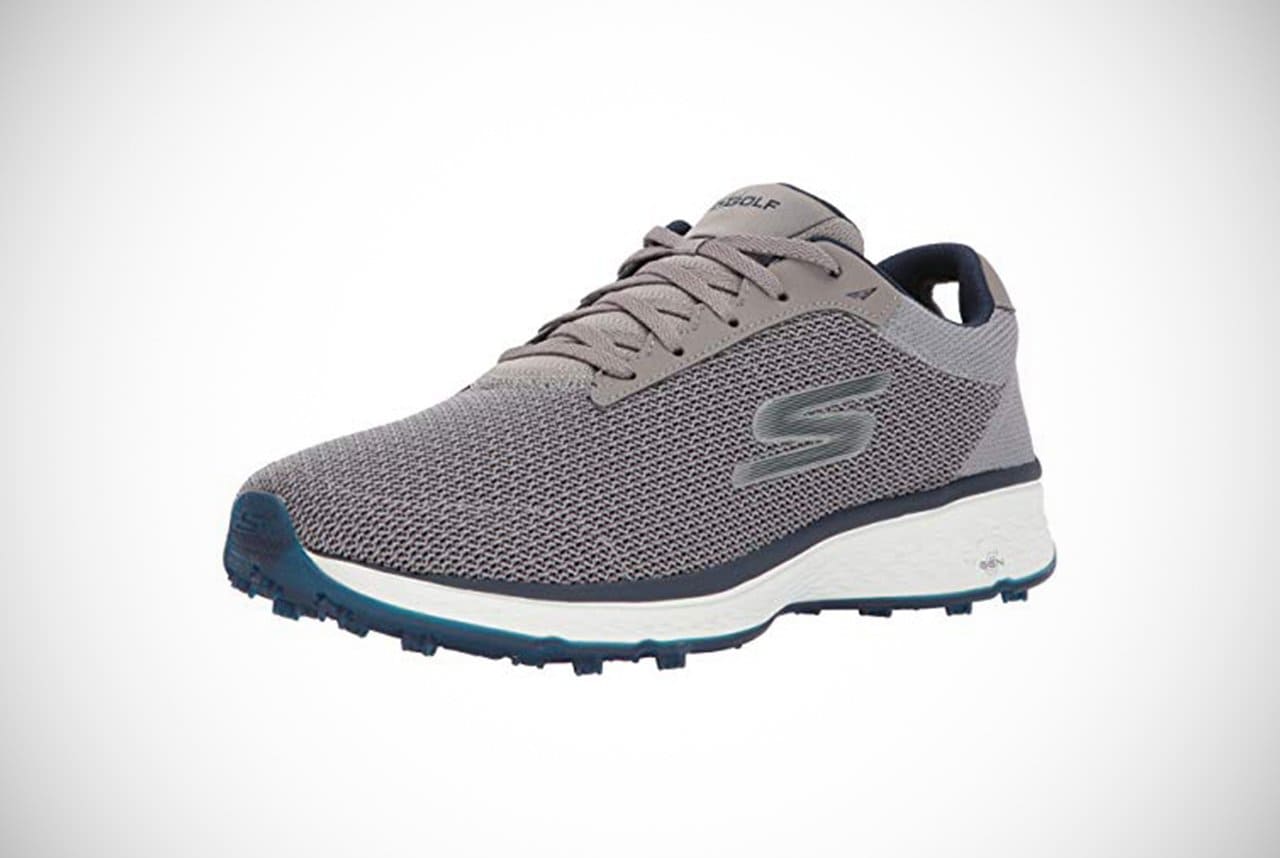 We're back with Skechers for the next pair and with fairway in the name, you may be wondering if they're the sort of shoes you'd want to wear on the fairway or would rather be dead than caught in them. The good news is that these are ideal for wearing on and off course.
They feature Skechers' Goga Max insole with the 5GEN cushioning midsole system that provides you with a lightweight and responsive athletic shoe. It's all go go ga on the outside of the shoe too with the Goga Matrix outer sole design.
When this shoe is not busy ensuring you've got the most comfortable experience on and off course as possible, it's also ensuring your feet stay dry, both by providing waterproofing and ventilation.
Check Product Price // Read More Reviews
13) Adidas Powerband BOA Boost Golf Shoes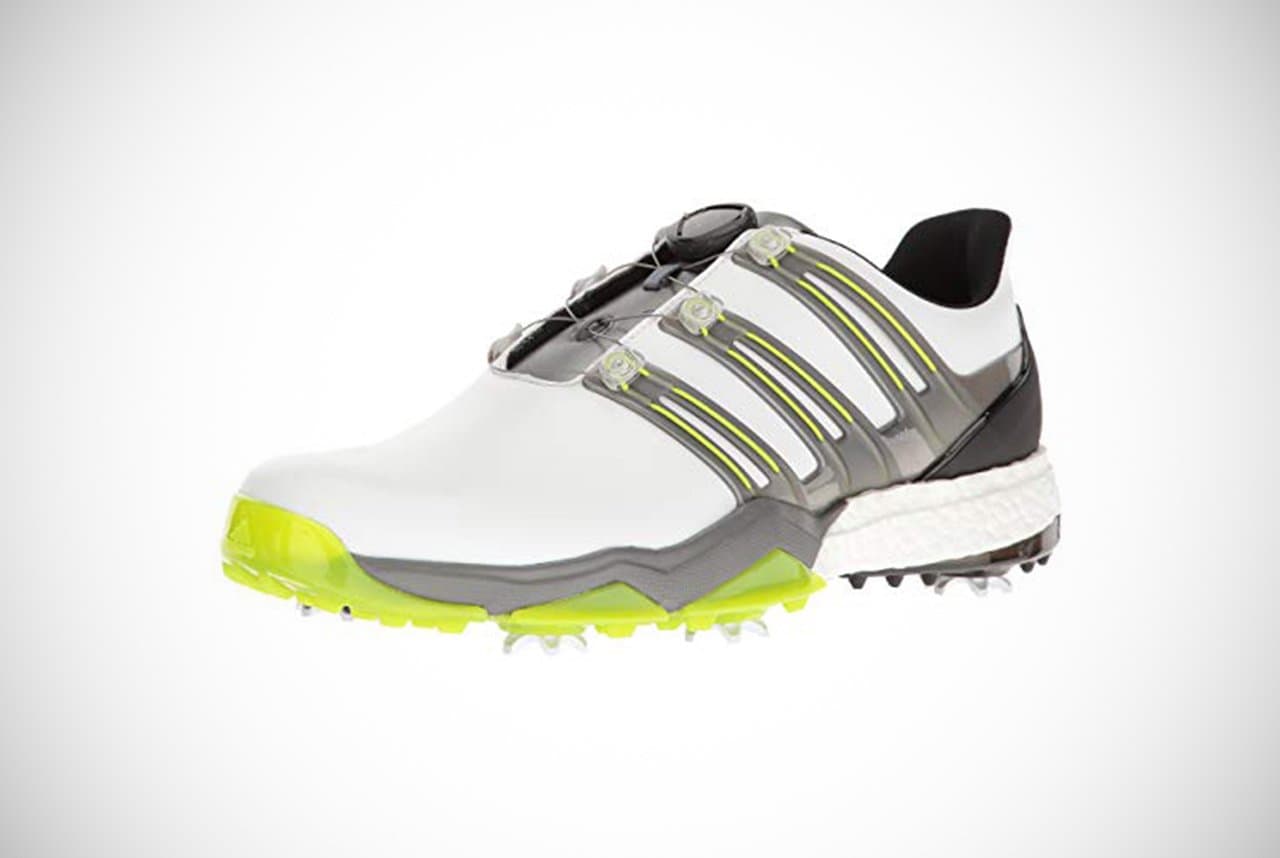 Powering back across to Germany for golf shoe number 13 with the Adidas Powerband BOA Boost shoes. These are similar to the last pair of Adidas on our list further up the page. They include the sturdy and effective Powercage saddle structure that features soft wiring through the 360LOOP guide to provide the BOA closure system that is designed to strengthen the upper lateral structure and prevent power and energy loss.
Again, much like other Adidas products on this list, the outer sole features secondary lugs that assist in ensuring you have the stability and grip you need, not just for one or two rounds of 18-hole golf, but for a whole tour worth. The fact that these are so affordable despite their professional design, is remarkable. Like most modern Adidas shoes these Powerband make full use of the forefoot bounce tech and the Boost midfoot and heel foaming to provide you with an almost limitless energy reserve.
Check Product Price // Read More Reviews
14) Skechers Go Elite 3 Golf Shoes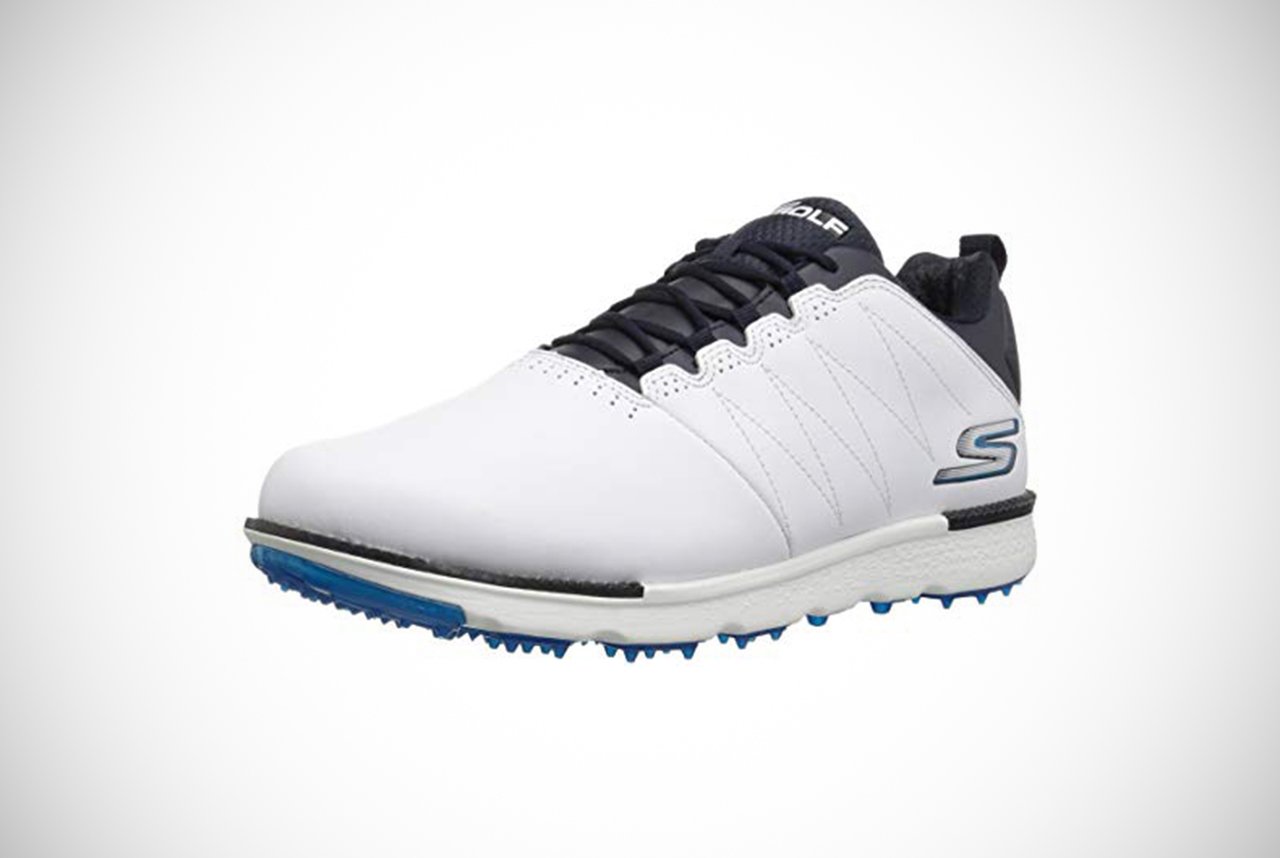 It's quite possible that in the Skechers Go Golf Elite 3 shoes we've left the best of the company's fairway offerings til last. One of the biggest and most defining words that could be used to describe this pair of stylish and trendy pair of shoes is 'comfort'.
These waterproof shoes feature a brand-new spikeless outer sole that still provides that necessary stability and grip on the fairway, bunker or however far you are. Both the ubiquitous H2GO waterproof protection and 5GEN cushioning systems are used to devastating effect in these shoes. The addition of the locking heel design means you have a dry, responsive and snug-fitting shoe.
Check Product Price // Read More Reviews
15) Adidas Adicross V Golf Spikeless Shoes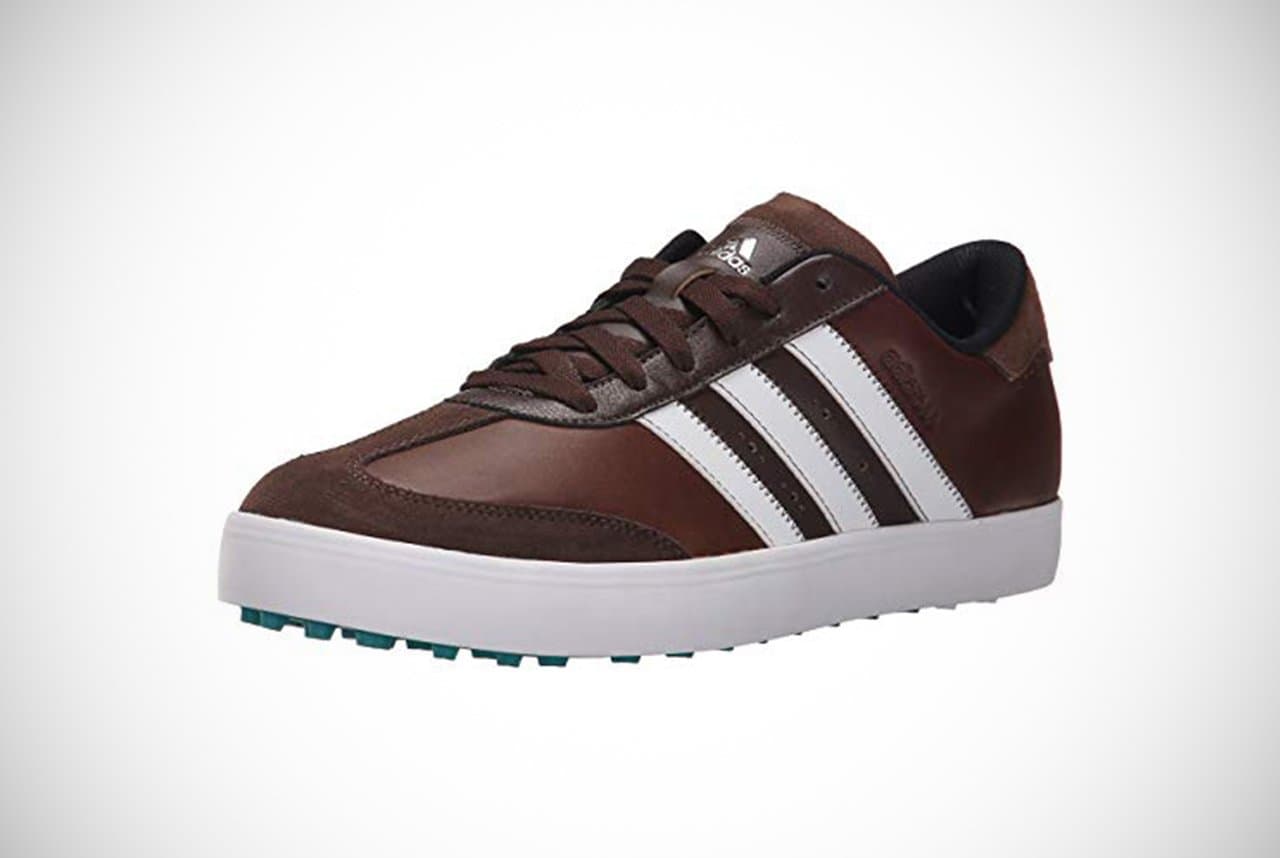 The German giants have introduced the Cloudfoam sock liner found in other sports discipline shoes by Adidas. When this is combined with the EVA cushioning it gives you a comfortable and responsive shoe you can wear every day all day. The spikeless outer sole is ideal, not only because it helps to maintain the condition of the course you're playing on, but ensures you're comfortable wearing them off course.
With the other ingenious tech ClimaStorm, thee shoes provide excellent waterproofing in the upper.
Check Product Price // Read More Reviews
16) ECCO Biom Hybrid 2 Hydromax Golf Shoes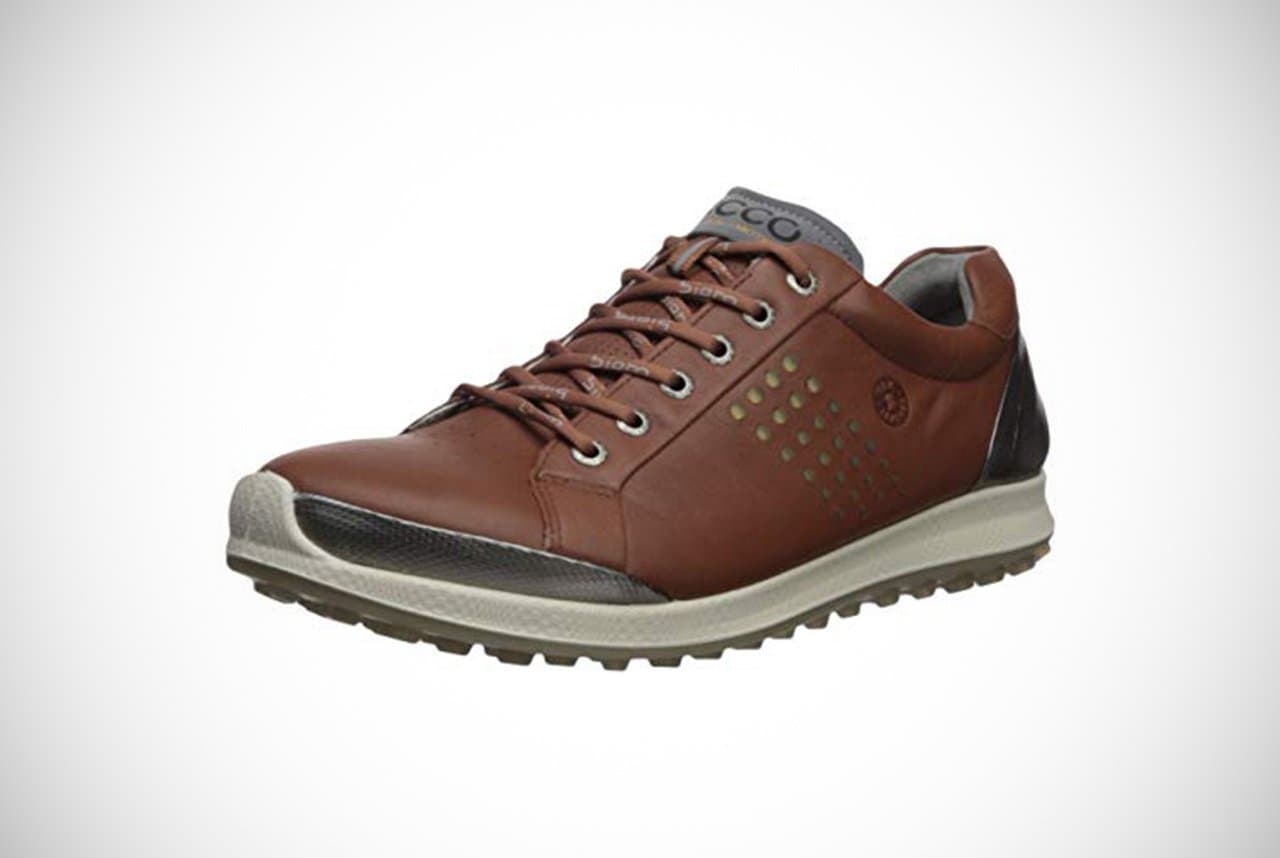 Although we've not mentioned much of ECCO, a brand that's always been popular with golfers, we're delighted to highlight the company's Biom Hybrid 2 Hyromax shoe.
First, we better explain as you're probably dying to know – the Hydromax refers to the shoe's excellent weather resistance that comes from its construction consisting of strong, breathable and soft leather with a special treatment.
They also benefit from having an anatomical shape that was developed by the company by scanning 2,500 athletes' feet.
Check Product Price // Read More Reviews
17) Adidas Adipower Boost 3 Onix/C Golf Shoes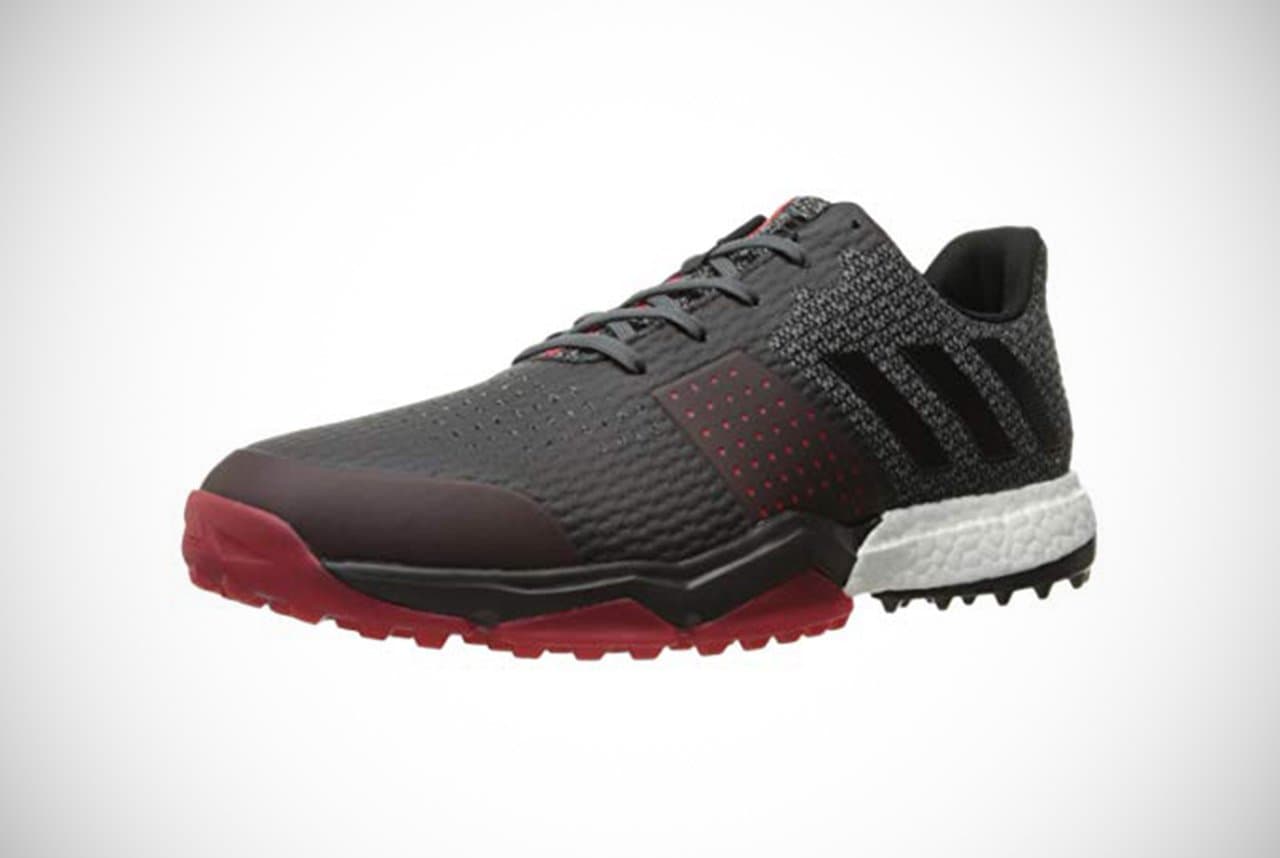 Adidas have done it again and produced a sophisticated running shoe that begs the question, 'Did we just call it a running shoe?' It certainly doesn't look like a golf shoe though, that's for sure.
Many of the usual construction features we've come to expect are in this shoe, such as the Boost midsole, the ClimaProof stretch synthetic leather, and the 6-spoke outer sole.
Basically, if you're looking for a reliable pair of golf shoes, you could do a hell of a lot worse than this. Adipower, Adiboy.
Check Product Price // Read More Reviews
18) Adidas Adipower Boost Golf Shoes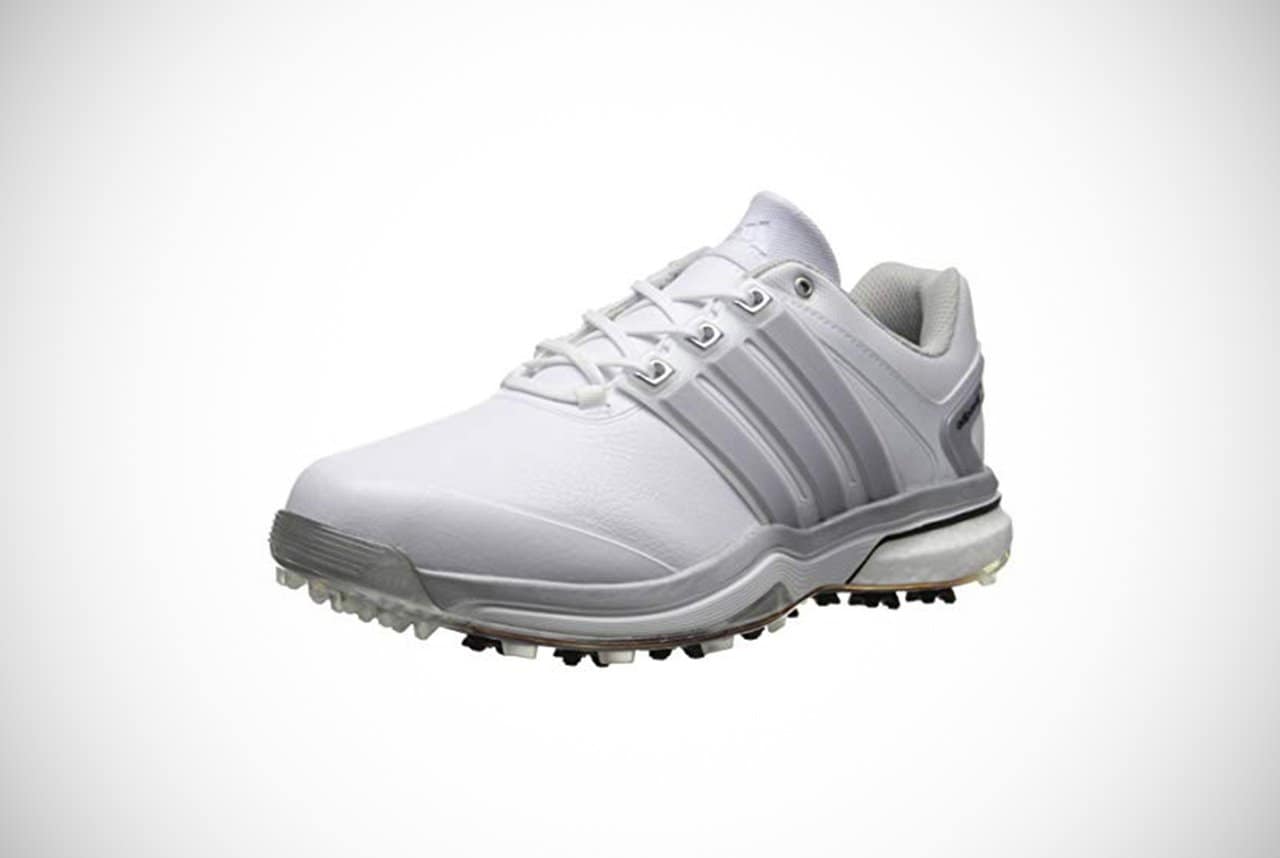 Our penultimate pair of Adidas shoes is another Adipower and other Boost pair. Adidas have a huge wealth of experience and skills that they've managed to finetune and hone over the years, so they can produce shoes like these.
The unassuming looks of the outer shell hide a high-performance tour-ready pair of shoes. The lacing system benefits from an EVA tongue top that helps the shoes to fit extremely snug and comfortable, while the saddle across the laces helps provide increased stability and lateral support.
The outer sole features Adidas's own advanced gripmore traction technology that will give you the confidence you need from your first tee-off to the last hole putted.
Check Product Price // Read More Reviews
19) Adidas Crossknit Boost Golf Shoes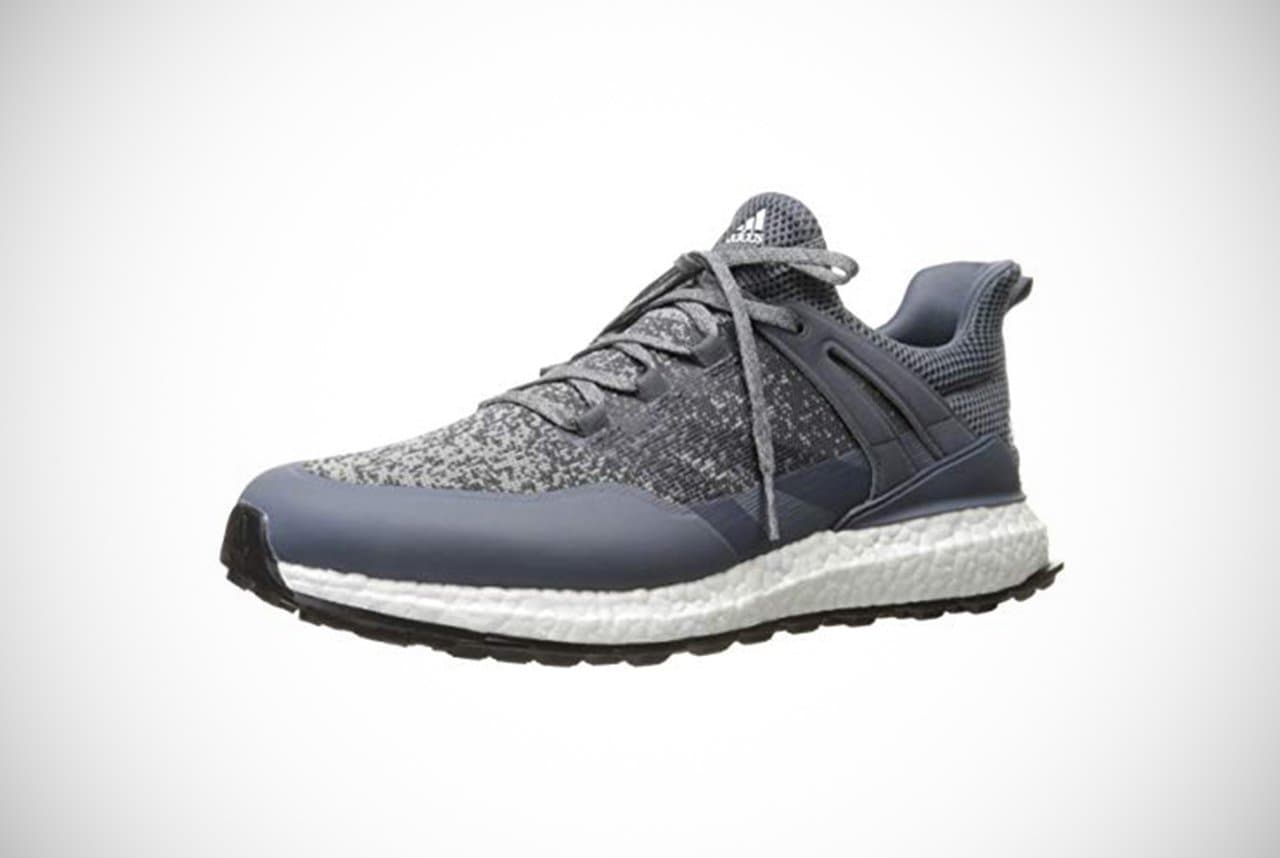 Our last Adidas are the striking, but breathable Adidas Crossknit Boost shoes. These are different from other Boost shoes and well most other Adidas golf shoes in general. How so? Well, the Circle Knit upper material has been specifically engineered to provide better ventilation and a stretchier feel around the foot. This helps to increase the support the shoe provides laterally.
There is also 3-Stripes reinforcement used in conjunction with the heel counter on the outside. With the TPU toe protection and the additional length to the saddle sling, this pair of shoes is all about foot protection and stability.
Check Product Price // Read More Reviews
20) New Balance NG518 Golf Shoes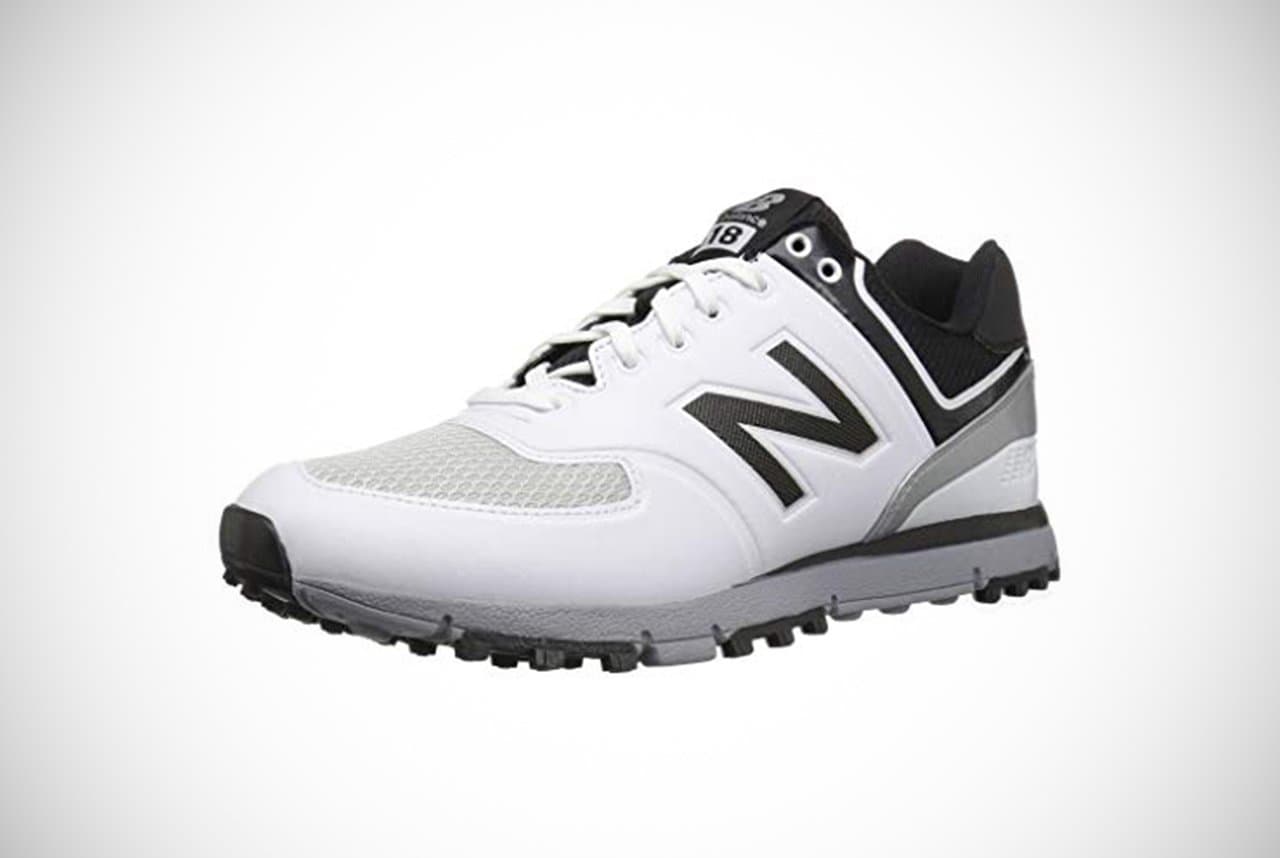 Right guys, we've made it. Final hole time, let's try and end this round of golf shoe reviews on a high. Fortunately, we have these great New Balance golf shoes to discuss, so it's going to be an easy hole in one.
Although much more familiar to a lot of people as a running and walking shoemaker, New Balance have kitted these out with some awesome golf-specific tech. Therefore, these shoes have enhanced stability and traction that ultimately means your game will improve. As long as your skills are there, that is. The NDurance spikeless rubberized outer sole is noteworthy and while it provides the necessary traction, it doesn't hold you down too much.
These are lightweight shoes. There's no denying that. The company have taken the REVlite midsole that they'd originally designed with endurance athletes in mind and utilized it to provide these golf shoes with the cushioning your feet deserve. So, whether you're teeing off, on the fairway, out of bounds, on the green or in the bunker – these shoes will never let you down.
Check Product Price // Read More Reviews
HOLE IN ONE
Okay dudes, you now know as much as we do about the best of the best of the best, when it comes to golf shoes. Whether you're a rank newcomer, a seasoned amateur or an ice hockey enforcer that finds his calling in life, albeit through tirade of tirade of swearing and shouting (See, Happy Gilmore, a rarity in that it's a funny Adam Sandler film), the shoes we've highlighted will help you meet your true potential.
Full disclosure, as ever with athletic and sports-specific shoes, although they're undeniably necessary, it's worth remembering an important point. They won't turn you into Rory McIlroy or Tiger Woods. They won't even transform you into a rubbish golfer. If you're already skilful at this game, a good pair of shoes will complement your pre-existing talents and help you to push yourself further.
They'll allow you the chance to enjoy the game without worrying about slipping on the wet grass. . Nobody wants to slip when they are teeing off, even if you're playing in torrential rain and you're pretty sure it's excusable. Nobody wants to be stuck in the bunker for days because you don't have the traction necessary to get behind the ball properly to chip it out.
So, rather than expecting a miracle, expect a good pair of shoes that'll make you feel like you're walking on clouds, but with a firm and locked-in grip on the ground beneath your feet to make each shot last. Just don't break a club like the aforementioned Happy Gilmore, because that's a one-way ticket to the outside parking lot of your favorite golf club.
However, if you do decide to go ahead with it, YouTube it and send us a link. Please and thank you!