A
hip flask may not be something that a lot of guys have considered buying unless you're a young guy trying to sneakily avoid hefty vodka prices in a nightclub, a guy just trying to brighten up an uncomfortable family gathering, or a mature gent enjoying a tipple while overlooking the rolling green hills on a Sunday morning. Well, this might be about to change as hip flasks are on the way back in. They're actually going through a bit of a rebirth in popularity with men of all ages at the moment and you should know more about them.
Just take a stroll down to your local park, go to a music festival, or position yourself at an East Village café and your eye will be met by the quick but sure glimmer of a hip flask being unloaded and placed back into the pocket of some skinny black jeans. The "hip" in hip flask may as well be short for hipster nowadays. In actual fact it really is! During the 20s Prohibition in the USA, people who used hip flasks to still drink their favourite alcohol were termed as "hipsters".
Although, let's make one thing clear, they aren't exclusively for those rule-breaking alternative folk and they can definitely be a gentleman's accessory when used at the right time and right place as well. They're part of the evolution of man as explorers, soldiers and even the Pope carried a hip flask at one point for "medical reasons". Side note: did you know that "hip flask" was actually the code word for a revolver in some military forces? Well, you do now. Thank us at your next quiz night.
As hip flasks have only just re-joined the pop culture and hipster scenes again, you'll have to ask your grandad for some hip flask advice. Or you could read on and our Men's Gear team can give you a crash course on hip flasks so you're bang up to date on this exploding new trend. We'll give you all the key things to look out for and show you 19 of the best hip flasks for men available in 2018. Why 19? Because we don't ram an extra average hip flask down your throat just to make it a nice round 20.
What Are The Benefits Of A Hip Flask?
There are a lot of benefits of owning a hip flask. The first is that, as we mentioned, these products are coming back into fashion and if you're a guy who likes to stay on top of the times, you'll need to get a decent hip flask to maintain your rep. Hip flasks also come in many different styles, materials (we'll get to that in a second), colors and designs so there's always a hip flask for every man's taste. Some more modernized hip flasks even come with some quirky features that can be a great benefit or a nice touch. We'll tell you more about them later on, but for now, let's just say shot glass and cigarette holder.
Some bottles of alcohol are just as small as hip flasks, so hasn't the hip flask been outdone for its main use i.e. being a small container to carry alcohol? Not exactly, as while it's true that you can get your hands on some smaller bottles of your favorite liquor easily, these small bottles aren't easy to conceal which brings us to another core benefit of the hip flask. Hip flasks are usually designed in a way to conceal your alcohol easily and with class, and so you don't have to guzzle it straight from the bottle like some wino. They can be slender and curved like your kidney, so they sit by your side completely unnoticed.
You don't necessarily need to take drinkable alcohol in your flask either. Some campers and hikers like to top up their flasks with fuel for the campfire and a flask is an exceptional way to keep these substances on you in a secure way. One last benefit is that the best hip flasks make use of materials that do not contain chemicals which will seep into your valuable and delicious alcohol. This means that when you go and decide to pick your poison, you really are in full control of picking your poison. Talking of hip flask materials…
What Is The Best Material For A Hip Flask And Why?
Over time, us humans have used some weird and wacky materials to make up a hip flask. In the Middle Ages, we would cut out part of certain fruits and fill them with our alcohol – this sort of idea would probably make a nice little millennials' bar these days. During Prohibition as previously referred to, some women would even conceal their liquor inside a pig's bladder.
Thankfully, you don't have to do that or become an expert watermelon surgeon to conceal your alcohol today. Most hip flasks are now made of stainless steel or pewter. These different materials all have their perks. While stainless steel requires little maintenance and will last, pewter is a real treasure. It will not only keep liquids at the optimum temperature, it won't leave a metallic aftertaste to your tipple. Just be prepared that if you want a pewter flask, you'll have to fork out some more dollars for it. Other popular choices are copper and even glass. Sometimes these material can come in some sort of coating or jacket such as a leather wrapping.
How Do You Clean A Hip Flask?
Cleaning your hip flask doesn't have to be a chore. Naturally, we would encourage you to take a look at your flask's manufacturer guidelines for the best course of action. Yet, one of the tried and tested techniques – just ask your pops – is to mix water with distilled white vinegar together, boil the solution and then rinse it around your hip flask. You can repeat this as many times as necessary. Who said Men's Gear weren't domesticated?
Are Hip Flasks Legal?
Okay, this one is a little tricky. First off, owning a hip flask is not illegal in the majority of places and not all states have the same laws, so we'll have to speak for the masses. In most US states, there's a law which does not allow open containers of alcohol in public. This means carrying your half-drunk bottle of wine is a crime, while your bottle of whiskey with the seal attached is fine to walk around with in public. Again, this is for the majority, there are other places and countries where this isn't a law in force or where there are certain times or places it is okay to carry opened containers of alcohol.
So, where does the hip flask fit in? Technically it's an open container of alcohol so carrying them in some public places is illegal. Therefore, we warn against using them in public places where you would in fact be breaking the law. Do the police actually enforce this? We'll let you decide. One bit of advice from us though, If you're planning to drive to a friend's party on private property, leave your hip flask in the car trunk. This law still applies while driving and having a hip flask on the front seat could see you be charged with something close to DUI.
So, fancy 19 more before we hit the road?
1) Ceramic Flask By Misc. Goods Co.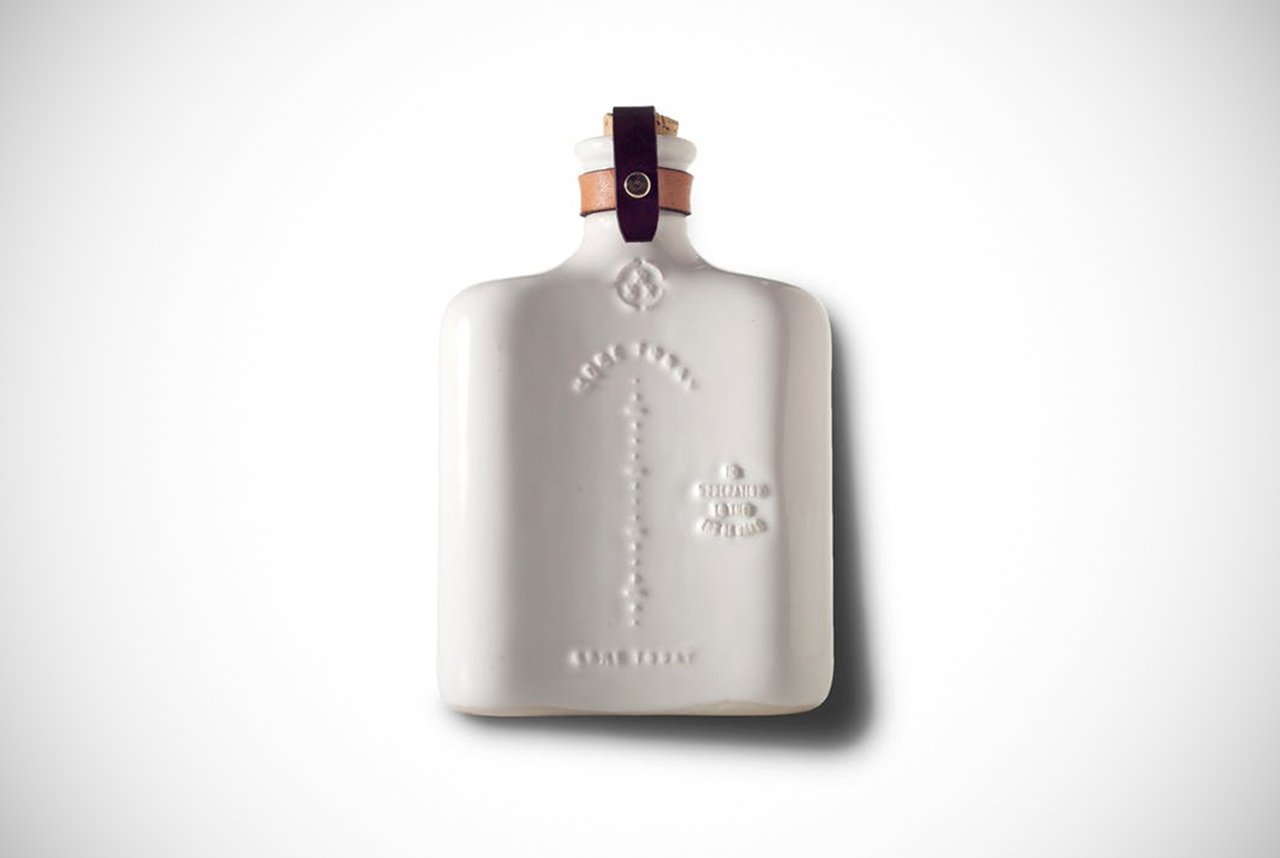 There's a fairy tale story behind the Misc. Good Co. range. It started with a freelance graphic designer who was barely making ends meet. The freelancer went on to design playing cards which launched his success into what Misc. Goods Co. are known for today – a unique collection of gentleman's essentials.
This ceramic flask is one of those products. It's made with a ceramic slip cast which looks like it came straight from an apothecary workshop and is rather sleek to say the least. It's a robust build with walls 0.25 inches thick. The details are what make this an attractive flask. The top is sealed with a cork held in place by two vegetable and oil tanned leather straps and a brass button and stud. We can't decide if this should be a hip flask for men of the ocean or for the modern gent. Either way, it's an intriguing and unique design we are big fans of!
Check Product Price // Read More Reviews
2) Brown Leather Hip Flask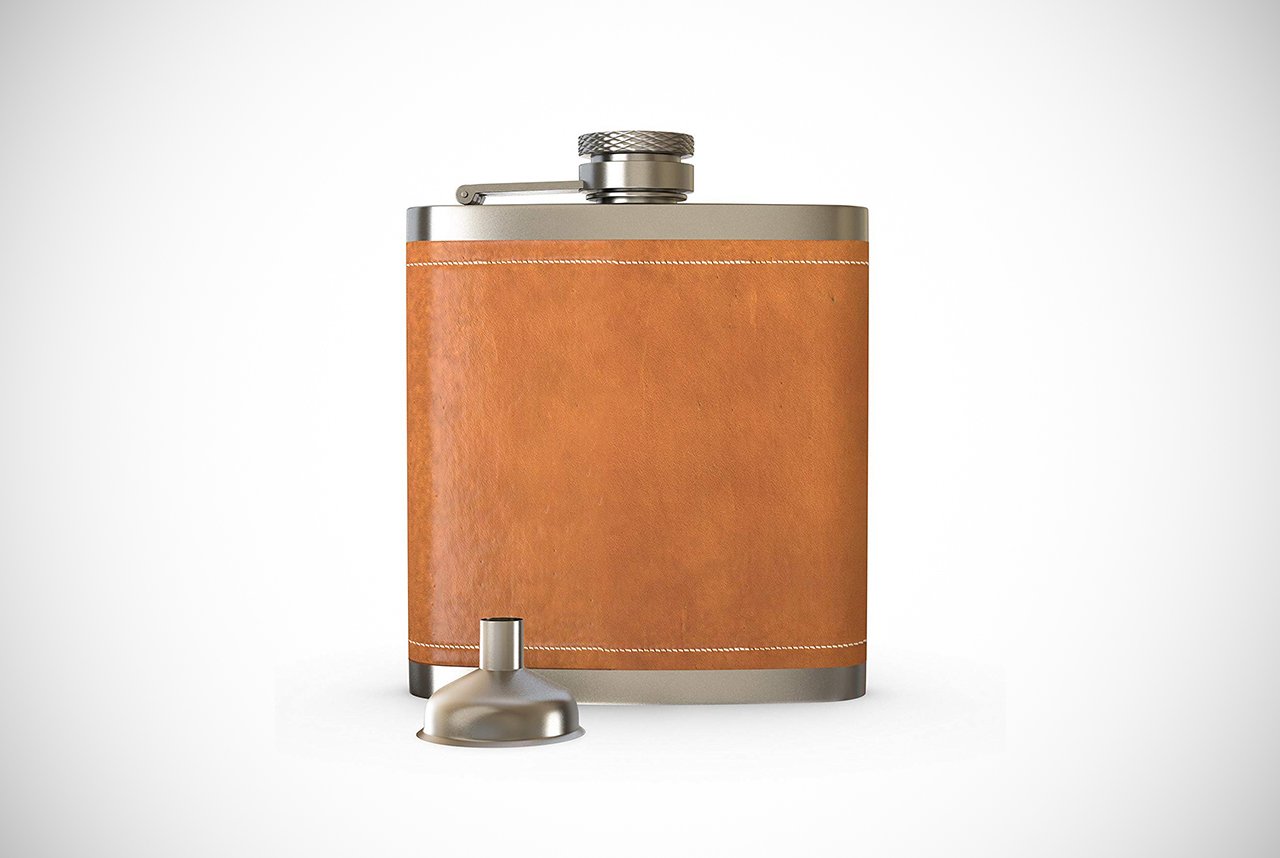 For the more nostalgic men who appreciate the traditional hip flask design, we have the perfect drinking partner for you. It even comes with its own brown leather jacket. The Brown Leather Hip Flask by IBRR may bring back memories of your grandad handing you your first taste of whiskey as a young man. Its traditional aesthetics aren't just for show either. It sticks with 304 stainless steel which will not rust and is also corrosion resistant. You'll never put your hands in your pockets and feel damp from a leak either as this hip flask has been put together using laser fusion at the edges. Share a special moment with your buddy by toasting with this hip flask!
Check Product Price // Read More Reviews
3) Stanley Adventure Stainless Steel Flask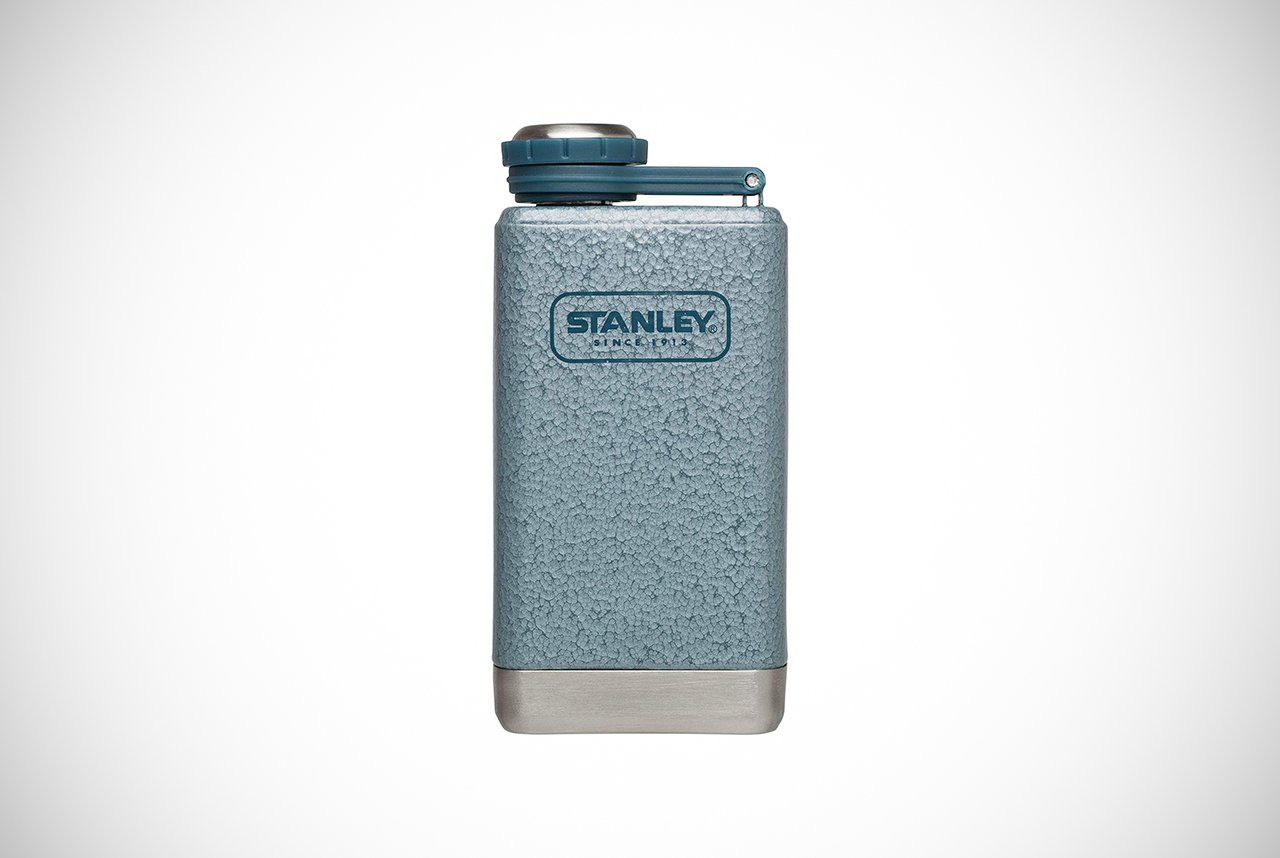 This won't be the last time you'll see a Stanley product on our list of best hip flasks for men in 2018. They are solid manufacturers who know a thing or two about hip flasks. This one is not like the previous two. It's not a gentlemanly hip flask nor a timeless classic. It's more like a modern guy's flask who works with his hands and enjoys the outdoors.
While Stanley haven't pulled up any trees in designing this hip flask, they have addressed one major problem with hip flasks in general. As you hand over your flask to your pal to enjoy a swig of scotch around the campfire, you always need to keep an eye on where you place the flask's top. Well, this hip flask has a built-in lanyard top, so it's always attached to the flask and never a concern. The flask is made from BPA-free 18/8 stainless steel which won't rust and can be relied on for the long haul.
Check Product Price // Read More Reviews
4) Areaware Liquid Body Flask
Next up is the Liquid Body Flask brought to you by Areaware. Whether these guys are operating from outer space we're not sure. The liquid metal finish certainly does add a wow factor to this hip flask. If you look past the liquid finish to this flask, you can clearly see that apart from this sleek feature, it has tried not to stray too far away from the classical hip flask design. This is evidenced not only in its concealing shape but the fact it's been made with stainless steel for extreme durability and ease of maintenance. This hip flask is ideal for a guy looking for a classical design with a modern twist.
Check Product Price // Read More Reviews
5) BarME Shot Flask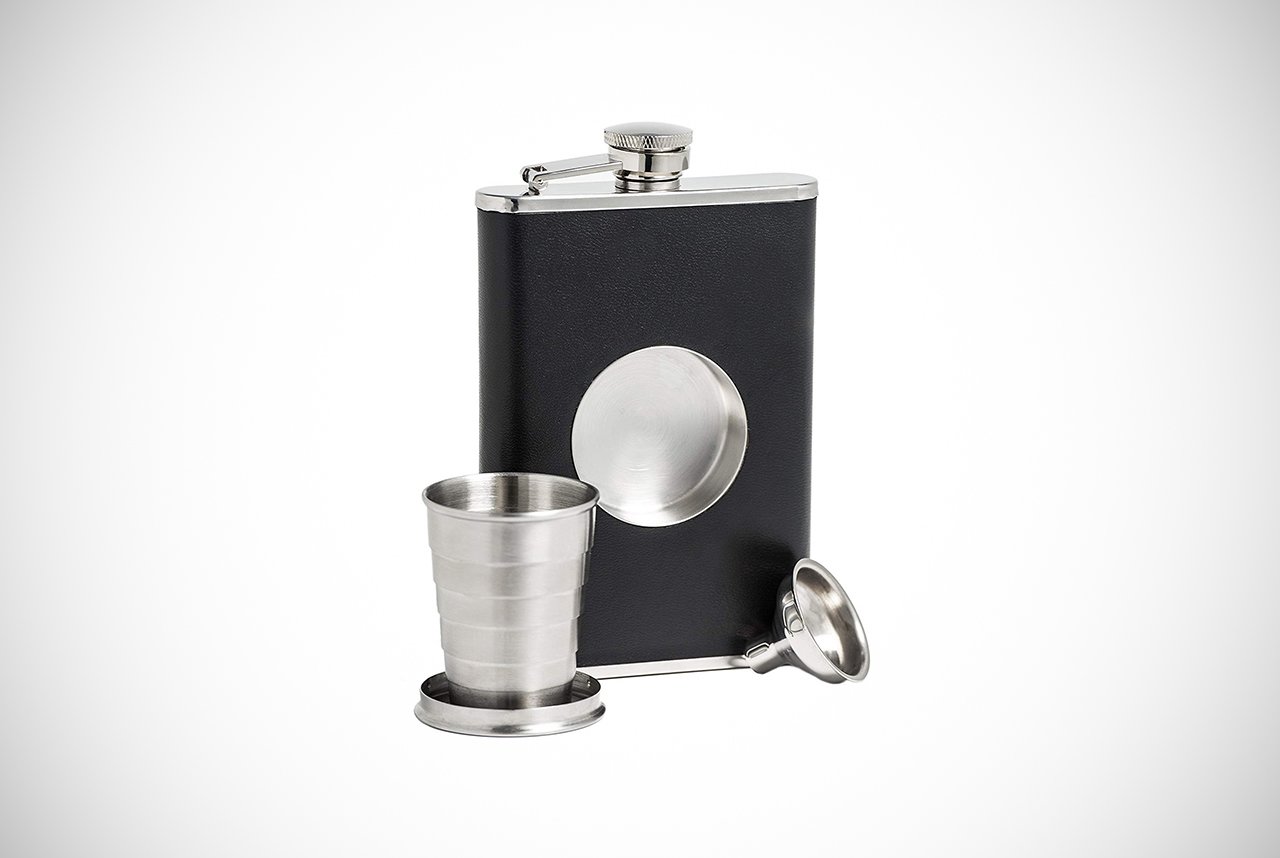 If James Bond drank shots he would have the Shot Flask by BarMe. This unique and quite astonishing piece of designing and manufacturing is going to leave your buddies gobsmacked. From the outside it looks like no ordinary hip flask, but this flask actually has a shot glass inside it accompanied by a mini pouring funnel.
The shot glass collapses into the flask without needing the flask to become bulky and when you need it you just eject it and top it up with your chosen spirit. The funnel means you'll never overpour or waste a drop of your valuable liquor. Again, these guys have chosen to stick with stainless steel and ensure no corrosion or rust will show up at all. The flask is then finished off with a nice black leather wrap around. This is a set which makes it perfect for guys looking for a groomsman or Father's Day gift!
Check Product Price // Read More Reviews
6) Royal Selangor Hip Flask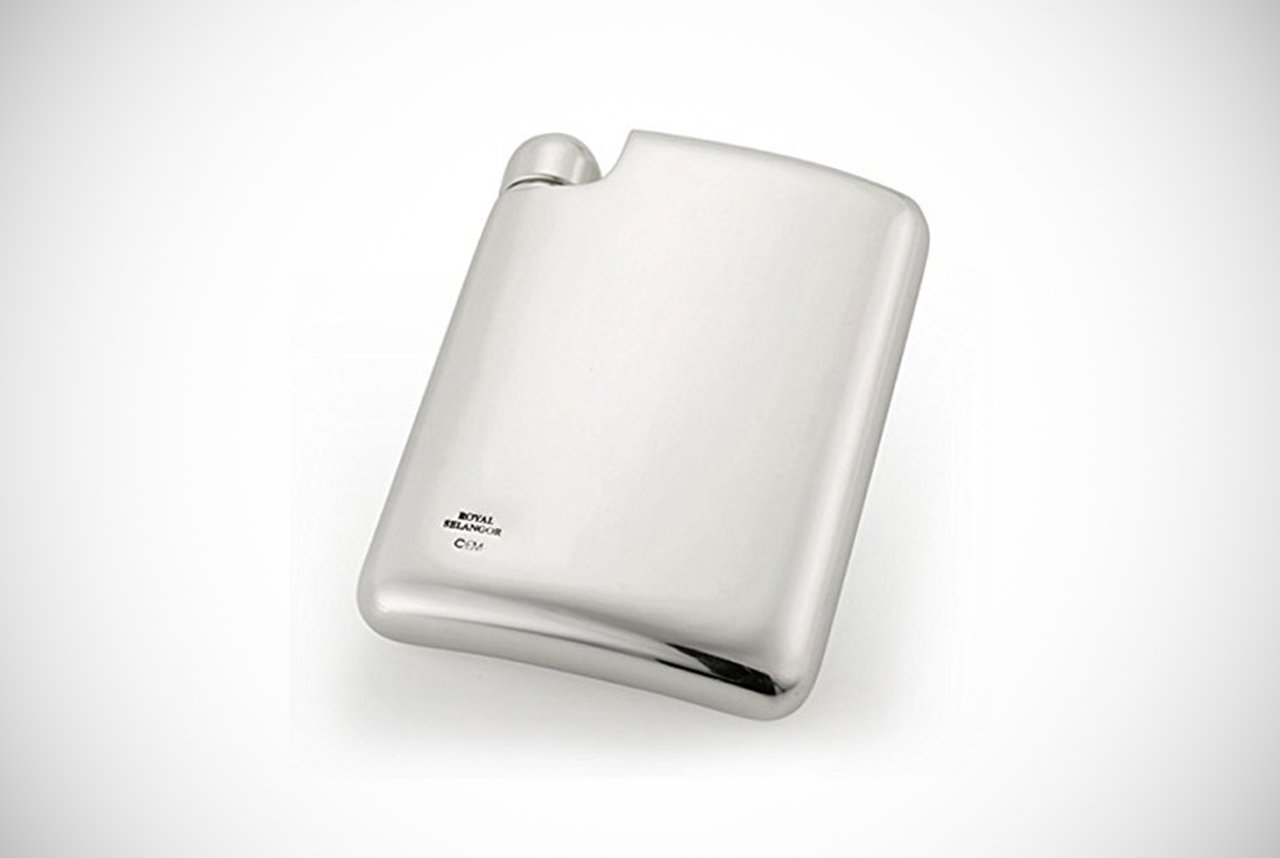 The rise in price means we've finally come to a pewter hip flask and what better of an introduction than the Royal Selangor Hand Finished Erik Magnussen Collection Pewter Hip Flask. Royal Selangor collaborate with designers across borders such as Nick Munro, Freeman Lau, Erik Magnussen, the Victoria and Albert Museum (UK), the Islamic Museum (Malaysia) and the Palace Museum (Taiwan).
When you pay a bit more for a pewter hip flask, you get the guarantee that their product will not influence the taste of your drink. You won't get a hint of metal after a sip of your finest brandy with this flask and you'll also look like an absolute baller as you take a swig. Erik Magnussen from Denmark was crowned the winner of the Design Plus Award with this splendid design. It somehow manages to tick both the classic and modern boxes in one go. How he's managed to do that we're not sure. There must be something in the Danish water system. Each one of these products is intricately hand finished by a top craftsperson as an added detail. These hip flasks are perfect for guys who want a state-of-the-art flask to be admired as much as used.
Check Product Price // Read More Reviews
7) Mealivos Stainless Steel Hip Flask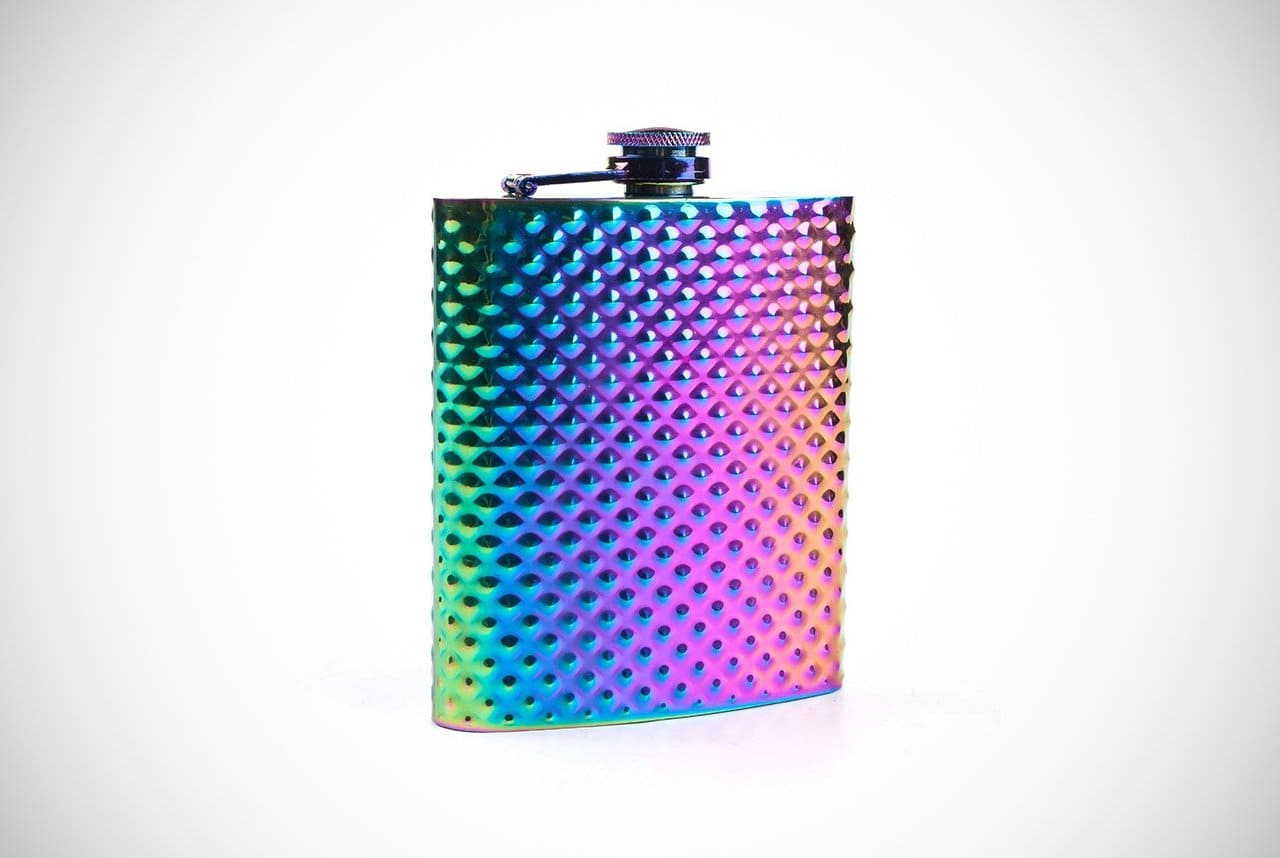 Next in line couldn't be more different to the previous. Mealivos' Rainbow Dot Stainless Steel Hip Flask is going to divide opinion. It's available in a few other designs and colors but we'll focus on the rainbow dot model. While the shape of the flask is rather orthodox and quite classical, the colors are what will make people's eyes widen or make people wince. Some might say it is the colors of the rainbow like you see on a disco ball, while some might try and argue it's more masculine than that and it looks a bit more of an oil spill. The colors may give you the pick-me-up you need before you even take a drink.
If we manage to take a look away from its blinding colors for a second, you'll notice it has also chosen to help the forgetful ones among our pack too. The lid is secured onto the flask, so you won't lose it. Lastly, this flask has brought us back to the stainless-steel isle which does all the stuff we won't bother you with again. If you like to turn heads or want to prank your conservative pal on his birthday, this is the hip flask to look out for. You can't miss it.
Check Product Price // Read More Reviews
8) Stanley Master Flask
The next round is back on Stanley. This hip flask is not so different to the other exceptional hip flask they thought up. It again loses its classical aesthetics due to its added color (available in olive drab and foundry black which is bordering a dark blue) but hasn't got the sleek feeling to be called modern. It remains one for the rough and ready guy who likes burger and fries rather than a caviar omelette. They've continued their clever lanyard-type lid which attaches to the flask so you're never crawling on your hands and knees searching for it. The major only difference to Stanley's previous flask is that this one heavier and a bit bigger. Whether this is a positive or not will depend on your preferences.
Check Product Price // Read More Reviews
9) Jacob Bromwell Great American Flask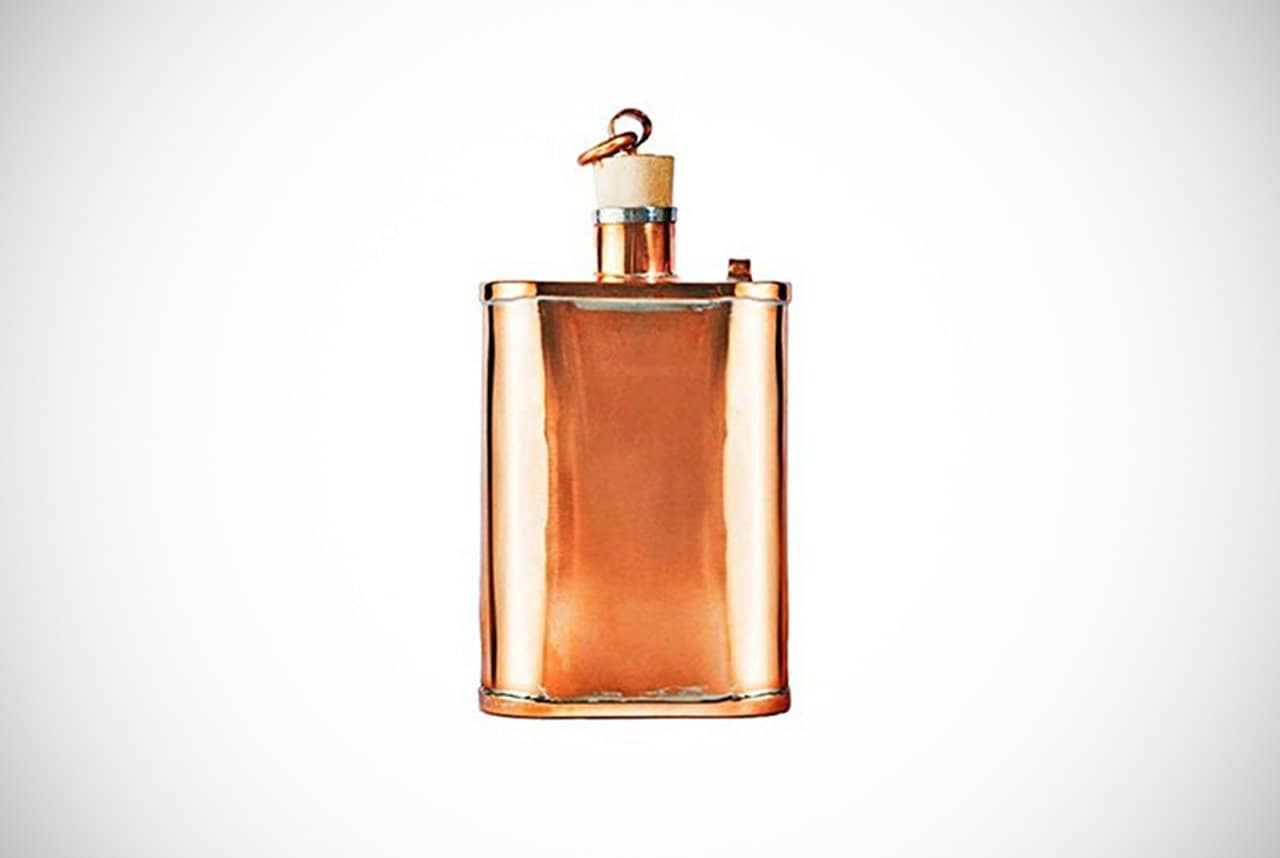 To mix it up a bit, we can't wait to show you the Jacob Bromwell Great American Flask. This is the first copper flask we've got the pleasure of introducing you to and the first that's been built for a specific liquor. The 100% handmade copper hip flask is the perfect combination with barrel-aged American whiskey.
Why the name and whiskey? Congress recognised bourbon whiskey as a distinctive drink to the United States which encouraged the guys at Jacob Bromwell to produce a historically authentic hip flask to recognise it. They use an American birch stopper and opts for copper to resemble the purifying pots used by distillers. Johnnie Walker and Chivas Regal enthusiasts will love this flask to accompany them at private parties where you can sneak a bit of your favorite without insulting the host. Just like the whiskey itself, this flask gets better with age.
Check Product Price // Read More Reviews
10) BarMe Pewter Hipflask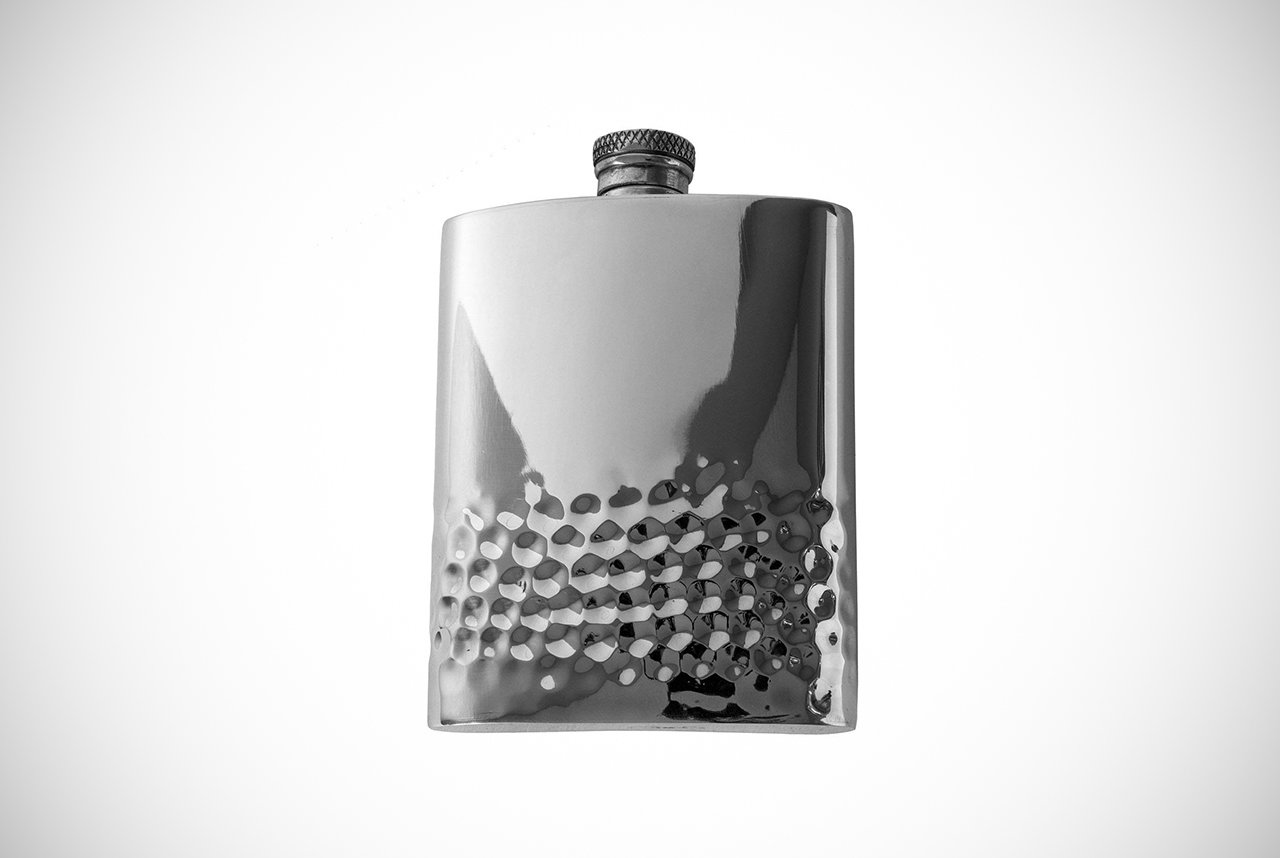 If the last pewter hip flask was a bit more than you're willing to spend, it is possible to get a pewter model for a more reasonable price. To prove it, we want to show you the BarMe Pewter Flask with Hammered Design and Silver Finish. A lot of pewter flasks play on the fact that they're high-end products but this one has added a bit of edginess to its design rather than a moustache and a cane.
Instead of maintaining the classical aesthetics it has chosen for a unique hammered and silver-coating finish and a screw lid to keep your liquor perfectly secure and your pockets dry. It's also quite ironic that this pewter flask was manufactured in Sheffield, England's biggest steel city. It might be a strange pewter hip flask but it's certainly going to be a winner for a lot of men.
Check Product Price // Read More Reviews
11) Camo Pattern Primo Heavy-Duty Hip Flask Gift Set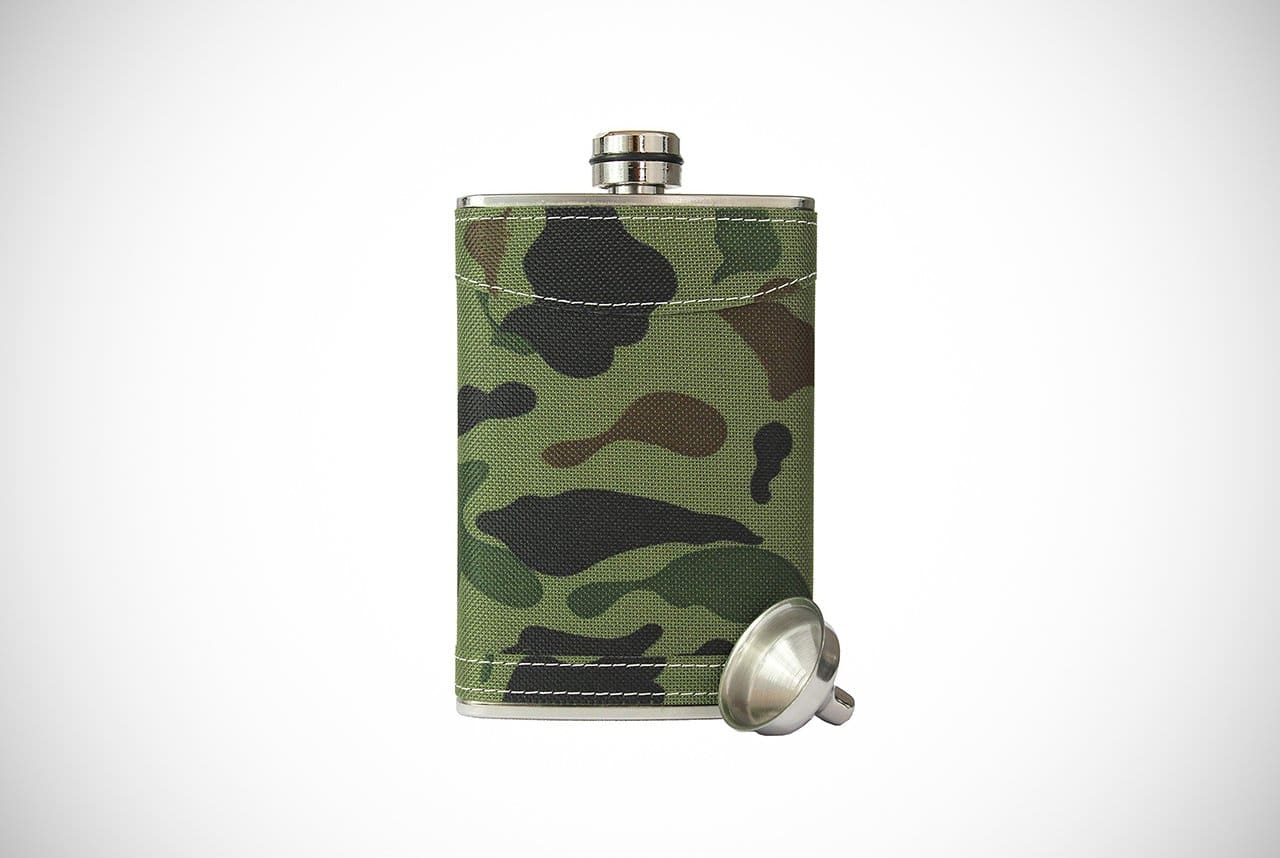 The Primo Heavy-Duty Hip Flask Gift Set is the perfect option for the outdoor-type guy. What better way of finishing a trek or even a tough climb up to a mountain peak than admiring the panoramic views with a drop of your favorite liquor. It has been manufactured with a mix of materials. While the body of the classically-shaped flask is manufactured with food grade stainless steel and is wrapped in a camouflage for added grip, the top is made from copper. These materials make up a much thicker flask which warrants its heavy-duty title. The flask is made into a set with the inclusion of a funnel and makes for a nice gift for your adventurous pal.
Check Product Price // Read More Reviews
12) Belmont Gold Plated Flask By Viski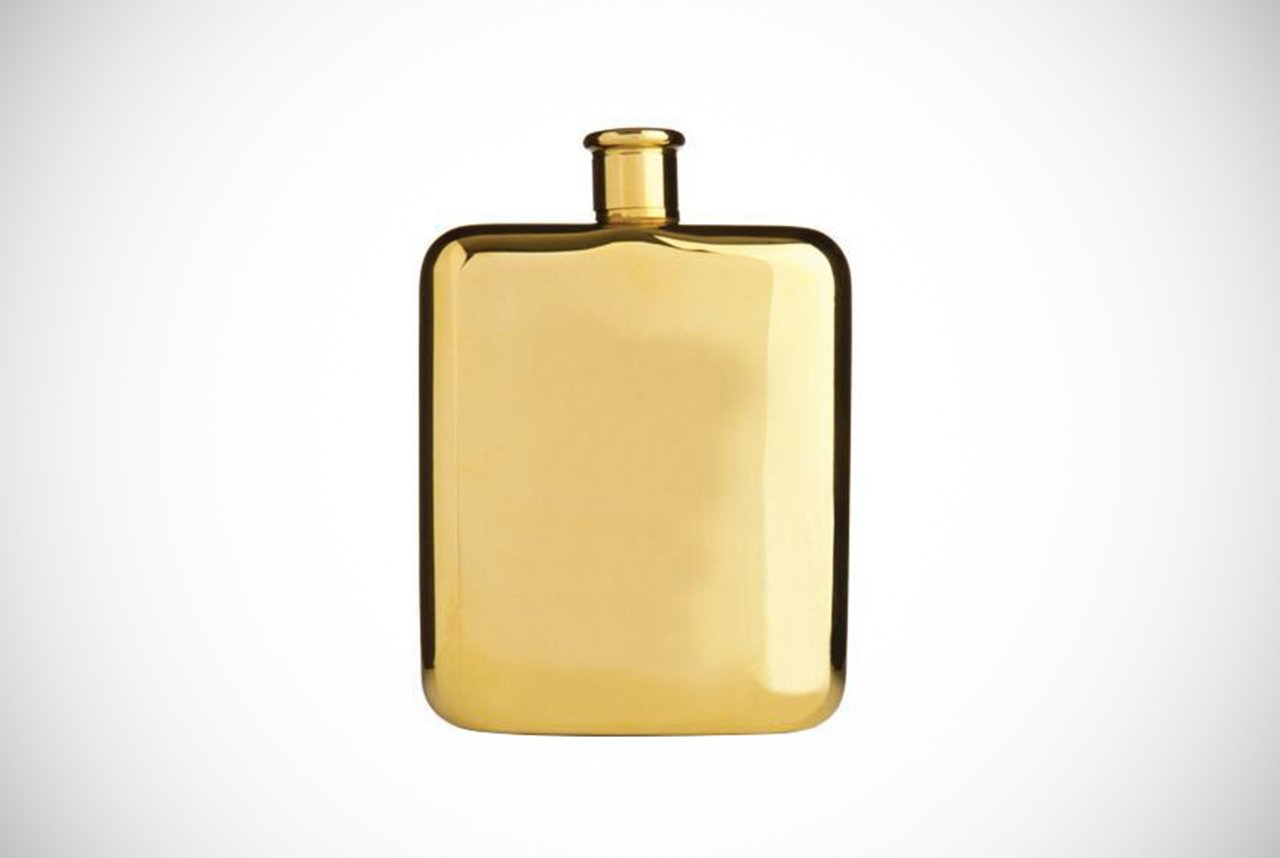 If Willy Wonka liked a drink, then this would be his hip flask. Our list wouldn't be so interesting if we kept to the standard materials would it? This 14-karat gold-plated hip flask will definitely have the guys impressed. Or, calling you Mr. T for the remainder of your life. Sometimes, a hip flask can get a bad reputation when used at the wrong times but using this gold-plated one will definitely up the tone at any social gathering without causing multiple trips to the bar. You could even call on it to enjoy the last few holes when your chances of winning this week's sweepstake are out the window.
Check Product Price // Read More Reviews
13) Lily's Atelier Custom Hip Flask Gift Set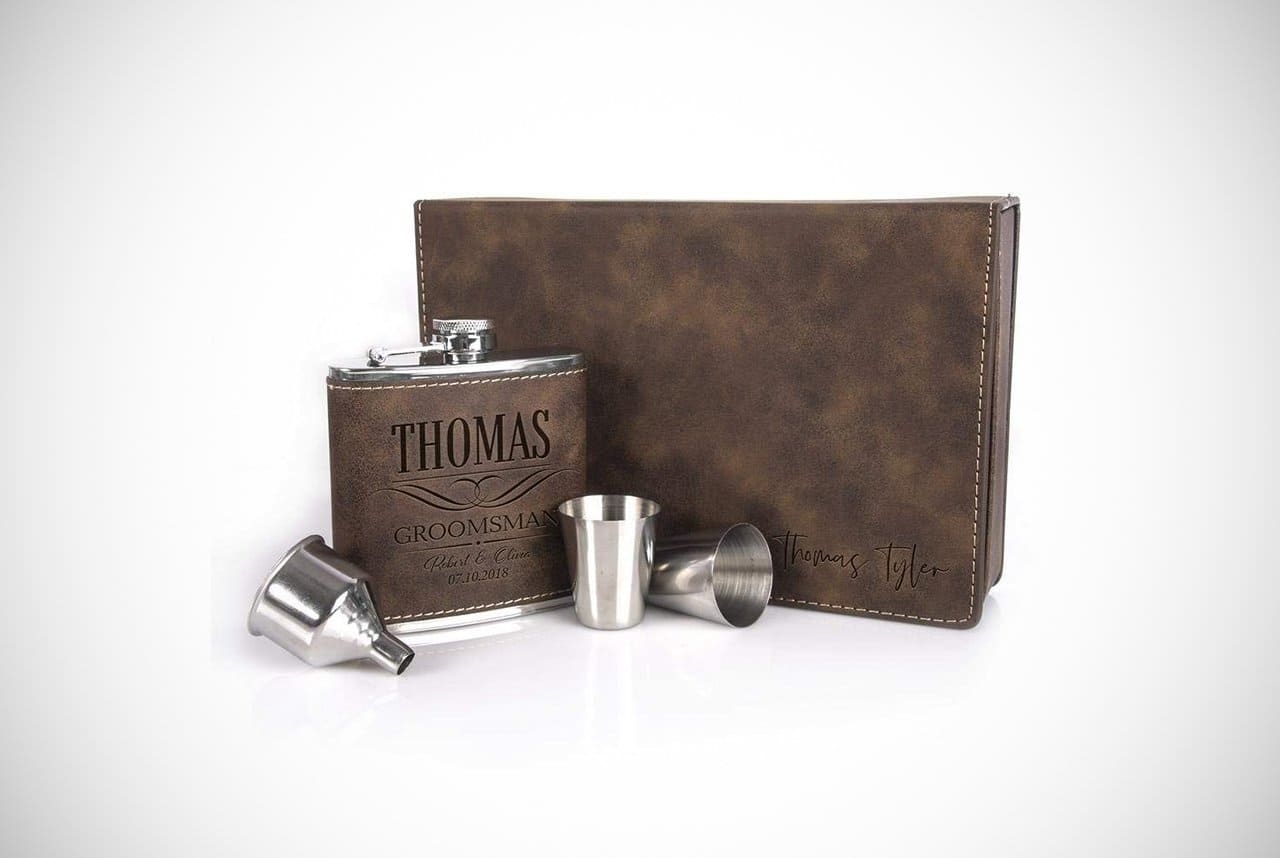 The Lily's Atelier Stainless Steel and Leather Custom Hip Flask Set is a contender for the best on our list. It comes as a set with two steel shot cups and a funnel inside a gift box. I know we've said a couple of these hip flask gift set are really good for gift ideas your bros, but this one might just be the best of the best. We think so anyway. Not only is it an attractive set covered in a quality dark leather, it can be customized as well. Upon purchase, you can choose to have the name of the lucky guy who's getting the set laser engraved onto the leather gift box and onto the leather wrap on the hip flask. We wouldn't blame you for "accidentally" emailing the product link to your girlfriend.
Check Product Price // Read More Reviews
14) Vapur Incognito Flask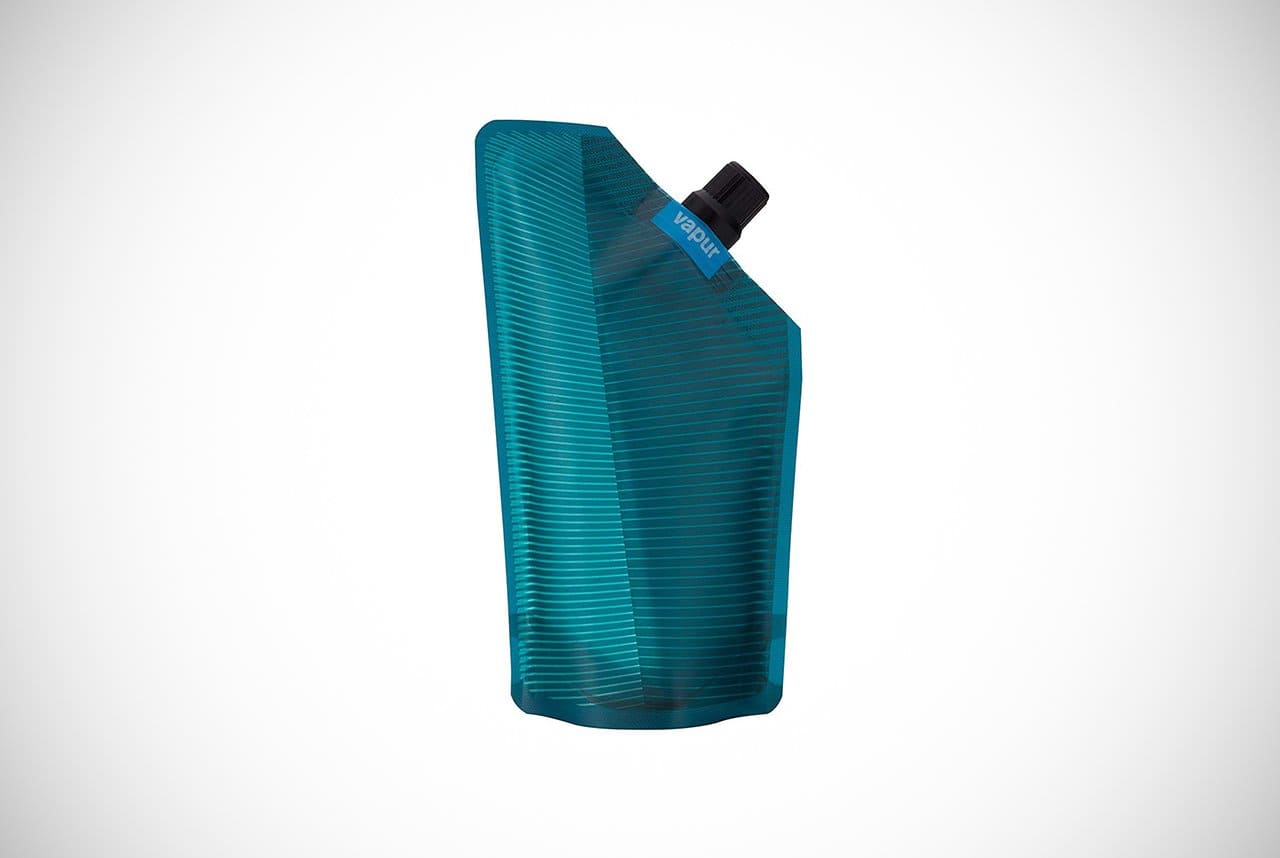 We understand that not all men are liquor drinkers. Some of us prefer a nice wine or a beer every now and then. The Incognito Flask by Vapur is another one that's been specifically made for a drink (or two) – wine or beer! It includes a pourer, so you won't spill your expensive red or Belgian blonde when you decide to treat yourself on the next boys' fishing trip.
This hip flask is very different to the others on our list. You could even argue it's not a hip flask. It is manufactured with BPA-free 3-ply which isflexible, foldable, reusable, light, can be put in the freezer and even dishwasher safe. All things that we haven't considered in any of the other flasks. If you're not a spirit man but like your beer or wine, get this flask instead as you won't be interested in the size constraints a hip flask has.
Check Product Price // Read More Reviews
15) Visol "Stud" Hip Flask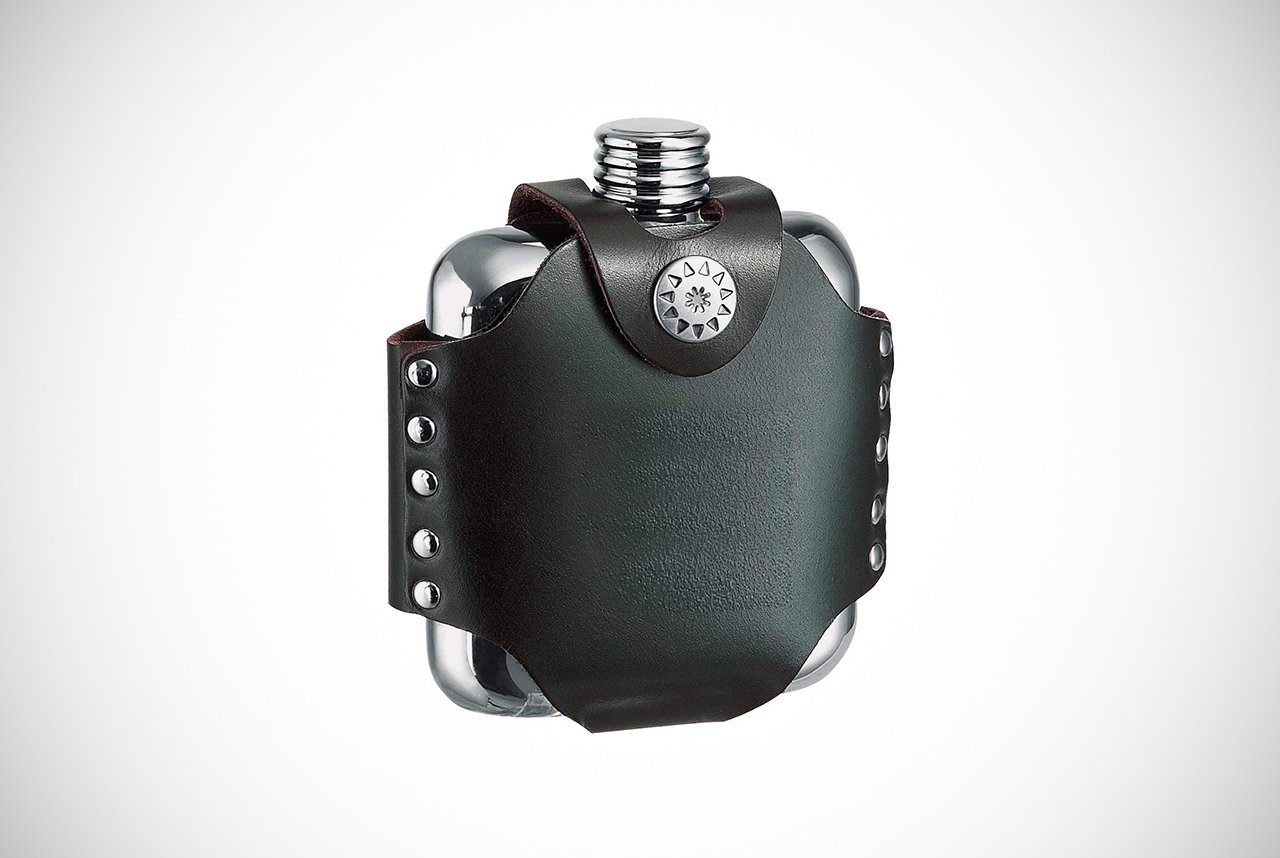 Probably the most masculine-looking hip flask available in 2018 is the Visol Stud flask. Its masculinity comes from being made of the tough stuff. Its 18/8 grade premium stainless steel will keep this one around for many years if not a lifetime. What makes it look even tougher is its leather studded jacket that wouldn't look out of place at a Rolling Stones concert or a biker convention. What's unique about this hip flask is unlike the others which slide into your inner jacket or jeans pocket, this one can be clipped to your belt using the attached belt loop.
Check Product Price // Read More Reviews
16) JUJOR Hip Flask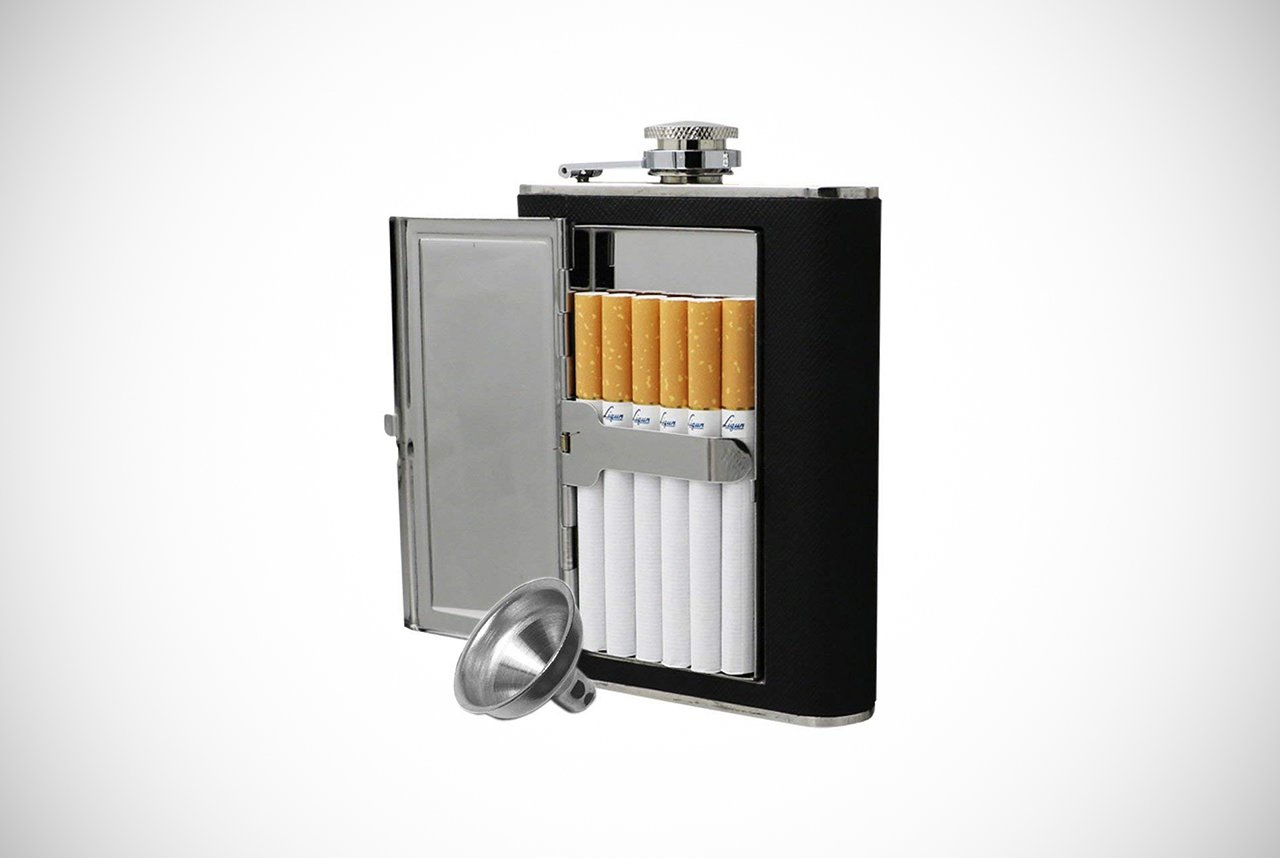 We featured the unique shot flask before, but maybe just as secret-detective-like and even more convenient to a lot of guys is the JUJOR Hip Flask with Built-In Cigarette Case. The hip flask has a hidden compartment opened by a slender door on the side which stores up to six cigarettes. The flask is finished in a nice black leather to wrap around the stainless-steel shell. It is perfect for a gent who likes the classical hip flask design and also enjoys a smoke.
Check Product Price // Read More Reviews
17) Novelty Army Hip Flask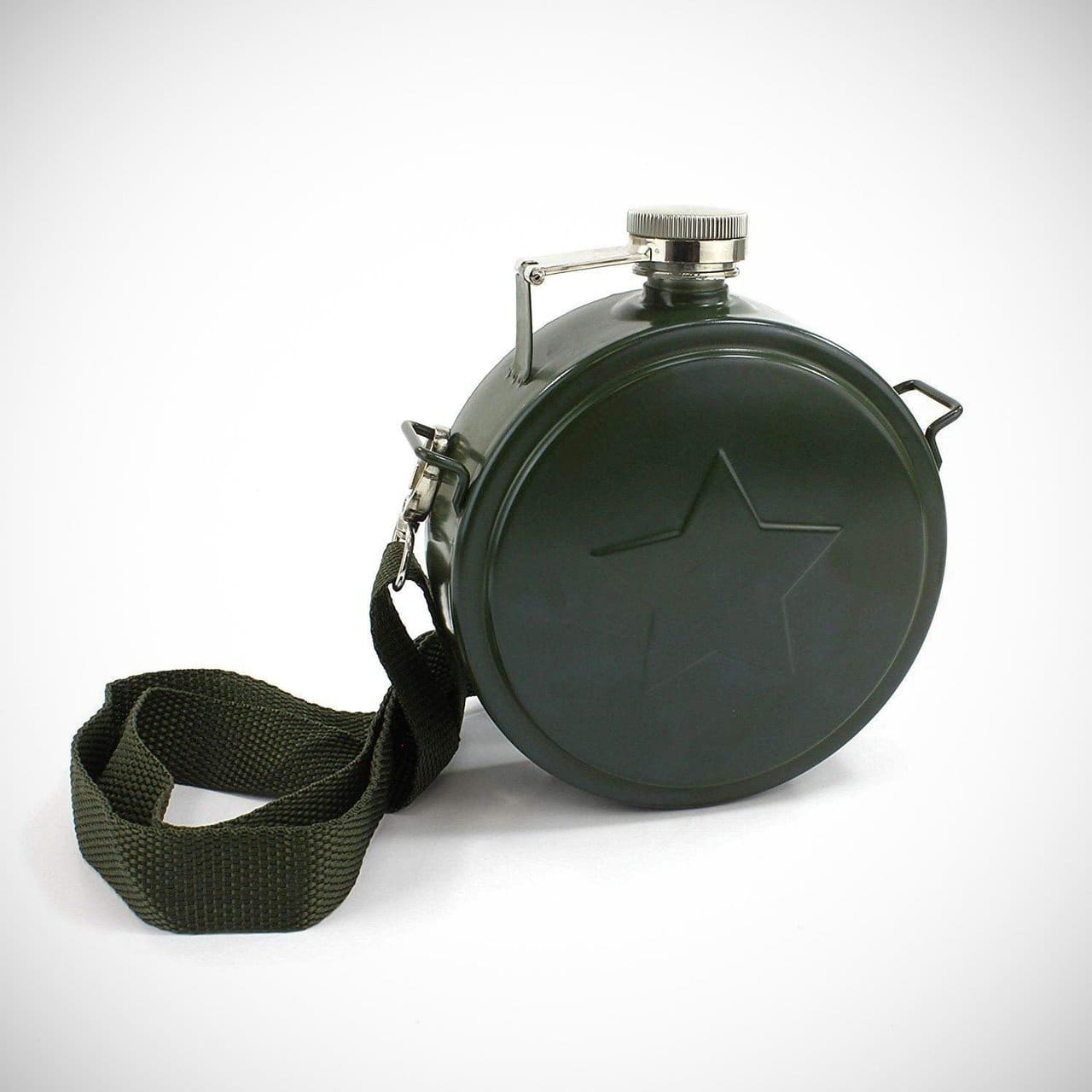 Earlier in our buyer guide we said that hi flasks can be seen at festivals. The type of people using them at festivals usually go for novelty ones such as this one. The army-like design is placed on a shoulder strap, so you can have your cool flask on show and your hands free to rave along to the party. You can also take it off the strap and place it in your pocket if preferred. The stainless-steel flask is complemented by a screw lid that has been hinged onto the flask, so you never lose it during those mosh pits and dance offs. This is a great flask for younger men who love their summer festivals with the gang.
Check Product Price // Read More Reviews
18) Cork Pops Nicholas Portside Flask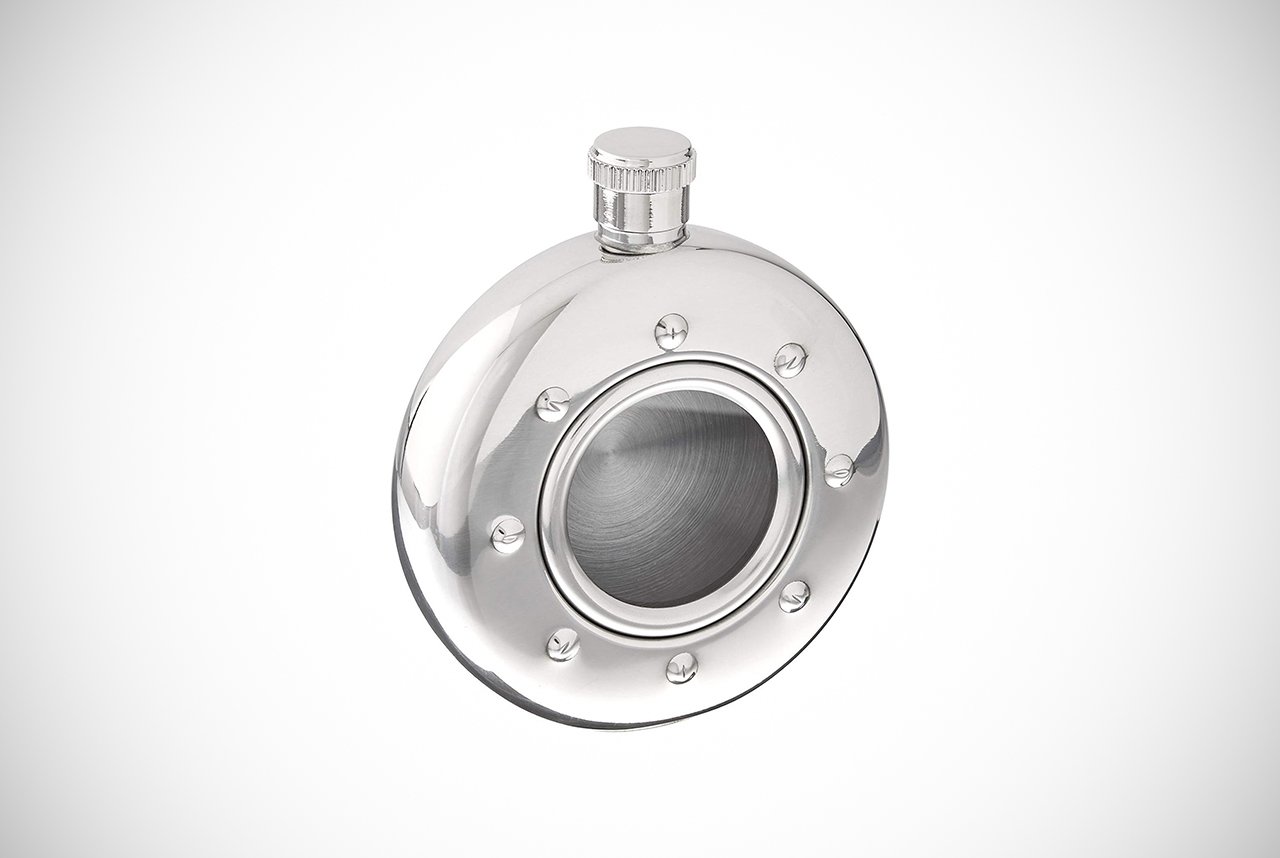 The penultimate hip flask in our showcase has been designed to resemble a porthole. It may not send you to a new dimension, but it might take your style up a notch. The flask has a window in the centre, so you can see what's inside and how much is left without giving it the customary shake and careful listen that our grandfathers had to do. The window also makes easy work of cleaning out your hip flask too. As expected, most of the product is made from polished stainless steel and the window is glass. We try not to be overly biased, but this one is one of the favorites here at Men's Gear.
Check Product Price // Read More Reviews
19) Snow Peak Titanium Flask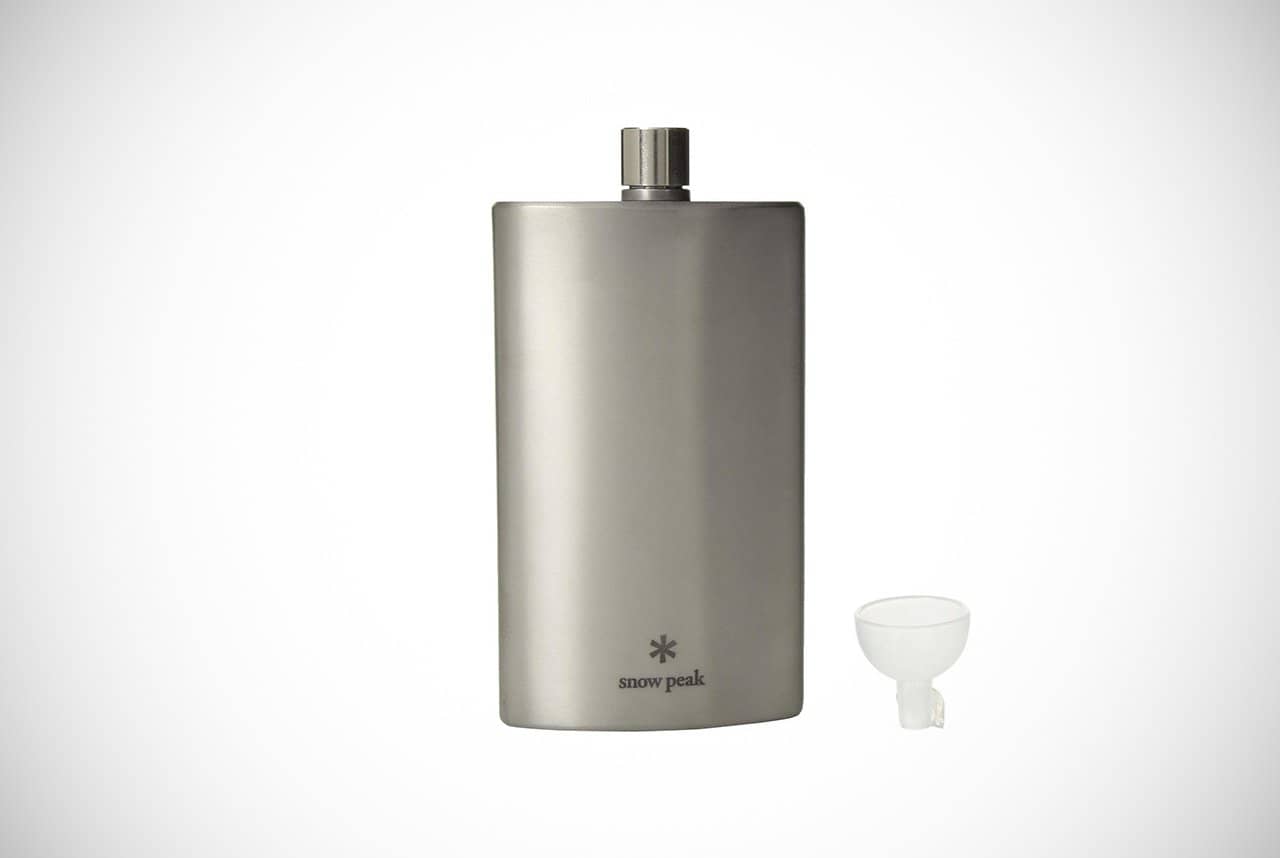 The final hip flask to show you offers a new material to consider. This one is made from titanium is a lighter alternative to stainless steel. It is also claimed to not change the taste of your liquor too. The flask comes in a sleek box with accompanying plastic funnel for easy pouring which would be a nice gift for your best man mid wedding speech. It's certainly a no thrills design that'll appeal to male minimalists and those that like sleek and smooth products.
Check Product Price // Read More Reviews
Last Orders!
So, what will it be? Despite hip flasks having minimal functions, manufacturers have had to get creative and came up with some smashing innovations. We don't doubt that even the most particular of men will be able to find a hip flask within this quality selection. Wherever you enjoy your hip flask guys, have one for us!
– Read Next: Best Whiskey Glasses Buyers Guide