A
re you the kinda guy that enjoys pushing himself to the max? Do you dare tread where others fear to go? Do you prefer mountains to molehills? If yes, then this list is for you. Many may have scaled mountains to reach the top for a hobby on their weekends off. However, they needed proper hiking boots for men to accomplish this.
For most, hiking is something that takes root in their soul and becomes a part of their very self. Without getting incredibly pompous about it, hiking is a burning passion that once it's gripped tight, it doesn't let go. With each achievement and each peak, there's another waiting around the corner. In many literal cases across the range.
It can also be very dangerous Mountains like Kilimanjaro aren't called "The Widowmaker" for nothing.
That is part of the excitement, the risk, and the battle between man and nature or quite frankly man and himself. This is why it's important to invest in the right gear. Sure, you need poles, rope, etc. on your climb.
However, a pair of good hiking boots needs to be on your list too.
Without the right footwear, you can't possibly dream of tackling much more than a hill. The popularity of this passion means several footwear companies "attempt" to make hiking boots. It makes it difficult to know the best from the worst if you're a newbie. That's why you've come here, right?
You decided to trust the team at Men's Gear. Wise decision, young padawan.
To help you tackle even the toughest of peaks, we have a list of the best 14 hiking boots for men. We'll look at each of these cool and high-performance boots. However, we must first get to some FAQs.
What Are the Main Things to Consider When Buying Hiking Boots?
We believe that there's actually two things, above all else, that you need to consider when buying a pair of hiking boot: the type of boot and how it fits. Let's tackle these one at a time…
Hiking Boot Types:
There are actually four distinct types of hiking boots for men. Each is better suited to particular activities.
Light/Day Hiking Boots – These are boots that look like souped-up armored running shoes. They're low-cut and feature flexible midsoles, all of which make them ideal for day hiking. Despite their lightweight construction, there are many long-distance backpacking hikers who swear by these. They adhere to the smart rule that stipulates 'one pound of weight on your foot equates to five pounds on your back'.
Backpacking Boots – These have stiffer midsoles, are more durable and also benefit from increased support. Designed with more all-terrain and intensive hiking, they'll keep you right when you're attempting some back-country trails and more arduous ascents.
Mountaineering Boots – Weightier boots with incredibly stiff and supportive midsoles, mountaineering-styled boots are constructed to cope with heavier loads. They are usually designed to be compatible with crampons when you're traveling over ice. They tend to be reserved for more experienced climbers and hikers.
How the Boot Fits:
Now that we've covered the type of boots there are out there, it's time to discuss the fit. Don't take the same approach to the fit as you would with sneakers. Most hiking boots won't fit so comfortably in the beginning as sneakers. However, they definitely shouldn't restrict or constrict your circulation, cause hot spots or pinch at your skin.
They should provide a snug fit against your instep and ankle. There should be a security to the fit, but it should be comfortable and still provide wiggle room for your toes.
Ideally, you should try hiking boots for men on in a store before buying, even if you intend to buy online. You should also try walking down an incline. If you do this and your foot slides forward, the boot you're trying could be too wide. However, if your heel moves around a lot, you may need to lace them up tighter.
As well as these two most crucial aspects, you should also pay attention to whether the boots you're interested in are waterproof or not, the materials they're made from and the price.
Why Should I Buy Hiking Boots, Can't I Hike in Sneakers?
We've lost count how many times we've heard this. The short answer is yes, of course, you can. That's if you want to run the risk of badly injuring yourself or not having sufficient grip on the surface beneath your feet. Think of jagged rocks, and then slipping…possibly even to your doom.
Is that what you want? Us neither, so do yourself a favor and invest in a decent pair of hiking boots for men fit for the task.
All boots on our list are designed specifically for hiking. That means we've combed the best of the best to find the most beloved boots used on hikes all over the world. As you'll see from our list, there's a lot of effort that goes into ensuring they're as comfortable, flexible, and ultimately, as safe as they can be.
What Are the Main Brands of Hiking Boots For Men?
Most footwear manufacturers seem to have a pair of hiking boots, even if it's just one in their collection. However, the most popular and best brands are companies like Asolo, KEEN, Ariat, Skechers, Oboz and Timberland.
Other greats and some of our favorites include Merrell, Danner and the simply sublime, Salomon.
Now that we're a little bit wiser about things, let's get stuck into this list…
1) Hi-Tec Men's Logan Waterproof Hiking Boots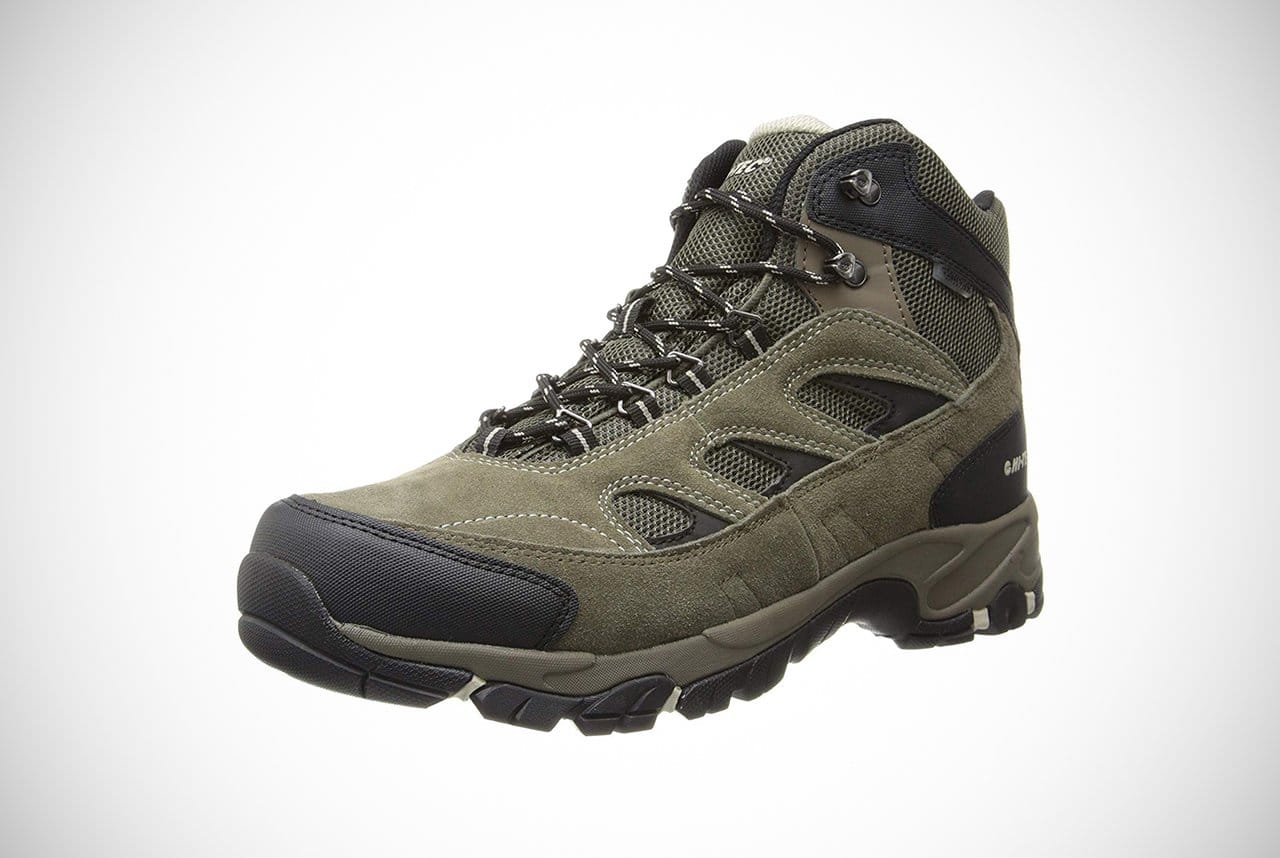 The first pair we're going to look at are these incredibly stylish and rugged ankle-high Hi-Tec Logan boots. They are made from a robust combination of high-quality suede leather and other fabrics. This includes a shaft that measures 4.5″ from the arch, providing a reasonably snug fit.
As they're ankle-high, they may not suit mountaineering or high intensity and tougher hiking challenges but are very flexible and allow a lot of foot movement. The rubber outer sole has been designed to offer the optimal level of traction in any direction.
Comfort is always important when you're hiking, as important as safety we'd say, and with that in mind, the specialized Comfort Plus sock liner that Hi-Tec has included in the design of these boots is perfect. It offers effective resistance against compression and contours nicely to the shape of your foot.
Overall, these hiking boots for men have been constructed purposefully to make sure your only concern is the job at hand. Regardless of if you're tackling Guadalupe Peak down in Texas, the Half Dome at Yosemite National Park, or one of the Rocky peaks.
Check Product Price // Read More Reviews
2) Merrell Men's Moab 2 Vent Mid Hiking Boots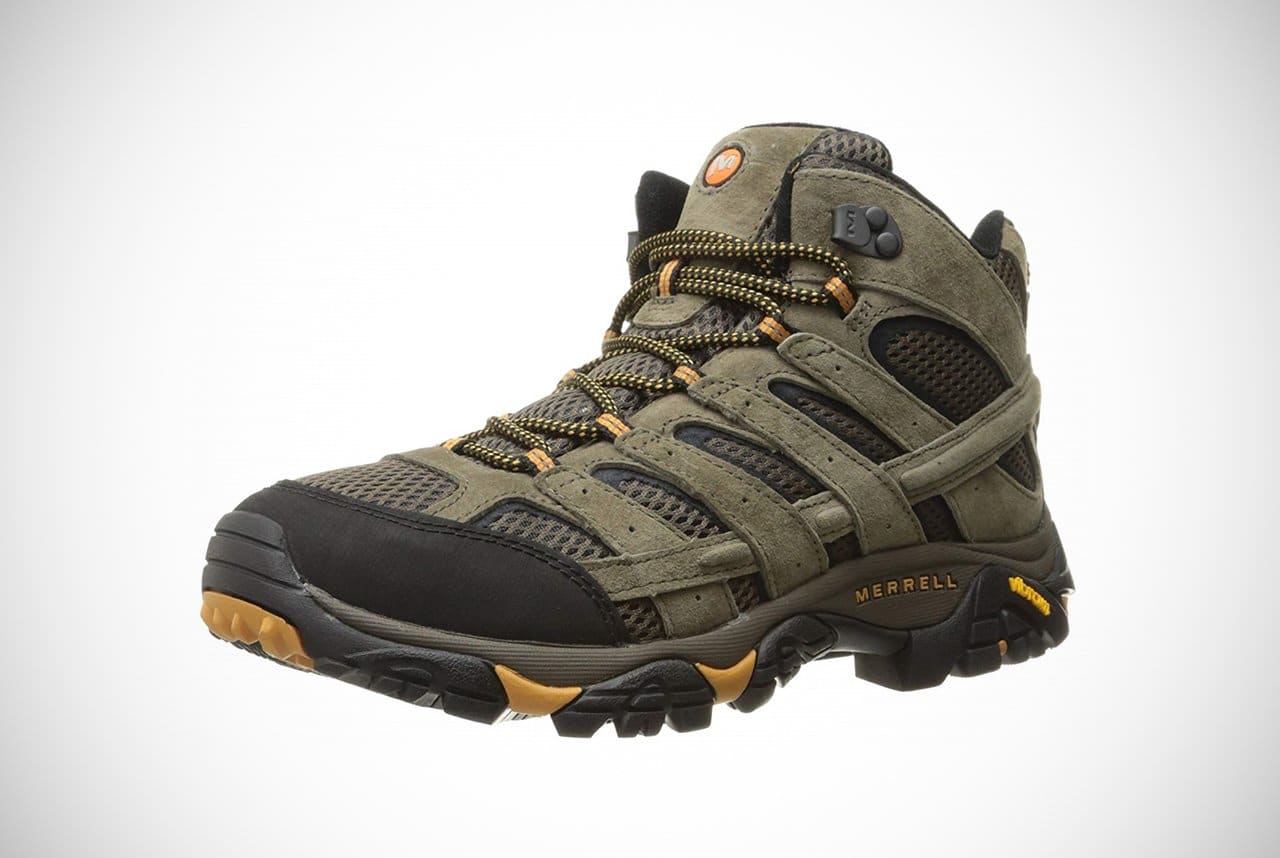 Next up we have these awesome mid hiking boots for men from Merrell. Merrell has been designing and manufacturing clothes and footwear for hiking and work outdoors for over 30 years. Their experience is evident in these Moab 2 Vent boots.
If you want to feel like you're floating on air when you're 1000s of feet up the side of a mountain range, then these will give you that sensation. Merrell has utilized the Kinetic Fit Advanced insole that contours perfectly with your foot and provides additional support and cushioning for your heel.
To ensure your feet are able to breathe the company has included mesh lining. You'll not suffer from smelly feet even after several hours wearing them due to the special M Select FRESH antimicrobial agents used.
With a robust and hard-wearing leather outer that is complemented by the meshing, these are designed to last. The tongue bellows to keep debris where it should be, outside your boots, The tough toe cap helps you to avoid injury from any rocks that might land on your feet.
For the very affordable price these retail at, the quality of workmanship, and the design behind these boots, coupled with the fit and the level of comfort they give, is unreal.
Check Product Price // Read More Reviews
3) Skechers Men's Relment Pelmo Waterproof Boots
Skechers are incredibly trendy and popular, and we're not about to argue with the masses. These Skechers Relment Pelmo waterproof hiking boots for men are ideal for all sorts of conditions. The rugged look of the tough suede leather used in their construction combined with the breathable mesh fabric has produced a boot that is actually very soft and easy to wear.
The security and comfort the boots provide come from the Relaxed Fit design. The memory foam insole contours as you'd expect with the whole of your foot. Rather than cushioning in the heel, the boots have it along the length of your foot, giving you that walking on air feel from heel to toe.
Skechers know how important breathability is and that's why the mesh fabric around the lacing system and collar are there. All while the gusset-style tongue rests against your foot snugly to keep the weather and debris out.
Don't leave things to chance when you're in the middle of tackling a tricky ascent, like the Stony Man Mountain of Virginia's Shenandoah Valley National Park or the Longs Peak of the Rockies. Instead, tackle your next peak in rugged style, no matter the weather conditions with these sweet Skechers.
Check Product Price // Read More Reviews
4) KEEN Men's Targhee II Mid Waterproof Hiking Boots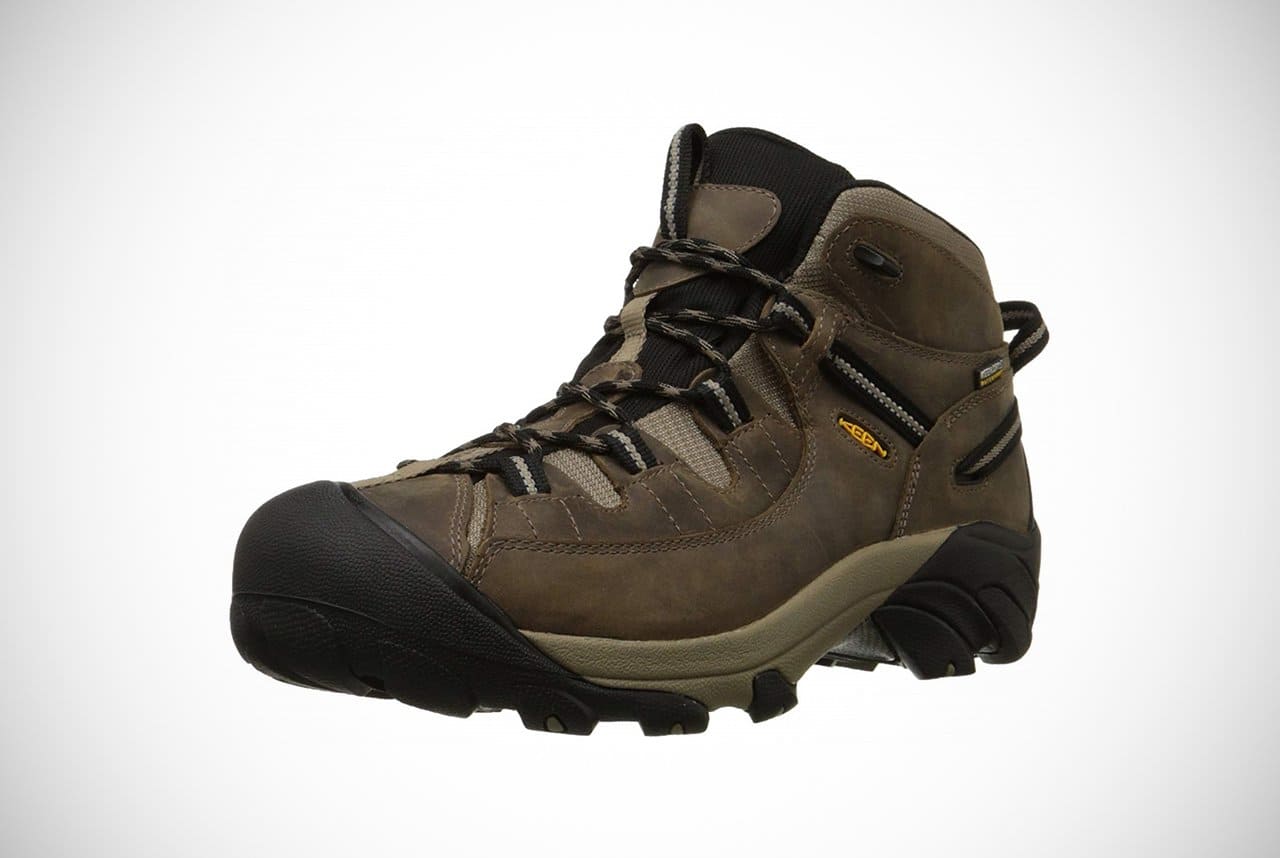 Are you dying to tackle that peak you've been planning to for some time, but have been put off by the weather? We might have the solution to your poor condition woes, with these great KEEN Targhee II mid ankle waterproof hiking boots for men.
The Targhee II should be a great example of the company's commitment since its inception in 2003 to creating quality footwear. They're like the four-wheel-drive vehicle of the boots world. You'll feel stable and secure on virtually any surface with the incredibly aggressive outsole.
They bite into any terrain and gives you the grip and traction you need.
At Men's Gear, we're not very fond of sweaty, smelly feet and we're sure you aren't either. That's another way that the KEEN Targhee II boots compete with the big leagues. The company's own KEEN.DRY membrane has been utilized to ensure that no moisture gets into the boots from the outside. Simply, no moisture is retained on the inside.
The mid-height cut of the ankle provides extremely effective and efficient support for your feet that will help you cling to that rock face.
Check Product Price // Read More Reviews
5) Ariat Men's Terrain H2O Hiking Boot Copper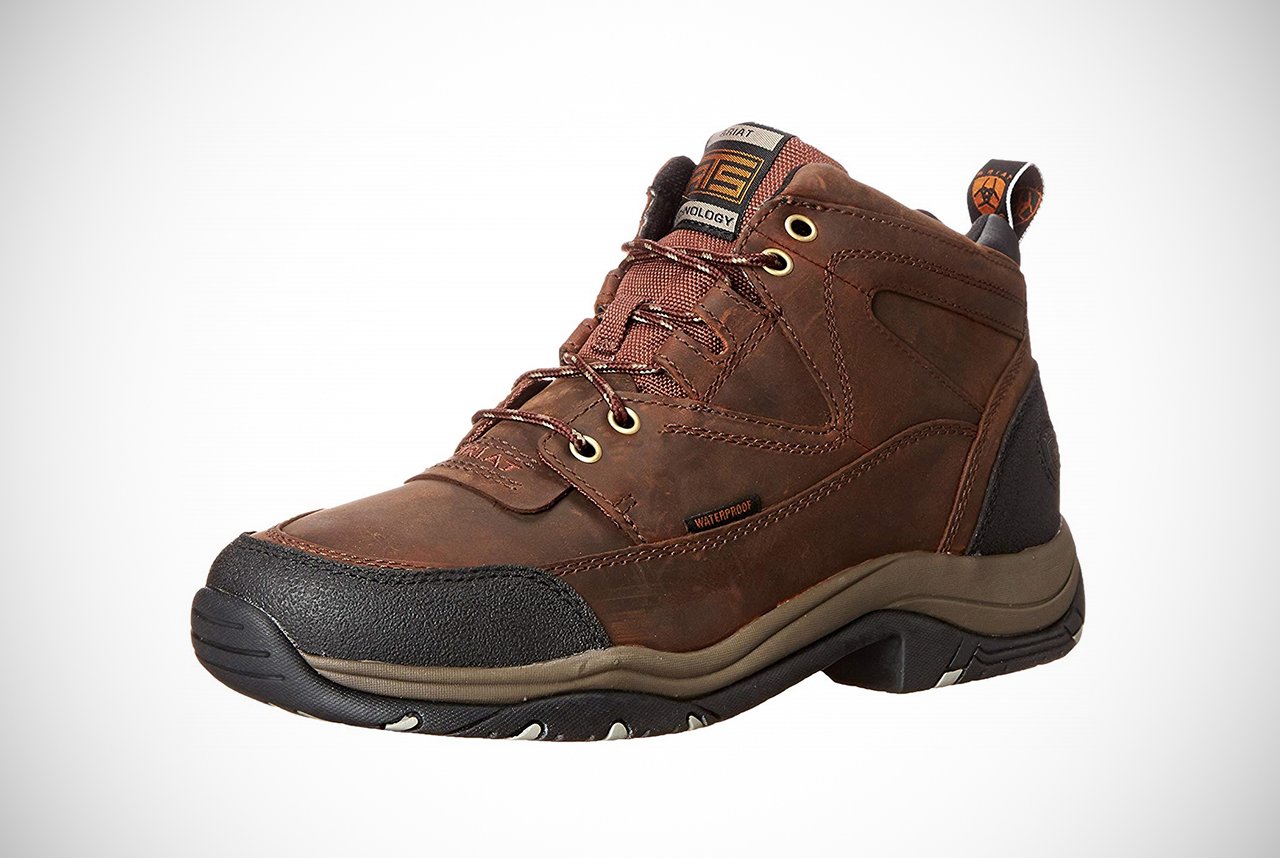 From Ariat, the next pair of hiking boots we want to discuss with you fine dudes are the Terrain H2O Hiking model. Ariat is notable for their main specialty of designing and manufacturing all kinds of footwear for horse riders of all levels and disciplines. However, they make some relatively good hiking boots for men that hold up against all-comers.
You need boots capable to cope with whatever Mother Nature throws at them, as well as any mistakes or accidents that happen.
This is why these Ariat hiking boots are ideal if you want a responsive and efficient pair that will support and protect your feet. From the first steps on your ascent to those last steps on your descent from whatever peak you're facing up to, they will do just that.
Utilizing ATS technology, these boots will stop your feet from feeling fatigue. They are fitted with Duratread soles that are favored for their sturdiness and flexibility. With a high-quality, full-grain oiled leather, and the membrane on the inside, these will help keep water on the outside and sweat away from your feet.
Check Product Price // Read More Reviews
6) Timberland Chocorua Trail Mid Hiking Boot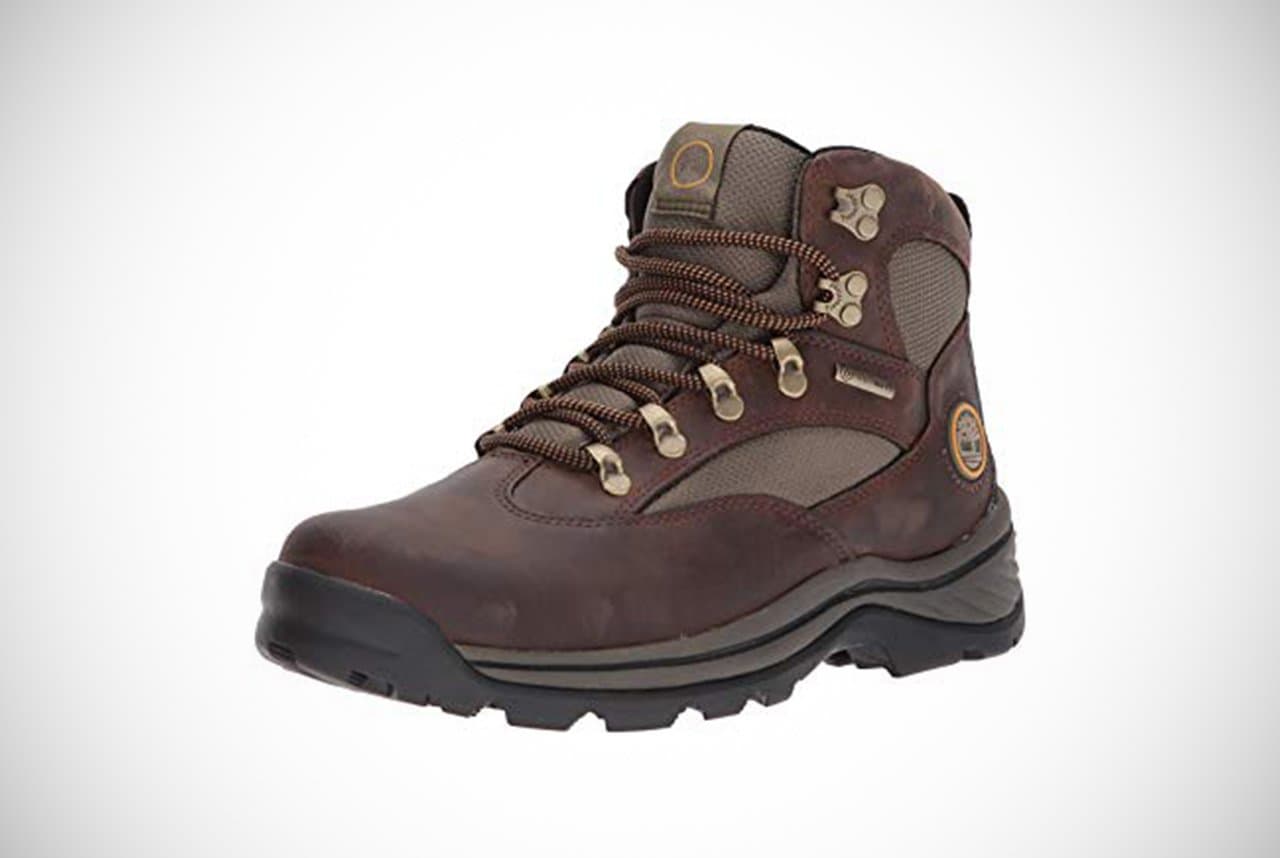 Don't lie, your eyes lit up when you saw the name Timberland, right? Timberland is unsurprisingly amazing, yet they only released their first pair of revolutionary waterproof boots in 1973. This is in spite of being founded in 1923!
They utilized the highly effective and popular Gore-Tex waterproofing for the boot's membrane. Dubbed Timber-Dry, they have managed to make some great boots since. These classy Chorosua Trail hiking boots for men are no different and will keep your feet dry.
Depending on the particular trail or peak you take on, you could be on your feet for a number of hours in one session. Timberland has ensured these boots can give you proper support and comfort you need, thanks to anti-fatigue technology used in the insoles.
The mid-cut height of the ankle on these boots gives you both the stability and flexibility you need. Meanwhile, the rubber sole provides the necessary grip, ensuring you stay put even on the most treacherous of terrains.
Timberland really can't be faulted when it comes to their commitment to innovation and craftsmanship. These are a perfect example.
Check Product Price // Read More Reviews
7) Danner Men's Mountain 600 4.5″ Hiking Boots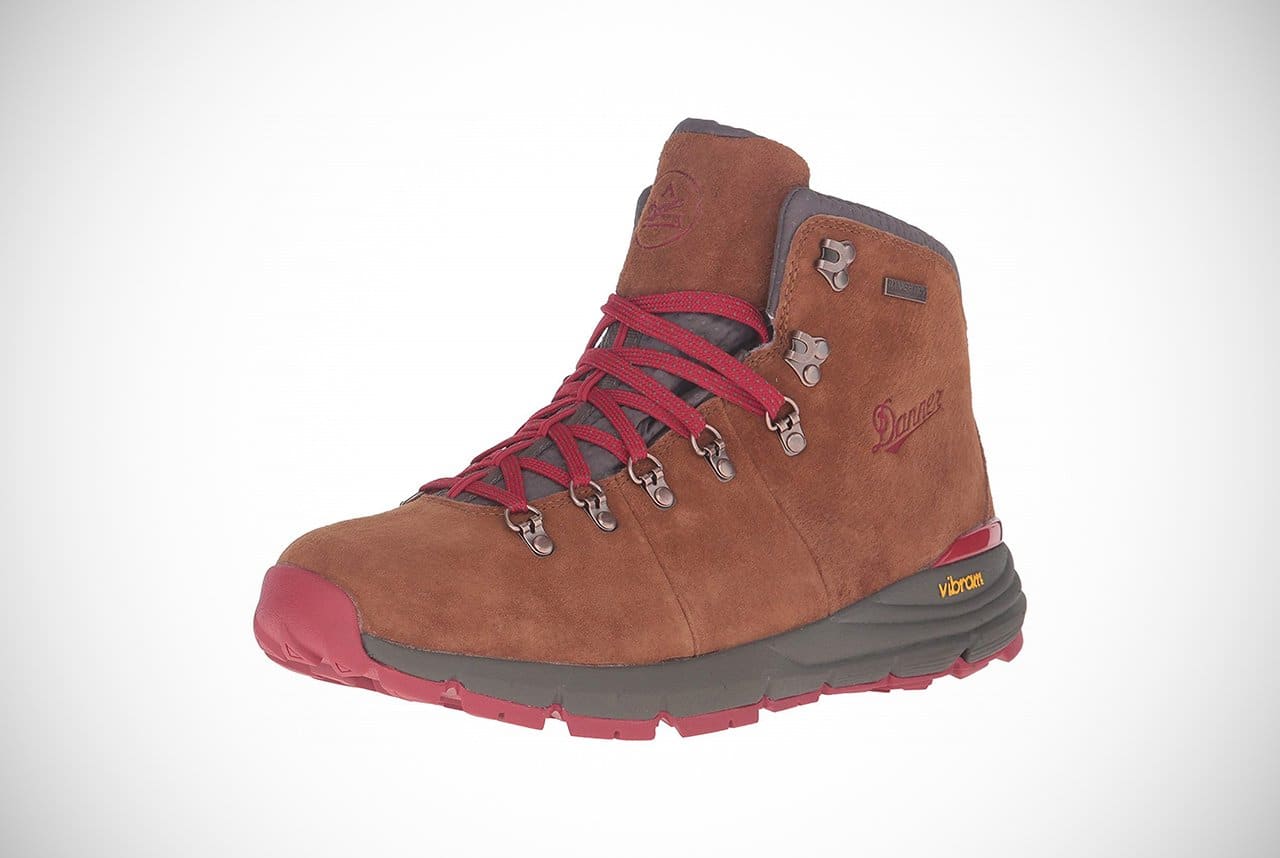 Founded in 1932, Danner knows a lot about making waterproof hiking boots for men. Their products show that experience, such as the Mountain 600 4.5″ boots that they teamed with Vibram to construct.
Vibram are the Italian footwear and rubber outsole designer and manufacturer best-known for the exciting and striking five-finger running shoes. With this team-up, they wanted to take hiking boots for men to new places.
The Mountain 600 is the first and defining pair in a brand-new category of boot called Performance Heritage. They're a mix of modern lightweight shoe innovations with that classic Danner style.
With Vibram onboard, some of the most notable features are of the Italian firm's design. For example, the Vibram SPE or Specialized Performance Elastomer. This is a midsole like no other that gives you superior levels of both flexibility and comfort.
This compound consists of EVA and rubber and makes the midsole lighter, more durable, and better cushioned. The Fuga outsole combines with the SPE midsole to bring flexibility and balance, amazing traction, and stability due to injected Megagrip tech. This design allows a high level of hold on any surface, dry or wet.
Needless to say, we're a little smitten with these and we think you'll be too.
Check Product Price // Read More Reviews
8) Salomon X Ultra 3 Wide Mid GTX Hiking Boots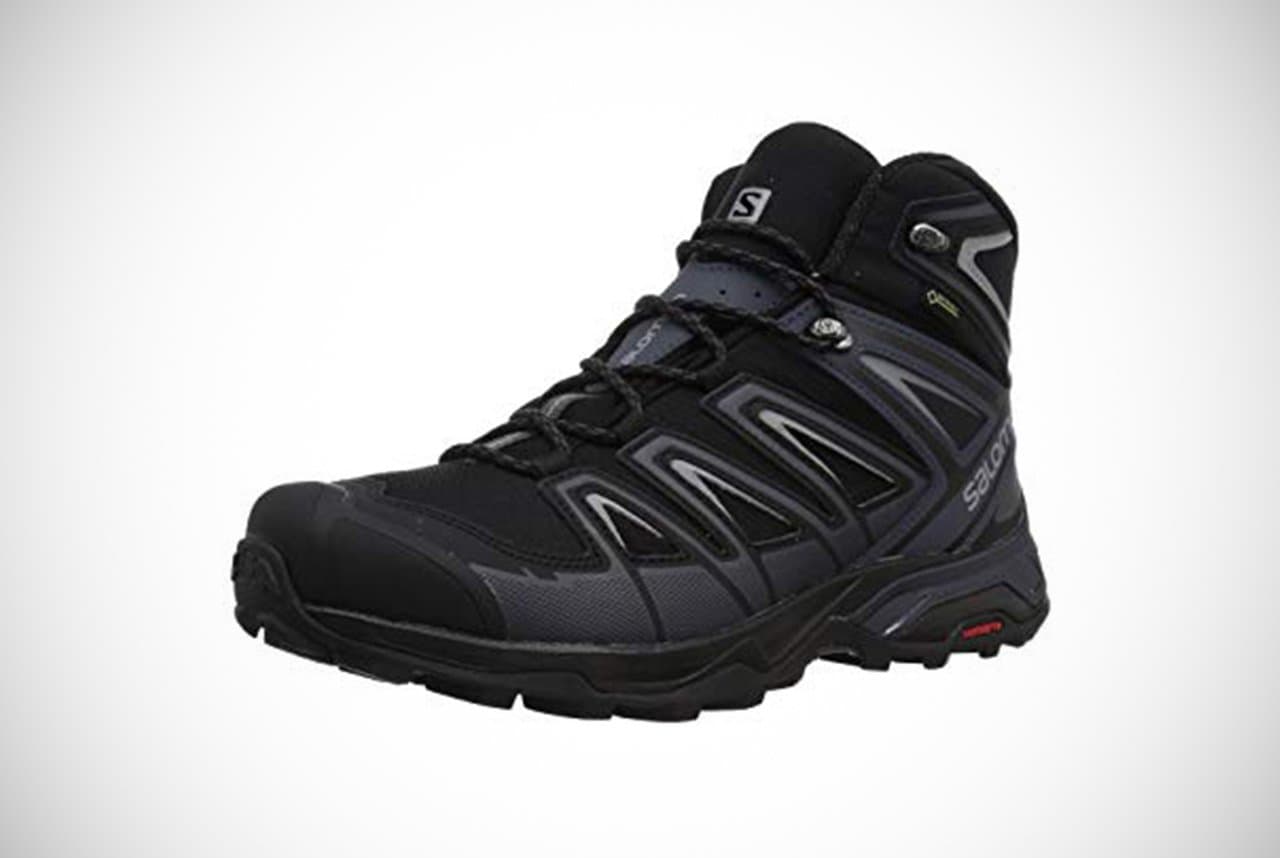 Established in Annecy in 1947 by George Salomon, Salomon has been a go-to clothing and footwear brand for amateurs and professionals alike. Specializing in skiing and running related gear over the years, they eventually expanded to hiking and trail running.
Their signature style and innovation can be seen in these X Ultra 3 Wide Mid GTX boots. This boot was originally created with the female foot anatomy in mind. However, the boots above utilize the same considerations for male feet. This makes them some great hiking boots for men.
They're lightweight and give a strong, comfortable foothold. The High Traction Contagrip feature two different kinds of rubber in the outer sole and a patterned area under the heel. You're guaranteed to have a more aggressive level of traction.
Perfect for on the way up, they come into their own when you're on the way down and want to get the edge on your personal best time or any opponents you may be competing against. If you're into that stuff, of course.
Gore-Tex is utilized for the inner sock to give your feet the breathability and moisture resistance they need. Meanwhile, the Sensifit design locks your feet in place from the midsole up to the lacing. The boots are great, and they're offered at an amazing price.
Check Product Price // Read More Reviews
9) Salomon Men's X Ultra Mid 3 Aero Hiking Shoes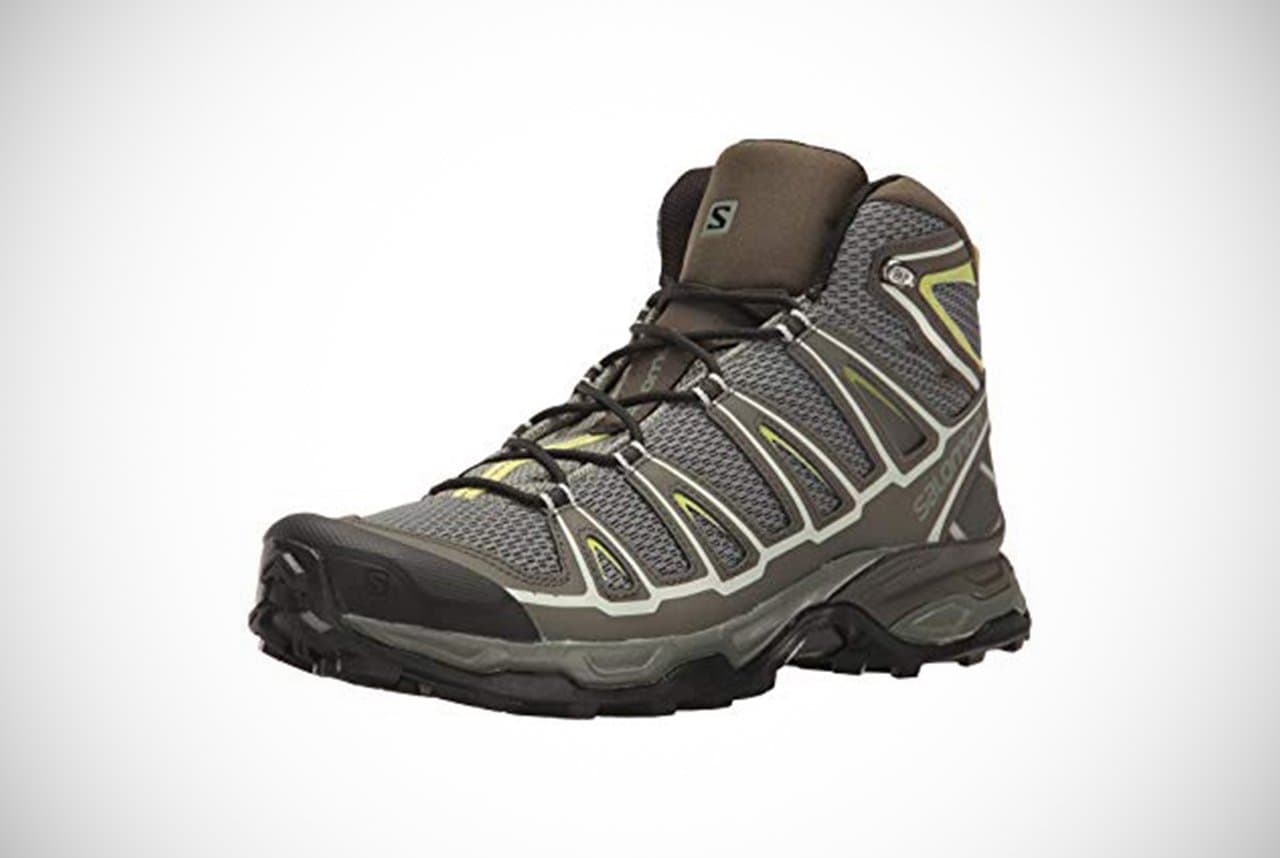 With so many great Salomon hiking boots for men out there, it was tough to choose between them. We finally decided on the best-selling and insanely popular X Ultra Mid 3 Aero, to fit the ones above.
These are a little cheaper than the other pair on this list. Don't worry because when you're investing in Salomon, you know you're investing in the best. These were already amazing hiking boots, but Salomon loves outdoing themselves almost as much as they like outdoing the competition. That's what they did by improving the descent control technology.
What does that mean for you? When you're heading up those steep and tricky ascents and wondering how you'll ever get back down, thank them. With the Mid 3 Aero, you're no longer left wondering. These bad boys will not let you wrong-foot down those hills and mountainsides.
A lot of the construction and design is the same to their brand buddies on this list. With the Contagrip, advanced chassis, and Sensifit all taking pride of place in these boots. It's awesome to know that a company like Salomon stick to a certain standard throughout their lines.
We'd be hard-pushed to decide between these or the other Salomons and are rather glad we don't have to. That, our friends, is up to you!
Check Product Price // Read More Reviews
10) Oboz Men's Bridger B-Dry Hiking Boots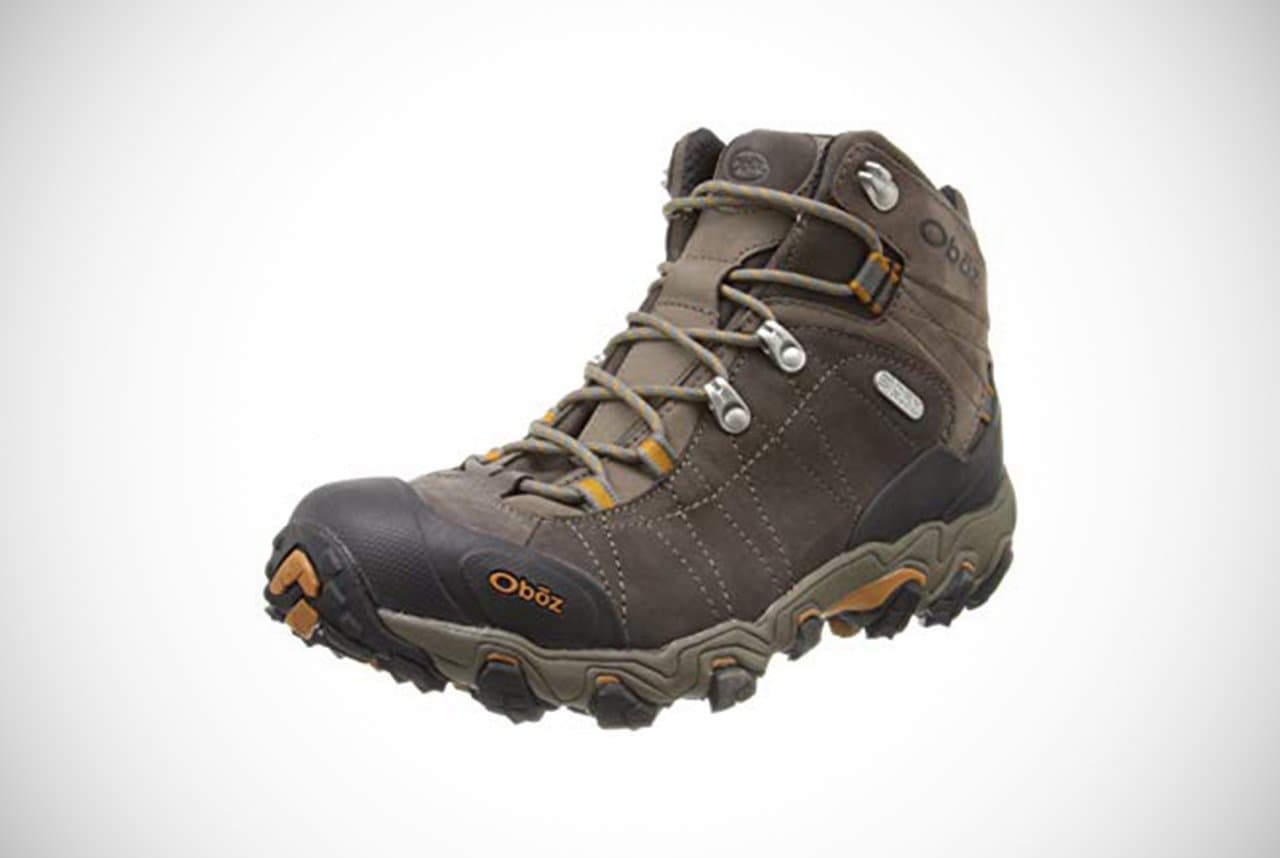 Oboz is a trailblazer in the hiking boots for men genre. They're also incredibly eco-friendly. In fact, they'll pretty much give you a sapling to plant yourself or plant one on your behalf just for TRYING on a pair.
If you're in the market for great hiking boots for men, these will certainly stand out. What makes them so special, beyond the wind-power, sustainability, and plant-donating? The B-Dry waterproofing, which is extremely effective at its job.
The Granite Peak outsole that's been constructed onto these boots is terrific too. This is a signature component from Oboz and provides both protection and support for your feet.
The name "Granite Peak" might provide inspiration to put these boots to the test. It's the tallest of the Rockies in Montana and the map on the sole features it. Perhaps we should mention the awesomely customized midsole.
This carries a level of protection and flexibility with added stability. "Light as a feather" might be the best way to describe these boots.
The O-Fit inner sole is specifically devised to place your foot in a neutral and comfortable position. Moisture-removing and shock absorption are all included. Yes, these are expensive. However, when you're traversing thousands of feet worth of steep ascents and descents, the last thing to worry about is a few hundred bucks.
Check Product Price // Read More Reviews
11) KEEN Men's Durand Waterproof Mid Hiking Boots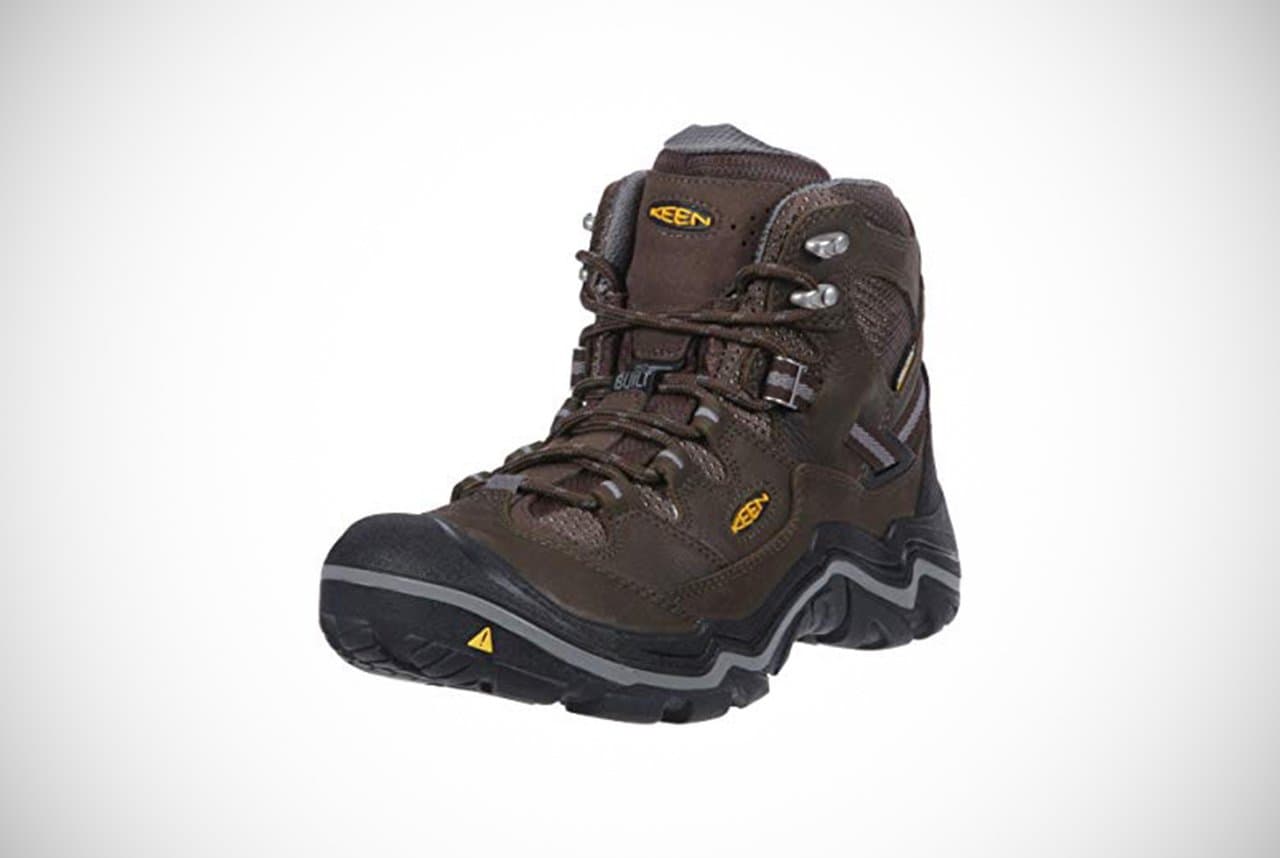 KEEN know what they're doing when it comes to creating a hard-wearing and robust boot. The Durand mid features Nubuck leather, which is favored for its higher quality, and dependable hardware made from rustproof metal. It also benefits from mesh paneling and sections that provide the breathability.
Something you need on those days when the sun is beating down as you attempt your own personal K2 trek.
The KEEN.DRY waterproof membrane is perfect for keeping you dry and comfortable no matter the weather and no matter how much you sweat. Don't worry, we all do.
Intensely proud of their heritage, KEEN loves to point out their hiking boots for men are made on U.S. soil in Portland, Oregon. Any company that constructs waterproofed outdoor clothing and footwear knows the importance of that protection against the elements.
Check Product Price // Read More Reviews
12) Vasque Men's Talus Trek UltraDry Hiking Boots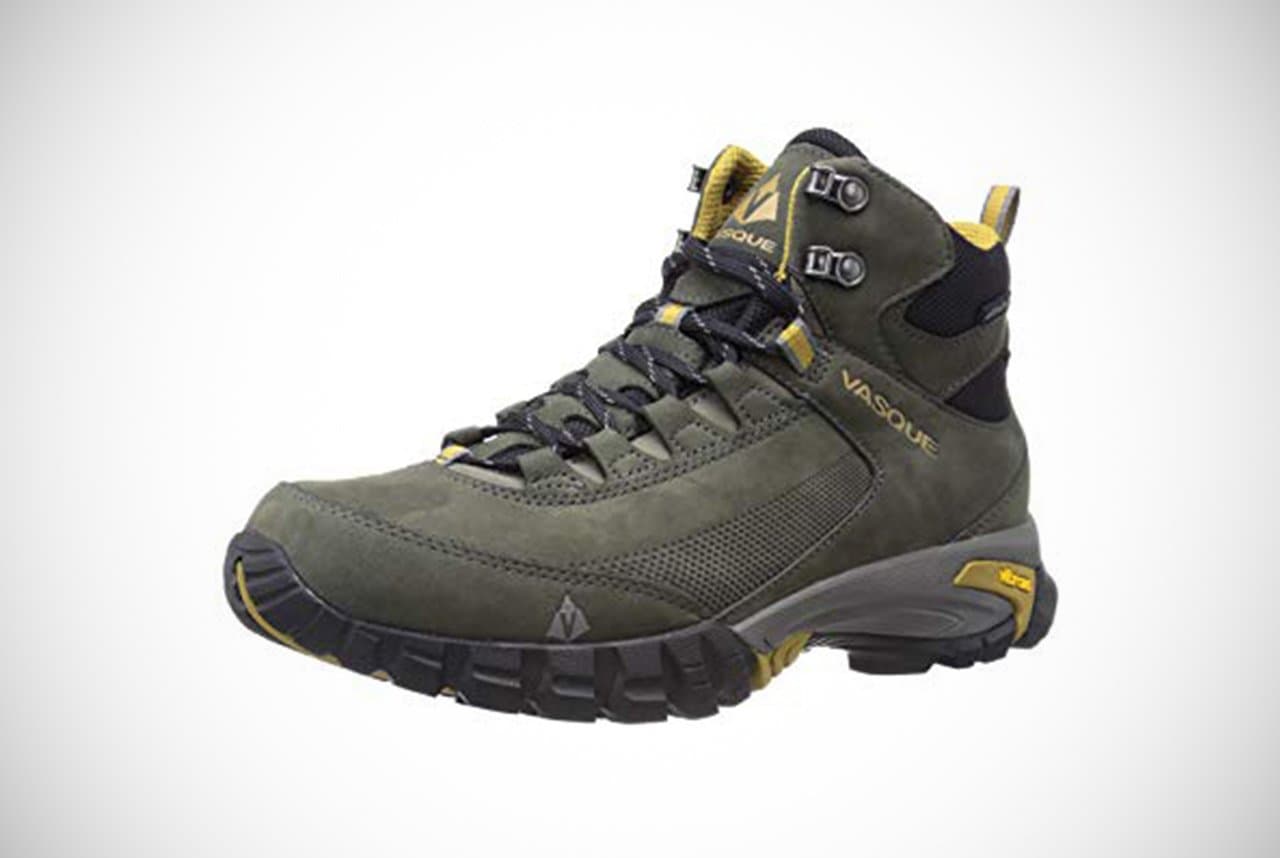 These good-quality hiking boots for men from Vasque utilize the Vibram Nuasi sole. This notable addition features the XSTrek rubber and incredible lugs for traction in all directions at all angles. All so that you're not going anywhere in a hurry, even on the trickiest of ascents and descents.
Slipping down that mountain face is something you don't need to worry about.
The outer sole is a crucial selling point, but it's not the only thing tipping the scales in the favor of the mighty Vasque Talus Trek UltraDry boots. The athletically-minded and lightweight EVA midsole gives you superb comfort. They will make you feel as if even the most rugged of terrains is a smooth and freshly asphalted road.
Thanks to the combination of the 1.8mm nubuck leather, the meshing, and the UltraDry sock liner, your feet will feel toasty, without feeling wet, no matter what the weather is like.
Check Product Price // Read More Reviews
13) Asolo Men's Fugitive GTX Hiking Boots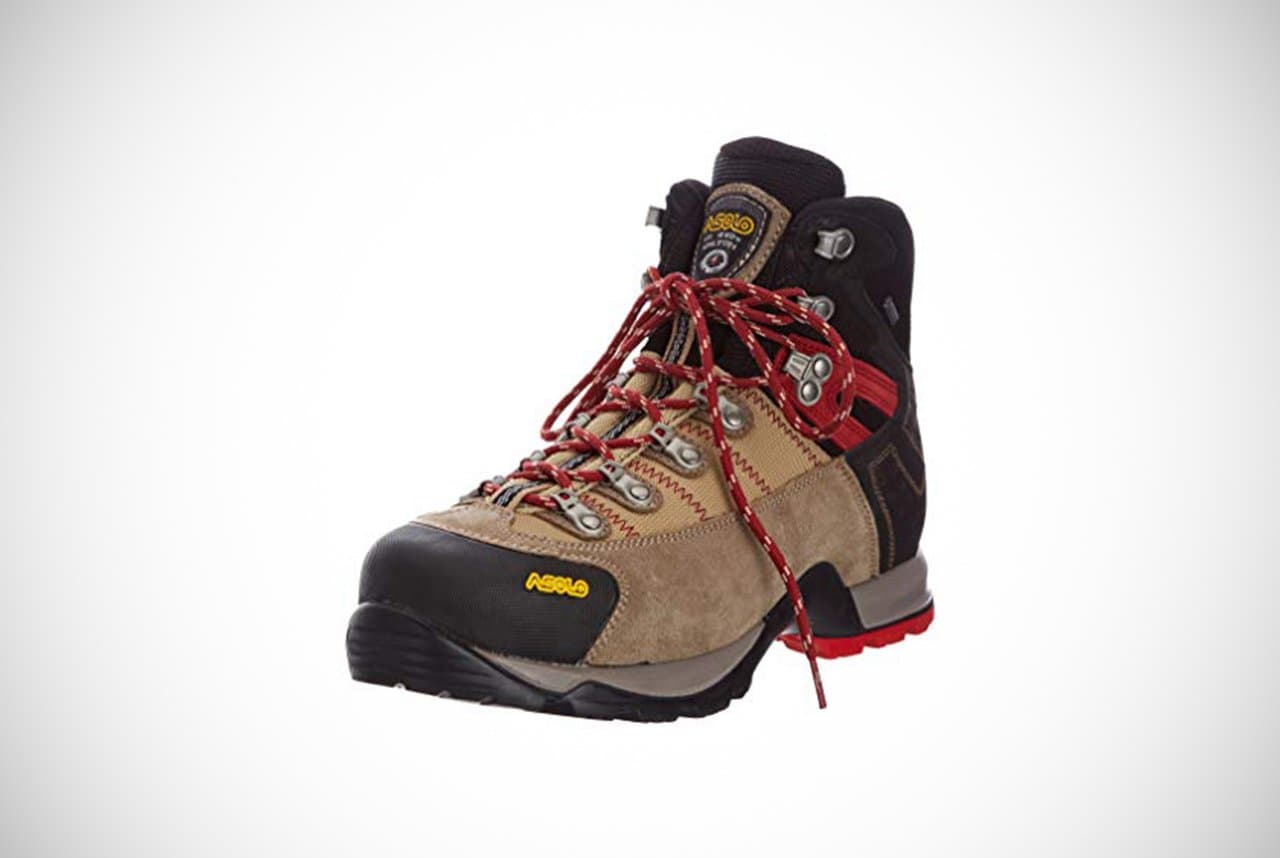 If you're looking for beasts to wear, look no further than these Asolo Fugitive GTX hiking boots for men.
As the GTX in the moniker suggests, they benefit from the ubiquitous Gore-Tex. Asolo has a long-standing tradition of making boots for your feet. A concept that often alludes even the biggest names in footwear.
From the Asolo point of view, performance is key. You may know them for producing boots that offer superior performance that their rivals could only dream of incorporating into their own boots. Fit and comfort are also crucial in the Asolo boot melting pot.
They have a design to consider reliable from the smoothest to the roughest and most unforgiving terrain. The best thing is you'll barely notice the difference underfoot. These hiking boots for men are pricey, sure. However, we've said it before – you can't scrimp on the cost when your safety depends on it.
Check Product Price // Read More Reviews
14) Xiang Guan Men's High-Top Waterproof Hiking Boots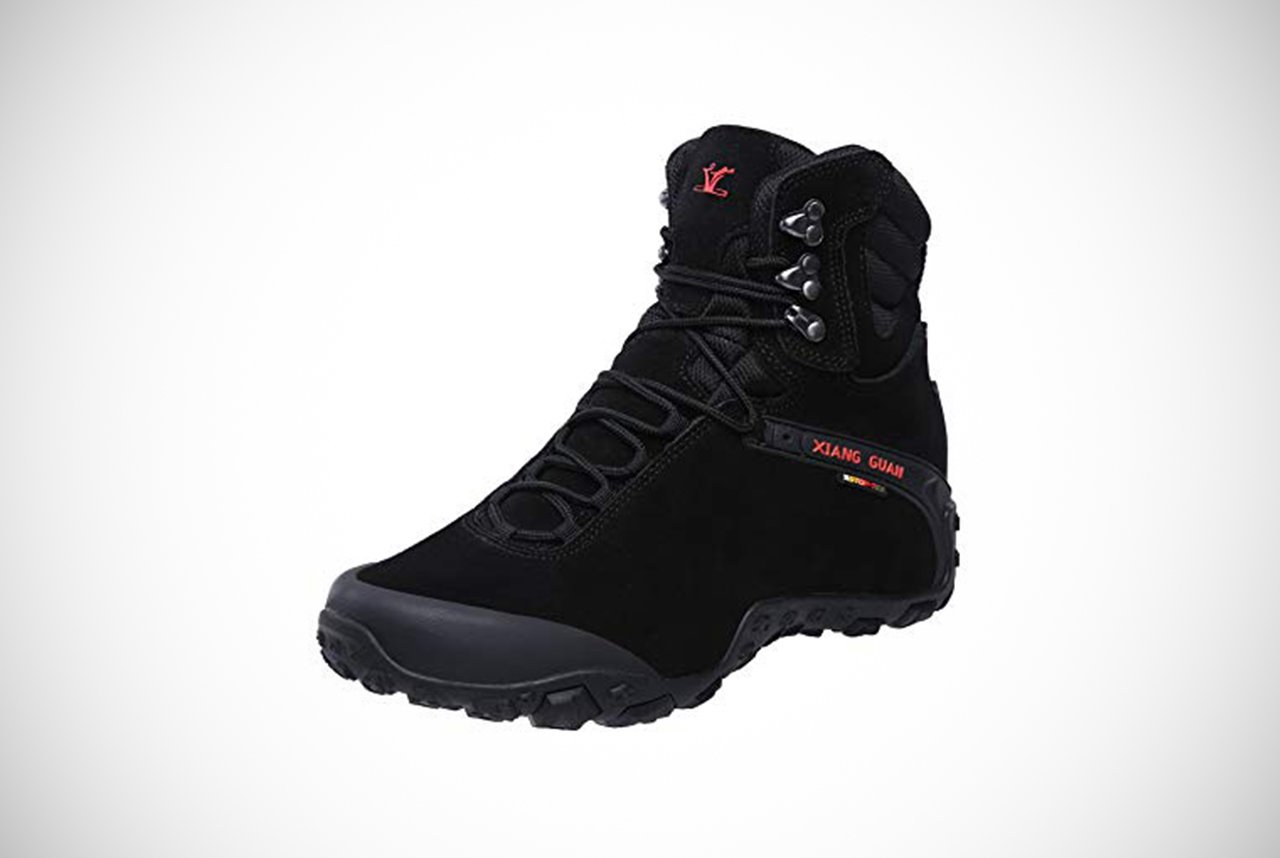 They might be newer and lesser known, but Xiang Guan offers a cheaper boot with great quality. These hiking boots for men are getting a lot of praise and for good reason.
These boots are a triumph and it's easy to see why the company has succeeded in over 77 different countries. They're made from authentic and high-quality calfskin that gives the suede a flexible and silky feel. It's also not easy to damage.
They utilize the oft-used EVA cushioning to provide amazing comfort and shock absorption. This is something the midsole area of your foot will appreciate on those tough inclines and devastating descents.
In fact, the outer sole has a very tough and slip-resistant rubber that provides you with the confidence of a firm grip on the ground beneath your feet. Even if you're a couple of thousand feet in the air.
Multi-functional, designed well, and available at an exciting and tempting price point. For those on the lookout for a budget pair, you need not look further than Xiang Guan.
Check Product Price // Read More Reviews
Take a Hike!
Before you head off to tackle that peak, we don't care if you're a seasoned pro or a rank amateur. Simply, there's no piece of equipment more important than the right pair of hiking boots for men. Not when it comes to your life, especially.
You've now seen what's on offer this year and we've done our part. Looking after your feet when you're a few thousand feet up is now up to you, literally.