W
e know what you're thinking, you have gym shorts already. Come on dude, are you really going to stand by those shorts you've been using for three years now? The ones that are all ratty, don't provide any movement, and are faded? You can do better than that and you know it, that's why you're here. Congratulations and well done on your decision to switch up your gym shorts for men. Give those old ones to the dog.
Whether you're a track and field amateur star, a tennis enthusiast, or prefer to go for the home runs, it doesn't matter. You may even just be looking for a reliable pair of gym shorts to use at the gym. Regardless, we're here to help you.
Gym shorts are a funny thing. People in the know realize their importance rivals that of the right sneakers. Clearly, you need a good pair. Various brands just put the tag "gym" as part of their shorts to increase profits, but the product isn't made for such.
This makes navigating to find the be shorts can be harder than many like to admit.
If you're expecting a wide array of options, then think again. We're not going to sit here and rattle through 25 different pairs of gym shorts for men that essentially do the same thing. Instead. we picked pairs that we feel should be highlighted.
Before we get down to it, we need to look at some FAQs. By answering these, we'll also be helping you take one step closer to getting the right gym shorts. That way, when things get physical, you'll be ready. We're talking sports dude, come on, men are writing this ya know! Although Carl in accounting said he wouldn't mind helping you…
What Are the Main Benefits of Wearing Gym Shorts For Men?
There's a lot of skepticism when it comes to clothing that's marketed as having a particular purpose like sunglasses for rock climbers, or swimmer's ear muffs. However, is it true for gym shorts? Does it actually make a difference if you wear gym shorts or regular, normal shorts when working out or participating in sports? What are the main benefits of wearing these kinds of clothes?
Well, if you're serious about working out or performing on the pitch, track, field, or court then wearing the right clothing can be paramount. There are some distinct benefits to wearing gym shorts, including:
Better Movement & Greater Comfort:
Gym shorts are designed to ensure that you don't feel restricted and give you better movement. This will then ensure you have the necessary comfort to concentrate on your workout, backhand, pace, or whatever discipline you're involved in.
Makes Your Performance Better:
As noted earlier, the above benefit follows through nicely to this. When you're more comfortable you're able to concentrate more which ca, in turn,n improve your performance.
Prevent Injury & Gives You Added Protection:
When you opt for a pair of proper gym shorts that are suitable for certain activities, you're ensuring you're protected and safe. If you wear clothing that is too restrictive or ill-fitting, for instance, you could injure yourself by slipping up or worse.
Are Gym Shorts Comfortable?
Again, it all depends. Take a look at just how many shorts are out there. We've only highlighted 10. There are lots of different styles of shorts out there. If you choose the wrong type for the wrong activities, they won't be very comfortable.
However, you could make sensible decisions by purchasing unrestrictive pairs that are designed for the gym and sports-based activities. Many of those are mentioned in our list, in fact. You'll likely find that they are incredibly well designed with comfort and practicality both in mind.
What Materials Are Gym Shorts Usually Made of?
Although no two pairs of gym shorts for men by different brands or even the same brand are the same, there's a lot of crossover between them. The fabric is used more commonly than others. Most commonly you can expect natural fabrics such as cotton or bamboo to be used in various ways.
Often high-quality shorts will be made completely from cotton, whereas bamboo is generally used in the lining as it has antibacterial and moisture-wicking properties.
Other, synthetic fabrics are used even more commonly. Spandex and polyester are the favored materials by many of the biggest and best sports apparel brands. They are used extensively in gym shorts, like the ones listed below.
In addition to the main paneling and construction of the shorts, there is always some form of elastane used. Although, this element is usually only used in the waistband to provide the fit you're looking for. If you're not prone to suffering from allergic reactions very often, the fabric may not concern you much.
However, if you have a known allergy to materials such as polyester, spandex, or even cotton, you'll want to avoid shorts with those materials in them and opt for alternatives. We've included a wide selection of shorts made from various fabrics for that very reason. Let's take a look at the top gym shorts for men.
1) Under Armor Mirage 8″ Men's Shorts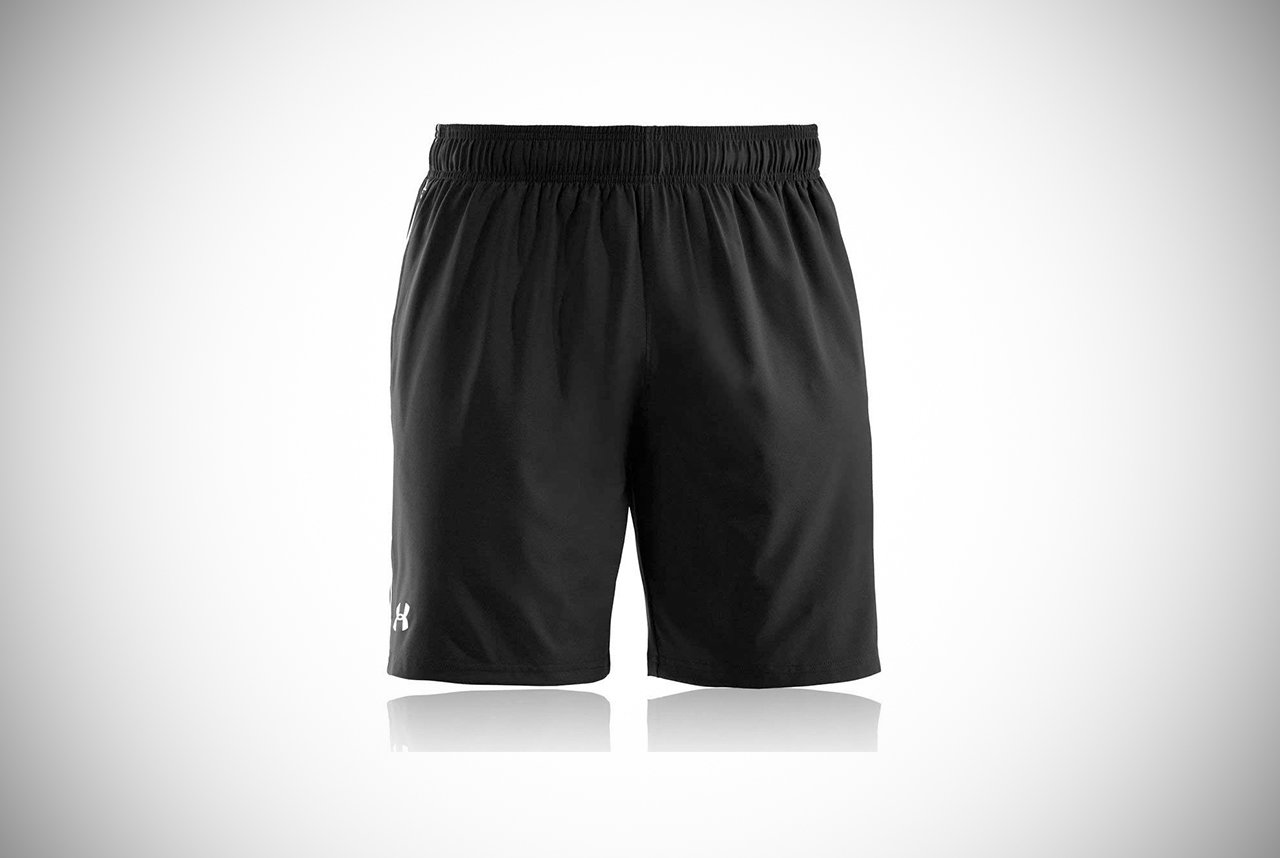 First up are these great Under Armor Mirage 8″ gym shorts for men. Since 1996, Under Armor has been in the business of designing and manufacturing performance gear for all kinds of sportsmen and athletes. We're sure you'll agree that they're a good place to start on your hunt for the best gym shorts for men. This brand is very popular and a lot of people respect them.
What do the Mirage have to offer? Well, they've been devised with comfort and freedom in mind. They have a fuller cut and are loose enough that you don't feel restriction around your legs. Thanks to their 100% woven polyester construction, they have 4-way stretch which increases your level of movement. All while ensuring they keep their shape.
A number of excellent standards from UA are featured in these shorts too. The Moisture Transport System, for example, is notable because it helps to wick sweat. It's also useful in eliminating unwanted liquid away from your body. The UA half-back elasticated waistband that features an internal drawcord keeps those shorts where they should be.
After all, the last thing anyone wants is a short-based catastrophe. Embarrassment or serious injury, neither sounds particularly thrilling.
Check Product Price // Read More Reviews
2) TCA Men's Elite Gym Training Shorts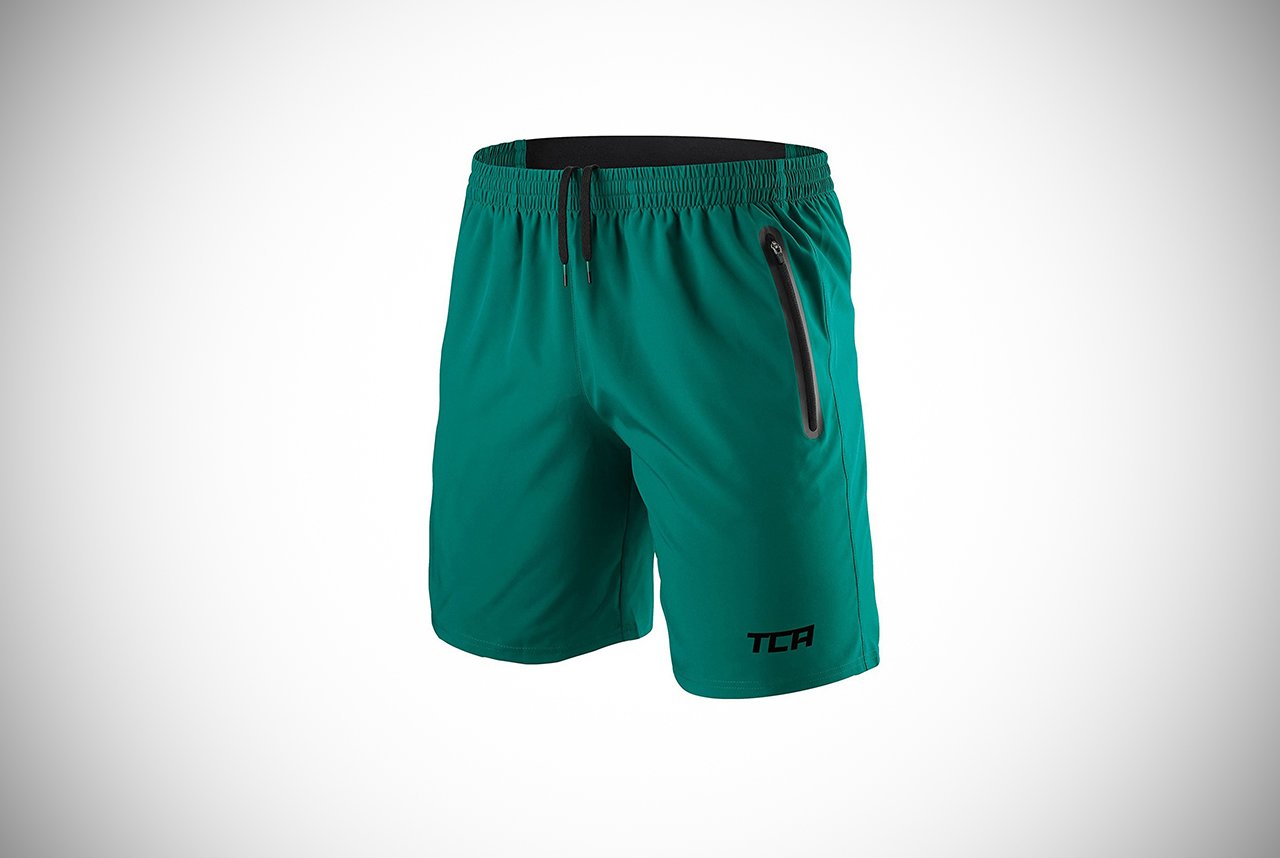 The highly affordable gym shorts for men from TCA are a triumph. Although TCA may not be a name you're overly familiar with, they've been in business since 2010 and been producing high-quality sportswear ever since.
These TCA Men's Elite Tech shorts are marketed as being suitable for either gym training or lightweight running. If you're into those sorts of activities or similar, these are ideal. TCA designs them using a strong and light stretchy-fabric that has been woven to allow an excellent amount of movement and durability.
The pockets with fusion-welded zippers allow you to store anything valuable you don't want to leave elsewhere. This means you can keep your music player of choice or smartphone nearby.
TCA has ensured that even the waistband will do its job without getting in your way while you train. The back elastic enables you to tighten it, so they're snug around your body. One of the biggest draws we have to admit about these shorts is the no-quibble 360-day return policy the company offer.
Although, it's unlikely you'll have to use it, it's nice knowing the company is willing to put its money where its mouth is. Gives you more confidence about how good these shorts might be.
Check Product Price // Read More Reviews
3) TCA Men's Natural Performance Bamboo Gym Shorts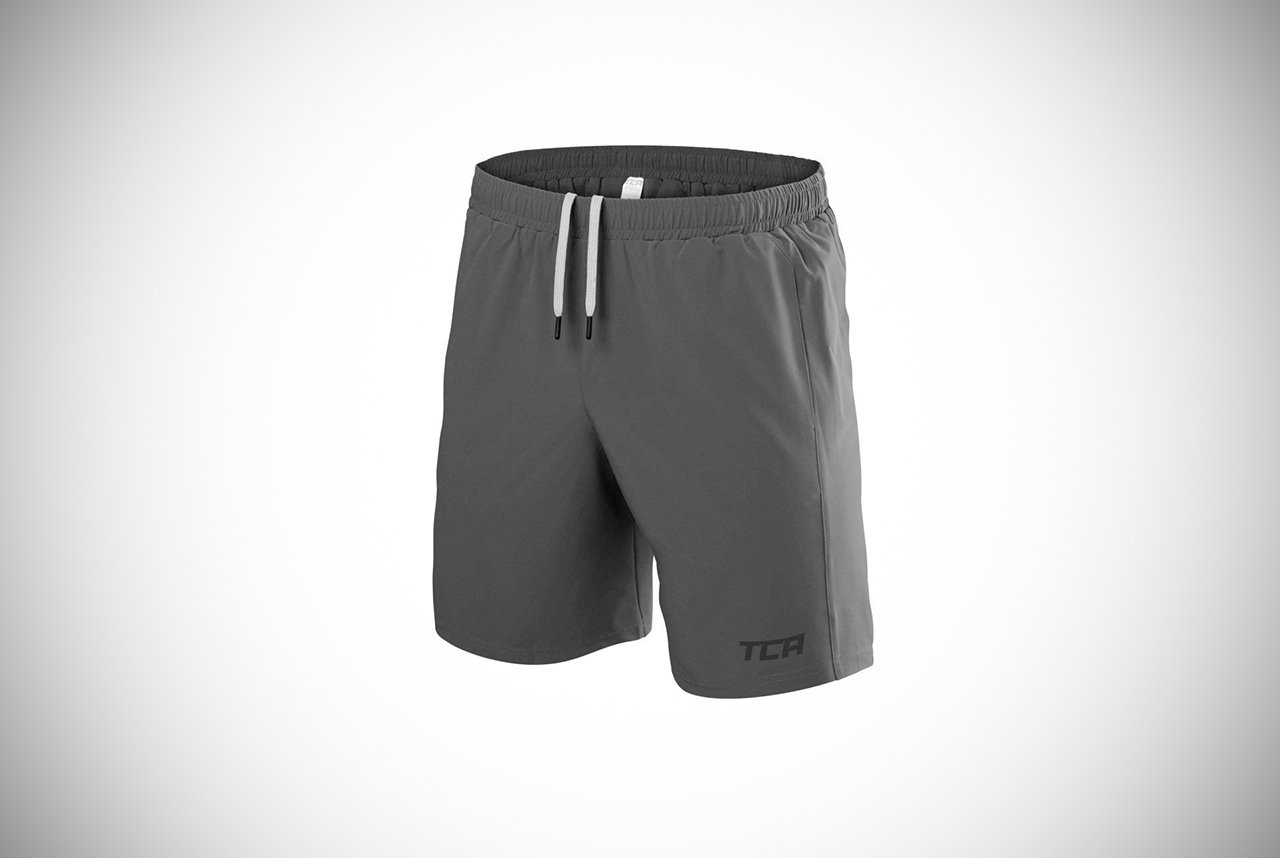 TCA products are tremendous, so it's not shocking yet another pair of their gym shorts for men made our list. This time it's the TCA Men's Natural Performance Bamboo Gym & Running Shorts. Slightly cheaper than the previous TCA pair, these also benefit from having a great percentage of natural materials. Namely, they hype the 15% bamboo in the lining.
Though odd-sounding, bamboo is ideal for use in sportswear because it has natural moisture-removing and antibacterial properties. Those are the words you want to hear before you slide on a pair of shorts to go on that 10-mile run in the 30 degrees heat.
Similarly to the above pair, TCA makes them with running and gym activity in mind, so are very versatile.  This makes them ideal if you're not stuck doing one discipline of sport each time you're getting active. Much like anything else from TCA, they come with the full 360-day return guarantee.
If you're not satisfied with them in any way, the company promise to honor their agreement to offer a full refund. That sounds honorable to us!
Check Product Price // Read More Reviews
4) Zenwow Men's Backloop Gym Workout Shorts with Pockets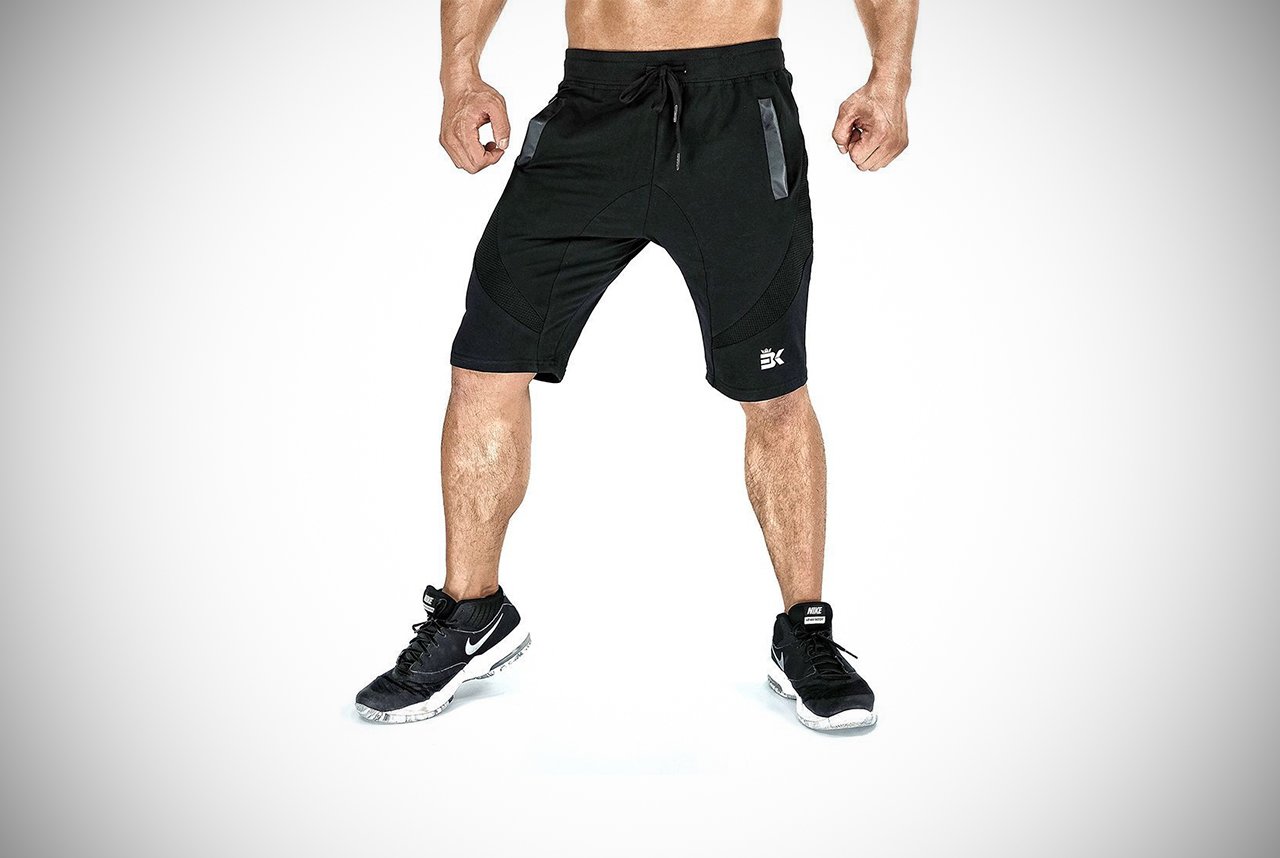 Zenwow, much like TCA, may not be a name that you're particularly familiar with. However, at the price these shorts are available for, can you really turn your nose up at them without giving them a chance? Hear us out, when have we ever led you astray?
These Zenwow Backloop gym shorts for men certainly look the part, don't they? How are they beyond looks? They feature breathable meshing in the hips and sides that ensures your body never feels too sweaty. The adjustable waistband, although standard, is a welcomed addition. Some shorts do not even offer this at all.
As you'd expect, there are some pockets to stash your gear in. They're all fairly deep. This is perfect for storing those belongings you don't want or left lying around. Of course, it's also ideal for bringing your smartphone to the gym to chart your progress.
Perhaps, you wish to provide the Journey, Survivor, Toto, or Coldplay track that pushes you to make those last few reps possible.
The great thing is that these are very versatile so whether that pushing is on the basketball or tennis court, cycling, hiking, jogging, or beach sports. Heck, they'll of course work for you're working out at your local gym. It's unlikely they'll ever let you down.
Check Product Price // Read More Reviews
5) Under Armor RAID 8 Men's Short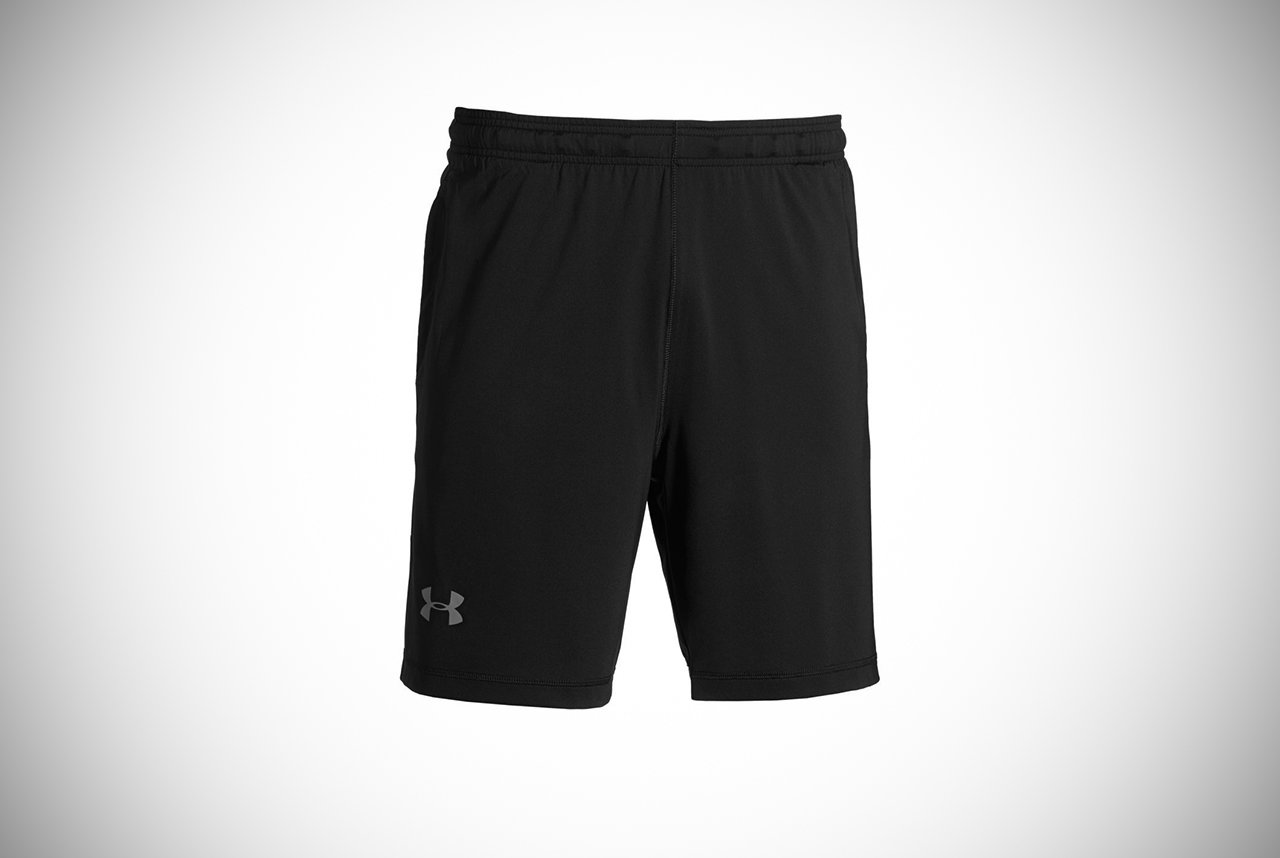 Back again with another pair of gym shorts for men from sportswear masters Under Armor. The Under Armor RAID 8 Men's shorts are getting a lot of good press at the moment and it's not hard to see why. Loose fitting, these also feature the highly desirable HeatGear fabric.
This ensures they're smoother, softer, and incredibly comfortable. All without feeling bulky or heavy.
That's not all UA has brought to the table with these shorts. They have UPF 30+ that provides your skin with protection against the most harmful sun rays. That means you'll never need to worry when you're working out or on that 5-mile jog in the blazing heat of summer.
UA offers a 4-way stretch standard that the construction provides for increased movement in all directions. Another is the Moisture Transport System that Under Armor is famous for.
You'll feel unbeatable in these gym shorts for men. These shorts clearly show why so many big names in sport align themselves with Under Armor.
Check Product Price // Read More Reviews
6) Srizgo Gym Shorts with 3 Invisible Zipped Pockets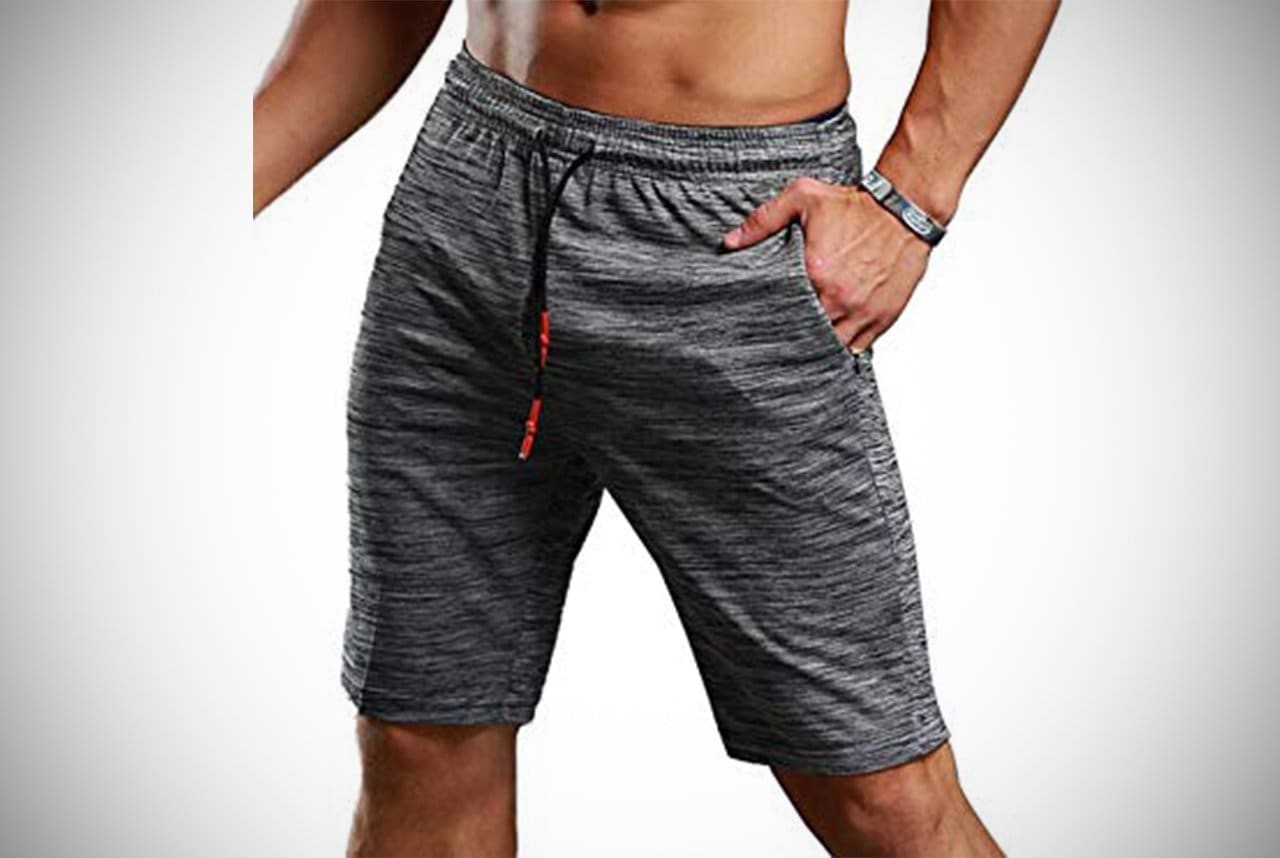 Srizgo might be another brand that isn't quite up there with Under Armor. For the price and the bold claims the company makes, however, they're worth a look at, aren't they?
Fully made from polyester for a soft and breathable gym garment, these shorts are ideal for all kinds of activities. Whether you're jogging around the block before heading to the office, intending on taking part in the next big Marathon or are just attending those trendy cross-fit classes, these are the perfect companion.
A major advantage of these gym shorts for men is that Srizgo designs them from super-quick drying fabric. So, if you're a heavy sweater, you don't need to worry about chafing or irritation. It simply won't take long for that sweat to disappear.
As you'd expect for the price point and the fact that they market them as gym shorts, there's an elasticated drawstring that helps you find the snug and perfect fit. They even benefit from having three pockets for the storing of all your belongings like keys and stuff.
If you're not wishing to spend too much money on shorts you're basically gonna sweat and bleed into, then these are the best for you!
Check Product Price // Read More Reviews
7) Under Armor Tech Mesh Men's Shorts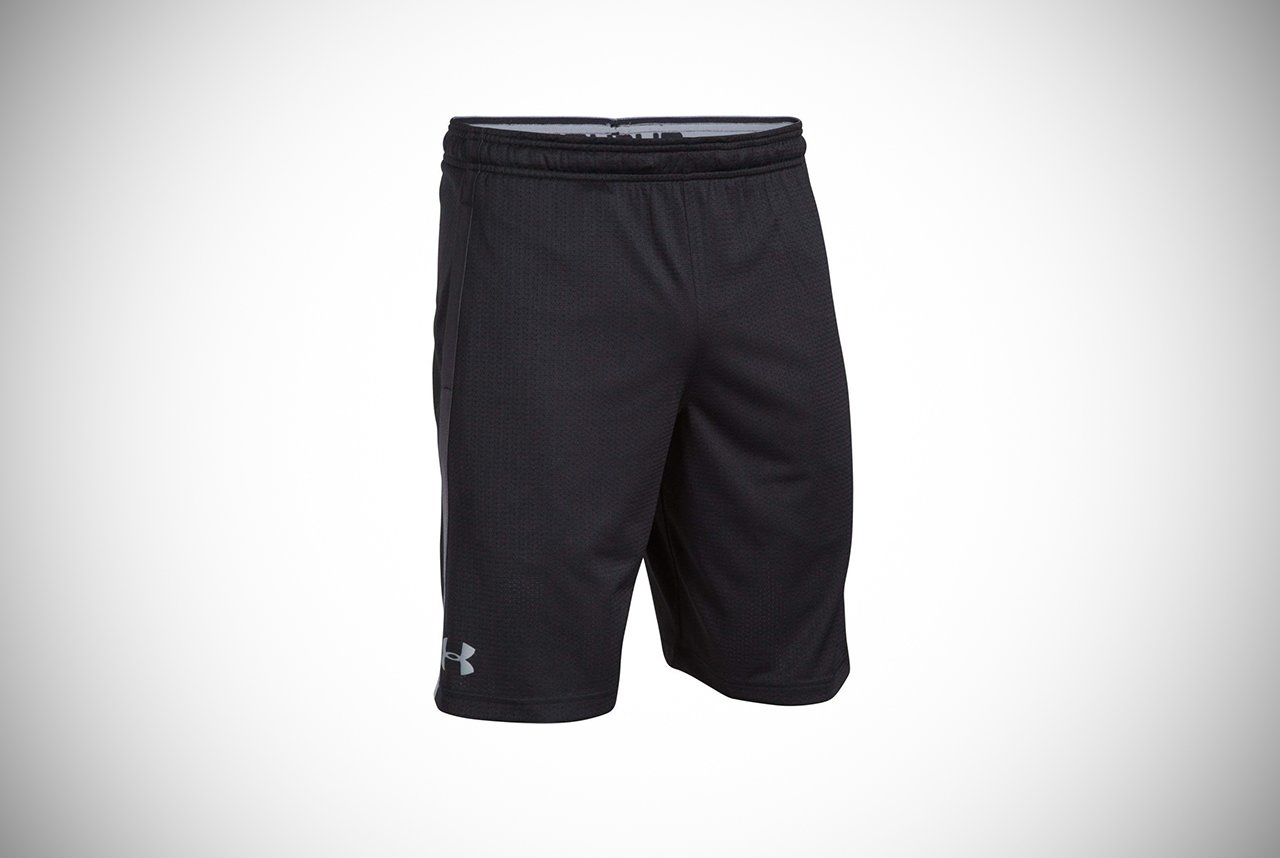 Under Armor gym shorts for men are always terrific, so why not add another to our list? That's exactly what the Under Armor Tech Mesh Men's shorts are. They do have the trendy 'tech' word in their name, but they're more than just a pair of shorts with a fancy name.
These differ somewhat from other UA shorts on this list because they utilize mesh fabric. The pinhole meshing provides a greater amount of ventilation not present in others. It also makes them incredibly soft against your skin. This ensures your comfort from the moment you slip them on to that moment you try to take them off after you nearly murder yourself at the gym.
Another big bonus with this pair of shorts is that the UA designs the polyester in the shorts to remove the sweat away from your body and dry super-fast. This means you can train for longer and don't have to worry much about all that liquid you produce.
In older pairs of shorts had the drawstring on the outside, but not Under Armor. UA appreciate everyone's annoyance, which is why they include a fully-encased elasticated waistband that has a hidden drawstring on the inside.
This pair of gym shorts for men are definitely one of our favorites so far.
Check Product Price // Read More Reviews
8) JINSHI Men's Quick Dry Sports Shorts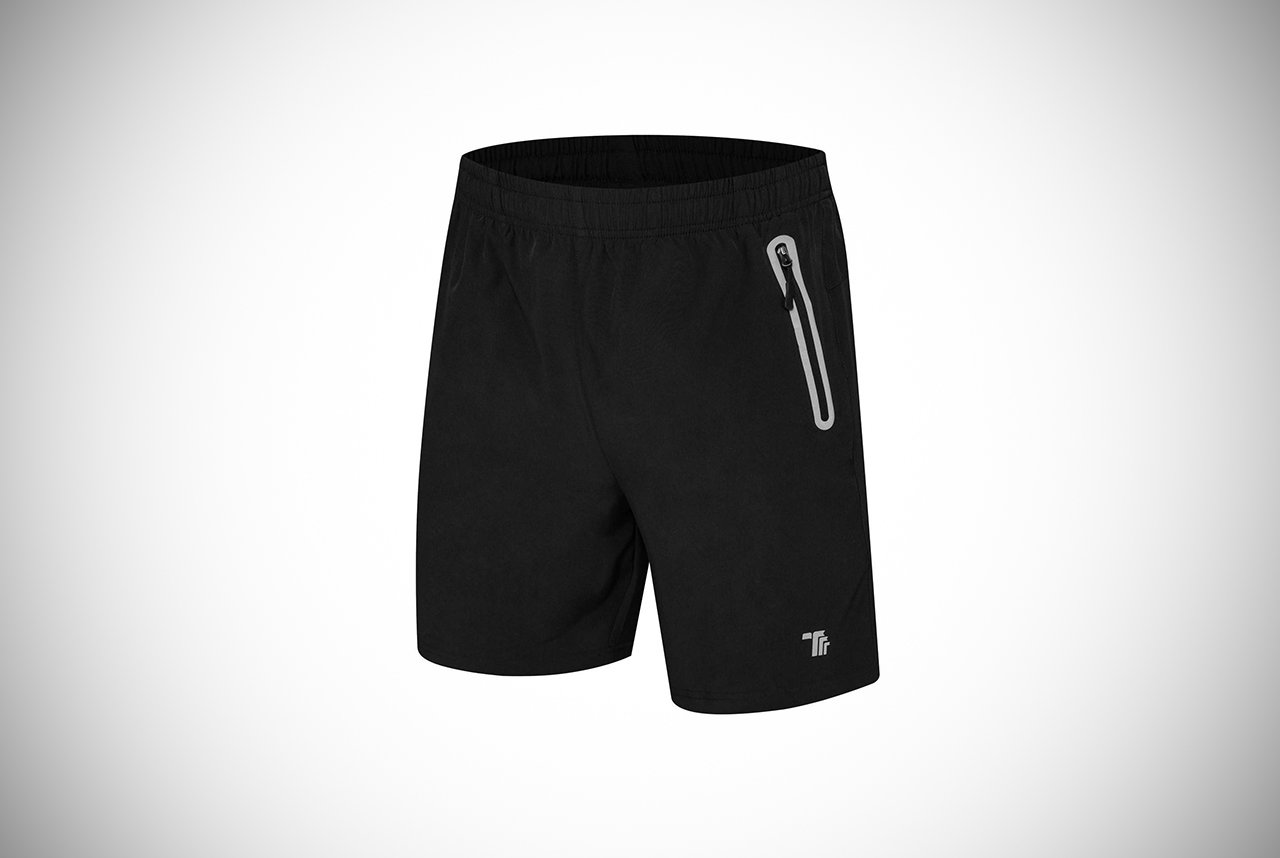 We'd advise you seriously consider these JINSHI Men's Quick Dry Shorts. Despite the rather silly name, these affordable gym shorts for men could be a sound investment.
They're suitable for various activities including hiking, mountaineering, walking, training, running, working a sweat up at the gym, or just playing fetch with the dog in the yard. Sturdy and reliable, JUNSHI designs these shorts with a mixture of spandex and polyester. This includes sweat-removing properties and is quick dry to get rid of that liquid junk.
They also sufficient ventilation to provide your legs and waist with lots of air.
As a great addition, the shorts include a reflective strip along the edge of the pockets. This would help on a night run or walk on the road. Never know when a car is coming, right? To give you the range of movement you need and the security you need for them to stay on at all times and stay put. This is why they feature enhanced stretchability.
Laugh at the name all you want, but these are a great and affordable pair of gym shorts for men. We're sure you won't regret making an investment in them.
Check Product Price // Read More Reviews
9) Canterbury Men's Professional Cotton Rugby Shorts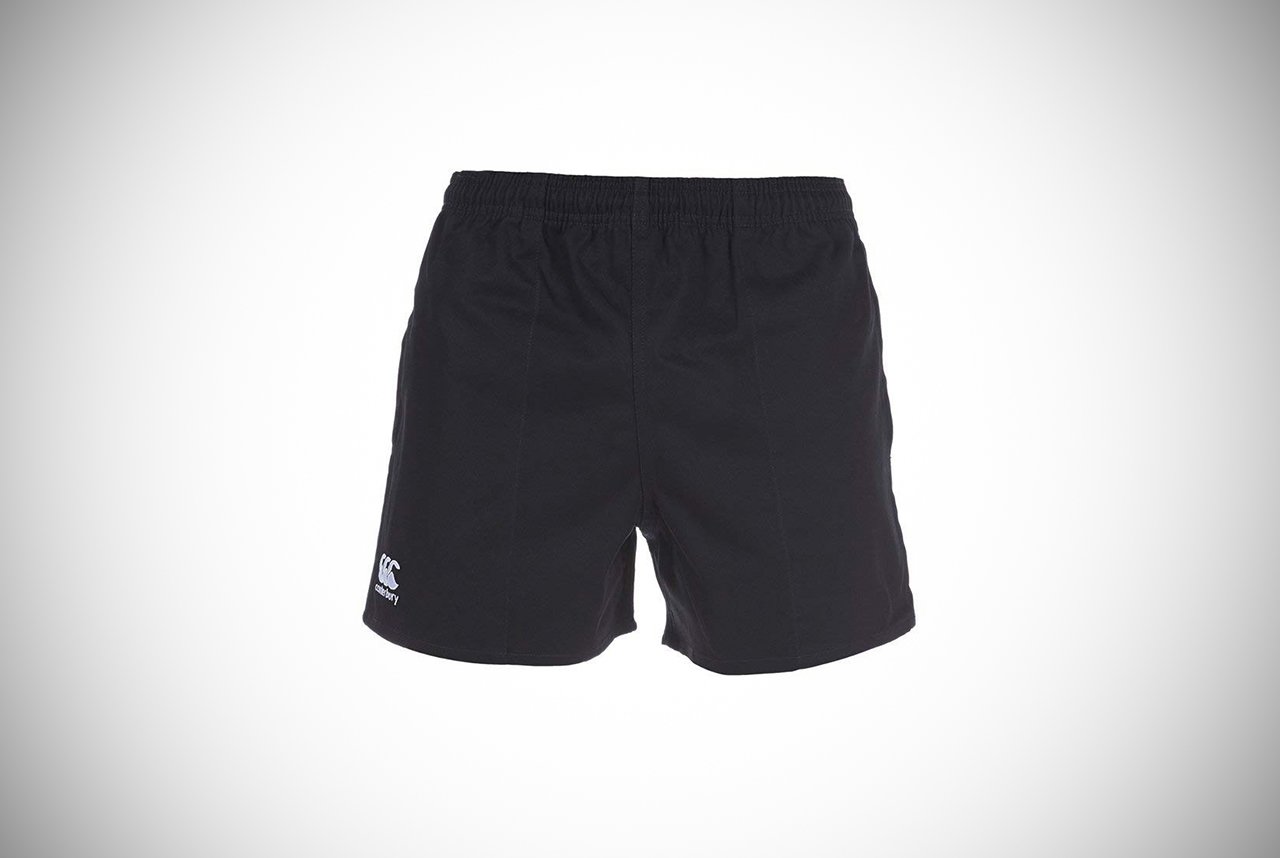 The penultimate gym shorts for men on our list are these slick and expertly-crafted Canterbury Rugby shorts. Canterbury is a company that specializes particularly in designing and manufacturing responsive and performance-enhancing gym shorts for men. Of course, people know them for other sporting apparel too.
Why do we trust the Canterbury name? They've been in business for more than 100 years, that's why!
They've constantly been at the forefront of the industry with innovation after innovation, looking for ways to improve and enhance their products. They live and breathe rugby. Don't be afraid if you don't play rugby though. You're not going imprisoned or beaten within an inch of your life for wearing rugby shorts for other activities.
However, if you're a fan of the no-holds-barred sport, these will give you the support, movement, and comfort you need.
They are drill-style short with an internal drawstring that allows you to adjust the elasticated waistband. Canterbury designs them to last and they include various technologies to help remove moisture from your body and dry quicker.
Check Product Price // Read More Reviews
10) Under Armor LAUNCH SW 5″ Men's Shorts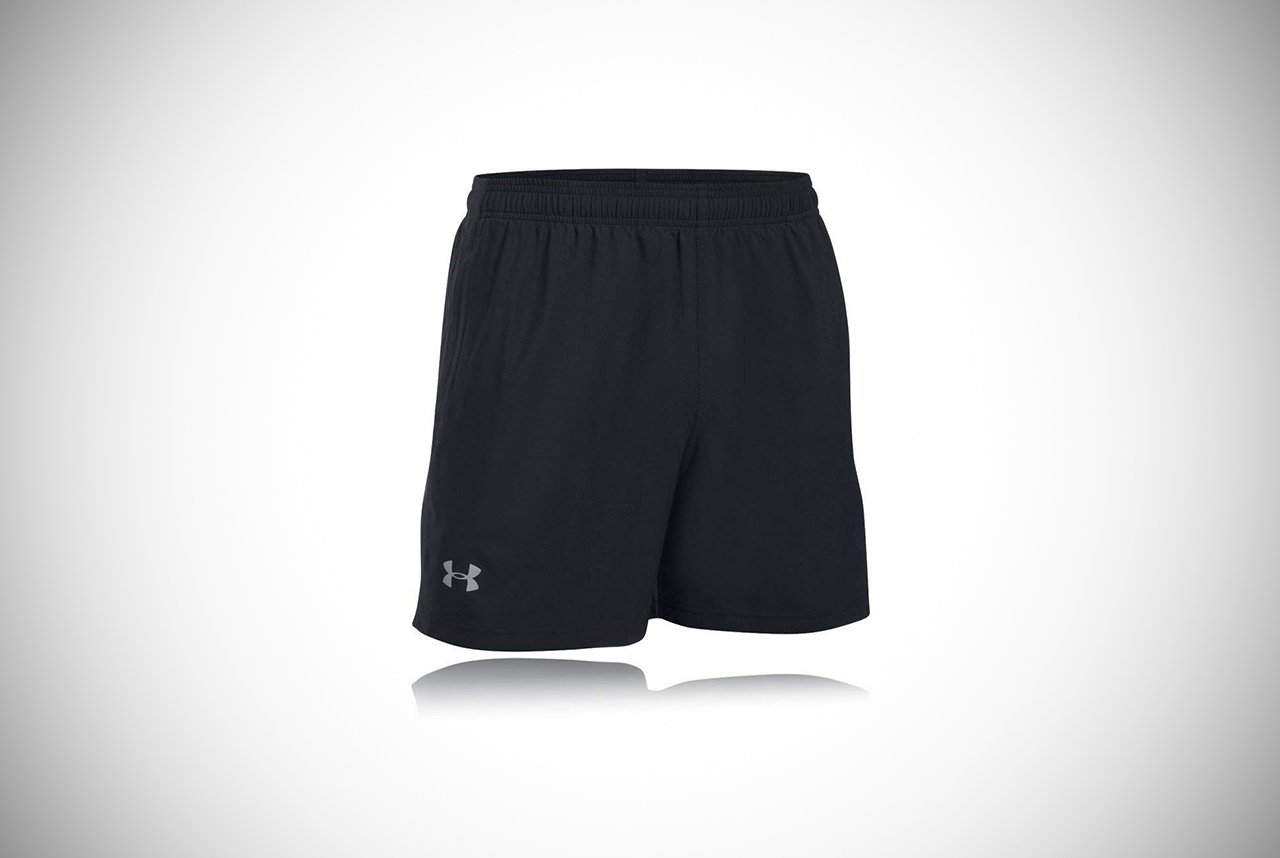 Did you expect anyone else to end our list? Under Armor and this excellent fitting and slick pair of shorts round our top ten out.
These Under Armor LAUNCH SW gym shorts for men are one of the newest additions to the Under Armor family. They offer a tailored-fit that gives you that streamlined, next-to-skin sensation without the chafing and squeeze that inferior pairs offer. This differs from the loose-fitted pairs above.
They're also extremely lightweight and thanks to the stretch-woven fabric, this even provides freedom of movement. The mesh lining on the inside helps with moisture-removal and gives proper breathability. Perfect for heavy workouts!
Mesh paneling in the sides ventilate your legs and waist even further. With the 4-way stretch construction that Under Armor is famous for, you'll never feel restricted in these shorts.
Another standard of Under Armor apparel is the completely internal drawstring and encased elastic waistband. This ensures you'll always have the fit you need. UA even added their logo with reflective material to increase visibility in darker times, like a morning or late evening jog.
Check Product Price // Read More Reviews
CONCLUSION
There we go, the 10 best gym shorts for men around. We hope we were able to show why it's so important to choose a pair of shorts for your workouts and sporting activities with a design specifically with that discipline in mind. Brands create shorts like the ones above to benefit you directly. As well as help you perform to the best of your ability.
The ones you choose might be different from the ones your buddy chooses, and there's no problem with that. As long as you choose a pair that fits you well, suits your activity, and happens to be comfortable, that is what matters. You also want gym shorts to provide you with the support, ventilation, and movement you need. All the above supply that.
Too many videos and memes are out there today involving shorts hitting the ground in unexpected ways. Especially when you're in front of a home crowd at a varsity football game.
We'll leave you to ponder on all we've discussed and hope you find the awesome pair of shorts your gym workouts and sporting endeavors need and deserve.