W
hile you may not have trouble standing out, this does not have to be the case. Men have found their own style and one that can be tough to understand. Some like it rugged and some like it smooth. They may wonder how they make my their mark in a time when it's not enough to just be stylish. Aviator sunglasses for men tend to be the best way to truly stand out right away.
Aviator sunglasses never fall out of style, as they're always ahead of the curve. They give that sophisticated, badass yet mysterious vibe one might otherwise be lacking. It hints at an edge even when you're heading off to the office or corner bar for a beer with your friends.
Designed as a lighter, sleeker alternative to flight goggles, they were marketed as a military tool to help pilots. This was particularly useful in World War II. This went a long way to improve the day-to-day experience of men on the air. Imagine having a chunk of plastic strapped to your face while flying. Not cool.
You know what's cool? General Douglas MacArthur touching ground in the Philippines in the war, his aviators marking him a style icon. Aviator smartly took advantage.
While aviator sunglasses might be a military innovation, they quickly spread stateside as one of the first real, popular makes of consumer sunglasses. The classic design offers protection for your eyes with elegance and style. They quickly became popular and were a staple for brands like Ray-Ban.
Now you may be wondering the styles of Aviators and where you can get one you can afford. Thankfully, we've done the legwork for you. Put your feet up, and get ready to take a journey through one of today's hottest brands.
What clothes should I wear with aviator sunglasses?
You've decided, right? You have to get your hands on a pair of aviator sunglasses for men we see. It's the finishing touch that any sensible man needs to have at the ready when the occasion requires. However, you're faced with an important question.
That is how do they fit in with the look you already have? Nothing's worse than stepping out with a set of clothes that don't speak to who you really are as a man.
To make the best impression, do your homework and spend an extra minute in front of your dresser making sure you're your best self. That often includes finding some men's aviator sunglasses, as you need to properly match these stylish shades.
Maybe you're the outdoorsy type that doesn't want anything showy. Or maybe you're about to peel off on your motorbike for the next road trip with your friends. Maybe you're a student trying to make an impression or a hipster about to go to town at that new exhibition.
For the rest of us, what's wrong with spending a little time on ourselves so everyone knows we're not just a dad, but a cool dad?
No matter your personal style, make sure that whatever you throw on is clean, fitted, and ready to roll. Luckily there are men's aviator sunglasses and they can be a great go-to. They fit with nearly any style, so long as you don't look like a college dorm bum on laundry day.
Hang your shirts before you put them on, we're not your mother but you should know this, Caril! You don't need to spend forever in front of a mirror to be confident when heading out the door.
What you wear is important, but we have aviators for men for a good reason. Go ahead and put on your new pair of aviators. However, you have to think about how you want to wear them.
Are they going to be a regular part of your week, or are you going to be whipping them out to show that extra spark to your step? Then there are all the different styles the aviators themselves can come in.
What to consider when buying a pair of men's aviator sunglasses?
While they may be an evergreen slice of menswear, aviators aren't a one size fits all thing. You can't just throw on and not think about it. That's how someone looks like a slob. Don't be a slob, and figure out the kinds of aviators sunglasses for men that make the most sense for you.
Think about what matches your vibe that you want to be giving every time you step out your door.
The soul of a pair of sunglasses are the frames, which goes without saying. While the set shape of the aviator is what sets it apart from the crowd, the color and opaqueness speak volumes. They show who you want to present yourself to be. Black is the go-to shade, for obvious reasons.
It not only gives you a masculine look, but it also protects your eyes. It also lets you see other colors as they are, as compared to when you swap out for a colored pair.
The gold-framed, pink-lensed glasses toted by Elvis back in the day nearly put aviators in their grave. However, Tom Cruise brought back their manly credentials in Top Gun. That said, a bit of color won't necessarily do you wrong.
Plus, they help you stand out from the crowd. Blue lenses have the luck of going with a lot of different smart and casual men's styles.
Then there are the rims to think about. Think about a bit of gold lining. This might be a bit intimidating but, when you carry the right swagger, they show your stuff to everyone around you. Trust us, everyone's going to be noticing. You can also think about plastic frames if you want to bring out your inner intellectual.
Maybe even reflective lenses to give you a classic, movie star vibe.
Remember, some of the greatest men in history have been versatile, Renaissance men. They didn't confine themselves to one domain or image. Neither should you if we're being honest. A couple, diverse pairs of aviators for men can truly make a day or night something special.
What are the best Aviator Sunglasses brands?
Thinking about the brand is the next decisive step. There isn't any shortage of choices out there. From the corner store brand that fits in a tight spot to major labels like Ray-Ban, the market's flooded with options including from fashion houses such as Gucci. It can make any man's day a headache to try to figure out what's what.
One of the biggest pros to thinking about going with a lesser known brand is that you won't be forking out major dollar signs on your new pair of aviators. When you look at what's out there, some of the pricier models can get ridiculously pricey.
Plus, you might be wanting to use your glasses on a daily basis and it can be so easy to misplace or break some sunglasses. I mean, who hasn't sat on a pair of sunglasses before? Am I right? So going with a cheaper brand can be exactly what you're looking for, but they may not have the class and style that a pair of Tom Ford's will have.
Maybe you don't want to be seen as a cheapskate, or you're heading to an event where you need to make an impression. In that case, classic brands like Ray-Ban are a quick way to show professionalism, masculinity, and style. Plus, being able to spend a bit more money is a way to reward yourself for a job well done.
Who doesn't need to be treated every once in a while?
That, and going to the best brands is the best way you'll ensure you're getting a quality product. If you don't recognize the name, you won't know if you're getting a quality pair. Maybe you're getting a piece of junk that's going to break or sit on your shelf unused.
Figure out what it is you're wanting to go for and then make your choice based on that. Nothing is worse than an impulse buy you're going to regret later on.
Will aviators suit my head and face shape?
This is a question that plagues any man when heading into a clothing store is simple. Can I just get the first thing I see and then hope for the best? Thanks to this lazy approach to style and grooming, we have a generation of lumpy looking men who look like something out of their father's high school yearbook.
Seeing if a new pair of men's aviator sunglasses is going to fit your face goes a long way to feeling confident when you wear them. Who would want to put something on if it makes them feel insecure, anyway?
While every man is different, did you know that most of our faces can be pinned down to a couple different shape categories? One of the most popular shapes is a square, with a set jaw and broad cheekbones. Aviators for men are great because they round out your features and provide a contrast.
A slightly wider set of aviators are great to add definition to guys with round faces. Thicker frames do a lot to add depth to thinner, longer faces.
While these are all tips and tricks that might help you show off your features in any situation, the charisma you get by pulling off a quality pair of aviators is the real prize here. Being aware of how to work with what you've got is one thing, but worrying too much about shape and size is only going to decrease your confidence in public.
This is the last thing a pair of glasses should do. So it back, relax, do a bit of homework. Know that you're going to be coming out strong.
On second thought, why don't you let us do the legwork for you? Here are our top ten aviator sunglasses for men.
1) Tom Ford Ronnie Square Aviator Sunglasses For Men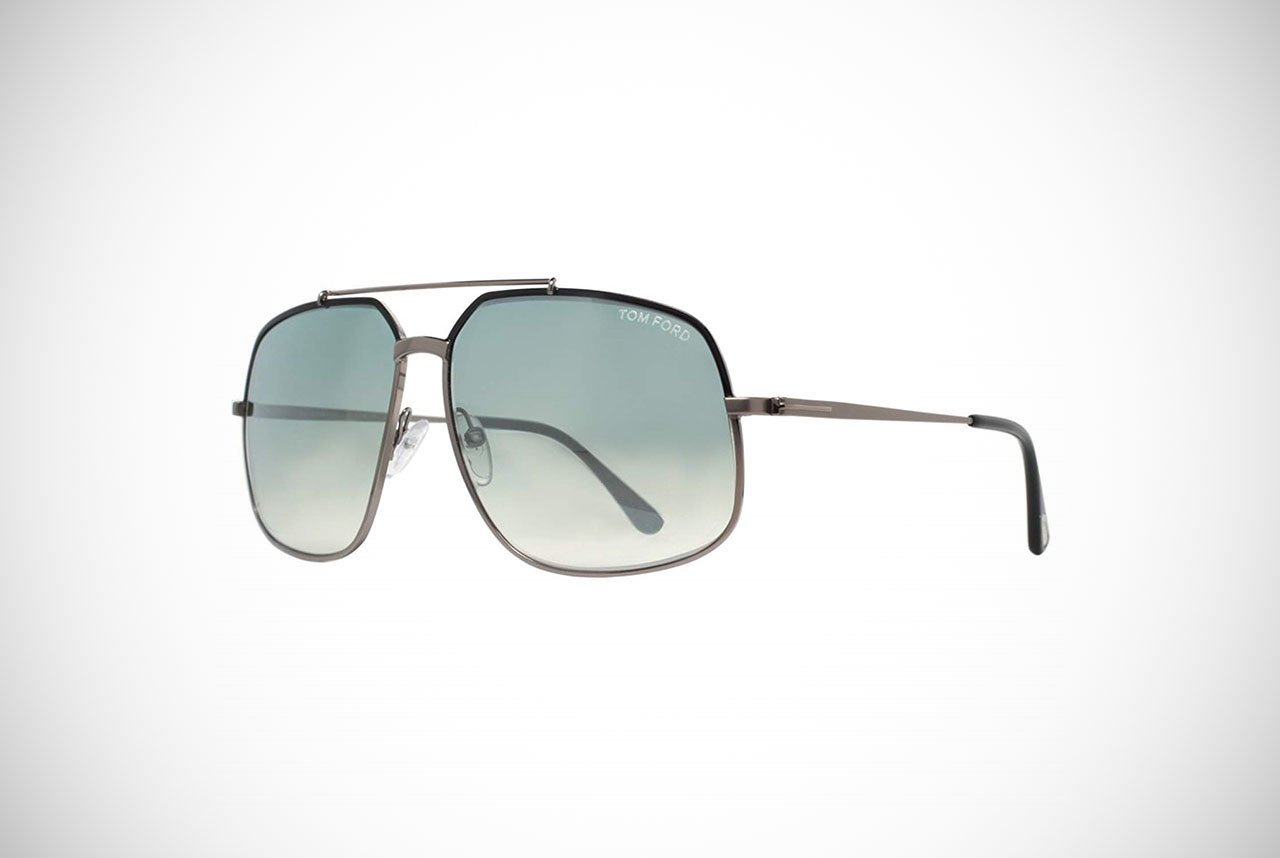 Tom Ford is one of the best-dressed men on the planet. Clearly, he should know a thing or two about what looks good on your face. No list of aviator sunglasses that men could be complete without including the work of this global figure. Sleek, masculine, versatile, it's a perfect mix of classic and modern to help you bring your swagger to the game.
The Tom Ford 439 Ronnie Sunglasses have a square-cut lens and a modern, double bridge shape. You won't be leaving home without at least one person noting you as a man of the world. Tom Ford gear is some of the most recognizable on the planet. It is the perfect blend of practicality and high style.
Check Product Price // Read More Reviews
2) Tom Ford Charles Sunglasses
Another entry from Tom Ford that's sure to be a looker. The trendy Charles sunglasses have a metal frame but are more lightweight than the Ronnie above. They have customizable options that you can mix and match to fit your individual style. Of course, you can pick a classic color and pick up on decades of solid tradition.
We recommend the 772 shiny rose gold option with a gradient brown lens, which adds a touch of sophistication while hearkening back to a fuller, woodsier life. Who says you have to choose the city or the outdoors?
With Tom Ford Charles lenses, you can be living the high (or high-rise) life while toting an earthier vibe that sets you out from the pack. Truly Ford knows how to get it done, especially with aviator sunglasses for men.
Check Product Price // Read More Reviews
3) LUENX Men's Aviator Sunglasses Polarized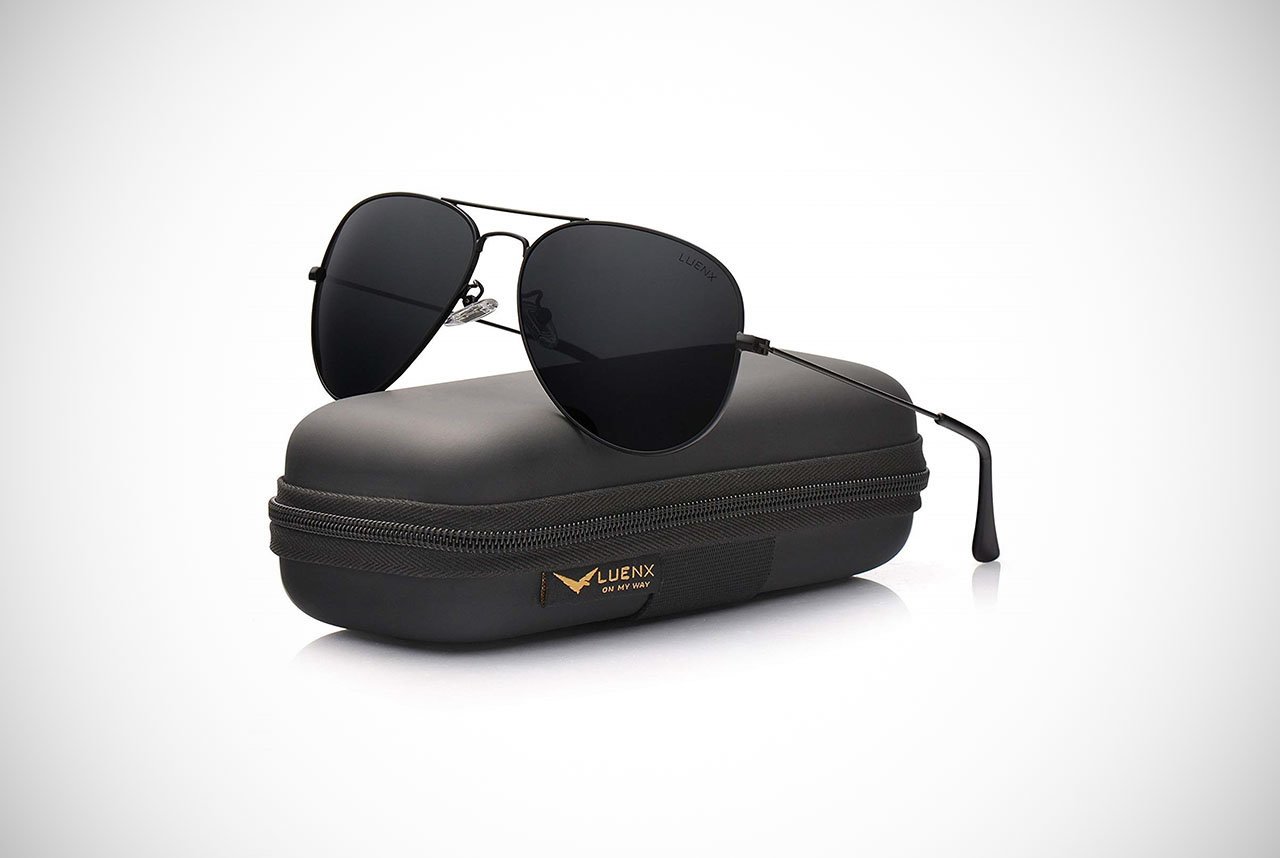 Stepping back from the major league brands, underdog upstarts like LUENX are making sure that the everyday man gets his share of accessible, stylish eyewear. However, it's not enough to be making great, affordable aviator sunglasses for men. LUENX wants you to know what goes into their products and frames.
They use antioxidant plating, making sure all of their products aren't going to be irritable for your skin. Being anti-allergy is a must to them.
Same goes for their environmentally conscious nose pads, just right for the nature appreciator in every man. With polarized lenses that filter and block glare, this is a pair designed for making your mark in the outdoors. Fishing on the river or skiing down an Aspen mountain, this is a lens that's perfectly calibrated to keep out distracting kinds of light.
These aviator sunglasses for men manage to do this by filtering out glare without tampering with your sense of light and color. Pretty cool, eh?
Check Product Price // Read More Reviews
4) J+S Premium Military Classic Aviator Sunglasses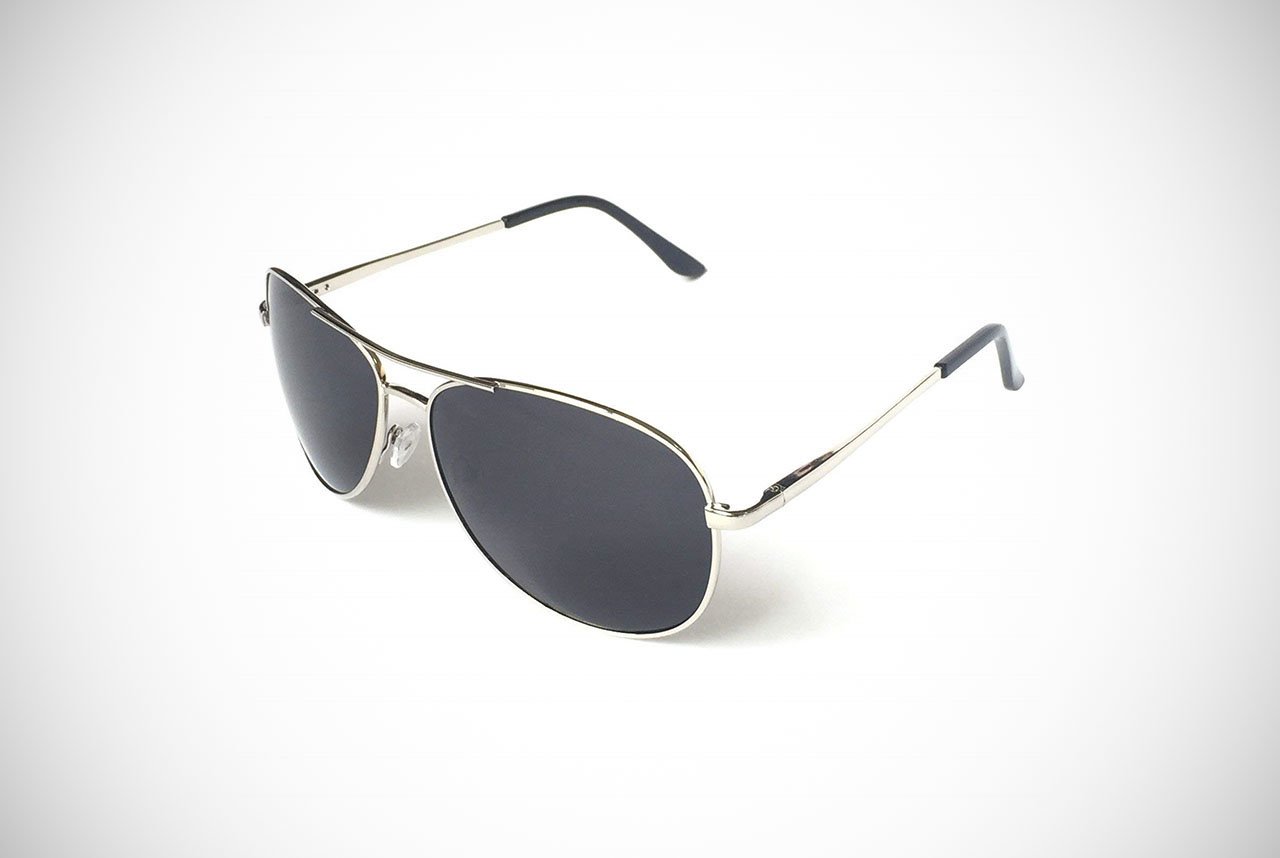 Drawing on the military history that shot aviators into superstardom back in the day, these J+S evoke a rugged, disciplined time. They help to bring it back into the modern world. With UVA and UVB-blocking lenses with a polarized makeup, they're perfect for taking outside. This is especially true for getting ready for your next sporting adventure.
While marketed as a unisex make, its larger frame means we have proper aviator sunglasses for men in this frame. With its classic look, it can be mixed with any number of styles. It will end up being a staple in the wardrobe of any modern man.
Plus if you're looking to make a gift of it, it comes ready to be gift packaged and given to the active family member or friend in your life.
Check Product Price // Read More Reviews
5) O-LET Aviator Sunglasses for Men UV400 Glass Lens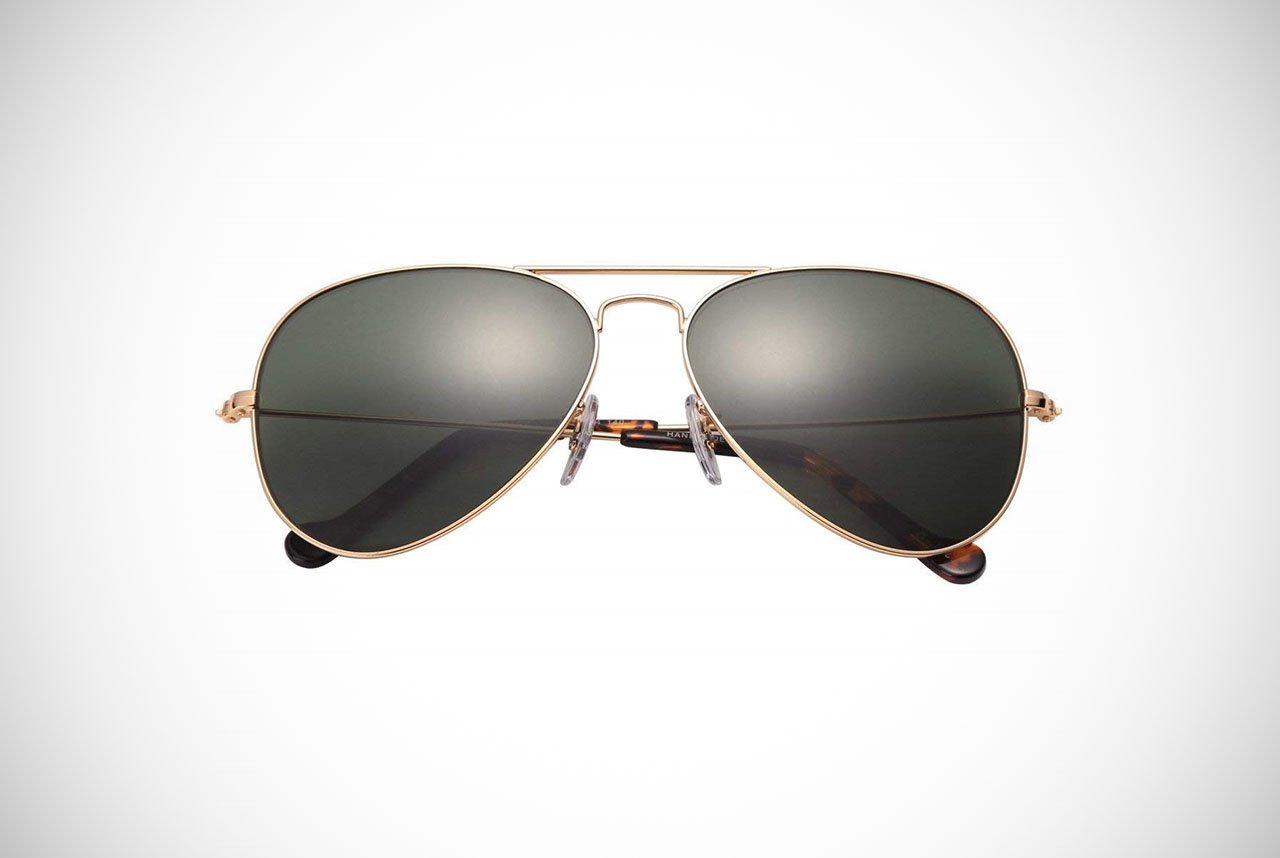 O-Let is the new kids on the block. Appearing seemingly out of nowhere, they've started making a splash. They have been included on many lists showing how these are the perfect aviator sunglasses for men in many ways. A cost-effective alternative to the luxury brands on this list, O-Let wants to bring aviators to the people.
They put their full weight behind this mission with their impressive customization options.
While most brands release a take-it-or-leave-it product, O-Let wants to make sure you've got the exact thing you're looking for. They offer customizable sizes to the wide range of frames/lenses available on their Amazon listing. This brand earns the attention it's been getting when shopping around for aviator sunglasses for men.
Check Product Price // Read More Reviews
6) Gucci Pilot Sunglasses Lens Category 3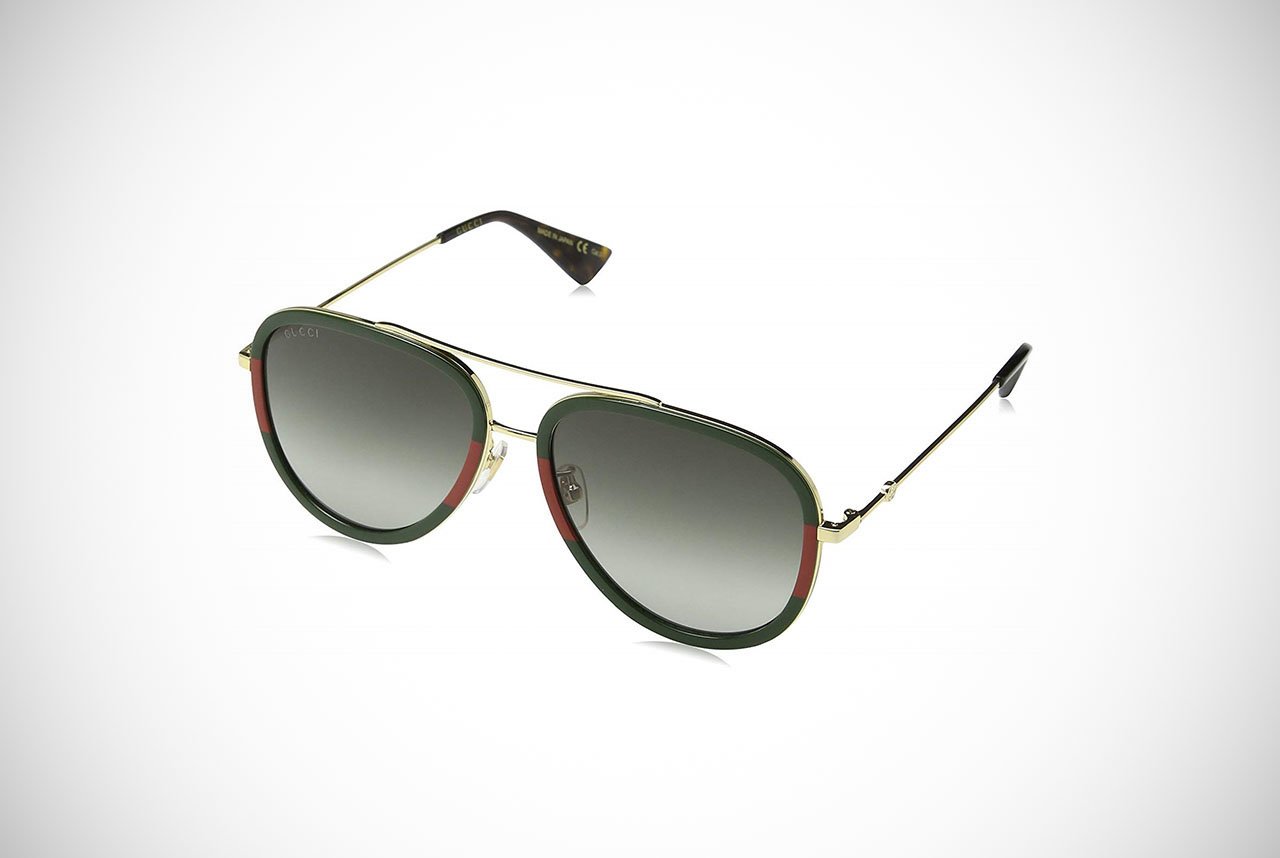 Going back to the classics, these pilot sunglasses are fresh from the studios at Gucci. While you might sooner associate a bag with this brand than a nice pair of aviator sunglasses for men, just hear us out. There's nothing ostentatious about this simple design.
Using the tones that are Gucci's signature, they give off a vibe of sophistication while never going overboard. With hints of gold lining on the sides of the frame, this is the ultimate look when it comes to letting everyone know who's the big man on campus. Or the office.
With a composite frame and set of lenses set into a durable plastic form, this is a looker that's straight up worth every cent. These aviator sunglasses for men are surprisingly best worn indoors, preferably at the next swanky function you may or may not have been invited to. Show up in style anyway.
Check Product Price // Read More Reviews
7) Gucci Men's Sunglasses 59mm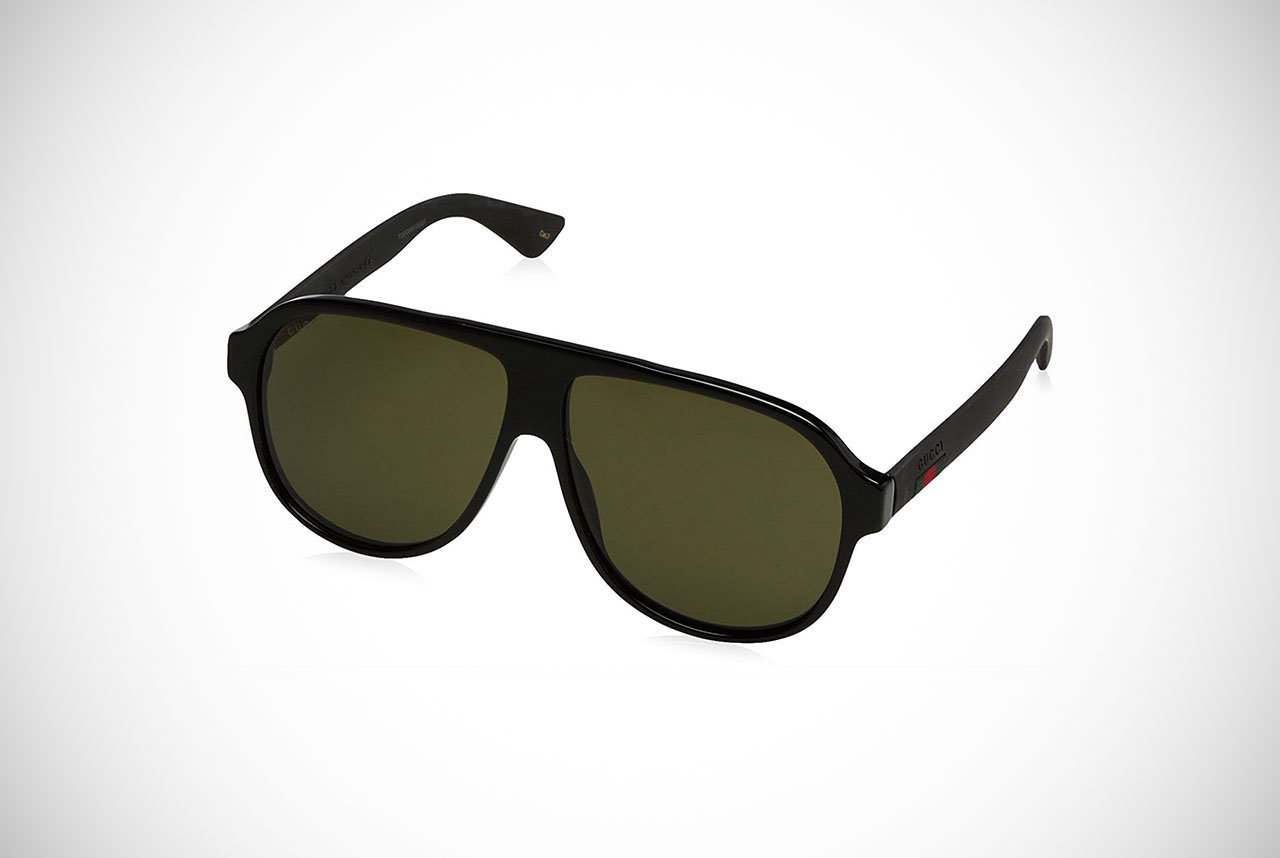 Another entry from Gucci, these Aviator sunglasses for men have a quirky frame that's sure to be a looker. We have a trendy, flat frame that would be the pride of any hipster's hand-varnish.
This old-grain dresser shelf (converted from heritage furniture) is built for the urban man of taste.
This pair is perfect for heading to the latest album launch or planning the next big startup. Defined by a webby insert of grosgrain, this is one set of aviator sunglasses for men you're going to be pulling out on a regular basis.
Check Product Price // Read More Reviews
8) Gucci 61 Gold/Grey Sunglasses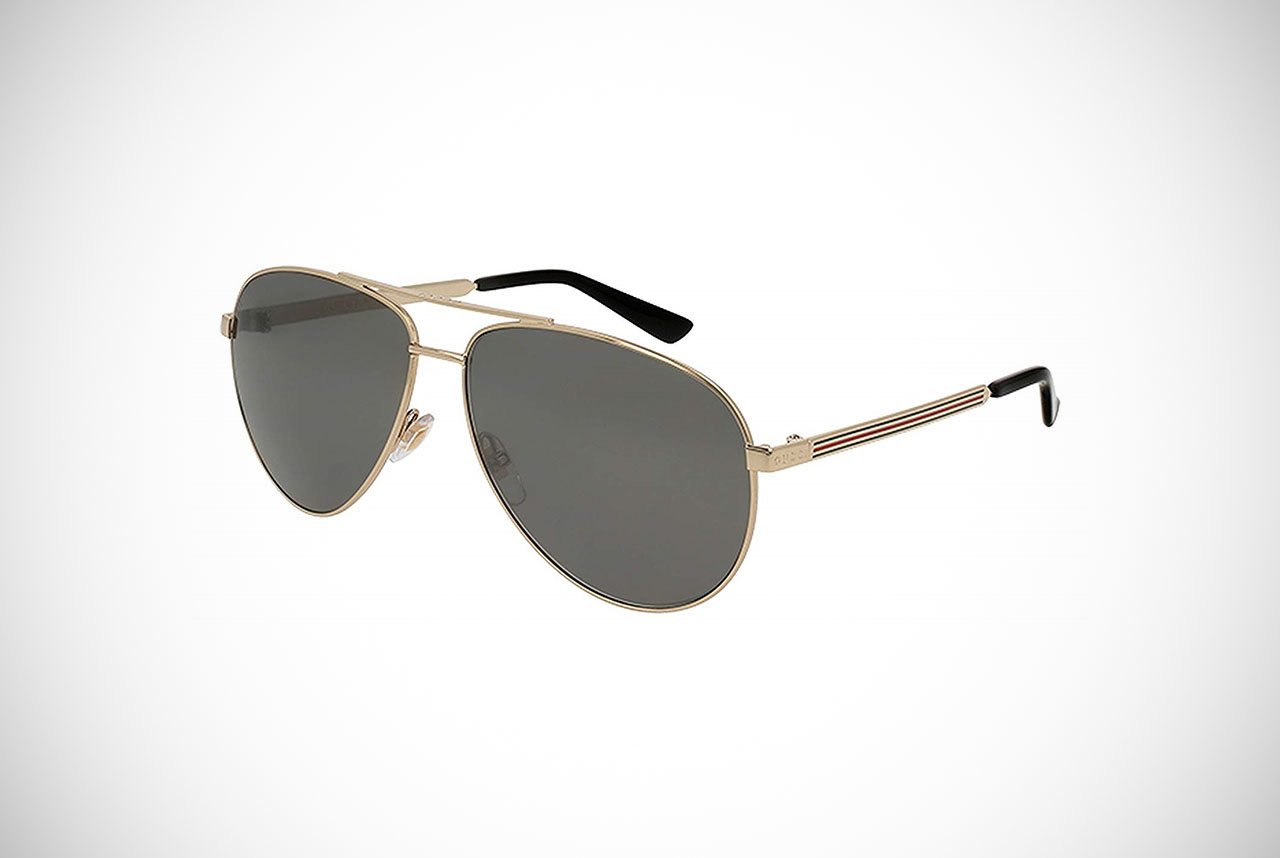 Gucci's been one of those brands that have balanced out its superstar status while sticking true to their day-one philosophy. They bring their best to this pair, a set of unisex gold- and grey-framed aviator sunglasses that more than is clearly earning the brand more global recognition.
It is a modern optical design, and they offer outstanding customer service. Thankfully, they have superior craftsmanship, and a fantastic warranty to boot. You can reach for a pair of these aviators knowing that you're getting the full weight of decades of tradition behind you.
These lenses are made from state-of-the-art, durable materials that make their signature style subtle yet unforgettable. This isn't your little brother's gear. Rather, these are some of the best aviator sunglasses for men that you can find. They are a worldwide provider of luxury wear for a reason.
With impact- and scratch-resistant lenses that can be made to fit your prescription, the Gucci 61 redefines men's style. They have truly changed the game for good.
Check Product Price // Read More Reviews
9) Ray-Ban Aviator Large Metal Unisex Sunglasses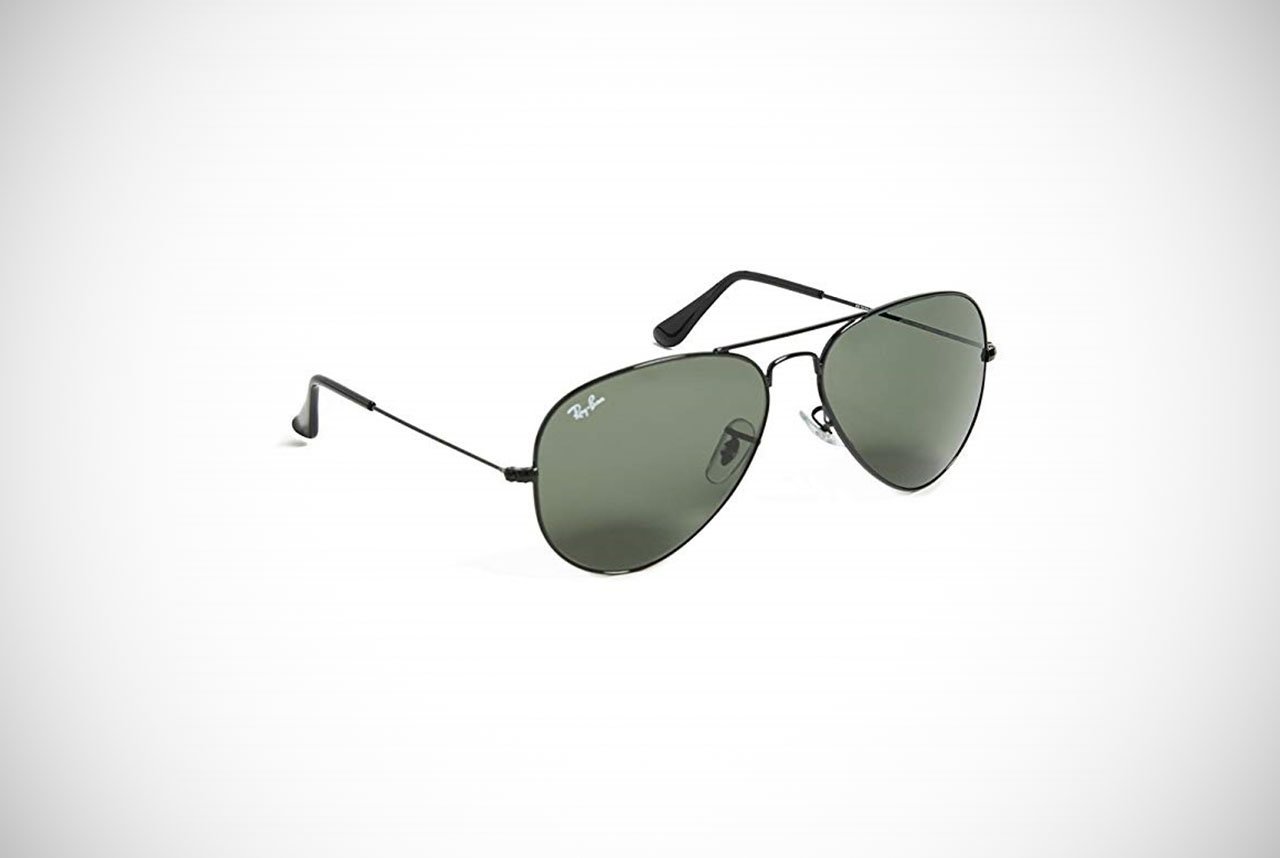 Of course, no list of aviator sunglasses for men would be complete without listing the brand that started the craze in the first place: Ray-Ban. Associated with power and style worldwide, this iconic provider has been a go-to for movers and shakers for decades.
Ray-Ban's aviators for men have marked an era in celebrating adventure, risk, and hitting the road going God knows where.
What we're looking at above is the original model. It was inspired by the inter-war era and has a lasting power well into our day. With clear metal tips and comfortable nose pads, this is a tried, tested and true model that's worth getting excited over. Odds are whenever you'll see a pair of Ray-Bans popping up in the media.
Whether it's a classic Hollywood film or some Katy Perry clip, you're going to be looking at one of these.
Check Product Price // Read More Reviews
10) Ray-Ban Polarized Aviator Sunglasses
Another iconic entry from Ray-Ban, updated to a sleek design for the modern era. With a broad set of customizable lenses, there's enough choice here to fit any man's personal style. With a meticulous sense of taste, this polarized pair of shades protects your eyes when you're on the go.
No matter if you're driving or out on the lake, these aviator sunglasses for men are perfect.
There's a long tradition of excellence with a forward-reaching view with Ray-Ban. They have made a terrific pair of aviator sunglasses for men that guys will be proud to call their own.
Check Product Price // Read More Reviews
A Flying Finish…
No matter your style choices or the shape of your face, there's a solid pair of shades waiting for you. There's no difference whether you're heading out to the bar, to the lake, or to the nearest ski slopes. Clearly, having a pair of aviator sunglasses for men helps you go out in style. Every time.