I
f you're the kind of guy that likes to spend a lot of time out in the wilderness, then you'll already know how important it is to invest in a high-quality waterproof jacket. Particularly as Fall and Winter are just around the corner and with them, below freezing drops and high wind factors.
Even if you're not particularly fond of the great outdoors or spend a lot of your time inside, you'll still have to venture out of the house or work from time to time, even if it's just to walk the dog or the daily commute. Having an appropriate and effective waterproof and windbreaker jacket can be a life saver. We're not even exaggerating.
What if you're completely new to the world of waterproof jackets or have never really given it much thought but are looking to invest your money wisely, to avoid the mistakes of years gone by.
Clearly, you don't want to just buy the first waterproof jacket you come across, do you? You want to know that whatever money you set aside for a waterproof rain jacket is going to be spent on a sound investment that will last you for much longer than a few months (and hopefully, last you even longer still).
You want to buy the best waterproof jacket you can afford – we get that. If you have ever looked at the selection on offer, though, you may wonder which is the best to buy. There are so many brands and so many jackets out there.
That's why we're here to help, with this guide to the best waterproof jackets in 2018.
There are important questions that need to be raised that often come up in conversation or online with regards to waterproof jackets. We're going to tackle two of the most common. With the answers to these questions on hand, even the least experienced outdoor adventurer or rain jacket purchaser will be able to understand the often-confusing world of waterproof garments.
What Materials Are Waterproof Jackets Usually Made Of?
There are several different types of materials used in so-called waterproof jackets. Some waterproof jackets consist of a membrane with waterproof properties bonded to the outer layer of the jacket's underside, while others are made using a fabric that the interior of which has been coated with a special treatment.
When it comes to waterproof laminates, the most popular and commonly used are eVent and Gore-Tex. In waterproof jackets that use either of these, there will be a membrane made from either Polyurethane (PU) or Polytetrafluorethylene which is more commonly known as Teflon. This membrane will be bonded to the face fabric's interior. The membranes have tiny holes that aren't big enough to let water in, but are just the right size to let vaporized water escape.
Waterproof jackets that have a waterproof coating do not have a laminate or membrane, instead they use a PU coating on the fabric interior.
Although they're both better than nothing, many guys prefer waterproof clothing and jackets with membrane technology rather than just a coated garment. Coated jackets are less breathable and durable than membrane alternatives.
What Are the Main Waterproof Jacket Brands?
When you think of waterproof jackets, what brands come to mind? Undoubtedly, the first you think of are probably The North Face, Regatta, and good old reliable Berghaus. Over the years as the technology and techniques used in making waterproof jackets has improved, the market has opened wider and there is a wider variety of brands to choose from.
Along with the above, other big manufacturers of waterproof jackets includes Helly Hansen(makers of the traditional fishermen's raincoat), Columbia and Paradox. Which is the best of the best now though?
We've done all of the hard work for you and compiled our favorites of what we consider to be the best waterproof jackets for men in 2018. We're sure you'll want to get your hands on one of these amazing jackets.
1) Columbia Watertight II Jacket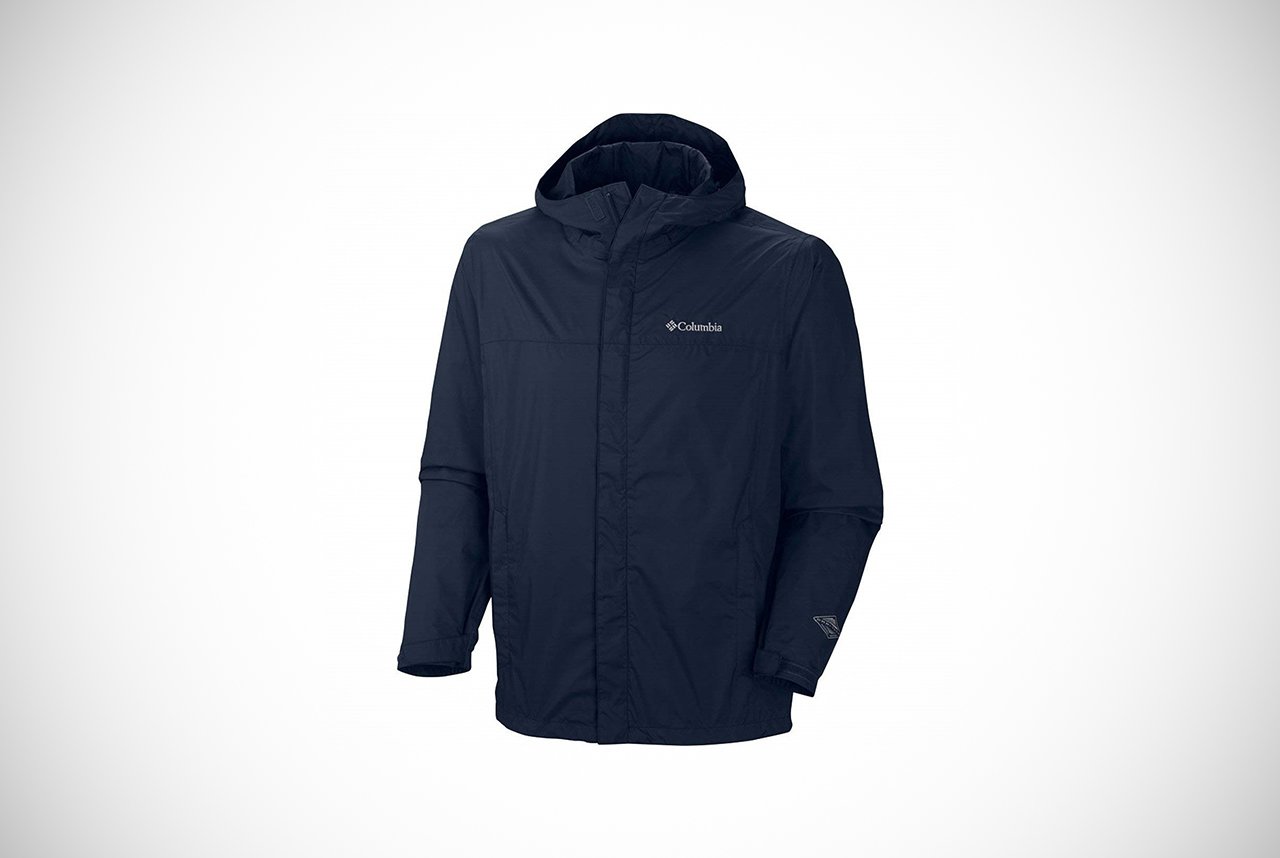 First on our list is this great waterproof jacket from Columbia Sportswear Company. Columbia is one of the leading manufacturers of outdoor clothing and footwear. The company originates from Portland, Oregon and that is where it has operated for over 70 years.
What makes Columbia stand out from the crowd? It's a combination of their straight-up, no-bull approach to outdoor gear and their uniquely PNW character. A family-run business, Columbia know just what is needed to make good quality waterproof apparel, as proven by this beautiful and reliable Columbia Men's Watertight II jacket.
With 2 layers of 100% Nylon, and the trademarked Omni-Tech breathable and waterproofing sealed seams, this will keep you warm, dry and still look stylish whatever you're doing.
It features an adjustable storm hood and a chin guard that protects you against the most abrasive of natural elements. With the standard feature of a hem that is adjustable by the simple pull of a drawcord and zippered hand pockets, you'll feel snug and secure in this jacket even if the rain is coming down horizontal.
One of the notable things about this jacket compared to other waterproof jackets is the weight, at just 1lb, it's extremely lightweight. What's more, it can be folded up and packed away into itself, so it's space-saving and easy to carry when you're not wearing it.
2) Gioberti Waterproof Rain Jacket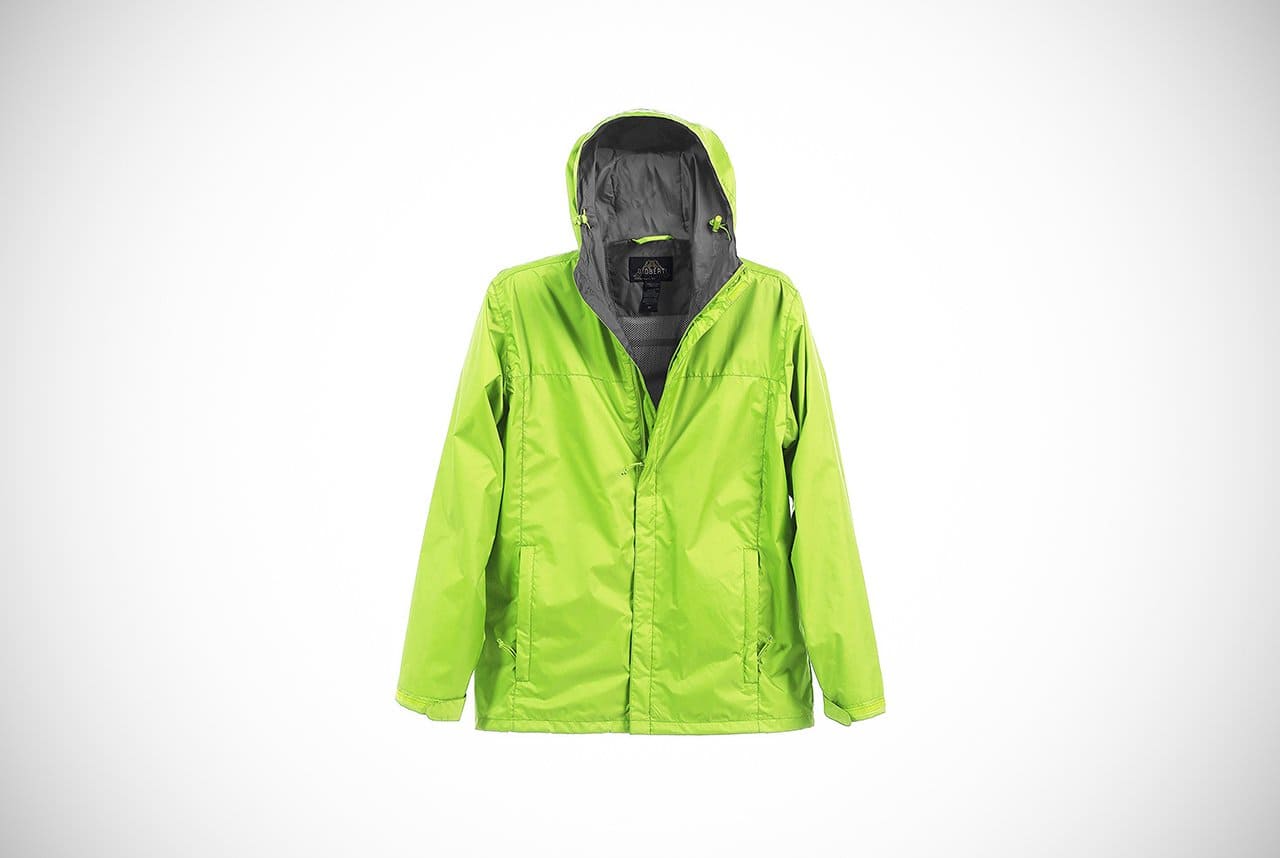 Next, we've the Gioberti Men's Waterproof Rain Jacket which is made from 100% polyester and is not only incredibly affordable but lightweight, breathable and very stylish looking. However, as an everyday rain jacket, this would be fine; you might even be able to stay relatively dry on some light hikes. Try to take it on anything more arduous though and you're probably going to run into trouble.
The main thing the Gioberti has in its favor is the fact that it's adequately breathable. There are several features that help to control and manage the moisture between the interior of the jacket and your body.
It also has a good sized and shaped hood that fits well without overwhelming you, so you can't see anything. Despite the flaws we've noted, the fact that it's available at such a low price point makes this the smart choice if you're looking for a waterproof jacket that will keep the rain out on your daily commute or if you're walking your dog.
3) Paradox Waterproof Rain Jacket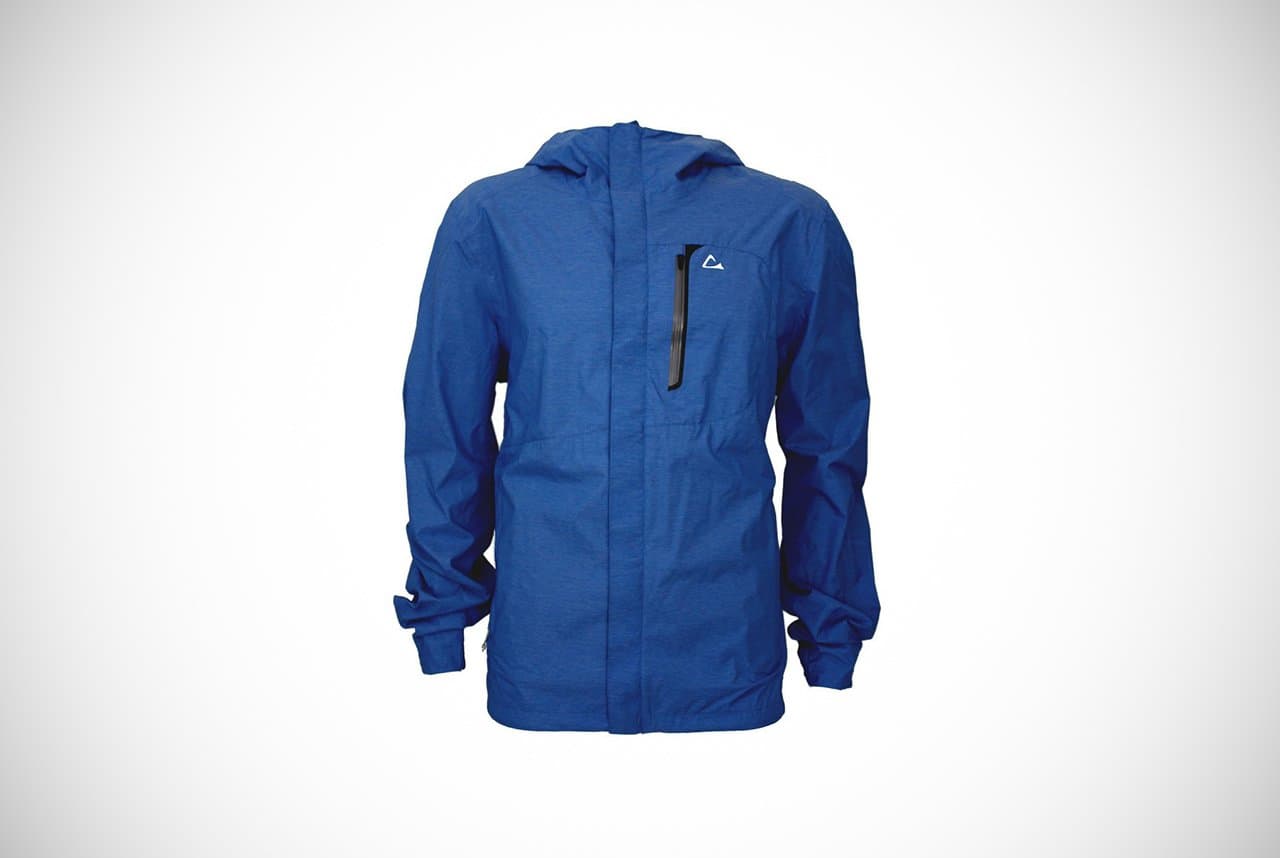 The third waterproof jacket on our list is Paradox, which is a 2.5-layer construction that starts with a high performing and protective material that is designed with a special coating to give it breathable and waterproof properties.
There is one pocket with a zip on the chest at the left and there are two side pockets for your hands to sit comfortably in. Paradox has ensured that the hood extending from the collar fits comfortably over your head, offering enough protection for your eyes and face from those ice cold temperature drops and unexpected showers.
It may not be the most crucial component, but we like the fact that the inside pocket has a small hole. This hole can be used to feed your earphone wires out so you can listen to your favorite tunes and playlists wherever you're and whatever you're doing, without having to fiddle with your jacket or open it.
If all the above wasn't enough, it also has been designed with UPH 50 which means this jacket has enough protection against the harmful rays of the sun. A lightweight companion for any endeavors out into the countryside or on the daily commute in the rain, thanks to its coating the water just beads and drips off it.
When you're finished using it, you can simply give it a shake, compress it and fold it into a small package, to store it away ready for next time.
4) Wulful Waterproof Softshell Casual Jacket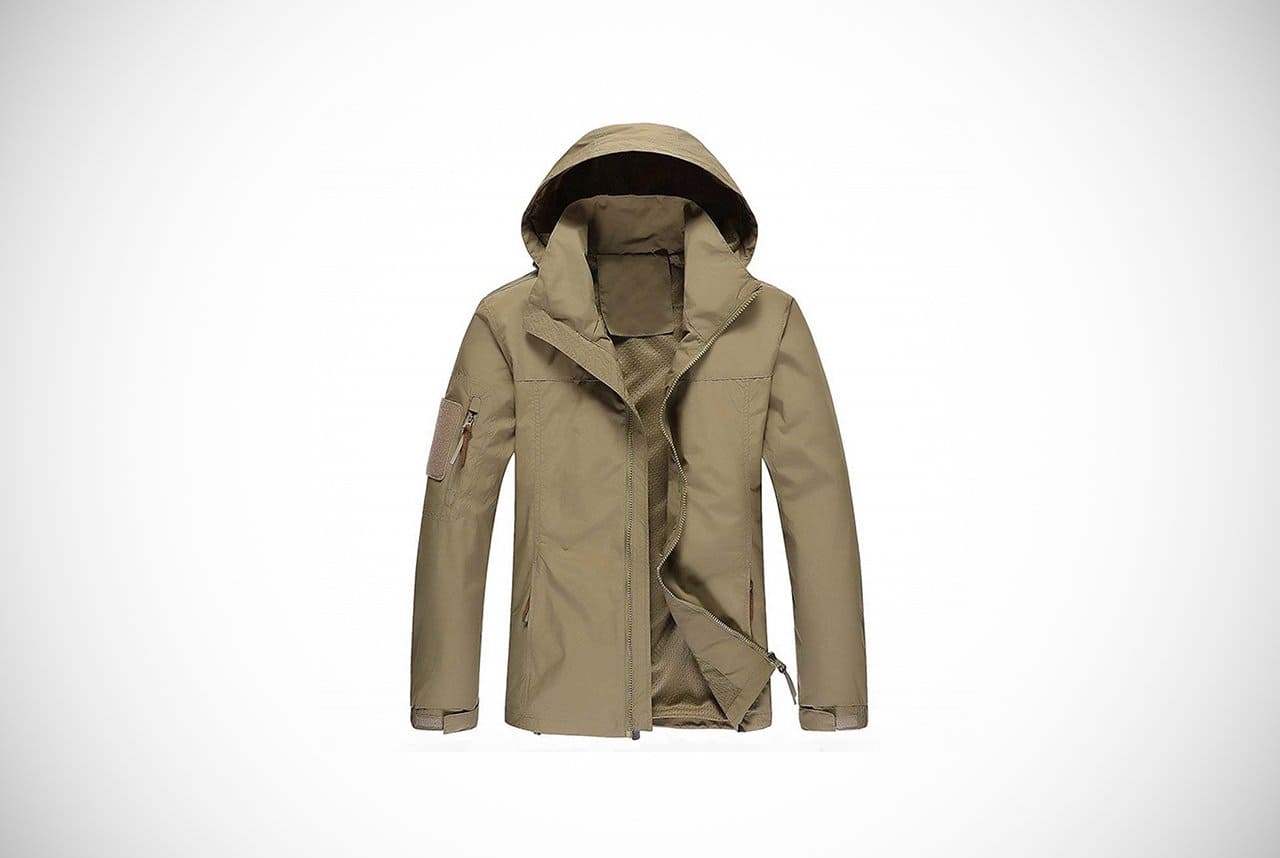 The Wulful Men's Windbreaker and Waterproof softshell casual jacket is, as it states, great for wearing in various weather conditions including high winds and cold rainstorms. It's made from a combination of spandex and polyester and is as functional as it's breathable.
With a high-quality mesh lining on the inside, you'll never feel uncomfortable wearing this jacket. As we noted above, it's very functional with several different pockets suitable for storing items where you have quick access to them.
While the pockets at either side of the jacket may be standard along with the zippered inner pocket, the arm pocket is a welcome addition.
For great protection for your face and head from temperature drops and when the weather turns nasty, the foldout hood is extremely effective; it can be adjusted to provide a snug and secure fit without being too tight.
Whether you're looking for a jacket to protect you when you're hiking, camping, cycling, fishing or even shooting; the Wulful Men's Windbreaker Waterproof Softshell Casual Jacket with Hood is a steal at such a low price.
5) The North Face Men's Venture 2 Jacket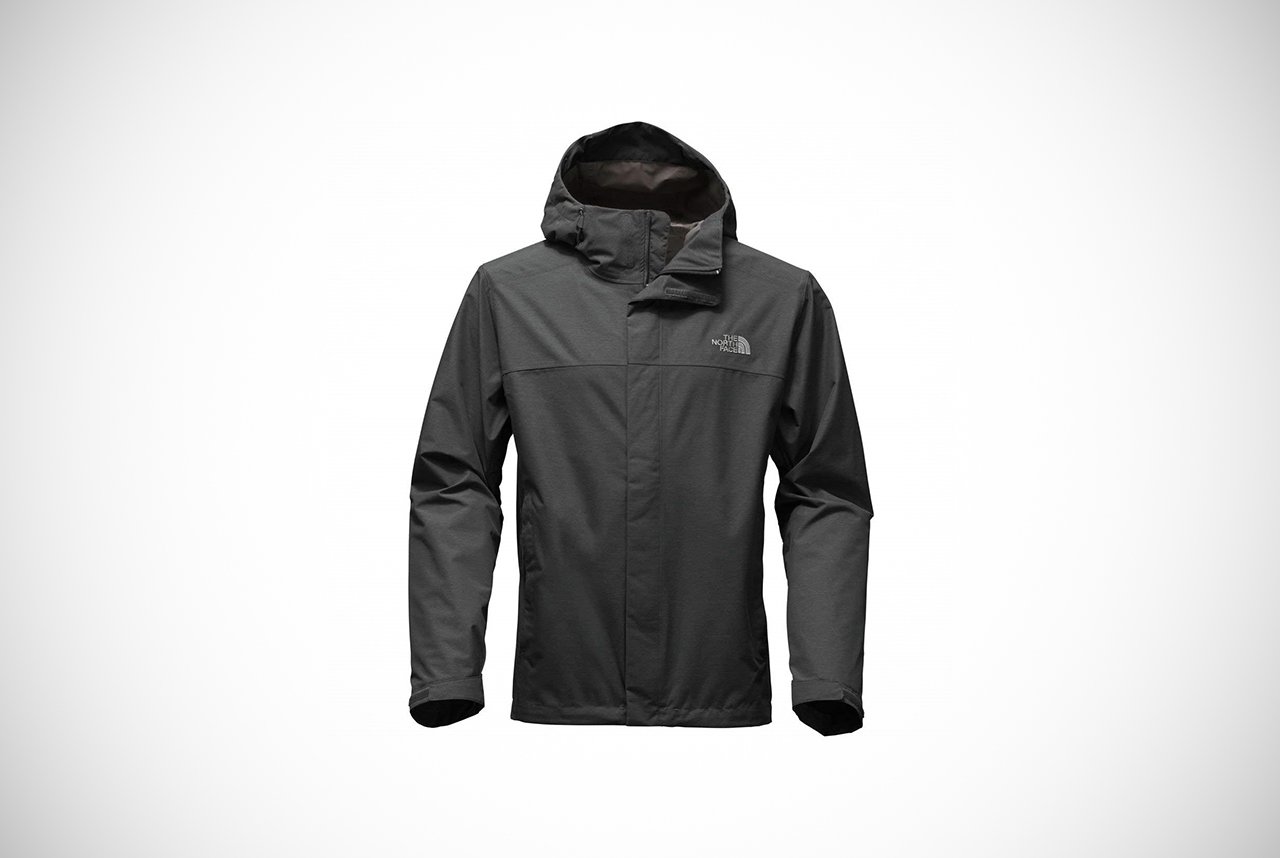 If you're no stranger to outdoor pursuits and the apparel and equipment that makes it that little bit easier or safer, you'll be aware of The North Face. Even if you haven't owned one of their hugely popular pieces of clothing or equipment, you probably know someone that does.
One of the most intriguing things and quite frankly ironic things about The North Face is its origins. Although the company is rightly named after the harshest and least forgiving side of a mountain, the concept was decided upon a beach. Yep, that's right, North Beach in San Francisco, not on some challenging peak in a snowstorm, is where two hikers decided to follow their dreams and set up their very own mountaineering clothing and equipment store.
From the beginning, the company aimed to serve the needs of anyone who had the desire to get out there and explore; they also combined this with an aim to conserve the natural world. This has continued right down until today. Anyway, back to the Venture 2 jacket.
A huge selling point of the Venture 2 is the fact it uses DryVent technology, which gives the jacket its breathable and waterproof properties. This has a PU made up of multi-layered, tri-component formula and it has been fully tested in the field as well as the lab.
For the number crunchers out there – the breathability is reportedly an average of 750 to 800 g/m2/24 hours and waterproofing of 25 PSO after it has been put through the laundry 20 times.
The above aside, there is much to love about the Venture 2, particularly as it's unlined and therefore easy to pack away. It also sports an adjustable hood and the front zipper has a Velcro storm flap.
6) The North Face Men's Resolve 2 Jacket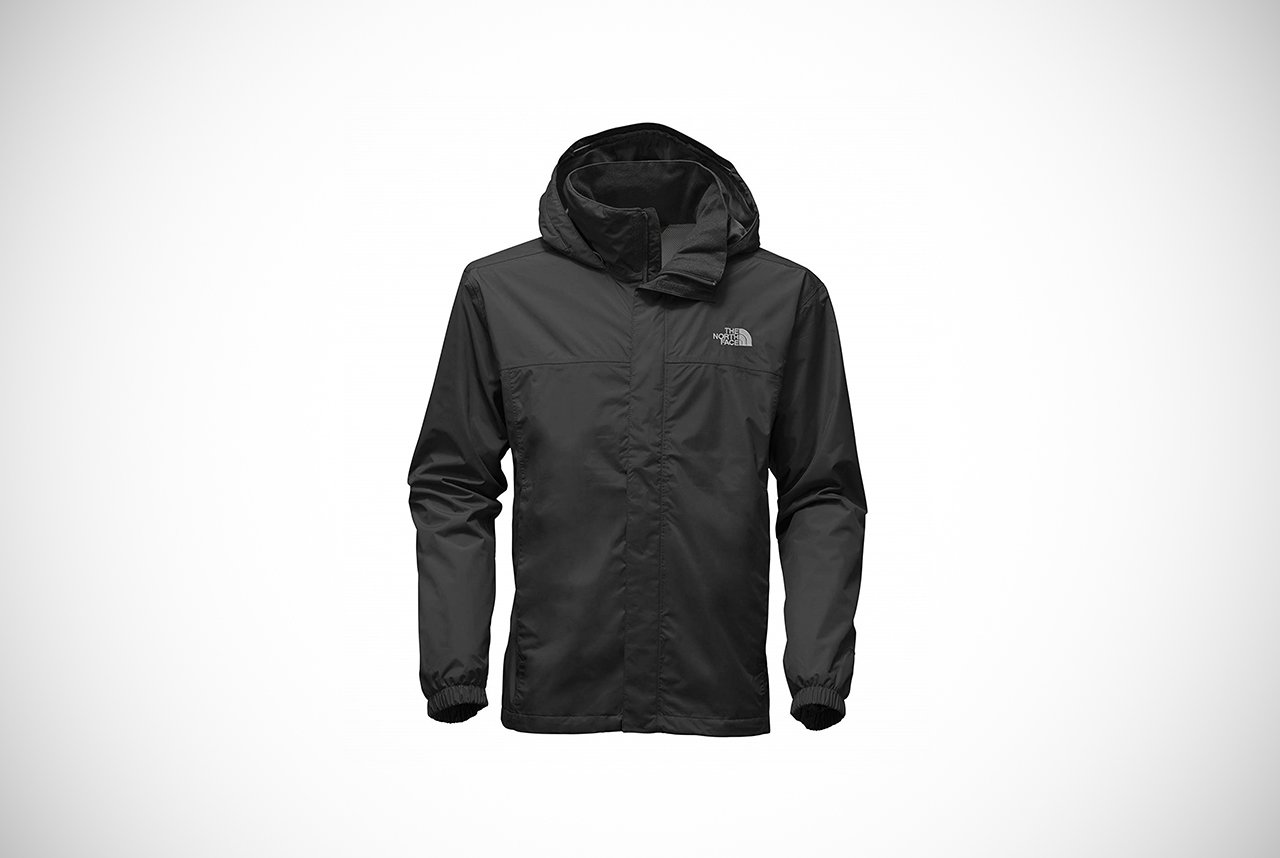 Another jacket, another The North Face product and unless you looked at The North Face Men's Resolve 2 and Venture 2 Jacket side by side you'd be forgiven for thinking they were the same product. However, there are some minute differences. For example, whereas the above Venture 2 has 2.5l of DryVent waterproofing, this jacket only has 2l.
There is also no pit venting that the Venture 2 has, but one thing we like is the fact that the Resolve 2 has elasticated cuffs rather than Velcro. It's hard to argue with the quality of this waterproof jacket and is another example of why The North Face is such a popular brand.
With only a few differences between them, we find it quite hard to place one over the other when it comes to two from The North Face mentioned above.
7) Portwest Classic Rain Jacket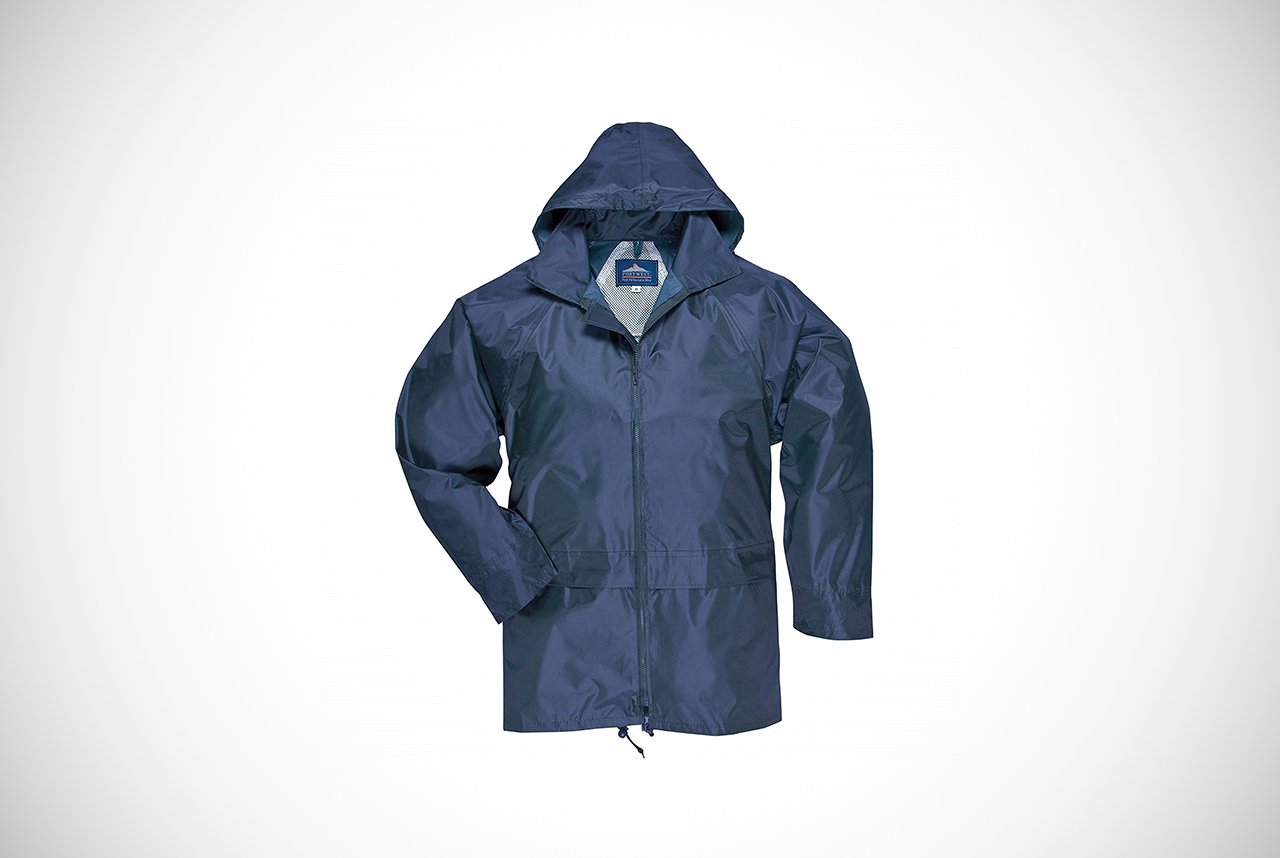 Portwest is a big player in the world of comfortable, high-quality and stylish workwear and outdoor clothing. As a company it has more than 110 years' experience, and that experience has been put to good use in their classic rain jacket.
This Portwest Men's Classic Rain Jacket is a nylon-based garment with a PVC coating that gives it the waterproofing properties we're interested in. Although it's a little plain and simplistic, this is part of the Portwest charm. It's been designed to fulfill a purpose and does that to a very high standard.
There are various zippers for moisture regulation and several pockets for storing things while you're on the go. The most appealing thing about this rain jacket though, it must be said is the price point.
It a fraction of the cost of other well-known brands, this jacket provides the protection you want and functionality you need when the weather isn't going your way. Despite the nice selection of vibrant colors, it won't win awards as the most stylish piece on the market. However, it's packable, has a great sized hood and keeps you dry without retaining the moisture your body produces or the water that collects on the material.
One of the best budget-priced waterproof jackets money can buy.
8) Helly Hansen Seven J  Jacket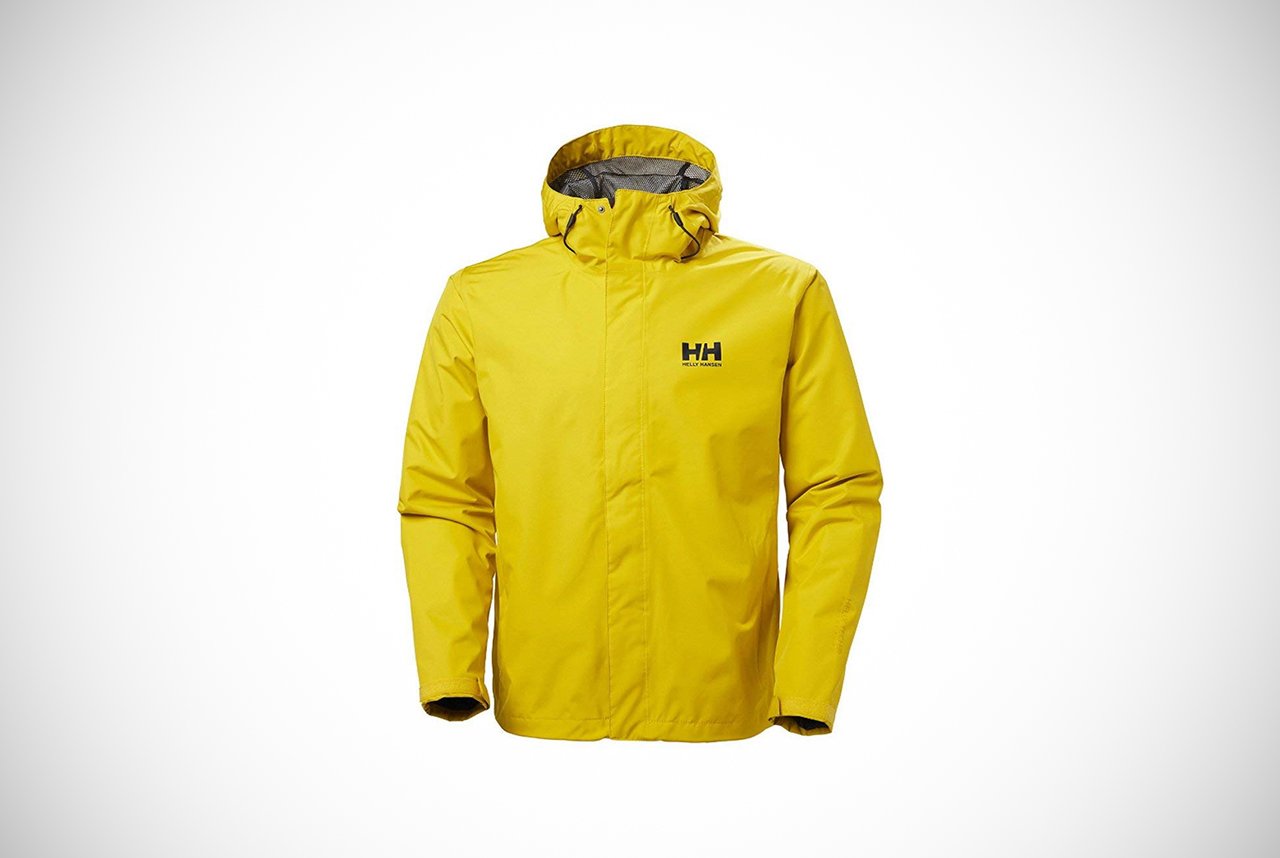 Helly Hansen is a popular brand of outdoor clothing, particularly with fishermen and other workers who spend a lot of time out and exposed to the elements. The company originates from Norway and was established by a sea captain called Helly Juell Hensen in 1877 when he discovered a better way to protect himself when out to sea.
The Seven J rain jacket is a lightweight, breathable, windbreaker and waterproof jacket and utilizes the patented HellyTech 1-ply polyester construction to keep the water out while allowing moisture in the form of sweat to escape and evaporate so you that you're always dry.
It has been coated with a DWR or Durable Water Repellency treatment which causes the water to bead rather than impregnate the material. The fixed hood can be adjusted easily using one hand to ensure you're always protected from the cold and wet. There is, as is standard for many of these kinds of garments, a chin guard that protects against chafing.
You have the benefit of two pockets that have zips, the same YKK zippers found at the front of the jacket which is also covered by a robust storm flap and all the seams throughout the jacket are sealed to give you additional protection.
When you pay for Helly Hansen you expect a quality product and the Seven J rain jacket provides that in buckets.
9) SWISSWELL Rainwear Jacket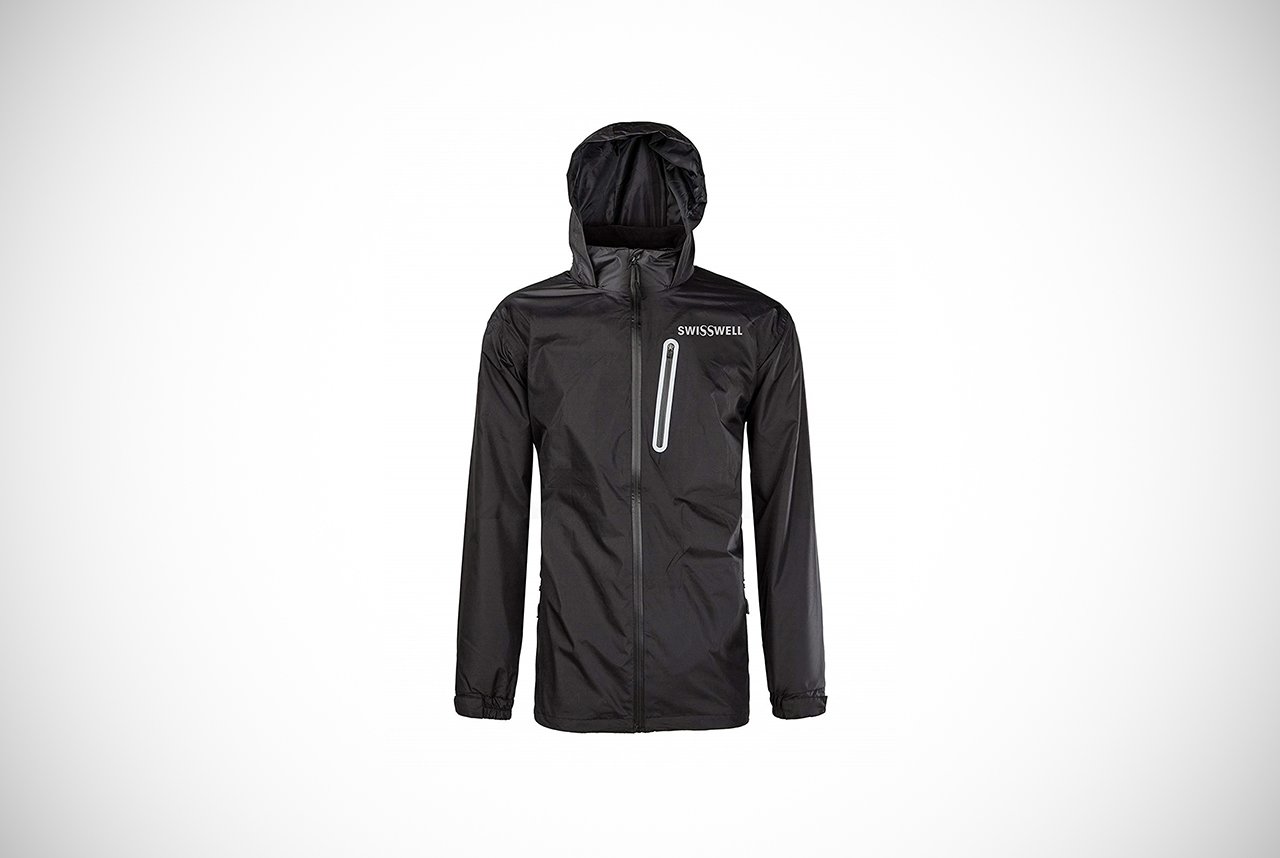 SWISSWELL is not perhaps the most well-known brand out there, but they do have a reasonable reputation in Europe and globally for designing and manufacturing waterproof clothing that performs well.
This SWISSWELL Men's Waterproof Hooded Rain jacket is a great example of this. With a shell made of 100% pure polyester and a waterproofing PU coating that ensures the water always beads and runs off the fabric rather than seeping into it, this is a great jacket considering the price point.
It has the somewhat obligatory mesh lining that gives a certain amount of breathability for your body and ensures it's a comfortable wear, regardless of the rain, sleet, snow and wind you might be caught in. It's the kind of jacket that shouts, 'Is that all you've got?' to a hurricane.
As all the seams have been expertly taped and there is a WP front zip and unlined wind-resistant hood designed for times when a gentle breeze turns bad.
Packing couldn't be easier with the SWISSWELL rain jacket because it can pack away neatly and compactly into a small square that won't take too much space up. Given the amount of gear and equipment you might be packing for a trip, this is something of a godsend from SWISSWELL.
Although rain jackets tend to be very packable, not often are they as good quality as this one for such a low price point with the ability to pack down into virtually nothing.
10) Wantdo Waterproof  & Windproof Jacket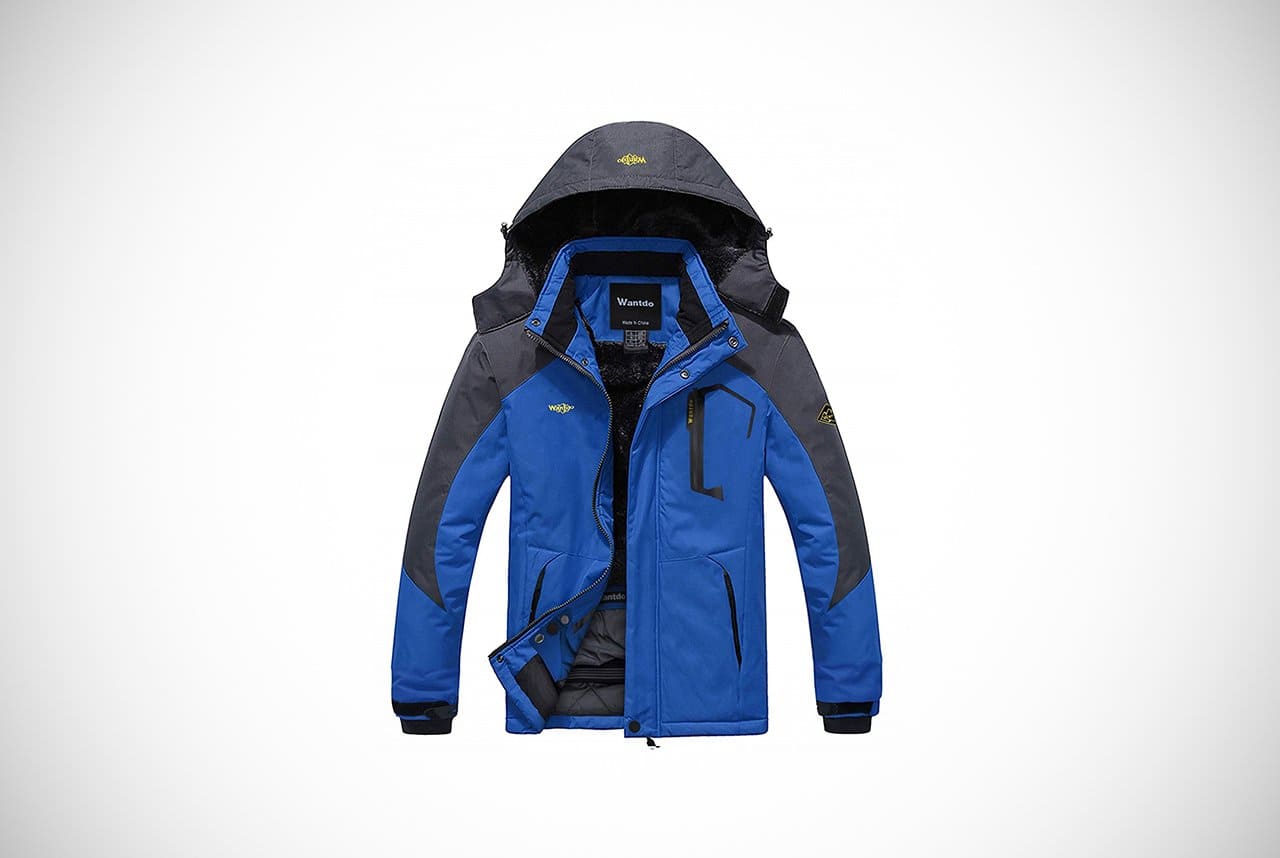 The last waterproof jacket we must discuss is this great Wantdo Men's Mountain waterproof rain jacket. There is a lot to love about the padded design and construction of this jacket that has been created with mountain-side activities in mind.
Unlike many of the others on this list that provide general coverage and protection against rain and other harsh elements, this is more robust and has been marketed for winter sports such as snowboarding, downhill skiing, and mountain climbing.  The water resistance on this jacket is of a very high quality and performance level, and it can cope with up to 10000mm of pressure head.
It has also been built with the wind factored into things, and as it has adjustable cuffs and a stretchable glove and thumb hold your extremities are always kept snug and warm. For all budding adventurers there are several different pockets, many with zippers apart from those on the inside. The internal pockets are ideal for securing your mp3 player or smartphone and there's a supporting fixture and line fastener for your earphones, so you don't have to open your jacket to fiddle with them.
All in all, this is an ideal jacket that would suit those with a bigger budget who are planning on tougher activities in harsh conditions.
Ready for a twister?
So, there you have it guys, our rundown of the top 10 windbreaker jackets for men in 2018. We've tried our very best to present a fair representation of what's available on the market right now. Regardless of your budget, you'll be able to find a great windbreaker jacket from our choices to keep you warm and snug in even the fiercest of strong winds – from the north face of your chosen peak to commuting in the Windy City.
Although big names such as Columbia, Helly Hansen, and The North Face are obvious choices, it's refreshing to know you can still get quality for less. Not that you necessarily don't want to pay out for a highly protective piece of clothing, but if you're not going to use it for anything more extreme than the daily commute during winter, you might not want to pay out too much.
Although style and how you look may be the last thing you're concerned about if you're facing a harsh winter on a mountainside, it's also good to know that you can get some fine-looking jackets for your hard-earned bucks. It may not snow or rain all the time unless of course, you live somewhere like Portland or another part of the PNW or say Alaska.
Regardless, we know you will want to get your hands on one of these great windbreaker jackets for men.