W
ould you like to try and emulate a small, tiny fraction of the versatility that's always displayed on court by the mighty Roger Federer? Or perhaps you are more of a fan of the back-court powerhouses that are Djokovic and Murray? No matter which of the great's playing style you really admire and want to utilize to devastate your opponents, it's crucial to find a high-quality pair of tennis shoes.
Tennis, after all, is a taxing sport and to achieve greatness at it, whatever level you are playing at, involves a lot of pressure and strain on your whole body. We all know about sprained wrists and the infamous tennis elbow, however, it's your feet that take the brunt of the abuse in this physically demanding game.
Intensely technical, it involves a lot of fast and intricate movements including sprints and jumps in all directions, and sudden direction changes; changes that have to be executed in a split second, to catch those clever shots from your opponent at the other side of the net.
Therefore, along with the huge amount of practice and talent that's required, you also need to use the right equipment. Whether you're a daily player or hit the courts at the weekends only, you have likely taken time to choose the best racquet you can afford.
While we're not about to argue about the importance of racket choice, but we feel that many tennis players may overlook the need to invest in good quality tennis shoes.
Choosing the right tennis shoes is not the easiest job as there is such a wide variety available these days. This why the team here at Men's Gear have worked tirelessly to shortlist the best tennis shoes for men in 2018.
Before we look at our shortlist of the best 10 tennis shoes on the market, we are going to take some time to tackle some of the burning questions that are repeatedly raised regarding tennis shoes. These are important questions and can ultimately have an impact on the tennis shoes you think will be best for you.
What Are the Main Benefits of Buying Specialized Tennis Shoes?
Like any sports-specific type of sneakers, there's always the question of whether they're actually necessary or are they more for show than anything else? The honest answer is that it really depends. If you're only playing tennis once or twice a month or less, you might reason that the investment is not really worth it.
As noted at the outset of this post though, tennis is a very physically demanding sport. It's one that involves a lot of quick movements, direction changes, jumps and basically a lot of fast and frenzied footwork. So, the shoes you choose to wear when playing it can not only have an effect on your ability to perform but also how well your feet are protected.
Tennis shoes are specifically designed to provide that additional protection and support your feet need when playing. The forward motions and side-to-side actions required in tennis are accommodated for when the added lateral support supplied by tennis shoes.
They also have stronger materials used to provide better ankle support, for those stop-start motions that as a tennis player you'll be more than a little familiar with. How well a particular pair of tennis shoes benefits you best will depend a lot on the type of surface you play on and any level you play at.
Tennis players, as you'll know if you're a keen follower of any of the top players on the tour such as Andy Murray, Novak Djokovic and Rafael Nadal, can regularly suffer from injuries. The amount of pressure their feet and legs are put under, means that even if they have the right footwear, they can still end up out of action for long periods of time. Needless to say, though, having the right footwear can reduce the amount of injuries substantially.
Are Tennis Shoes Comfortable?
Generally, the answer to the above question is yes. Tennis shoes are made to provide the necessary support and protection that your feet need. As tennis matches can often last a long time though, comfort is incredibly important.
Tennis shoe manufacturers understand this and take the comfort of you, the wearer, into consideration when designing and creating their footwear. However, just how comfortable a particular pair of tennis shoes are is dependent on a number of different aspects.
For one thing, your level of playing ability and the surface you play on can have a huge impact on whether a shoe will be comfortable or not. So too can the type of materials that have been used in the construction of tennis shoes.
Needless to say, when you choose a pair of shoes that has been designed with your particular sporting discipline in mind, it will always result in footwear is more comfortable than plain vanilla sneakers.
What Are the Main Tennis Shoe Brands?
Unsurprisingly, given how big the sports footwear industry is when it comes to the biggest and most popular brands of tennis shoes, there are many familiar names. For instance, Nike, Adidas, and New Balance feature heavily. Asics is also a name that you'll see some of the big names wearing.
Do you really need to invest in one of the branded tennis shoes out there? A branded name does not always equate to shoes being better quality or more suitable than a less expensive, but well-made pair. However, it's more often than not a sign of greater research, better designs, higher quality materials and a more trusted reputation.
So, if you are sitting there with your sweatband on, and racket in hand, ready to argue with the umpire about balls being in or out, let's help you find the perfect shoes.
1) Adidas Barricade Club Tennis Shoe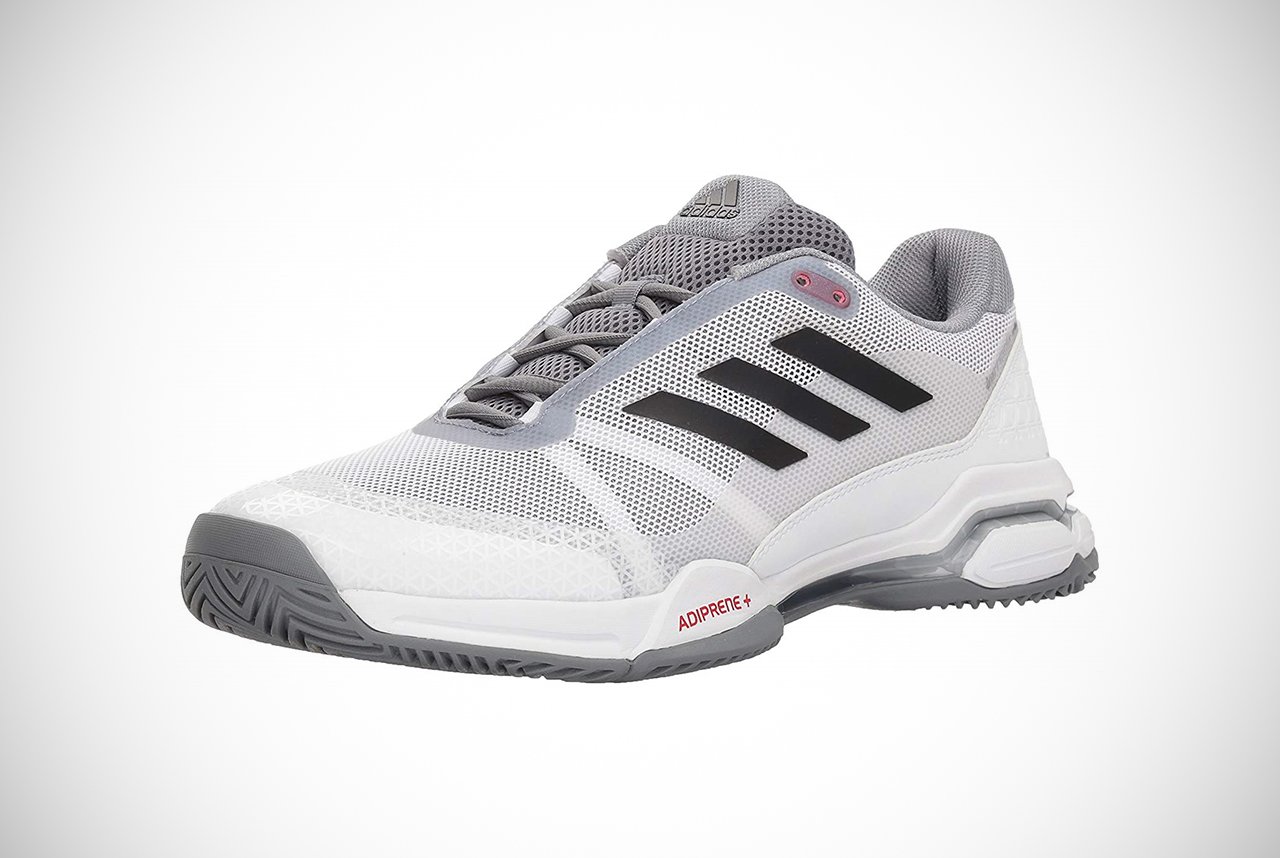 The rather striking and stylish Adidas Barricade Club Tennis shoes are the first pair we want to discuss on our list. As we noted in the opening section of this post, some tennis shoes are designed with specific playing surfaces in mind. This offering from the German sporting giants is specifically crafted with clay court action in mind.
Around the ankle is where you are going to feel a lot of discomfort if you don't have the right shoes, fortunately, Adidas tackle this with an ankle collar that has been padded and shaped to contour with your foot to allow you to move around the court comfortably.
The upper features mesh and a cushioned, Adiprene+ insole have been incorporated into the shoe to increase this comfort throughout the rest of your foot while providing breathability. Adidas is known for the use of their patented 3D torsion technology, which gives the middle of your foot enhanced support.
Design and construction-wise these tennis shoes will not let you down in the performance department, and they benefit from a very classic look and range of colorings. Although they're a budget pair compared to many others available from Adidas, they still benefit from the company's history in producing high-quality and professional standard footwear.
With this pair, it's easy to see why pro tennis players like Andy Murray favored Adidas (that was until he signed a deal with Under Armor).
Check Product Price // Read More Reviews
2) ASICS Gel-Solution Speed 3 Tennis Shoe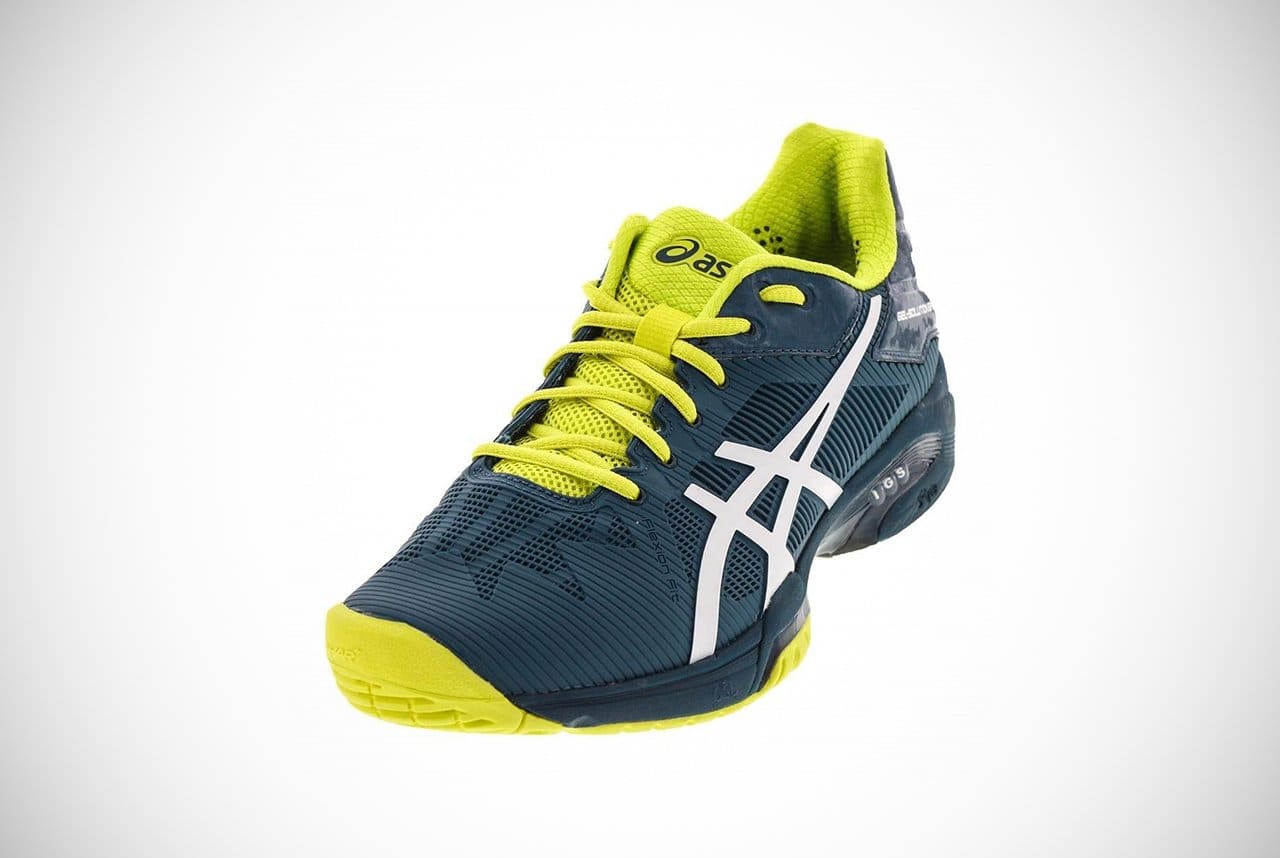 Next up is this rather awesome pair of Gel-Solution Speed 3 tennis shoes from the Japanese ASICS. The name has always been something of a curiosity. It's actually inspired by an incredibly famous Latin saying, "Anima Sana In Corpore Sano". In English, it translates as "A sound mind in a sound body".
ASICS is an acronym for the Latin and the company's mantra is based on the belief that overall health and fitness is crucial to having a healthy and ultimately, happy life. At a higher price point than the Adidas above, these, like all others released from the brand, ASICS are made to be technical, performance-driven tennis shoes.
The Gel-solution Speed 3 shoes incorporate a low-profile design and an upper made from PU for a flexible fit. While the midsole is made from the company's own Solyte material to allow for quicker response times while you are on court and a lightweight cushioning to provide the necessary comfort and protection for your feet.
All parts of the foot are well-protected, including the toes, which is essential when you are playing against an expert at the drop shot. The PGuard Toe Protect just also helps to increase the durability of the shoe.
Of all the brands on this list, ASICS is perhaps the most successful and popular when it comes to tennis shoes. Even the great Serbian himself Novak Djokovic recently made a switch to ASICS at the start of the current season.
Check Product Price // Read More Reviews
3) Adidas Approach Tennis Shoe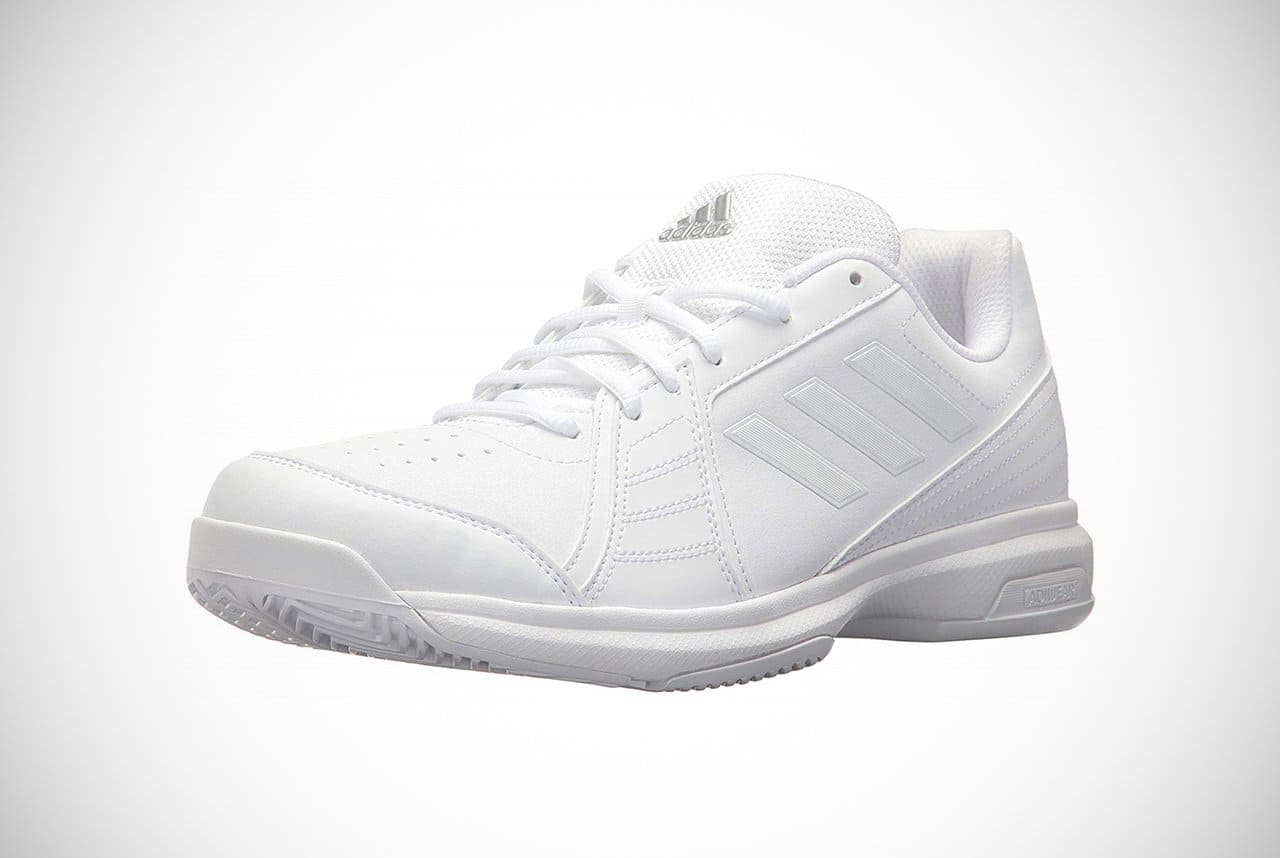 If you find that you play on a number of different surfaces and don't want to pay out for a different pair of shoes for each, these Adidas Approach shoes may be ideal for you. Grass, clay or harder surfaces, it doesn't matter – these shoes will hold up well. Even if your game includes as much court coverage as Federer or Murray, the Approach has your back…or feet. Although marketed as something of a beginner's shoe, these are incredibly durable and feature excellent cushioning throughout and would suit even a seasoned amateur.
Adidas, even at the lower end of the price range, are known to produce high-quality and responsive footwear. The Approach tennis shoe features a 100% man-made upper that's robust and stable but offers ventilation with well-placed perforations. The company's Adi Wear technology has been utilized to ensure that these shoes are resistant to wear and tear and hold up well even if they're worn regularly for long periods of time.
Money spent on Adidas is money well spent, we feel, and you could do a lot worse if you are trying to improve your groundstrokes and movement across the court on various surfaces.
Check Product Price // Read More Reviews
4) Nike Court Lite Tennis Shoe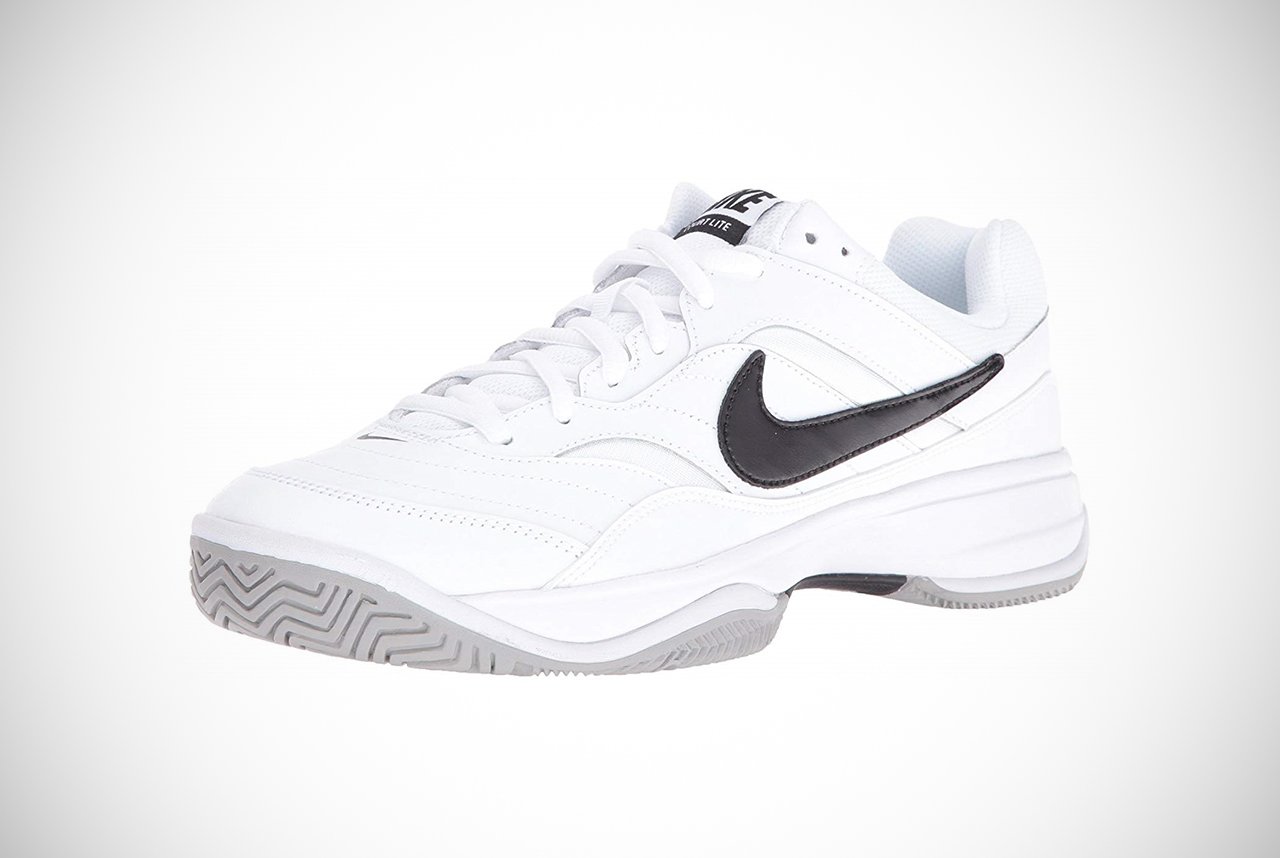 Surprisingly, this is the only pair of Nike shoes we have shortlisted. In most other sneakers and athletic shoe lists, you would expect to see Nike appearing a lot more than just once. As great as the sportswear giants are though at designing and crafting high-performance footwear for all manner of sporting disciplines, tennis is not one that they appear to specialize in.
That aside, Rafael Nadal and Roger Federer still rock Nike tennis shoes every year, but these tend to be specially made for the individual because of their sponsorship deals.
That being said, the Nike Court Lite tennis shoes are lite by name and light by nature. Designed particularly for players who regularly hit the courts, these are comfortable and provide great grip. If your game involves a lot of medium-intensity footwork, these are ideal for you.
Included in the design is Nike's exclusive Zoom technology which enhances the cushioning in the heel to give you great comfort around the base of your foot. Thanks to the chevron pattern, the rubberized sole on the exterior offers superior grip and stability.
The midsole features Phylon and the upper is made from a combination of mesh and leather for additional support and comfort over the top of your foot.
Check Product Price // Read More Reviews
5) ASICS Gel-Dedicate 5 Tennis Shoe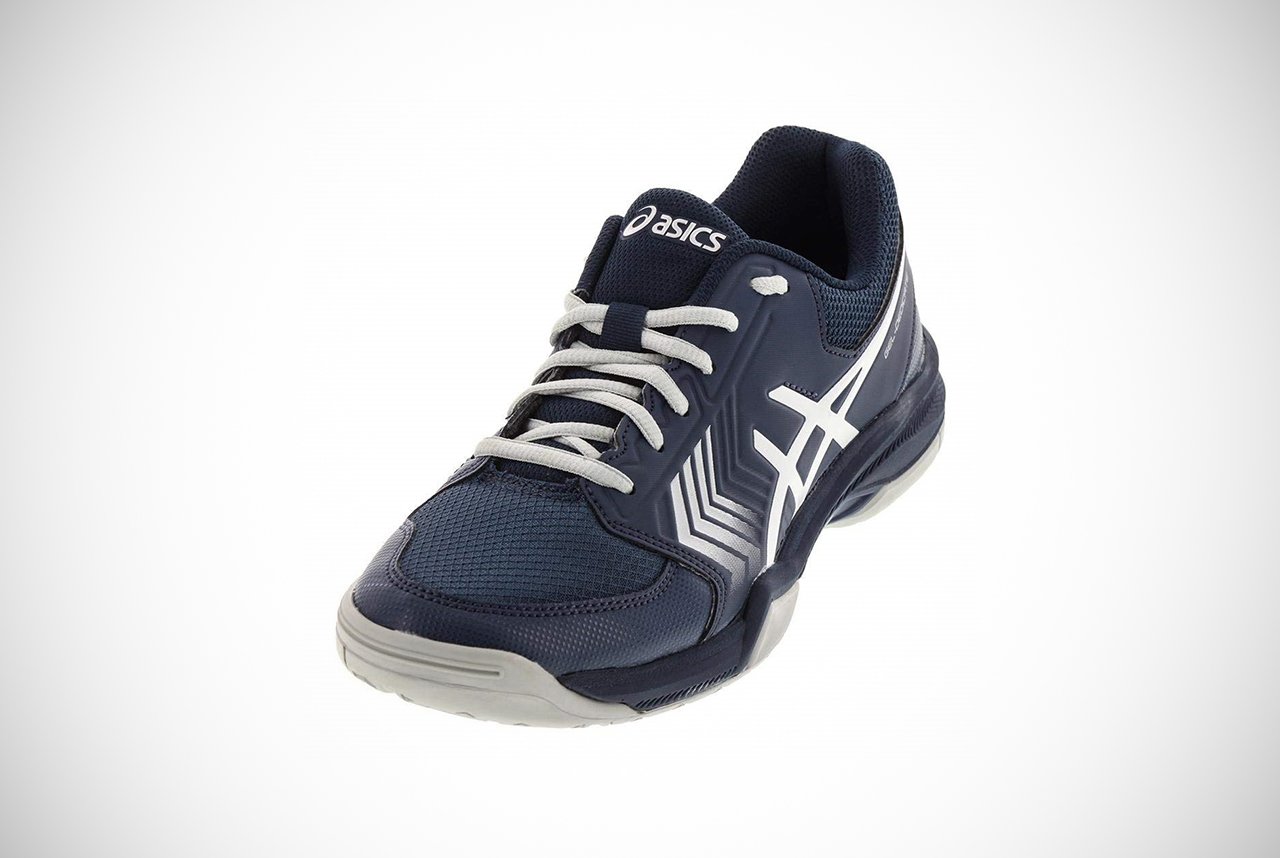 The second pair from Japanese sportswear masters ASICS is the Gel-Dedicate 5 tennis shoe. These are ideal if you are either just starting out or are a regular, recreational tennis player. They're lightweight and have the mesh upper which provides increased ventilation and breathability, which also gives you greater flexibility across the court.
ASICS have clearly put a lot of effort into designing a shoe for a tennis newb that will provide reasonable support and shock absorption, to prevent them giving up on their new pastime too easily. It's the Forefoot Gel Cushioning System that particularly comes into play in this area of the shoe.
They have even incorporated their Trusstic System to decrease the sole's weight without compromising on the build quality or strength. As you'll quickly notice from this list, ASICS is in fact something of a market leader in the world of tennis shoes. Therefore, money spent on these or any other shoes from the brand, we think is money well spent.
Don't be deceived by their unassuming look, these are designed to help you start your new favorite hobby well. One of the most important things about tennis shoes is finding a pair that are designed so that you don't worry about your feet and how well your sneakers are fitting, but instead concentrate on the job at hand – scoring those points and defeating your opponent
Check Product Price // Read More Reviews
6) Adidas Barricade 2018 Tennis Shoe
The third and final pair of Adidas tennis shoes on our list are actually something of an update for 2018 of their popular and high-performance Barricade line of tennis shoes. Available at a much higher price point than many of the others featured here, these are designed with giving you the ability to play tennis at a top level.
The incredibly supportive Barricade base on which these shoes are built on gives you the ultimate amount of flexibility and freedom in your forefoot while providing the necessary stability and support for your midfoot.
Its upper has been crafted using the seamless Forgedmesh that gives you the stretch and support needed across the top of your feet. You'll find that as you move in this shoe will adapt every time.
Mesh has been used to great effect in the upper for increased breathability. While the sock-like Geofit construction and the soft lining ensure these fit like a glove.
The German company's Adi Tuff with its resistance against abrasion wraps snugly around your forefoot and toe for extra protection against foot drag when you perform extreme lateral movements, volley shots and even serves.
Adi Wear 6 technology is used to great effect on the outside of the shoe to give it superior durability, regardless of which surface you wear them on.
Be warned, once you slip these shoes on, you may not want to take them off again.
Check Product Price // Read More Reviews
7) ASICS Gel-Game 6 Tennis Shoe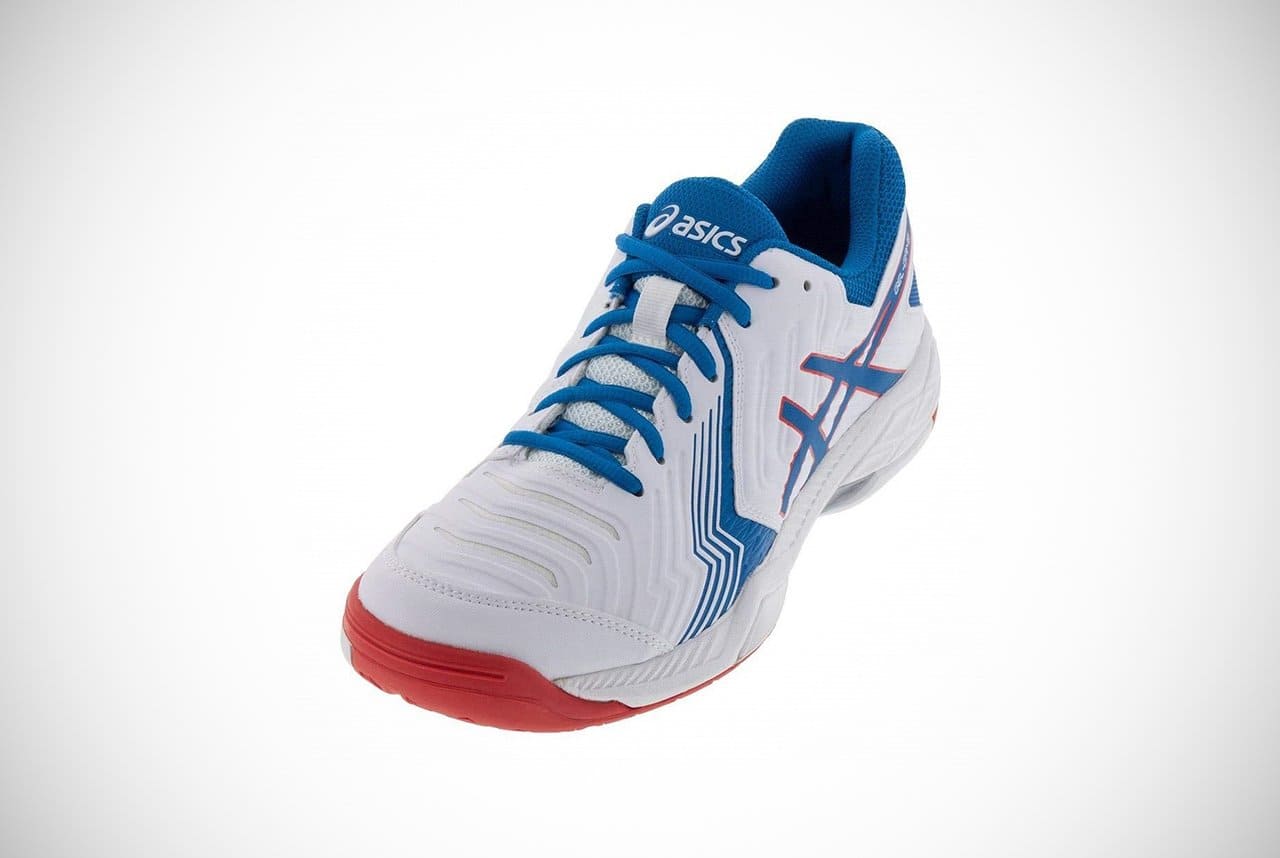 Another great ASICS tennis shoe that we have chosen to highlight is their Gal-Game 6 pair. These are ideal if you are looking for a shoe that provides you with especially good traction and durability. Due to the solid rubber sole on the outside of the shoe, this pair will hold up to even the most regular use on the harder court surfaces.
Their special Forefoot Gel system cushions and supports you during those sprints from one side of the court to the other, those fancy drop shots and volleys and when you are driving ace after ace.
The Japanese company again have incorporated their ingenious Trusstic System tech to give the stability in your forefoot that's crucial for the side-to-side shuffling in tennis. The master shoemakers know the importance of comfort and have utilized high-quality and breathable mesh in the form of vents on the upper to keep your feet comfortable and cool, from the very first serve until the last deciding match point.
There are many tennis fanatics and players who would suggest that money spent on ASICS tennis shoes, is money well spent. That's true no matter what price point you look at. So, even if you can only afford a budget pair of tennis shoes, you may be best looking to ASICS.
Check Product Price // Read More Reviews
8) ASICS Gel-Resolution 7 Tennis Shoe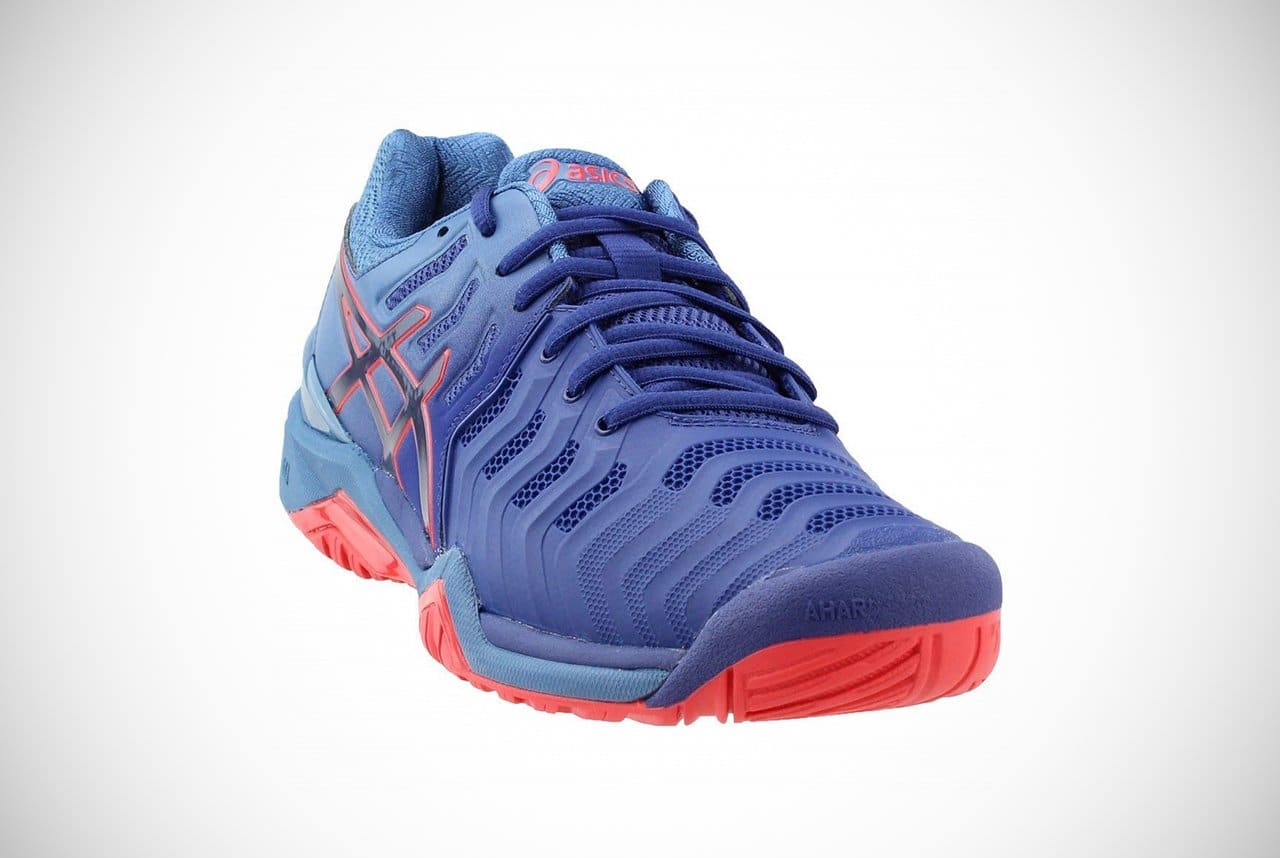 Our final offering from Japan's ASICS, arguably the industry leader in tennis shoes, is this Gel-Resolution 7 pair. This is one of the company's most popular lines and it's not hard to see why, as it's used by club players and professional elite players alike. Although the changes are not very obvious at first, the biggest improvement is the design of the upper which now benefits from a Flexion Fit TPU wrap that extends across the whole of the forefoot to provide adequate locking for your foot.
It does this while allowing for the greatest amount of stability and support.
The heel counter has also been tweaked and lowered, addressing issues that some customers have had with older versions of this line. The thing that hasn't changed one bit with the Gel-Resolution 7 is their all-round performance, durability and stability.
Further to the heel counter change and the fact it includes the new TPU wrap, there's additional support and comfort for your foot around the Personal Heel Fit collar which completely molds to your foot's particular size and shape at the back.
As standard ASICS' PGuard is a comfortable toe protection system that gives the front of your shoe, where a lot of damage can be made to it. These are another example, we feel, of why ASICS continues to dominate in terms of sales and popularity among amateur players and top-level professionals on the tour.
Check Product Price // Read More Reviews
9) New Balance 786v2 Tennis Shoe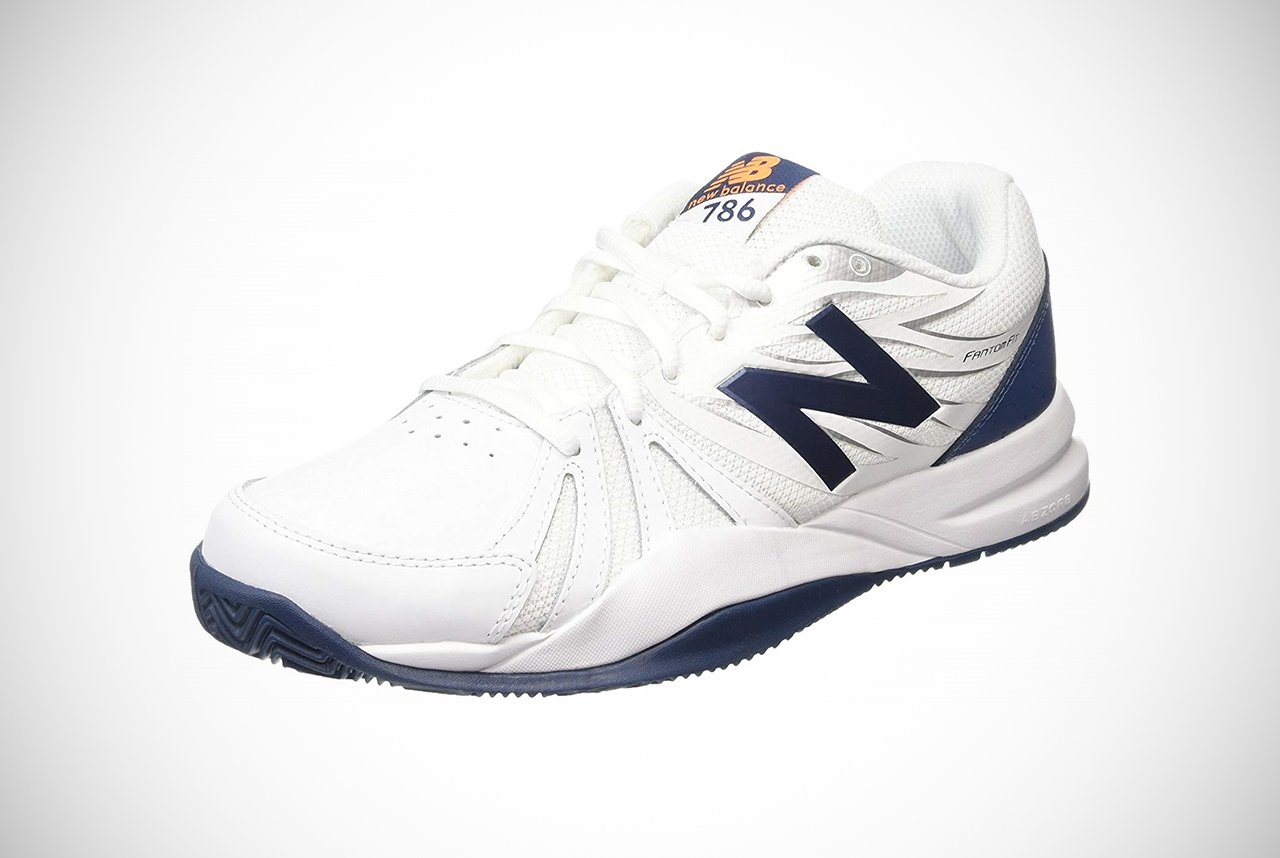 The only New Balance pair on our list are these stunning looking and high-performing 786v2 cushioning tennis shoes. Designed to give you the confidence and peace of mind to concentrate on the match, without worrying about your feet, these are all about giving you the premium comfort NB shoes are known for across disciplines.
Notable is the ABZORB technology used to provide a sublime level of resistance against compression and enhanced cushioning. This ensures that whether you're running at breakneck speed to catch that drop shot over the net or have to dash twist and turn to get across the baseline to catch that stray long ball, your feet are protected against all crushing impacts.
The C-CAP technology used in the midsole, constructed from EVA is there to aid your performance and provide adequate stability so that your feet don't move around.
New Balance are largely known for their line of expertly and thoughtfully crafted running and track and field shoes, but we think this is a decent entry into the world of tennis shoes.
Check Product Price // Read More Reviews
10) Wilson Kaos All Court Tennis Shoe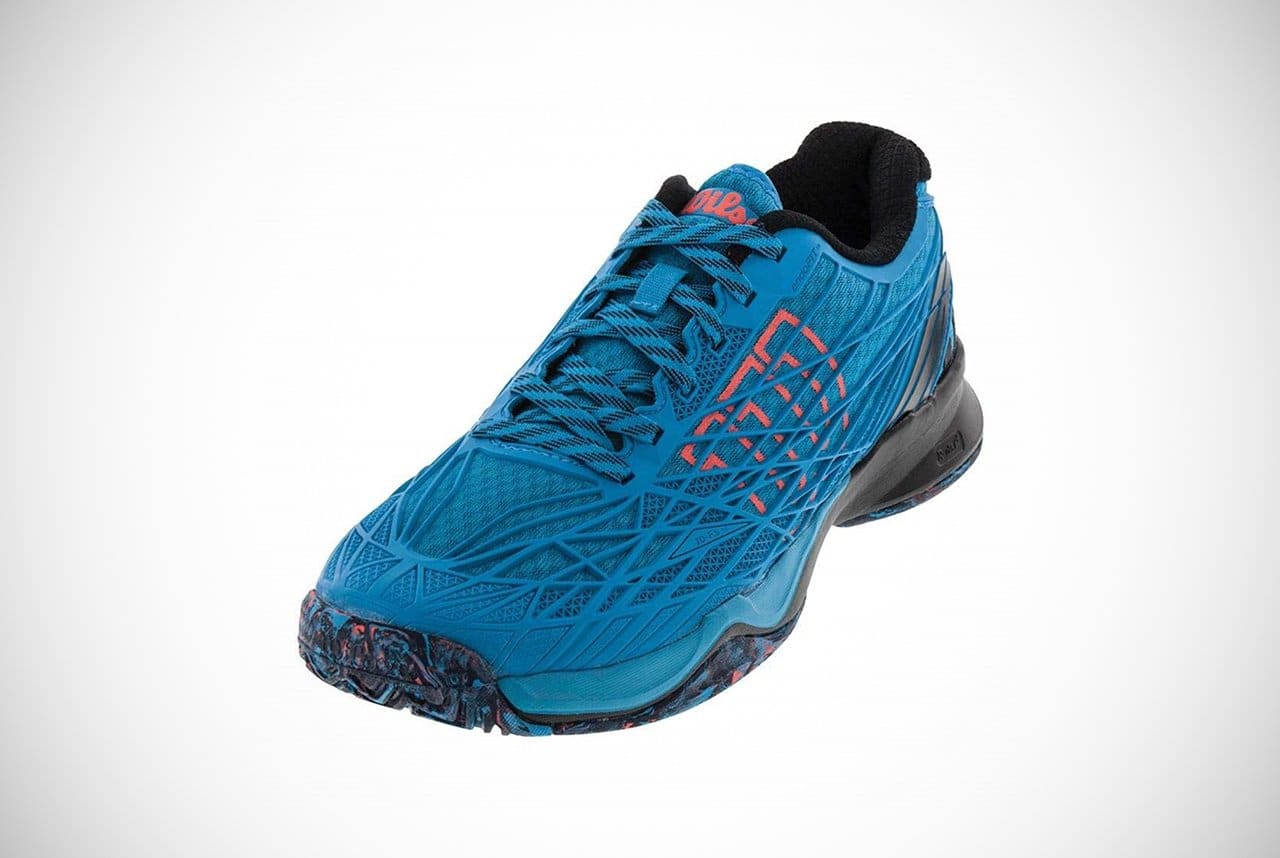 Well, we've reached the last pair of tennis shoes on our list guys and boy have we made sure it's a good one. Just look at how stunning these shoes are The Kaos Men's All Court Tennis Shoes have been designed and manufactured by Wilson and are ideal for all playing styles, playing abilities and court surfaces.
However, it's the more offensive and aggressive players out there that will benefit most from this pair. What do you really expect from a shoe that's called Kaos? Thanks to their lightweight design and the low-profile that keeps your feet on the ground, you'll find that these are particularly flexible and can aid you in achieving the acceleration agility and speed you desire across the court.
One of our favorite aspects of these shoes is the Duralast rubber sole with improved grip and traction, while protecting against wear and tear. The Dynamic Fit-DF2 and Endofit components ensure that you have a cushioned and protective shoe that's stable and comfortable, without costing you speed or versatility when you need it most.
And to be honest, we can't speak about these shoes without noting how beautiful they're – they're more like a basketball shoe than a tennis shoe in that regard, which we love.
Check Product Price // Read More Reviews
WALK IT OFF
So, guys, now you the choices for the 10 best tennis shoes available on the market right now. It's important to remember that our opinion, is our own. This is just a guide to help you understand what's out there, though we do hope you'll choose one of the 10 above, because we feel strongly that they're the best out there though.
It's often a good idea to look to the professionals and see what brands they're wearing. While Nadal and Federer both continue to wear their own custom pairs from Nike, Djokovic recently made a switch to ASICS. Before Andy Murray made the switch to Under Armor and they made a special pair of tennis shoes for him (they previously did not have any in their collection), he had long played in Adidas tennis shoes.
As many top stars in the sport have shoes specifically made for them, one of those perks of being the best of the best, though; you can't always use that as a determining factor when choosing shoes.
Like most things, you need to find the best that's available for your budget and match them to the type of play you are mostly involved with. Some shoes are better suited to aggressive and offensive play; while others are better for a more reactive and defensive baseline style.