D
o you play ball regularly? Are you sick of ruining your normal sneakers through play? Perhaps it's time to switch your dribbling and dunking game up a little and invest in some quality basketball sneakers.
Whether you want to shoot some b-ball outside of the school or think of yourself as the next Lebron, you need the right equipment. We aren't saying that you're going to turn into Air Jordan himself by wearing a fancy pair of sneakers, but there's reasons why so many guys, and not just NBA players, invest in a pair of good quality basketball shoes.
Even if you're convinced they're right for you, how do you whittle the choices available down? How do you find that one pair that is going to help you improve your game?
You really wanna know what you do? You let Men's Gear sort the good from the bad for you.
Before we hit the courts with our list of the best basketball shoes for men though, it's time to clear up some things first. There's a lot of burning questions that come up regularly with regards to basketball shoes. We're going to take a few moments to answer each of these important questions, then it's nothing but trainers after that.
What Are the Main Benefits of Wearing Basketball Shoes When Playing?
(Seriously dude, surely, they're just for show so that all you weekend part-time dribblers and dunkers can show off? There might actually be a lot of truth in this though. If you aren't giving thought to the basketball shoes you're buying and how you'll help your performance. However, there are a number of benefits to wearing basketball shoes when you're playing.
They Provide Protection – Although it may not look it, your feet are put under a lot of pressure on the court. So, they need protection. Basketball shoes have superior ankle support and impact absorption for that reason. Reebok, Adidas and of course, Nike have put a lot of time and effort into getting the support just right.
When you're leaping high in the air and landing back down to earth, you want to know that your shoes will help cushion your fall.
They Help Your Performance –  You have to have the skills to pay the bills before you try to rock on the court. Wearing a pair of LeBron 15 Lows will not turn you into King Lebron, any more than putting on a large sparkly horn over your nose will turn you into a flipping unicorn! However, if you have 'dem skills then a good pair of basketball shoes will enhance them and bring out the best in your natural ability.
The outer sole of basketball shoes has traction which you need for crossovers, driving and cutting in. While the upper is designed to give you support and covering while making it feel as if you're wearing nothing at all. (Okay, so we just had a major flashback to Flanders wearing his skiing gear saying 'It's like I'm wearing nothing at all') We digress.
They Last Longer – If you think wearing ordinary sneakers or even running shoes for that matter will suffice, go for it but it's your wallet that'll suffer. Particularly if you're the kind of player who thinks he's the king of the cut. The rubber sole on other kinds of shoes is just not strong enough to cope with the pressure they'll be put under.
Are Basketball Shoes Comfortable?
The short answer to this question would be, yes, of course they are Like, why would anyone wear shoes that aren't comfortable? However, due to the leather used in the construction of basketball shoes and the way they fit, like other well-fitting and snug shoes you they do need to be broken in somewhat.
You need to be careful though, to only break them in during practice sessions and light day-to-day tasks. Don't take them to the court for that major weekend tournament game you have scheduled. That sweet spot where they feel like an extension of your feet will come. Give it time, dude.
What Are the Main Basketball Shoes Brands?
This is an interesting question because most people asking the question to know the answer already. The big three of the sneaker world is a permanent fixture in the footwear for various sporting disciplines and it's no different with basketball. Nike, Adidas, and Reebok all pioneered basketball shoes over the years. In recent years, Under Armor have been a go-to choice for many a player.
Although there are other brands out there that have produced basketball shoes of varying quality, to ensure you only the best to choose from, we've highlighted three brands in particular below, Nike, Under Armor and Adidas. After all, there's a reason why the top NBA players worth paying attention to only wear basketball shoes made by those brands.
So, let's get to it.
BEST BASKETBALL SHOES
1) Adidas Performance Cloud Foam Basketball Shoes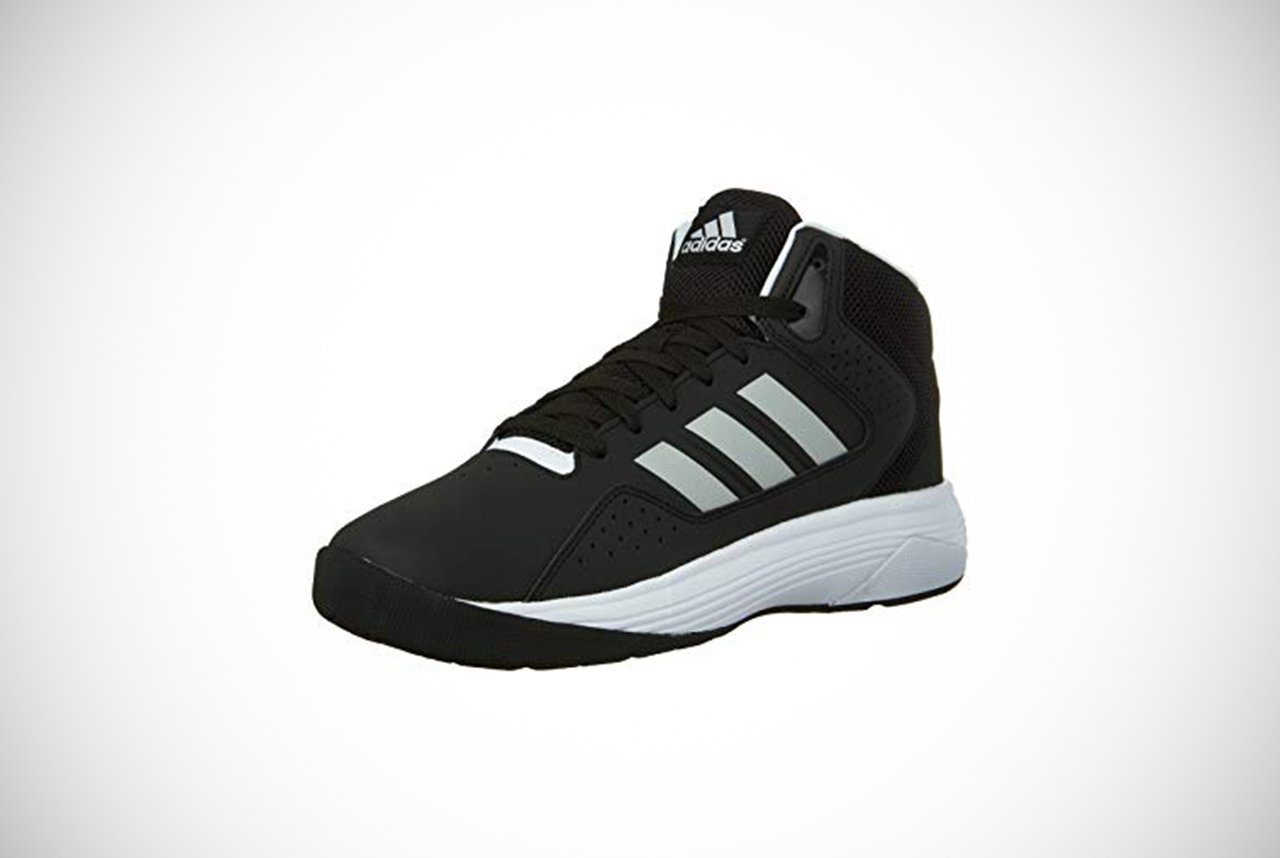 First on our list is the first of quite a few (spoiler alert!) from German sportswear company Adidas. If it was all about the looks, these would already be winners. They've got a very minimalist look to them with the classic Adidas logo standing out on the tongue and along the side.
However, it's not all about the looks. If you're interested in playing and not just telling people you shoot hoops when really the closest you've ever gotten to breakin' a sweat was when you played NBA on the PS2 years ago, then and only then might these shoes be right for you.
They are a mid-sized shoe, so are not quite as big at the heel as a high top, but they offer some additional protection around the back. The major selling point of these is the Cloudfoam technology used.
This is a feature of many Adidas shoes across the board and it's a midsole and sock liner that provides lighter cushioning. With a leather and fabric mix, these shoes provide a good balance between durability and comfort. Crucially, the sole has a nice textured rubber for extra grip. Definitely not the best on our list, but not particularly bad, considering the price point too.
Check Product Price // Read More Reviews
2) Under Armor Men's Curry 3 Basketball Shoe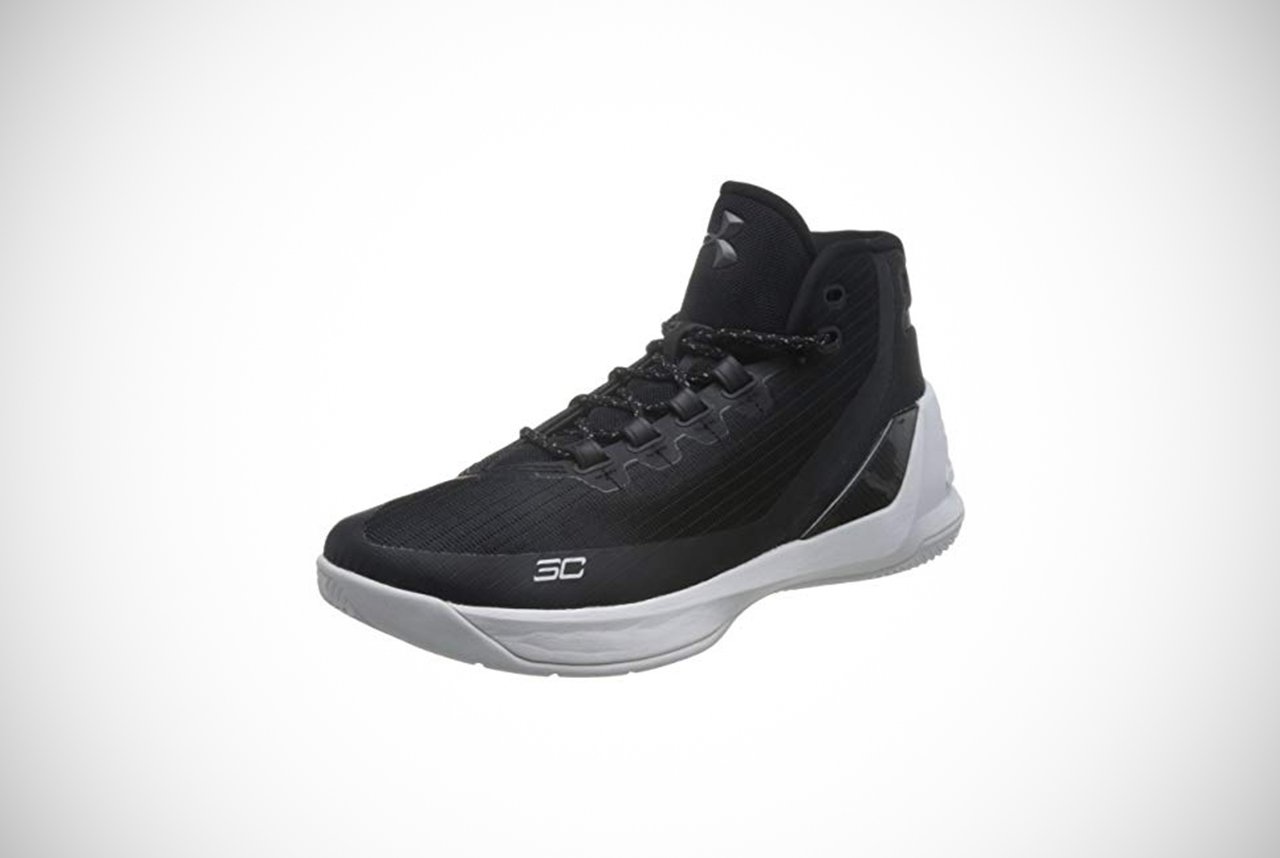 Next on our list is this vibrant and striking pair from Under Armor and arguably one of the best shooters in NBA history, Stephen Curry. The Golden State Warriors point guard is owed a debt of gratitude from UA because ever since he left Nike to partner with them, their sales have skyrocketed.
These are a great looking pair of shoes, but do they actually deliver on the performance and comfort side? The answer would seem to be yes. The Threadborne upper is designed to be lightweight and secure enough to give directional strength, while the carbon-fiber shank provides the wearer with non-slip stability through the forefoot, arch and heel.
The Charged Cushioning of the inner sole is designed to help with change of direction and first-step speed. Overall, these shoes are meant for players who diversify their play techniques a lot and want to twist and turn on the court with ease. It has been noticed that there is a nice comfortable bounce to them as well, so if you find yourself in the air just as much as on the actual court, these might be an ideal pair for you.
Under Armor have come a long way in the basketball shoes department, and as noted at the outset, a lot of that could be to do with Curry's input, influence and name.
Check Product Price // Read More Reviews
3) Nike Men's Air Versatile Nubuck Basketball Shoes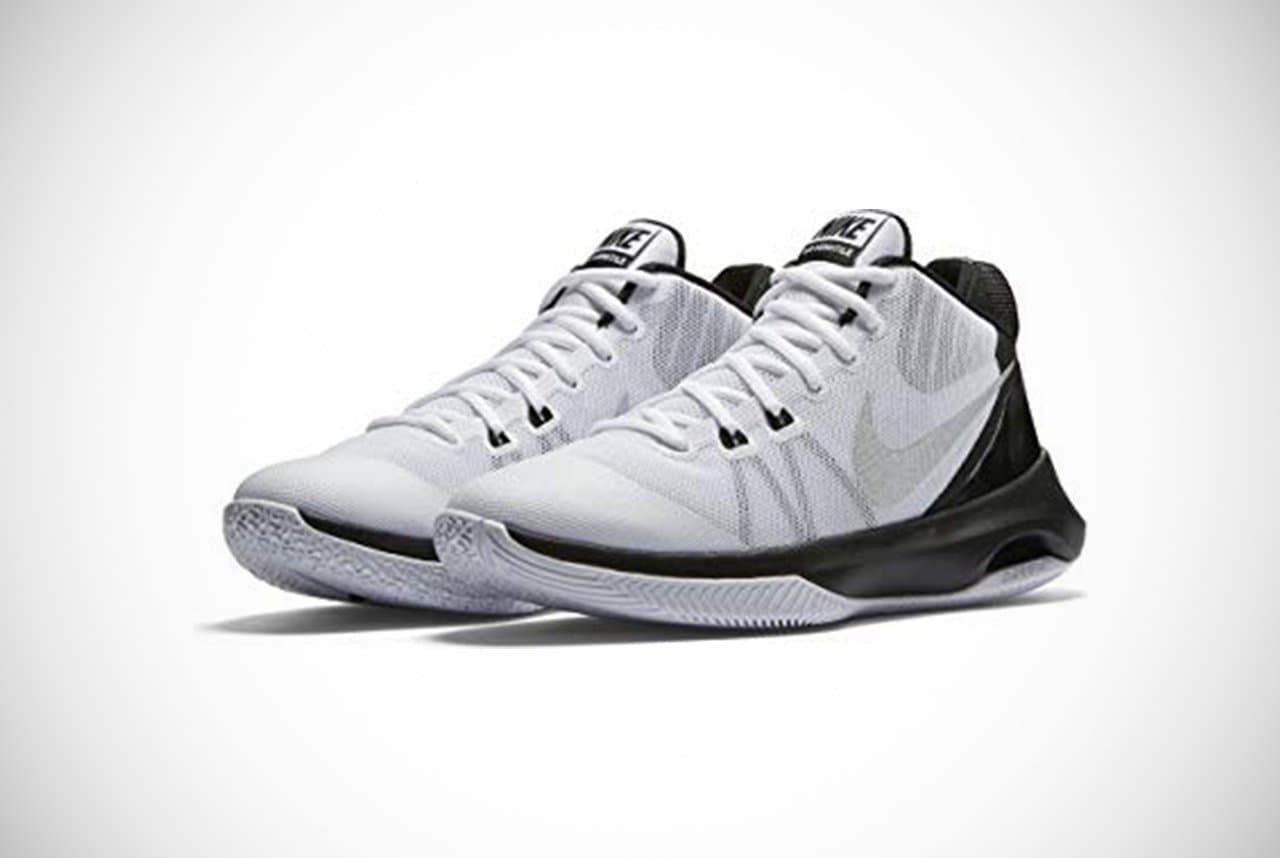 If you're on the lookout for an affordable pair of basketball shoes that suit players of all styles and levels, the Nike Men's Air Versatile Nubuck basketball shoes might be ideal. As with most Nike basketball shoes they benefit from the air pocket cushioning that has made the sports brand a household name.
Even people who know diddly-squat about sneakers and shoes know about Nike Air. It's crucial that your feet stay firmly locked in place in your shoes when you're ducking and diving on the court and these Nike sneakers feature fly wire cabling on their outer to help make this possible.
With a padded ankle collar, padded tongue and all that cushioning on the inside, your feet will feel like their bouncing on air most of the time, even when they're firmly on the court. The Nubuck leather in the upper provides a decent bit of durability and strength, as well as giving them a smart, ready for business look.
Nike have a reputation for producing well-designed, comfortable and performance-enhancing shoes and these, although at the budget side of the price range, are another fine representation of what everyone loves about the brand.
Check Product Price // Read More Reviews
4) Adidas Men's Rise Up 2 Basketball Shoe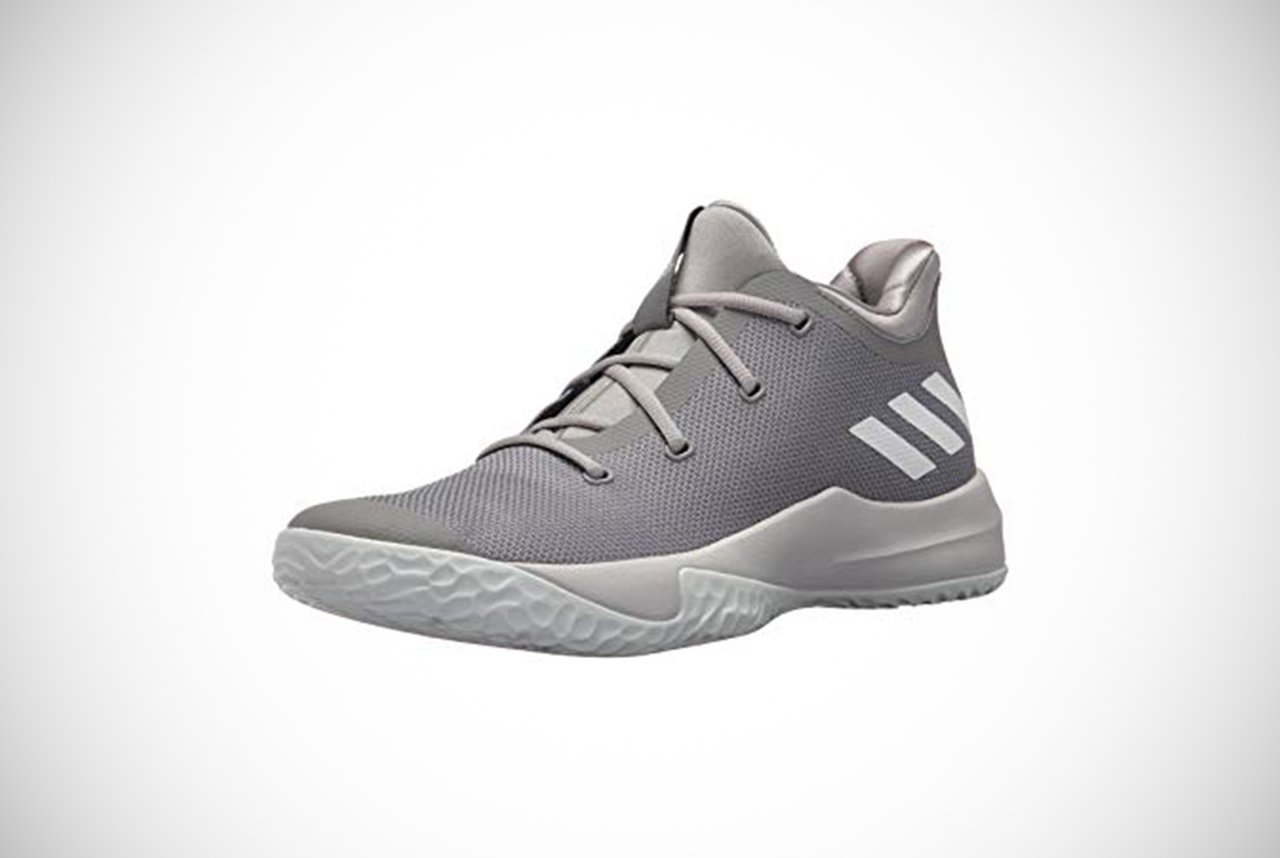 Another Adidas basketball shoe worth highlighting is this Rise Up 2 pair. These benefit from Adiprene in their forefoot which allows them to maintain the propulsion while keeping them effective and efficient. While the textile upper in two-tone coloring gives them a very cool and subtle look, and lightweight feel, we really like the fact that there's EVA used to good effect in the midsole.
As well as providing a cushioned footbed to walk, dribble and run on, it's effective at absorbing the impact on your feet when you take those really high leaps of faith when you're trying to dunk or go for a three-pointer.
It wouldn't be Adidas if they were in any way uncomfortable, and although these are another budget-priced pair, they definitely don't feel it or look it. From the top to the bottom, these are a well-made and expertly designed pair of basketball shoes.
As they don't require too much breaking in time, once you invest in these beauties you'll be ready to hit the court for some b-ball action.
Check Product Price // Read More Reviews
5) Nike Men's Air Visi Pro VI Basketball Shoes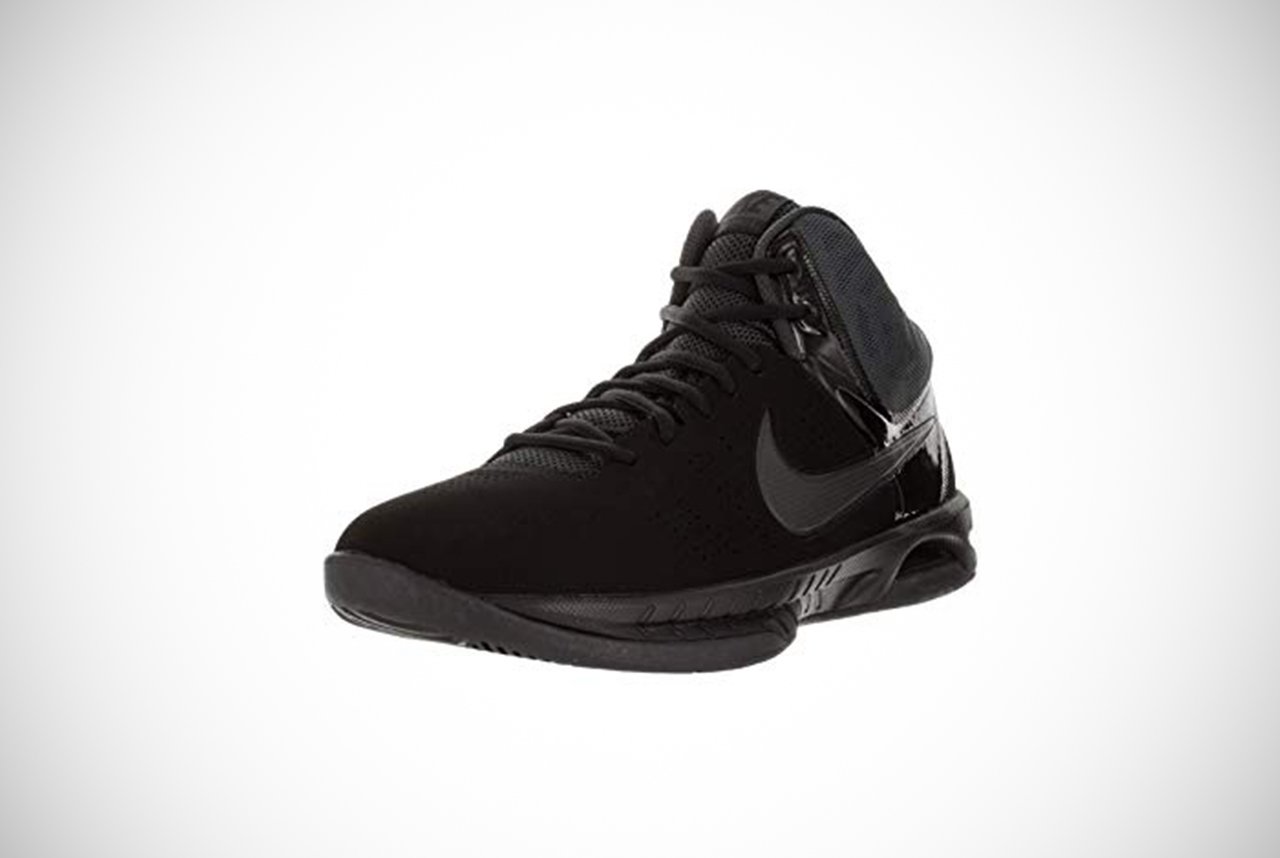 This pair of Nike Air Visi Pro VI are the next we want to bring to your attention. They are another pair of Nikes that utilize the stylish and sturdy nubuck leather. They are a very smart looking pair as a result.
However, their smart looks hide the well-thought-out construction of the inner body of the shoe. This includes the breathable lining in soft, but strengthened fabric and the Phylon mid-sole that provides a lightweight solution for the cushioning necessary on the basketball court..
As ever, there is the loud and proud, visible air pocket design of the Nike Air heel that helps to absorb pressure that hits your feet whenever you return to the ground when you catch air or dunk.
Another aspect of the shoe worth highlighting along with all of the above is the rubber sole featuring herringbone that not only provides the necessary grip on the slippery surface on court but gives you the flexibility you need for quick directional changes, especially when you're moving quickly.
Check Product Price // Read More Reviews
6) Nike Men's Air Versatile Ii Basketball Shoe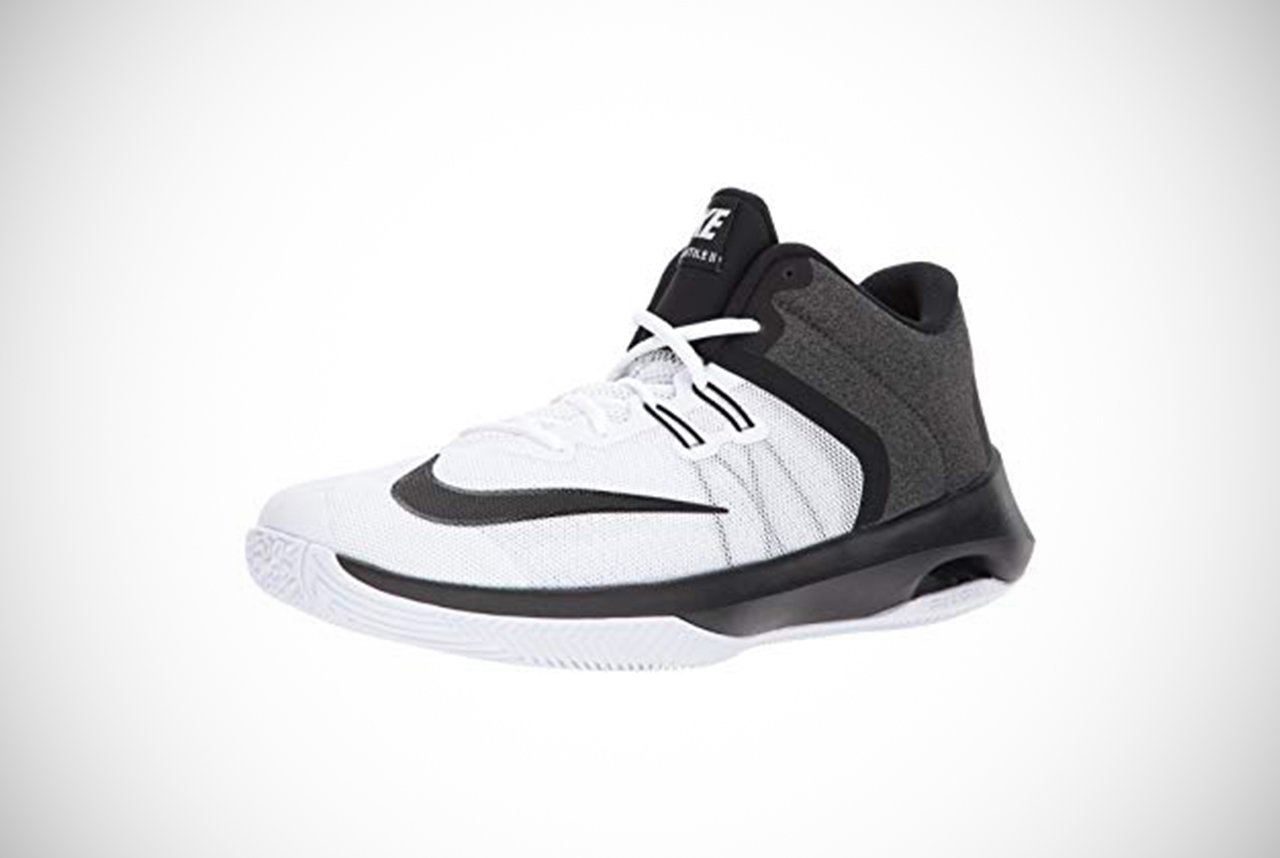 Another basketball shoe, another great pair from Nike, available at a very reasonable price point considering the level of comfort and versatility they provide for your play.
As is the case with a lot of these Air Versatile shoes from Nike, there is fly wire cabling on the outer upper for enhanced lockdown and stability so that your feet don't move while you're at play. This is incredibly important because the last thing you want is your feet to move around inside their shoes when you're trying to dribble, duck and swivel around your opponents.
No stability could mean at the very least that you fall flat on your face, and at worst you do damage to your foot or ankle.
Thanks to the premium-quality material used in the heel, your feet will feel comfortable even when used over one of those longer games. The ever-present air pocket in the heel helps to absorb a lot of that pressure that can damage your feet when you come back to earth after hitting a slam dunk, or those mini jumps that don't really qualify for proper NBA height jumps, but still feel cool in your head!
Check Product Price // Read More Reviews
7) Adidas NEO Men's CF Executor Mid Basketball Shoes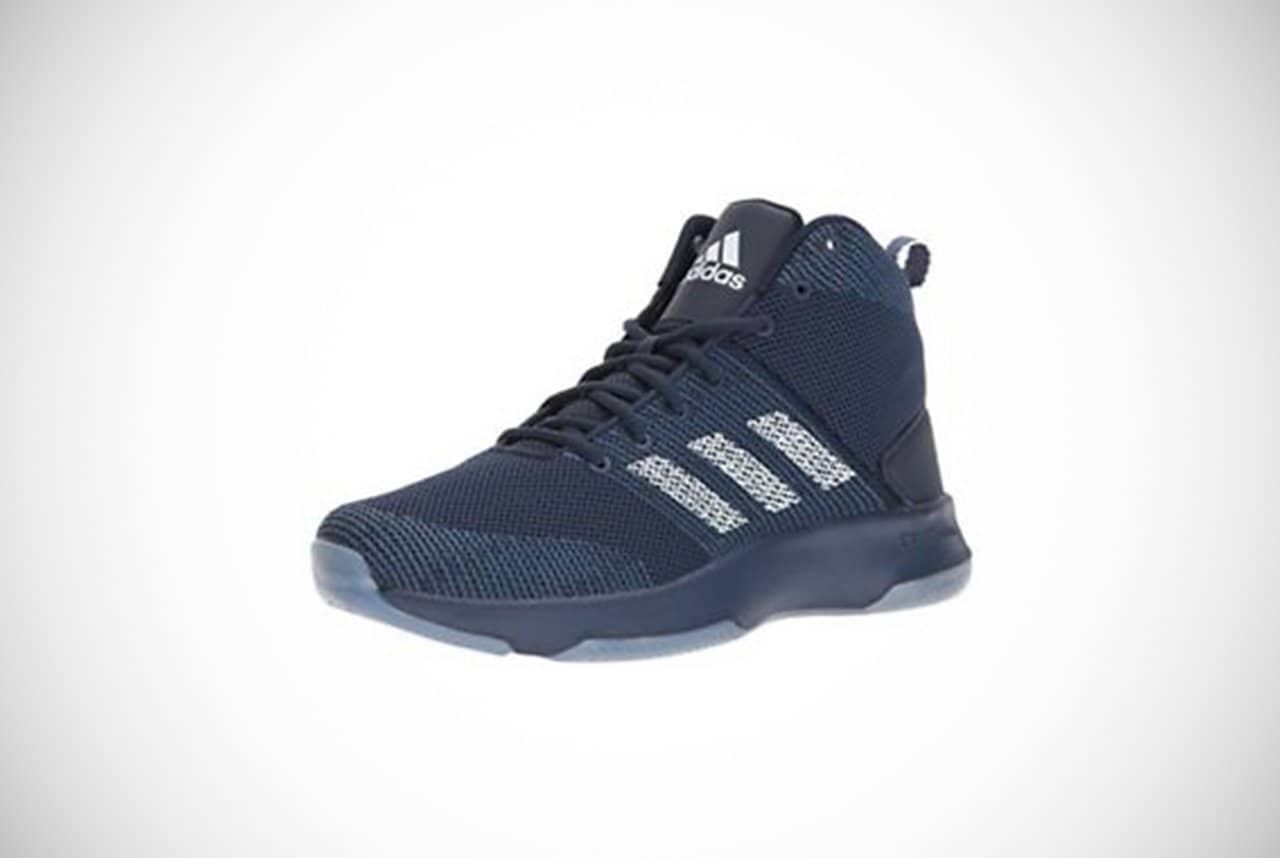 The next pair of Adidas basketball shoes we're going to discuss is the rather awesomely named CF Executor line. These are another very subtle pair that are perhaps not the flashiest in the world, but, have a lot of great features that more than make up for their lack of character.
The Cloudfoam cushioning that Adidas is famous for across many of the footwear they make for numerous sporting disciplines and provides the shoe with a bed of air for your feet to rest on. This helps to absorb the tension and strength of impact on your feet and legs whenever you're running or leaping around the court.
We'd say that although they're described as being a mid-shoe, that they're a particularly tall version of a mid and closer to a high-top shoe. This is ideal for anyone whose arches are higher than normal arches. They will help you feel comfort, especially on full games, week in week out.
To help with breathability, there is meshing in the upper and although we said they were subtle, there are still some nice embroidered touches.
If you're a fan of Adidas already and basketball is something you want to play well at and not get hurt while doing so, but don't want to invest too much in, these are the shoes for you.
Check Product Price // Read More Reviews
8) Under Armor Men's Heat Seeker Basketball Shoe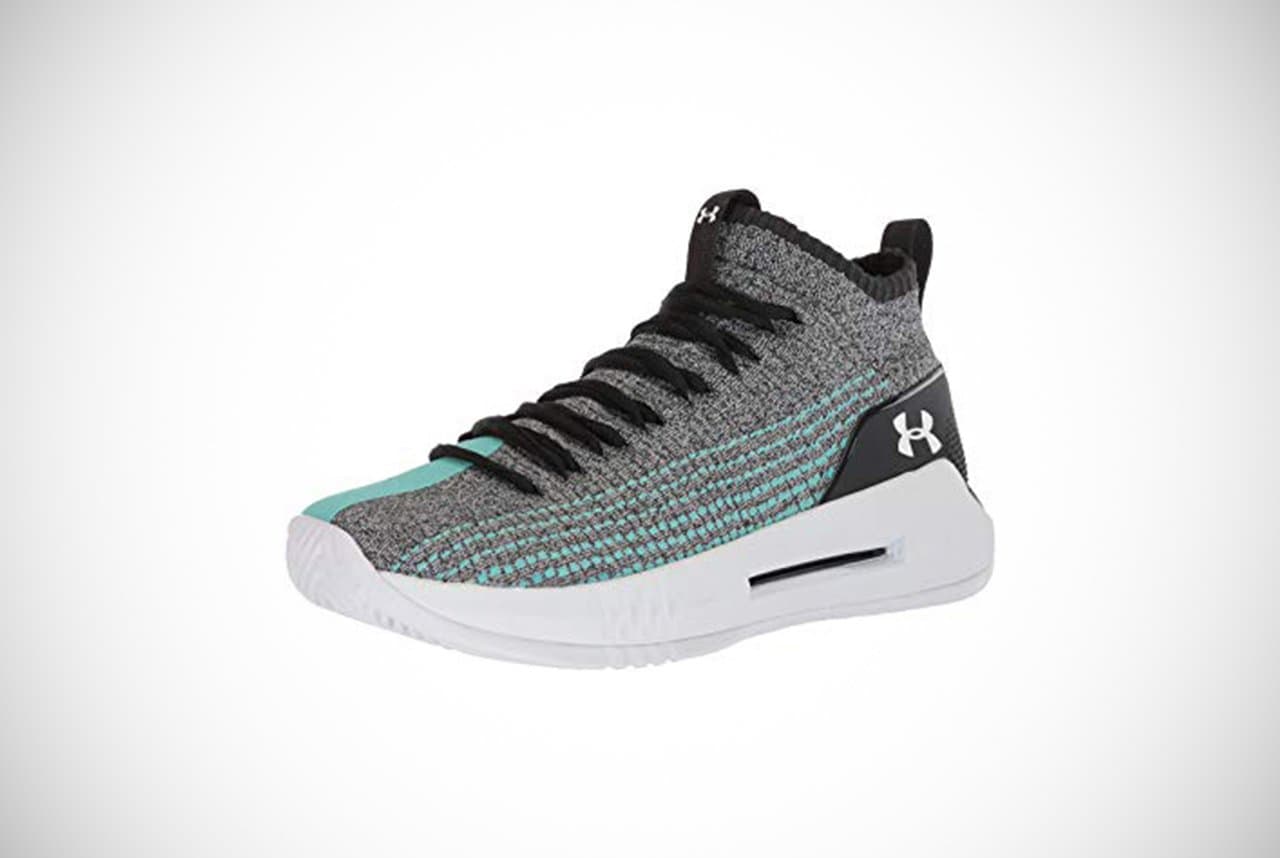 The next pair of Under Armor basketball shoes we're going to speak about are these great Heat Seeker ones. Although they do not have their sporting 'face of the brand' Stephen Curry connected to these, they're still a worthy addition to any self-respecting b-baller's collection.
The upper has been constructed using one piece of material to give it a lightweight quality that easily fits to the form of your foot to provide the necessary support for the top of your feet. The ankle collar on these shoes is almost like a bootie in that it provides a more snug and comfortable fit. As the overlay does not involve any stitching, it's much better at providing protection for the shoe from the detrimental effects of drag and therefore makes them incredibly durable.
We've already spoken a lot about the importance of basketball shoes offering a locked-in effect to your feet and, thanks to the heel counter UA have included on this shoe's exterior, the Heat Seeker sneakers provide increased structure and stability for your feet. That's not all UA have done, with perforations at strategic places around the shoe, your feet will benefit from the breathability they need.
All in all, even without Curry's input on this particular line, Under Armor have done a sterling job on these shoes.
Check Product Price // Read More Reviews
9) Under Armor Men's Drive 4 Basketball Shoes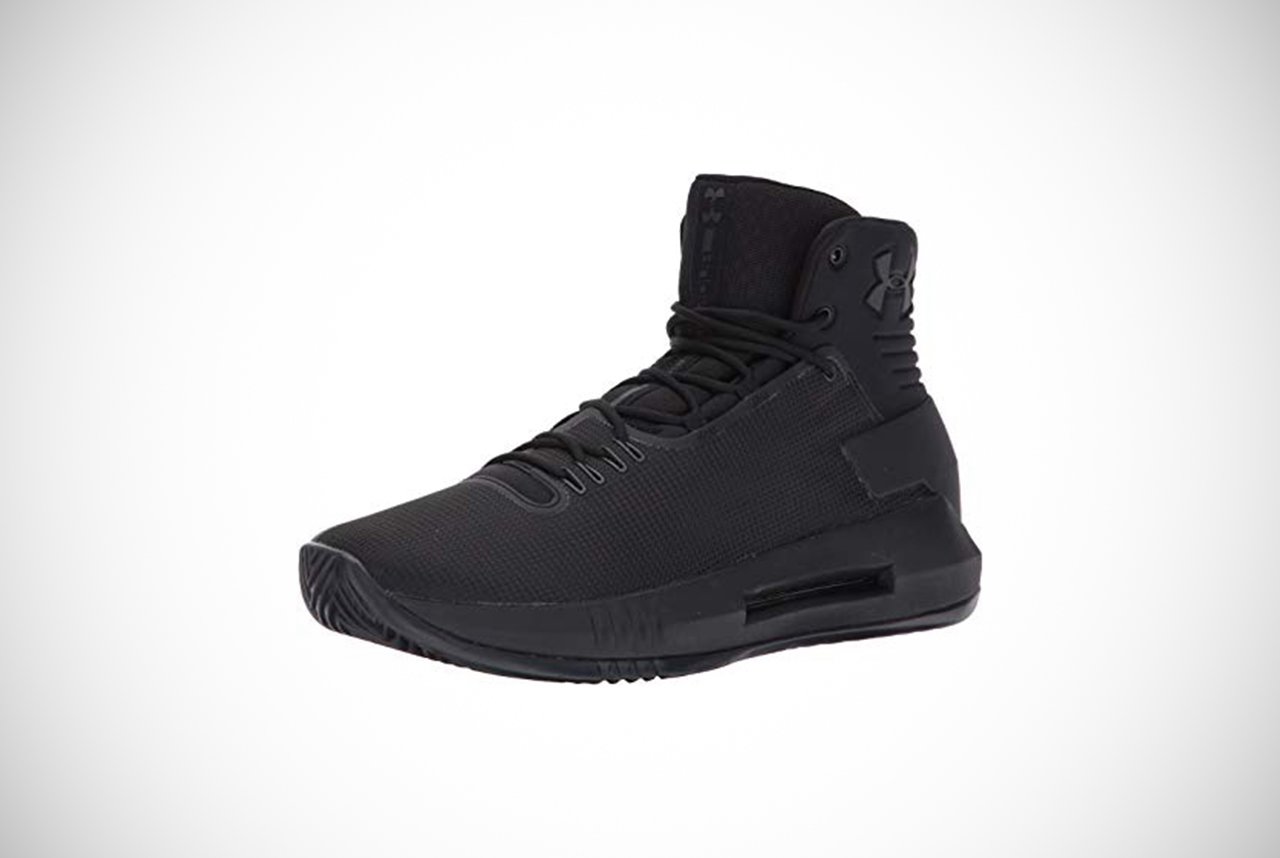 Under Armor have done it again, this time again without the talents of Mr. Curry. Though, it's fair to say that ever since Curry aligned himself with UA when he left Nike, they have improved tenfold with their basketball shoe output.
The Drive 4 pair are another example of modern UA footwear and why you'll find their basketball shoes ranking higher than the favorites of old like Reebok. These feature an expertly constructed full-length bootie-style body with a lightweight and very breathable upper.
The ankle collar is molded to offer structure, a snugger compared to other shoe lines and additional support. Much like the pair above, these also have the special heel counter on the exterior that increased the support given to your feet and ensures that the back of your foot is locked in securely against the back of the shoe.
Thanks to the precisely die-cut EVA-based sock liner on the interior, your feet have excellent support and cushioning, while the EVA midsole has been compression molded to provide containment of the lateral part of your foot.
The key take-away about these shoes is that they're designed to give increased levels of support and stability.
Check Product Price // Read More Reviews
10) Nike Lebron XIV Low Men's Basketball Shoes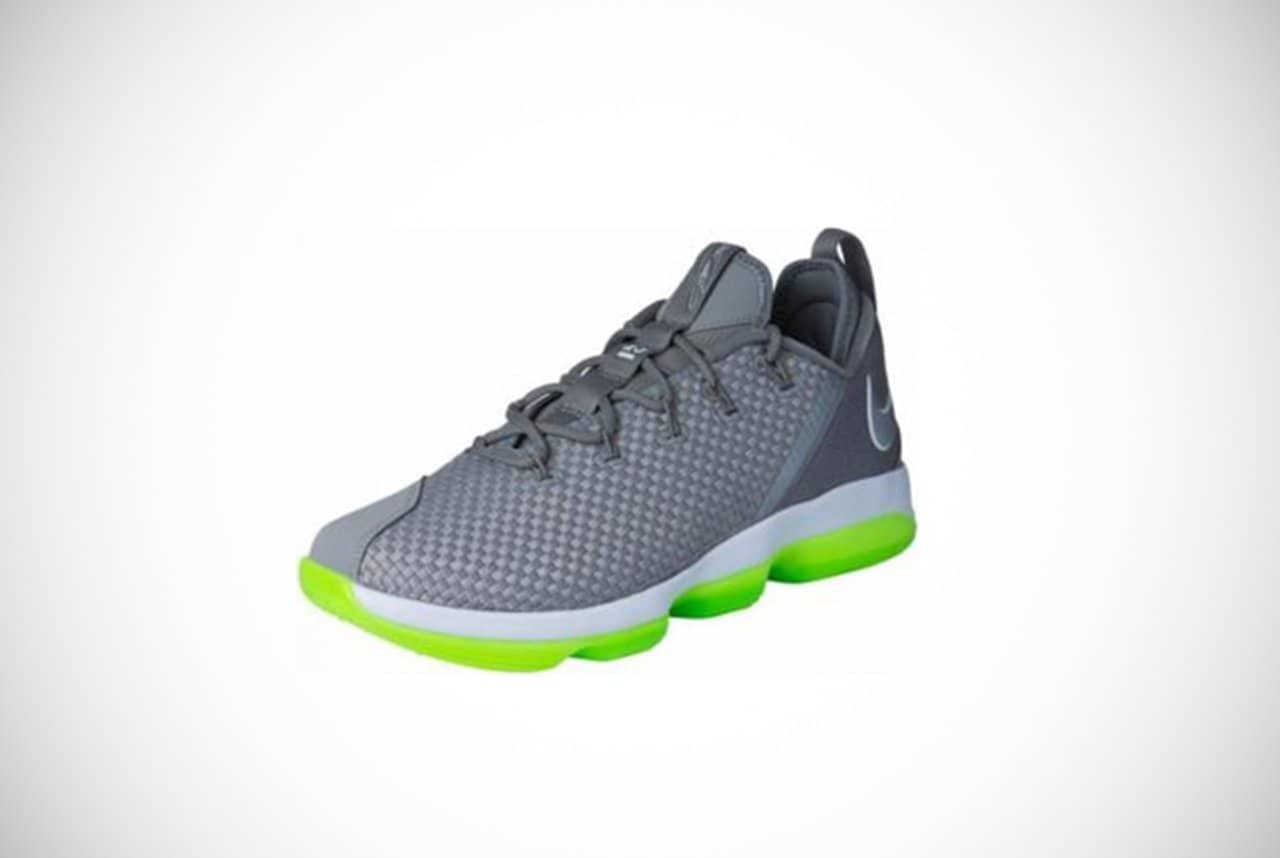 It makes a lot of sense that King Lebron became the newer modern face of Nike, following in the great footsteps of who is arguably the best b-baller of all-time, Michael Jordan. It's fair to say that debate rages on over which of these two actually is the best. Although we're no experts on Basketball, in our opinion you simply cannot argue with Michael Jordan's achievements on the court and for bringing with him a resurgence of interest in the sport, particularly on an international level.
However, we're not here to speak about Jordan, or even Lebron, even if he had a part to play in these awesome shoes. We are here to discuss the shoes. So, what can we tell you about these Lebron XIV shoes?
Due to the low-cut on the collar of these shoes, your ankle has a lot of room to move and breathe and when couple with the fact that these are extremely light, it gives you the opportunity to move across the court with a good level of speed.
Fly wire is put to good use, those tough, ultra-light cables that work in conjunction with the laces to provide a locked-in fit as well as still allowing for a comfortable amount of flexibility.
It wouldn't be a pair of Nikes without having the standard air cushioning. As these are a more modern pair though, they utilize the Zoom Air which cushions your feet to give you as soft landings as possible when you've just come down to earth after that hoop-grabbing dunk.
The shoes benefit from a layered approach to construction that ensures they're as light as possible while retaining the right level of support. Stretchy material lining, with perforated foam and mesh for support and breathability.
The design of the inner sleeve has been devised to give it a very sock-like feel. A nice touch, paying appropriate to LJ is on the inside of the tongue where it reads "Just a kid from Akron".
Check Product Price // Read More Reviews
11) Nike Men's Zoom Devosion Basketball Shoes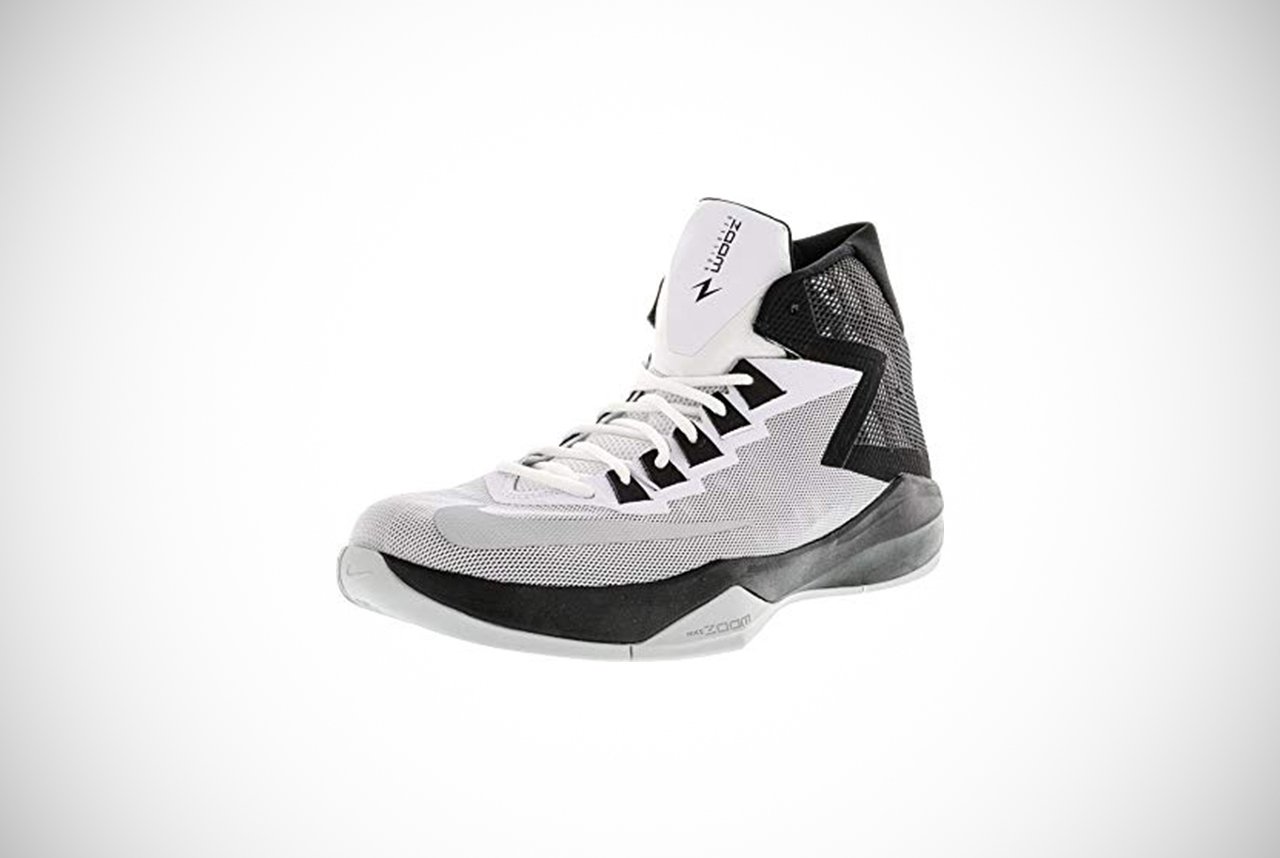 Another great pair of Nike basketball shoe is up next in the form of these Zoom Devosion. Classified as a mid-sized shoe, these are the perfect mix of comfort and support in a lightweight construction. In the forefoot there is the Zoom Air unit to ensure you have a quick first step, every time you make a move on the court.
We could prattle on all day about how experienced and masterful Nike are at making basketball shoes, seeing as they have been in the game for so long. However, we aren't going to here.
Breathable materials have been used to ensure the maximum level of comfort is experienced when wearing them. We also think that they look pretty cool too.
Check Product Price // Read More Reviews
12) Nike Men's Lebron Soldier XI 11 Shoes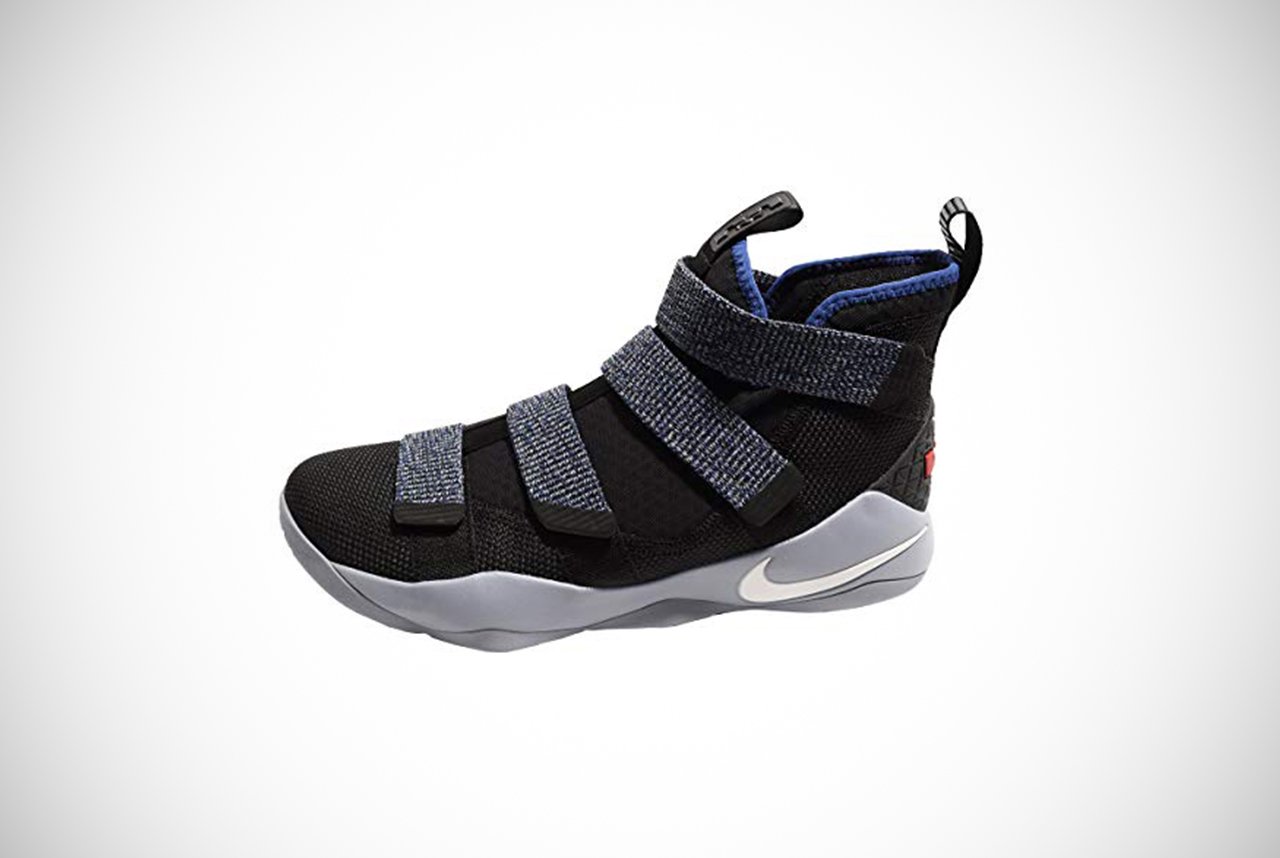 Our final entry from the combined talents of your boy Lebron and Nike is the Soldier XI basketball shoe. This pair has a very strikingly different look to the rest on this list. The price tag is also set a little higher.
The major difference between these and most ordinary basketball shoes is the unique support system they're rocking that consists of four sturdy hook and loop-style elastic straps that can be adjusted to accommodate your foot width. The straps are there to provide additional support and give the top of your feet a snug, locked-in feel.
They kinda look and feel rather special with the straps, and because underneath there is all the usual things that make Nike shoes winners, you know you're onto a good thing.
With Zoom air cushioning, a nice rubber sole that has been designed to provide traction on various types of surfaces (ideal if you play street b-ball as well as in an actual indoor court). Soldiers line up and get ready to dunk!
Check Product Price // Read More Reviews
13) Adidas Neo Cloudfoam Ilation Basketball Shoes
The final from the German sportswear and footwear giants are these Neo Cloudfoam Illation Mid Wide shoes. they're made to a mid-cut but have an especially wider frame, for those of you who have trouble fitting into those narrower shoes. Don't be so precious, princesses – we all got our problems!
The upper consists of a full-grain leather design with perforated detailing to allow your feet to breathe. The mesh tongue also provides additional breathability around the front of your foot, while the rear and collar have a comfortable amount of padding to ensure your feet stay in good, healthy condition even when you're trying to be big Shaq.
The Cloudfoam is one of the innovations that Adidas introduced that ensured them their place in the top 3 basketball shoe brands, with the sock liner making for a lightweight, cushioned and importantly comfortable basketball shoe.
We can't find too much to fault in these, if you love Adidas basketball shoes, you're bound to love these!
Check Product Price // Read More Reviews
14) Nike Zoom Ascension Basketball Shoes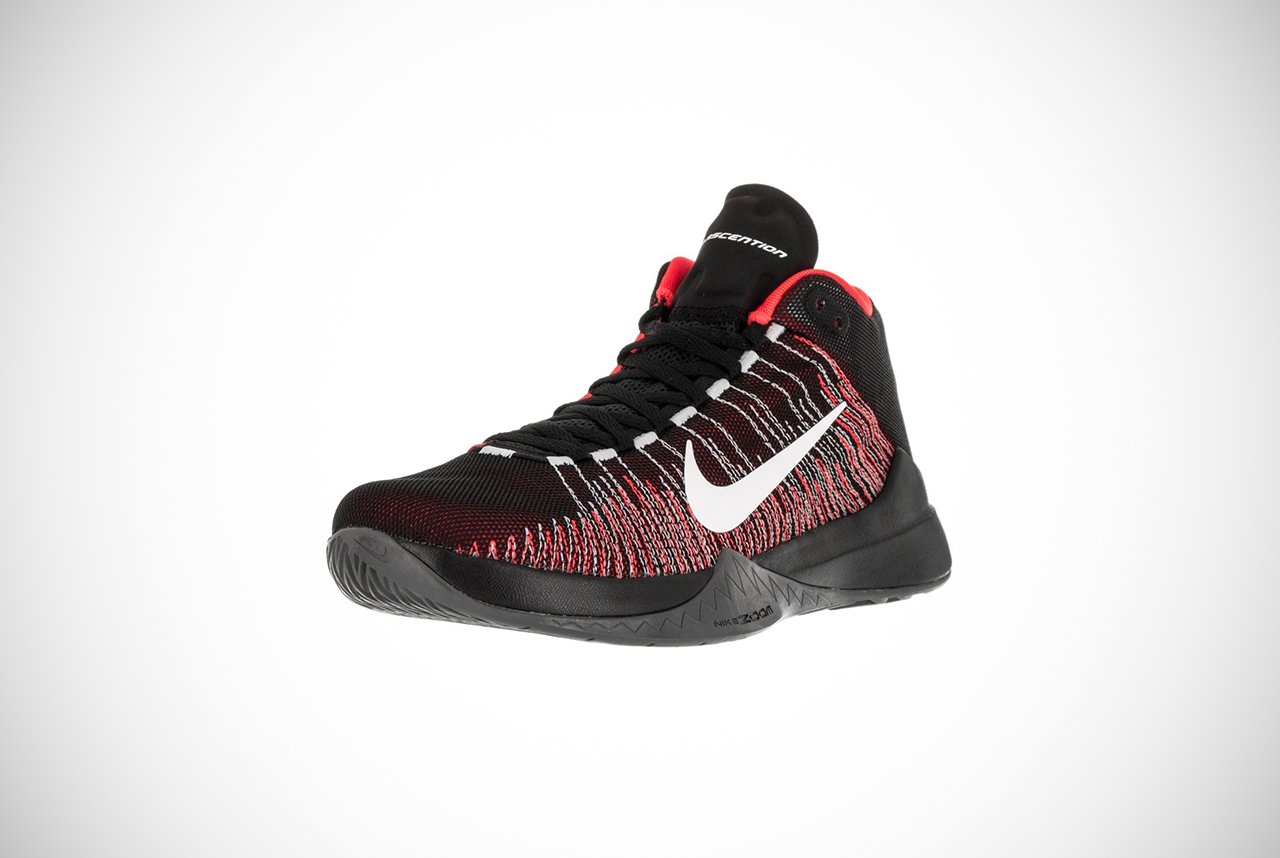 Bang! We thought we'd finish on a high, with perhaps the most outlandish pair on the list, apart from the strappy Lebron number mentioned a couple of places away from these bad boys. Look at that beautiful, aggressive Black Bright Crimson White coloring. Okay, so that might not be the most masculine sounding color, but boy do these look beastly.
Full disclosure: if you wear these, everyone will step out of your damn way and you'll get to score 3-pointer after 3-pointer.
Further full disclosure: Get real, sunshine, you gotta have the skills to pay the bills. If you ain't got the skills, these flashy and awesome shoes will not help you. With the ubiquitous Nike Zoom Air unit in the shoe's forefront they have a very responsive cushioning system and feel very low-profile.
The mesh upper provides some of the best breathability of any shoe on the market right now and makes them look frickin' cool. A modified herringbone pattern has been used on the rubber outer sole for additional durability and traction. While they feel very comfortable around your foot.
They could probably do with additional padding, but we still think they're the nuts!
Check Product Price // Read More Reviews
Slam Dunk
We're sorry, but we've ran out of basketball shoes to talk about. That's it. We're done. Finito. Completed. The task they say in Spanish was a 'trabajo bien hecho'. That's for all our Spanish readers. What have we learned?
There's a lot of basketball shoes out there, and even more we didn't cover.
Honestly, dudes, it's like an iceberg. You know what they say about icebergs? No, not that they're extremely cold and hostile places to be and that wearing basketball shoes on them, regardless of whatever amount of traction and grip they have, are not ideal if you want to say dry and warm.
No, what we have learned, we hope is that you need to be careful when buying basketball shoes. If you're buying them because they look cool and you just want to look fresh when you hit the town, you're better looking at a different type of sneaker. Alternatively, if you're looking to wear them on the court, you need to be carefully of a number of things.
Not only do you need to make sure you buy a pair that fits your foot width properly, you want a shoe that gives you support and shock-absorption. Unless of course you don't want to be the next Curry or James. Well…the chances that you're going to be the next Curry or James is pretty slim, but if you want to play versatile b-ball, you need the shoes that will support your game style.
Although there may be other brands out there that we've not featured, and they might be good in their own unique way, we're adamant that you need to stick to either Under Armor, Adidas or Nike these days. Reebok and all the others just don't really cut it, even at amateur level.
So, we hope we've given you a good overview of what's out there, but remember, if you think wearing a pair of sneakers is going to turn you into an NBA Hall of Famer, you're sadly mistaken.
What's that phrase we keep repeatedly using? Oh yes, that's it. You've gotta have the skillz to pay the billz.
Having a decent pair of shoes, like one of the fine b-ball shoes we've listed above will certainly help you finetune your game, but it won't make you a legend.