Does your wrist lack something? Do you currently own a timepiece of some kind? If you do, perhaps it is time to switch things up a little. If you don't, why don't you? Although quartz watches are highly regarded as more accurate timepieces, there is something a little awe-inspiring about automatic watches for men.
In fact, these watches are good for all genders and sexes. However, at Men's Gear, we care about YOU, the guy. That is not to say we do not care for the better half of the human sex or others. However, it's in our name and we want to live up to it. This is why we want to go over automatic watches for men, just for you.
Ah yes, the intricacy of the design, the skill and workmanship involved. Just the sheer audacity of the perfect some out there have been marvelous to behold. The biggest downside is that automatic watches often seem to be expensive.
We at Men's Gear want to prove, however, that you can find a great automatic watch for less than half a grand. That's right guys, you can get your hands on some truly awesome timepieces to complete your look for under 500 bucks.
Before we do so, there are some questions that we must answer about automatic watches. They seem to be rather important to the people of the world, thus we must discuss them.
What are the Best Brands of Automatic Watches?
The term 'best' is usually relative and often comes down to your opinion. This is especially true with watches and automatic watches for men in particular. What one person considers to be the best, will be different to what another person considers to be best.
That being said, there are brand names that are almost universally agreed to be a cut above the rest. These brands include familiar faces in the world of watches such as the extremely popular and master craftsmen at Tissot in Switzerland, and Japanese timekeeping experts Seiko.
As these two stand out head and shoulders above the others available, there are more individual timepieces by each of these manufacturers than any other. Another brand featured on our list is the American watchmaker Bulova, based in New York City.
Along with these brands, if you're looking for high-quality automatic watches for men, you need to consider brands such as Jack Mason from Texas, TW Steel, and The Netherlands. Another is Orient Watches which until 2007 was actually a separate Japanese watch company that is now a subsidiary of the aforementioned Seiko.
Although the brand name does not always mean quality, it's the same as anything else you can buy these days. When choosing a watch there is often a benefit to choosing one of the more widely known brands. While it is not always the case, the bigger brands tend to make the better watch.
The construction and actual timepiece itself tend to be of a higher quality than the alternative.
That said, be smart when choosing a watch. Simply find the happy medium for your budget where quality and affordability meet.
Quartz vs Automatic Watches?
Another question that is always raised when the subject of watches comes up, particularly concerning those that are automatic. Which is better – quartz or automatic (mechanical) watches? There are many people who are confused by that question because most would consider quartz/battery powered watches to be automatic watches.
However, it's not quite as straightforward as that.
As this is quite a big subject and question within the world of watches, and the one responsible for a lot of debate, to help you understand it better let's break it down a little.
Understanding the Basics
Essentially, there are two main types of watch out there – mechanical (or automatic) and quartz.
Mechanical watches are either self-winding or manual. Self-winding watches feature a spring that is wound automatically by a rotor that turns itself while the wearer moves his or wrist. This is why these kinds of watches are referred to as kinetic or automatic.
With manual mechanical watches, the wearer needs to turn the winder or crown to tighten the watch spring to give the watch 'power' to work. A complete wind of the watch's mainspring generally gives 40 hours of power. However, there are now manual winders available that have a potential power reserve of up to 10 days.
Quartz watches are actually more common, accounting for somewhere in the region of 90% of the watches in the world. These are powered by a quartz crystal vibrates around 33 times in a second. These are then converted by a miniature computer chip into impulses that power a motor.
The motor is in turn powered by a battery which then turns the hands of the watch. Clever stuff!
Accuracy and Craftsmanship
It's almost without argument that quartz watches are considered to be the more accurate type of watch. They even require less maintenance, however, that does not mean that they are best. The skill and craftsmanship that goes into making mechanical watches are often considered to be more honorable and traditional timekeeping worthy of praise.
There is still competition between the biggest names in the mechanical watch field. This is over how to create mechanical movements that are more ingenious and elegant than the last. The rivals utilize a wide array of different features or complications.
Quartz watches are still the most accurate out there and many models have complications that outdo mechanical watches for a more affordable price point. Quartz watches are also comparatively thinner than mechanical ones. This gives watchmakers and designers a lot of freedom.
The argument between mechanical and quartz watches is made even harder to know. A definitive answer is tough to get when you consider the fact that Seiko has developed the Spring Drive watches line. This consists of quartz technology being used to control and maintain mechanical power.
Complications
If you're completely new to watches, you may not know what we even mean by "watch complicatins." This is understandable. However, it's a crucial factor in the debate between automatic and quartz watches. Complications are simply the functions a watch is capable of performing outside of its timekeeping.
During the last 200 years of timepieces, watchmakers have been able to incorporate an amazing variety of different complications onto their watches. Many of these have been used to improve the accuracy and efficiency of their timepieces. Meanwhile, some have merely been added to show off their creative prowess and skills in micro-engineering.
For instance, take the Opera One watch that was masterfully crafted by Grand-Perregaux. This watch has been designed to play operatic songs from popular operas every hour on the hour. The watch design incorporates four miniature chime hammers.
Other common complications often featured in watches include things like calendars. This is on top of other useful metrics, some more than others. Things like steps taken and even heart rate.
Now let's look at the 14 automatic watches that we have chosen here at Men's Gear. We chose th best among the multitude available. On top of this, all come in at a wallet-friendly price of under 500 bucks.
1) Tissot Black Dial Automatic Leather Watch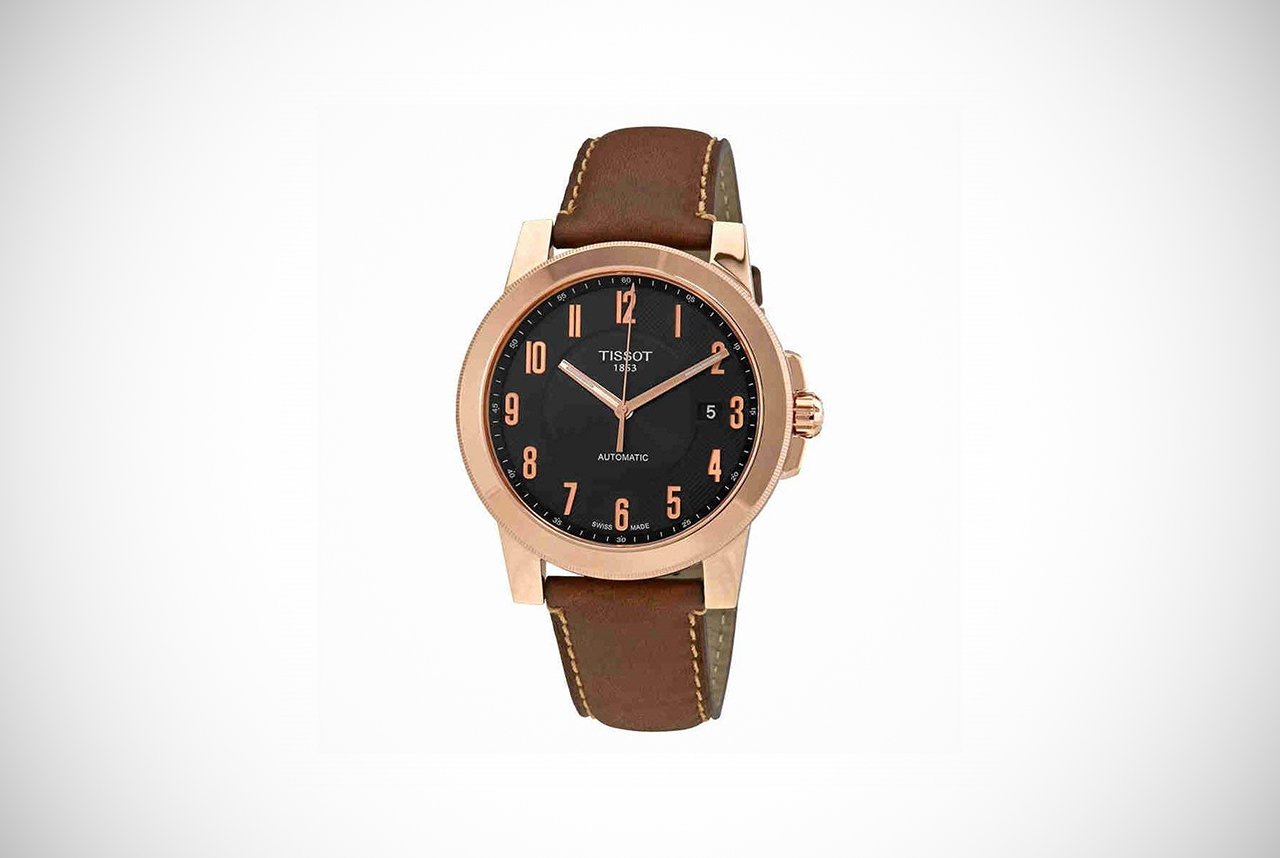 Feast your eyes on this smart and sophisticated timepiece, guys. Simple but elegant, the first on our list is this Gentleman Black Dial automatic watch from the Swiss watchmaking masters at Tissot. The Swiss company obviously have a fine reputation for making beautiful and functional pieces and this one is no exception.
Featuring a stainless-steel bezel or case with a rose-gold-tone to it, this watch has a black dial and hands in rose-gold also. With tiny minute markers etched around the outer rim within the casing, there are Arabic numeric for the hours.
Notable features of this attractive automatic watch include the date that is clearly displayed in the common three o'clock position on the watch, and the fact that it has water resistance of up to 100 meters.
Tissot have ensured that this watch also has scratch resistance in the casing and it comes complete with a robust and stylish brown leather strap. Although it has been stylized as a dress watch, we think it would work equally well as an everyday piece, thanks to its subtle good looks and design.
Considering the modest price tag, we also think it's a steal for the quality and skill that has so obviously gone into its inception.
Check Product Price // Read More Reviews
2) Seiko Men's Prospex Padi Special Edition Watch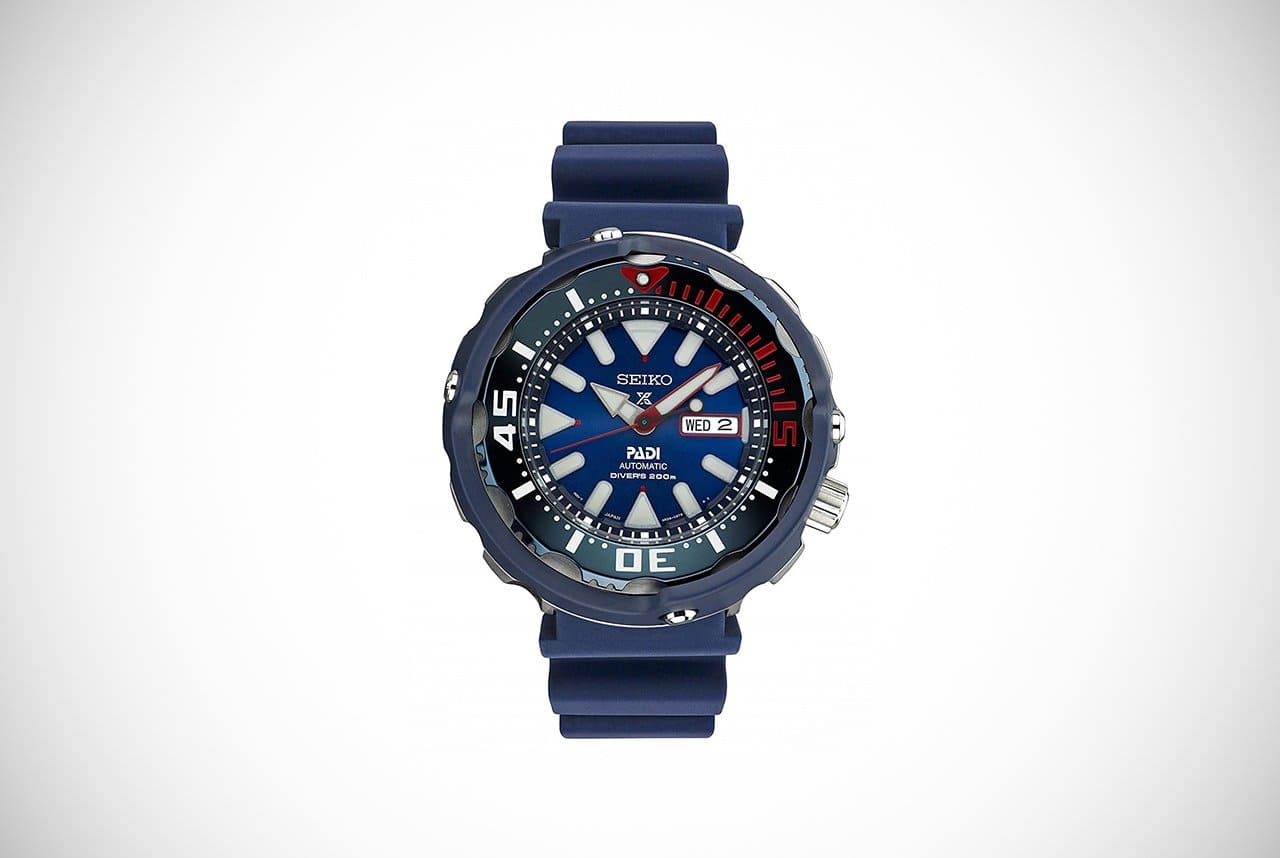 This conspicuous, audacious, but casual automatic watch is the first from the Japanese watchmaking wizards at Seiko. The Men's Prospex Padi Special Edition is an automatic diver watch, that although it does stick out like a sore thumb, is surprisingly comfortable.
This fit is in part thanks to the concave curving of the case's middle section, which eats into the back of the watch furiously, but also down to the accordion-style strap.
The accordion-style strap is not a new invention, but it is utilized to devastating effect here, as it contracts and expands so that it always sits comfortably around the wrist, no matter if it is sitting directly against skin or on a diving suit.
Seiko are known for their advancements in the world of diving watches, and they enjoy the prominence of their developments becoming global standards. The wristband is one example of this, while the helium-insulation of the watch's case is another.
The curious thing about this watch, that really shows how the Japanese company sees its dive watches, is the price tag and the fact they're aligned with the professional diver training organization, PADI. Unlike their fashion watches, which are considered as dressy accessories, their diver watches are considered by the company to be professional items.
By far the most noteworthy feature of this professional watch is the stunning blue bezel. This features almost of all of the markings for 60 minutes and turns into a secondary, oddly-shaped ring at the top of the case. The second ring is constructed from ceramic and is there to increase the piece's ability to handle impacts and avoids the accidental repositioning of the bevel.
A must-have for professional divers.
Check Product Price // Read More Reviews
3) Jack Mason Men's Automatic Watch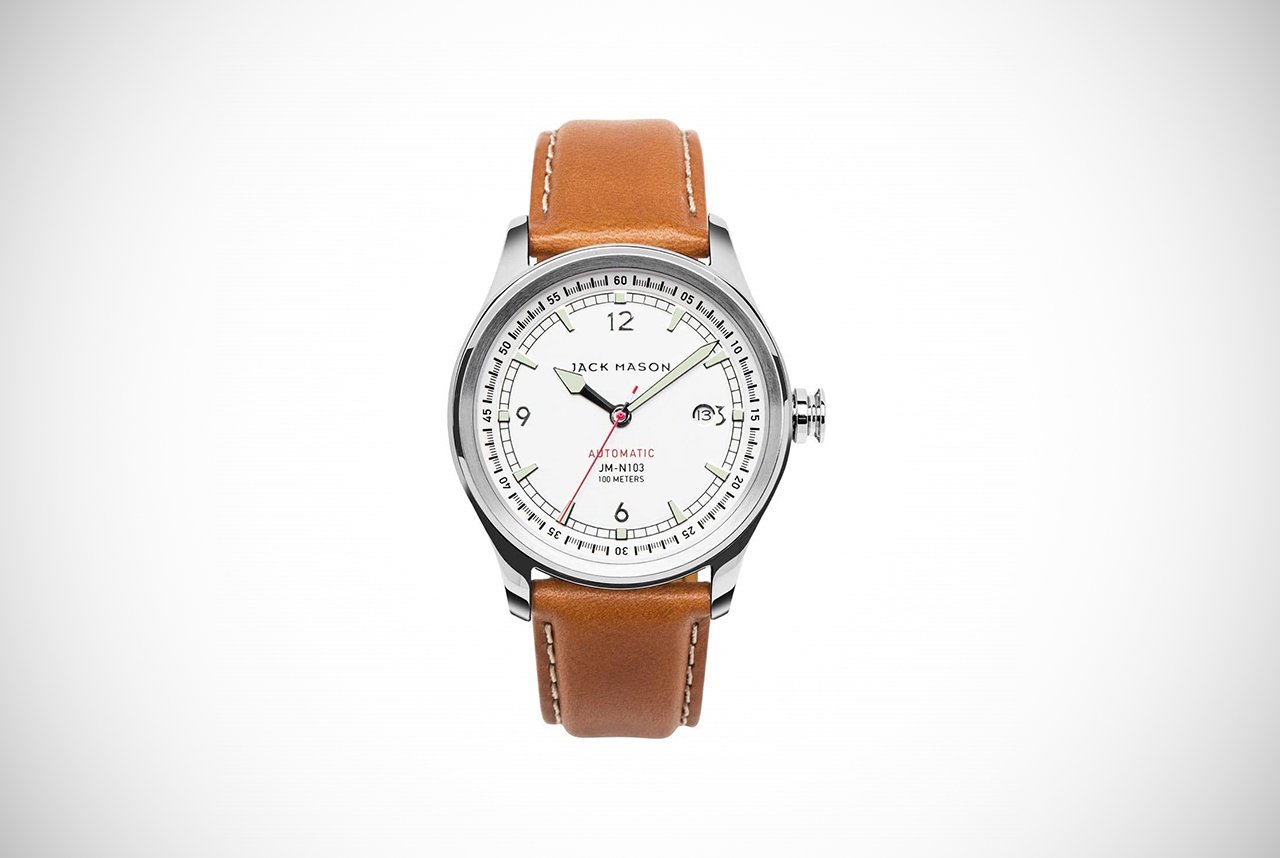 The next watch on our list is this men's nautical-style automatic watch from the Dallas, Texas-based manufacturer Jack Mason. The company's Nautical Chronograph Collection matches clever, functional and useful instrumental design with intricate detailing and smart colors.
The already readable dial on this Jack Mason piece is enhanced somewhat thanks to the SuperLuminova applied indices and markings. Although a modern nautical timekeeping device, it pays homage to the navigation tools of old with its 42mm polished casing.
Although it comes fitted with a beautiful tan-toned Italian leather wrist strap, this can easily be removed and switched with a more water-resistant alternative that is better suited to sea dwelling.
There is a blink and you might miss it tribute paid to the Texas Flag and the company's origins in the form of the second hand's red, white and blue markings. While, the crown has a Lonestar etching for similar reasons. The back of the casing has a further tribute to the nautical influence of the collection the piece is part of in the form of a ship's steering wheel etching and it has water resistance up to 100 meters.
Stylish and affordable, this timepiece will especially appeal to fishermen and guys who either spend a lot of time at sea or have a strong affinity to the watery roads.
Check Product Price // Read More Reviews
4) Seiko Prospex Men's Watch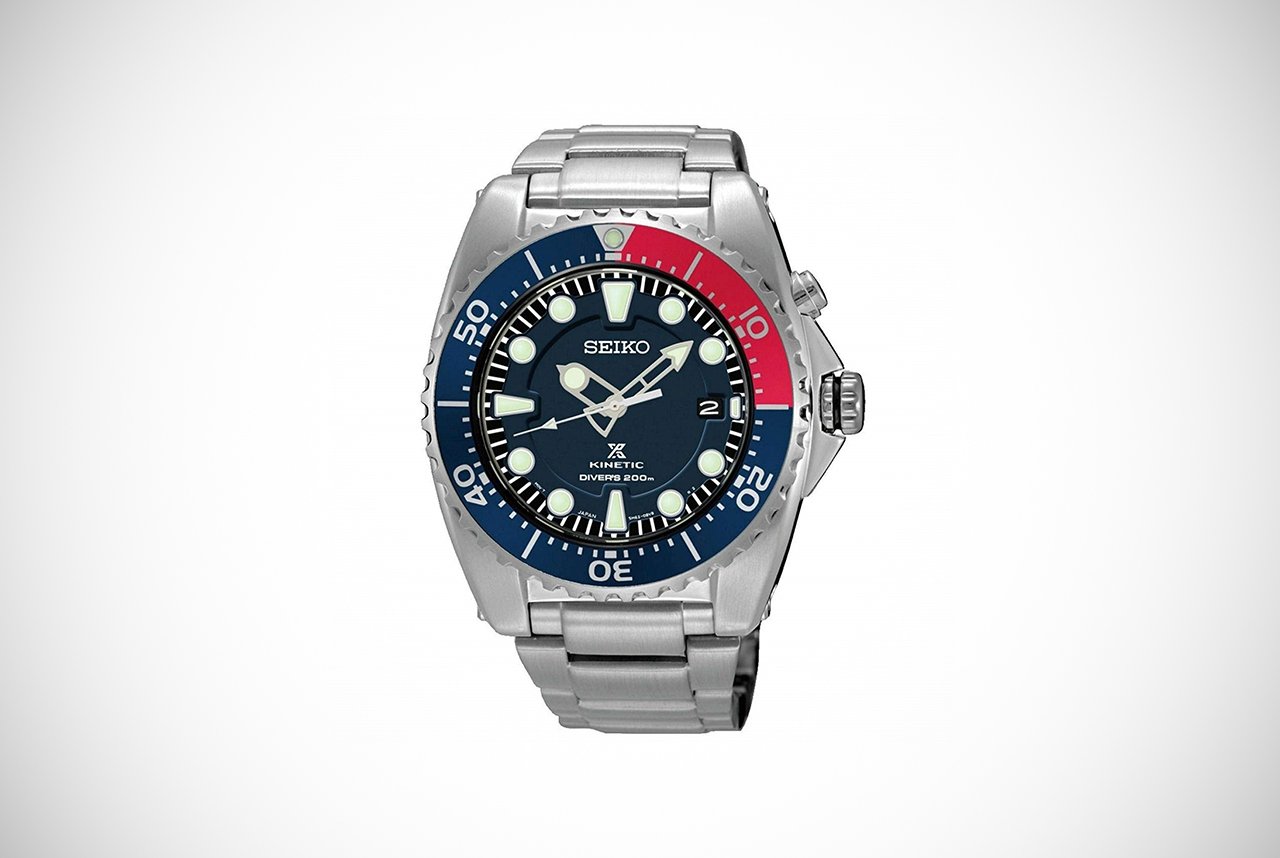 The second entry from Seiko on our list is also the second in the Prospex range of sports watches from the Japanese timepiece masters. If ever there was an example of their rightful place in watchmaking history, particularly when it comes to professional standard diving watches, this was it.
It features the same 5M82 caliber that was used in the incredibly popular SKA369P1 model, this watch has a day function and a visible power reserve that is accessed easily by simply pushing a button at the top right. Housed inside a beautifully-crafted, solid stainless-steel casing, the watch has a unidirectional rotating bezel in blue and red, that matches perfectly with the stunning blue dial.
As this is a professional diving watch and not a mere dress watch, it features a high level of water resistance level of up to 200 meters. It is completed with a durable and comfortable stainless-steel strap that features an extension for attaching it securely to your wetsuit and a special fold over clasp for deployment.
If you are looking at investing in a diver's watch because you want to actually use it when you dive, you should always look to Seiko first. At well under the 500 bucks mark, as per the rules of engagement for this post, this is an ideal way to get the quality of workmanship and robust construction you need for taking it under water with you.
Check Product Price // Read More Reviews
5) Bulova Men's Automatic Casual Watch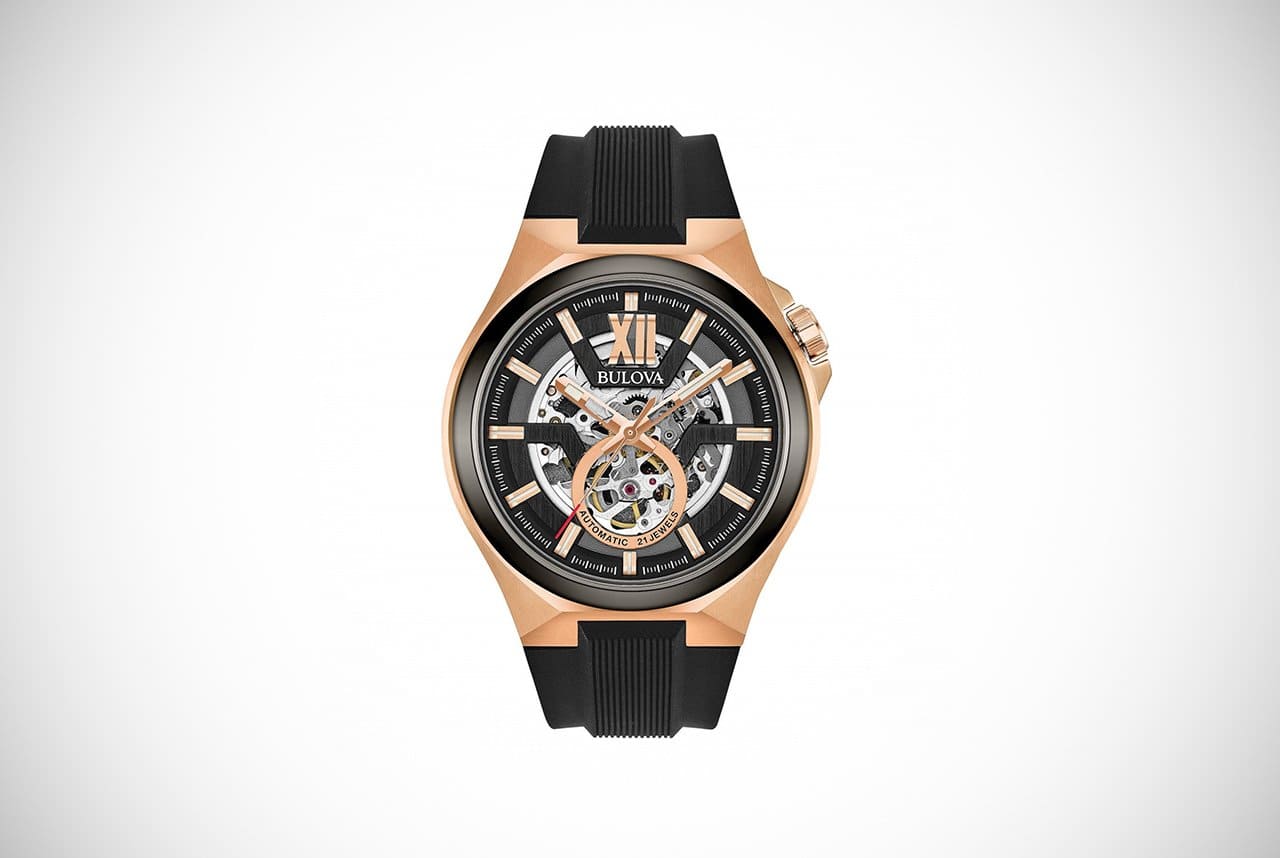 Bulova are an American company based in New York that have been designing and constructing watches since 1875 when Joseph Bulova first opened a store in Maiden Lane. Since then, Bulova have remained true to their legacy. This particular piece is from the company's Automatic collection.
Featuring a new Sport style, it has a gun stainless steel casing with rose gold toning around the edges, with further golf-tone accents, a black dial and black inner dial ring. It features sapphire glass for a scratch resistant display and as an extension of the automatic operation, it includes a power reserve of 40 hours. Although it is not designed for anything too intensive it does feature water resistance of up to 100 meters and is competed by a smart matte-black bracelet strap in silicone.
Bulova have proven time and time again that they deserve to be mentioned with the instantly more memorable bigger names in the marketplace. You know when you buy a Bulova timepiece, like this one, that you are not only investing in a watch, but paying for a piece of history.
Check Product Price // Read More Reviews
6) Seiko Divers Automatic Deep Blue Dial Men's Watch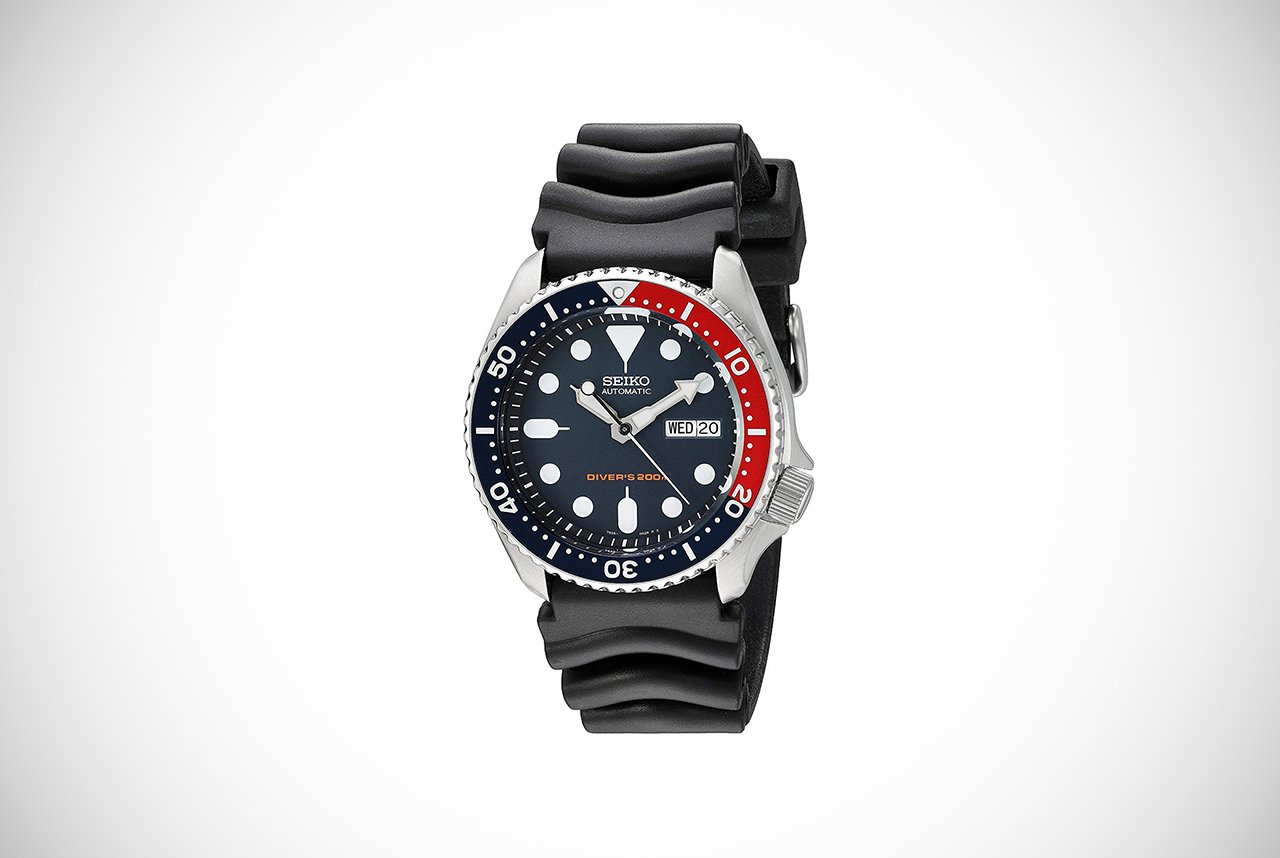 We are back in Japan for yet another example of Seiko's dominance and prowess in the world of professional diving watches with the Divers Automatic Deep Blue Dial Men's Watch.
At this juncture, it is worth highlighting the fact that finding a handful, let alone 14 great quality automatic watches can be a challenge these days.
It is reminiscent of the classic Seamaster from Omega and is ideal if you're looking for an everyday watch that will be your timekeeping companion, even at 200 meters. One of Seiko's major strengths, as we touched on in a previous review is the fact that they are able to produce affordable pieces that have all the technical functionality of higher priced items. It's this commitment to ensuring their professional sports watches are at available prices that we find admirable.
This has a bezel with the Pepsi nickname, similar to the Rolex, because of the blue and red that emulates, accidentally, the colors of the other famous cola brand. the time markings and large hands are easy to see and read and even more so when visibility is poor thanks to the use of Lumibrite, Seiko's take on Luminova, that covers the indices and hands.
Check Product Price // Read More Reviews
7) Bulova Men's Accu Swiss Automatic Casual Watch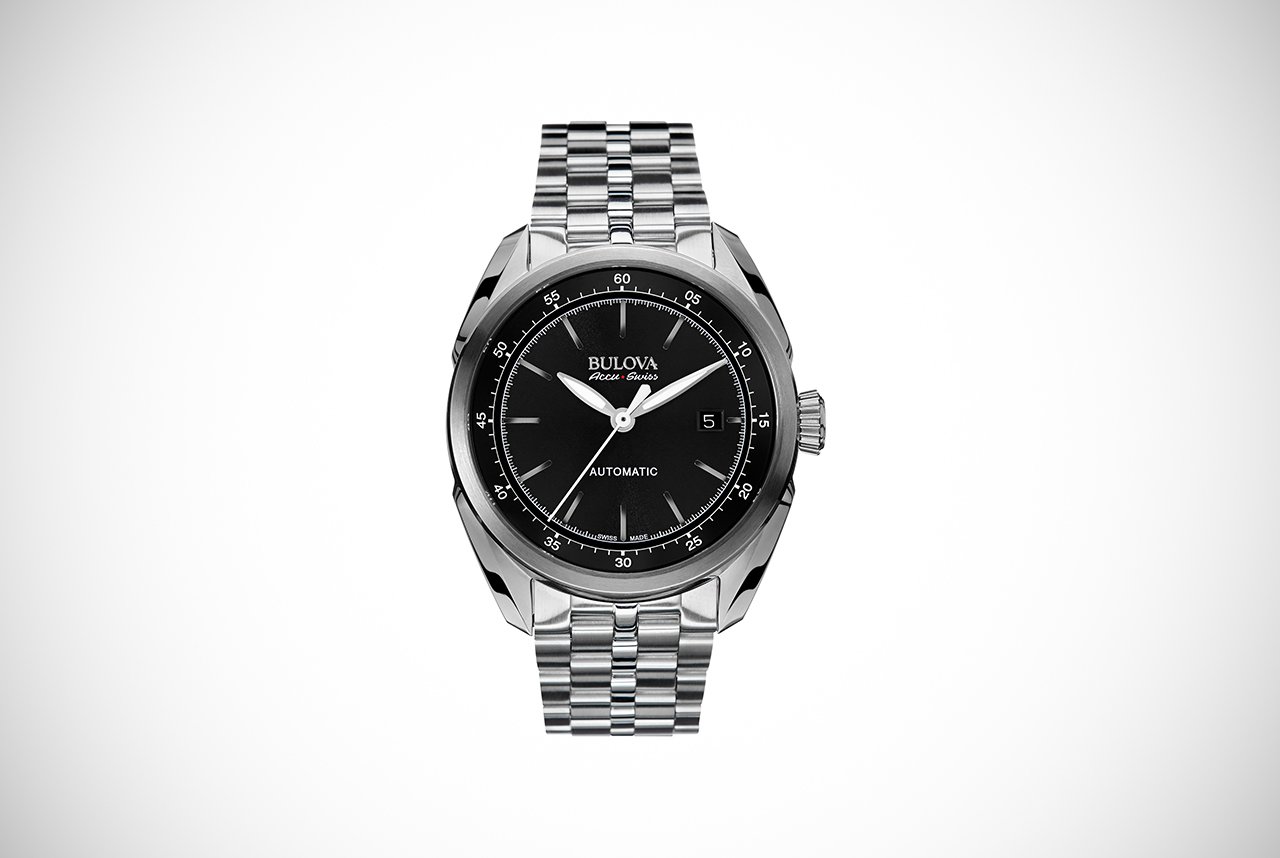 Bulova's next entry onto our fascinating list of automatic watches is this one from the Precisionist Collection. It is built around the proprietary Precisionist accuracy that Bulova are known for and is an advanced chronograph that provides 1/1000-second precision over 12 hours.
Beneath the robust sapphire crystal protective covering over the case, there is a black sunray dial with a striking yellow second hand that constantly sweeps around, and luminous coated markers, hour and minute hands. You'll also find the standard calendar window and it benefits from having a tachymeter onboard too.
With its mixture of the aforementioned Precisionist technology and the torsional resonator movement, this is thought to be one of the most accurate automatic watches available and is at least three times as accurate as a quartz watch. If lab results are to be believed.
Check Product Price // Read More Reviews
8) Nedss Tritium Men's Automatic Watch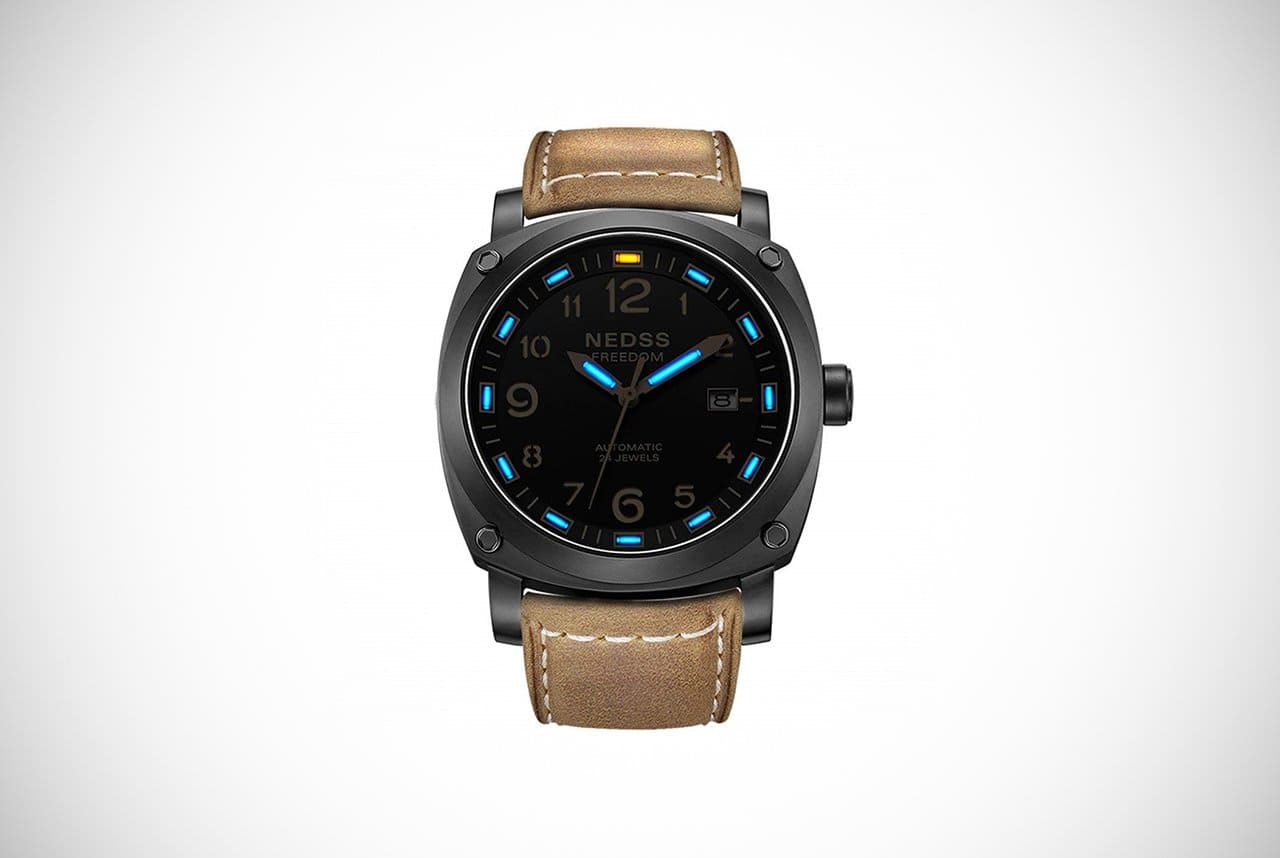 While it's fair to say that Nedss is not nearly as popular, reputable or well-known a brand as the other watch manufacturers on this list, we still think this Tritium Men's military-style automatic watch from the company deserves to be included in the mix on our list.
The Tritium refers to the luminous gas used to make the markings around the edge of the dial glow along with the hour and minute hand. It may be a helluva lot simpler in design, but it has all you could want from a simple, but well-performing mechanical watch.
The casing is comprised of 316L stainless-steel and is able to withstand submersion up to 100 meters. The subtle but classy design is finished with a genuine leather strap that is just as robust as it is good looking.
Check Product Price // Read More Reviews
9) Tissot Men's V8 Swissmatic Automatic Watch
Among the plethora of new watches released by Tissot this year, many of which that have made it onto our fun little list, one that particularly stands out is the cool named V8 Swissmatic. As you'd imagine with a name like V8 there is a decidedly, albeit subtle, automotive theme to this time and date piece.
It utilizes the company's Swissmatic movement and takes its foundation from the Swatch Sistem51 model, making it easy for the Swiss watchmakers to release it for a very reasonable ticket price.
One of the big noteworthy points about this watch is the movement actually, because if you were to take it off after a week of work and day to day activities because you wanted to wear something else over the weekend, you could in theory just slip it back on and it would still be running time accurately.
Check Product Price // Read More Reviews
10) Technomarine 'Manta' Automatic Watch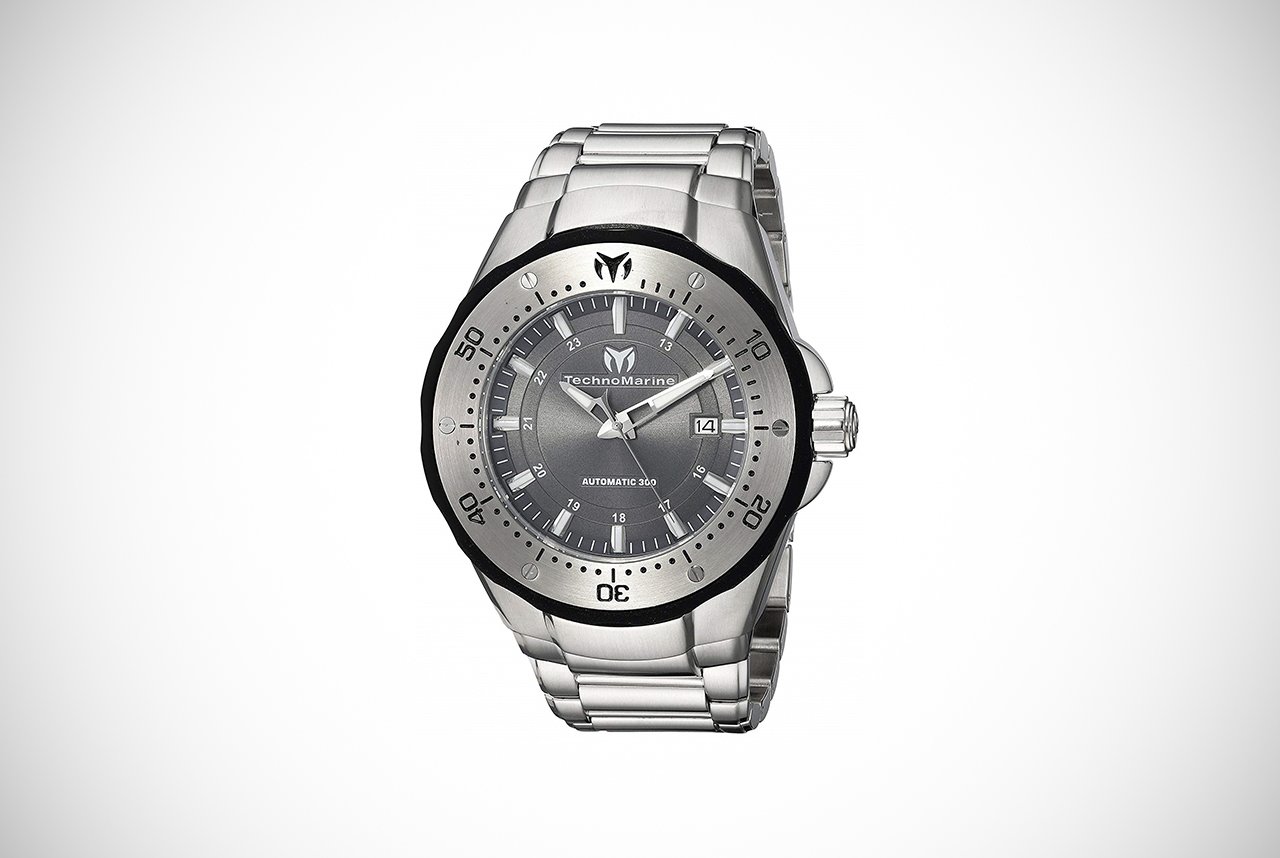 Another lesser known brand, Technomarine are still worthy of a place on our list thanks to this Manta automatic stainless-steel watch. Especially as it is at a much lower price point than the other watches on this list.
With a 48mm stainless-steel casing and flame-fusion crystal for scratch and shatter proofing, the charcoal dial has silver-toned luminous markers that are incredibly easy to read, even in low light and a clearly marked date display too.
If all of the above sounds par the course for the price point and style of timepiece, the really exciting part is just how much this piece lives up to its makers name. With 300 meters water resistance this is the perfect wrist companion for all serious and professional water-based activities. So, whether you're looking to hit the surf in Hawaii, jet-ski around the West Coast or are a marine-biologist in the Everglades, this is a great choice.
Though it lacks the flair and reputation of others we have spoken of, it does what it says on the tin. Ideal for a scuba-diving instructor with an interest in fine watches.
Check Product Price // Read More Reviews
11) TW Steel Men's Canteen Bracelet Automatic Watch
Although we have only featured this brand once on this list, TW Steel is a highly reputable Dutch timepiece manufacturer that is worth noting. Not least of all is this particular watch notable because of its incredibly lightweight design. At just 6.08-ounces it is the lightest on the list.
When you figure in the fact that it is powered using a very accurate and reputable movement from Seiko, the NH35 and utilizes 24 jewels, you know you're onto a good thing for the price point. Rose gold tones are often favored in these kinds of watches.  TW Steel use it too to create a striking and aesthetically appealing effect by just having the coloring on the hands in luminous paint, along with the markers and date display to help the important numbers stand out against the classy  black dial.
It is more than just a stylish and good-looking watch though and has a sapphire-coating on the casing to provide reinforced protection against minerals, dirt and other debris. Furthermore, it is also capable of withstanding up to 100 meters of water. So, although it may not be suited to scuba diving or anything particularly professional or serious involving water, it will stand up against more than the average light splashes.
Check Product Price // Read More Reviews
12) Orient 2nd Generation Bambino Version I Watch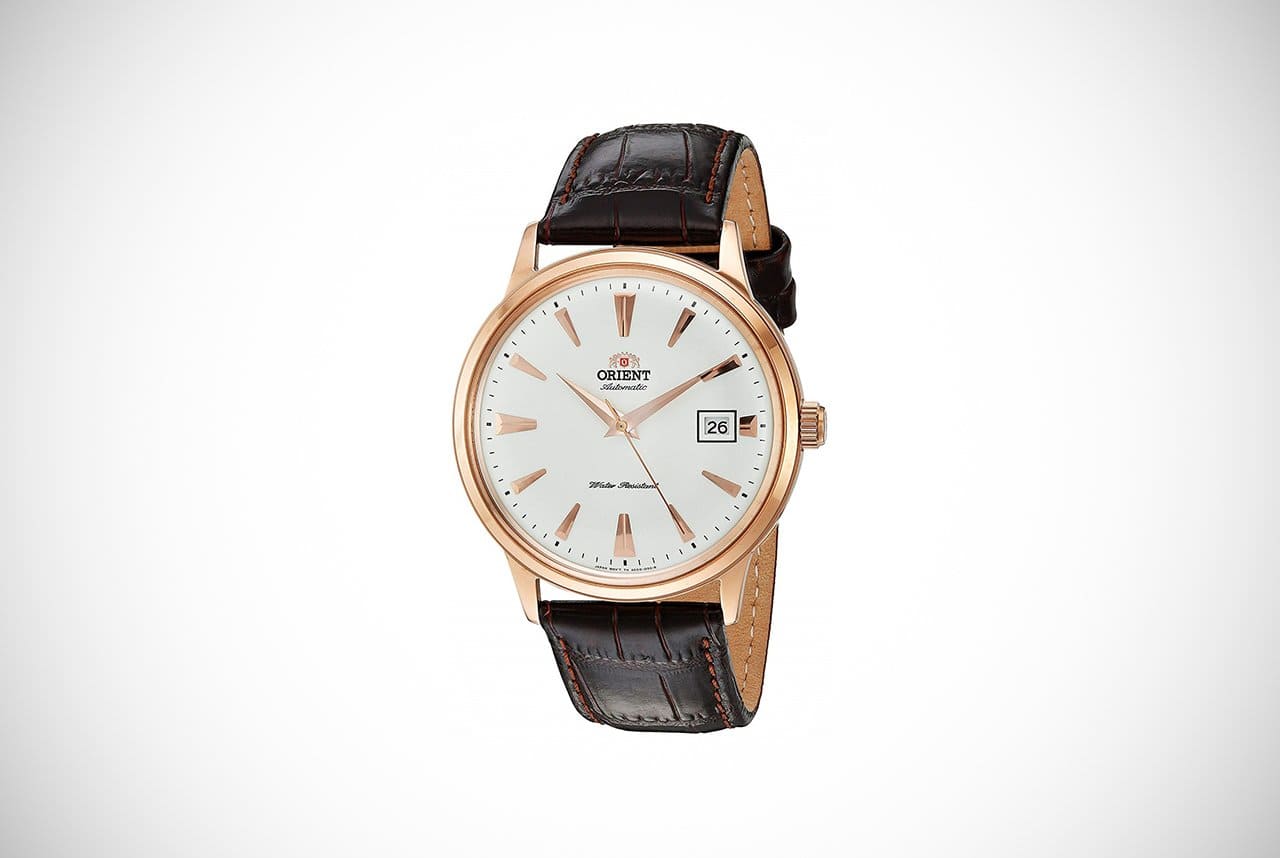 Another low-priced model on our list, we are actually surprised at how low the price point is for this beautiful looking piece. It may not have the drama or complications higher end models on the list, but it does look stunning and has a lot of the core features you want from an automatic movement dress watch.
Manufactured by Orient, a Japanese watchmaker that have been making watches for some time now- 65 years in fact – this is a 2nd generation Bambino model. It still has the two things that stood out about the original and all others in the range, the domed dial and domed crystal.
The dial is sunburst, light and metallic and has dauphine hands and polished hour markers, with the date sitting where you'd expect it at the three o'clock marking. One of the improvements that has been made to the Bambino for this 2nd generation is that the F6724 movement has been used to provide an even more accurate and versatile timepiece.
Check Product Price // Read More Reviews
13) Tissot PRS 516 Automatic Watch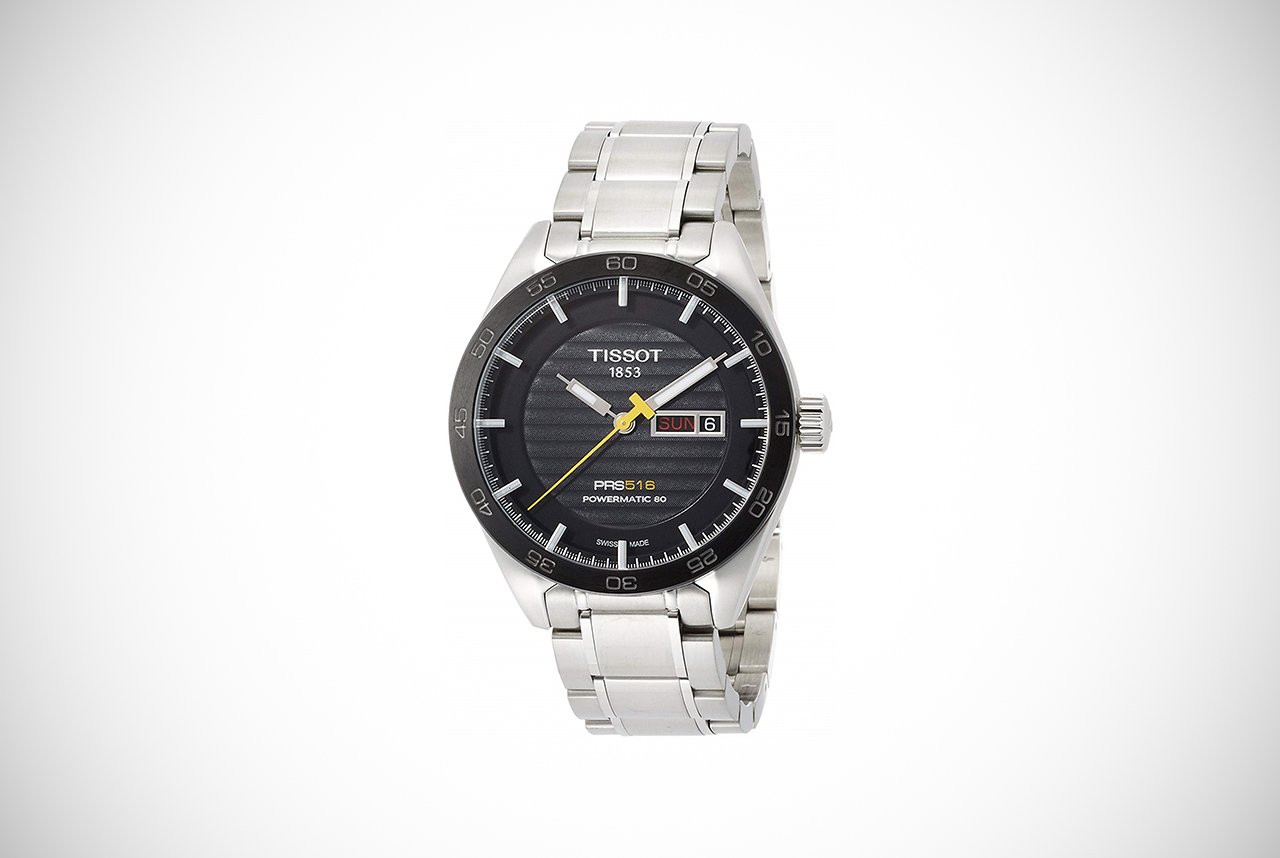 The last Tissot automatic watch on our list is this model that uses the Tissot Calibre Powermatic 80 automatic movement. The Swiss masters have made another high functioning automatic watch that benefits from a much lighter construction and design.
Other than the 8-ounce weight, it's a fairly straightforward, no-thrills automatic watch made to the same level of craftsmanship and micro-engineering mastery that the Swiss watchmakers are famous for.
Just don't buy this if you intend on being very active in and around the water, as it is only designed to cope with 100 meters of the blue stuff.  However, if you are looking for an elegant timepiece made by watchmakers that really know what they are doing and have a good reputation within the industry, then this might be the one for you.
Check Product Price // Read More Reviews
14) Fossil Men's ME3039 Dean Automatic Watch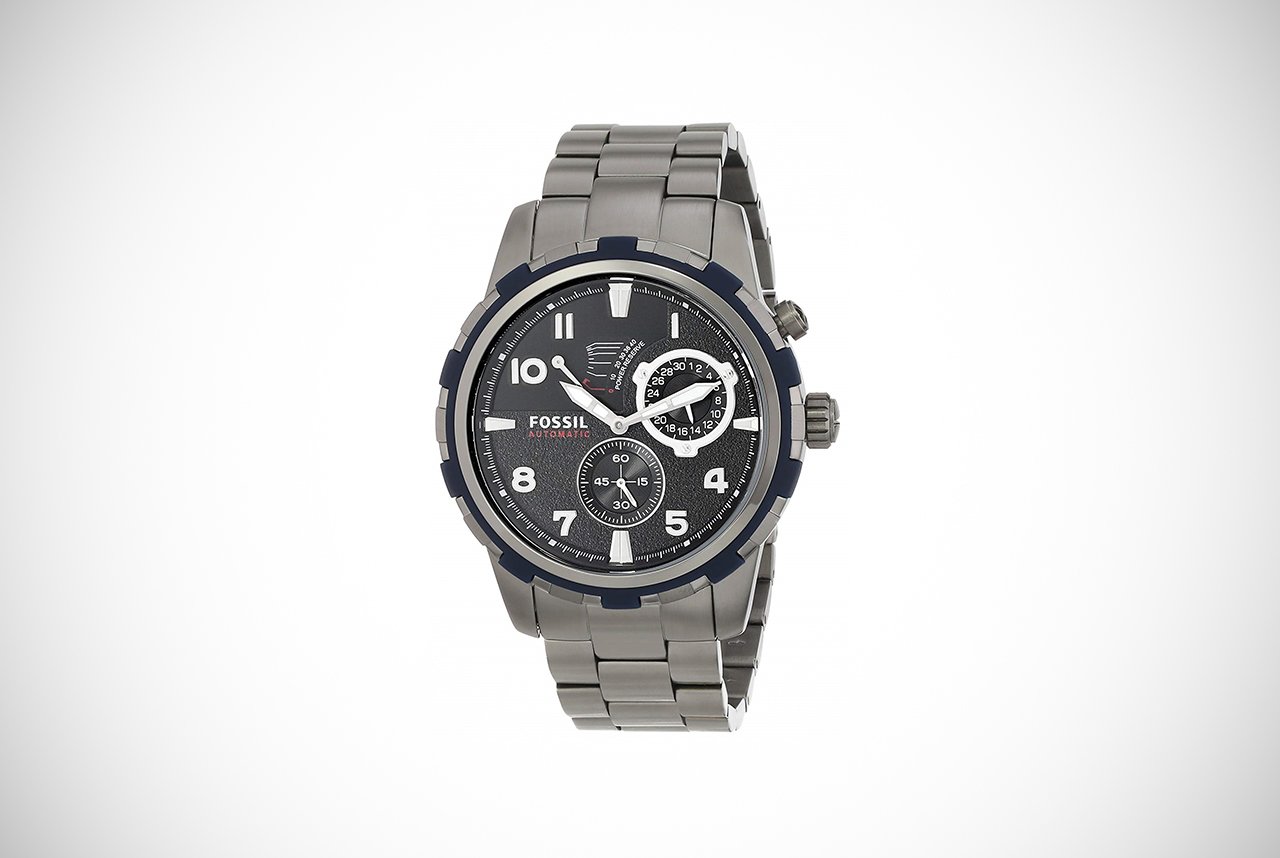 The last watch on our list is this stylish and highly functional piece from Fossil. Although it may only have water resistance of up to 50 meters, it is still a watch that looks like it means business. With the main dial, it also features two smaller dials, one that measures 30 minutes and other measuring an hour, for greater accuracy.
With its stainless-steel casing and bracelet this is a sturdy construction from the long-running watchmaker that has been in business for a long time, having made something in the region of 500 different models at least. Along with the watches, Fossil are also known for their accessories, including wallets and other related items.
With that in mind, though this watch may not have quite the technical detail or the complications of others on this list and only have a relatively low water resistance level, it's still a great piece to wear as a dress or every day watch.
Check Product Price // Read More Reviews
GIFT YOUR WRIST
We'd love to stay and chat about automatic watches all day with you guys, but by now you should be armed with all the relevant information you need to make sound purchases. We've looked at exactly what the difference is between automatic or mechanical watches when compared to the more common quartz variety, as well as looking briefly at what the main automatic watch brands are at the moment.
The exciting thing about mechanical or automatic watches, we feel, is the fact that they represent an age-old skill that has continued down into our modern world. So, while activity trackers, smart watches and other technological masterpieces are pushing our understand about what is capable in small and compact-sized accessories, there are still watchmakers out there doing things the old way.
Sure, when compared to quartz watches, automatic models may be more expensive and depending on the brand and model you invest in, may not be quite as accurate. However, you know that the intricate mechanics underneath the bezel and casing that help that piece on your wrist keep you in good time, has been designed and crafted by a master craftsman.
This is why so many models feature windows in the base so that you can peer at the some of the masterful clockwork wizardry behind it. We don't use the term wizardry lightly, because let's face it, the individuals responsible for crafting these beautiful timepieces are something special. Working with incredibly small end products, requires a lot of gentle and precise micro-engineering.
We hope you've had as much of a blast reading this as we did writing it, and that once you've pulled your jaw off the floor you have a better idea of which automatic watch from the selection released this year you would like.
No matter which you decide upon, we're sure you will find a timepiece you will fall in love with.