D
o you want to really see the rubber burn up the track as you speed around in that sweet 1978 Porsche on Forza or do want to see the blood (or ink, we haven't forgotten you, Splatoon fans) splatter as you take down your enemies? Maybe you're just looking to see what playing your favorite game, whether it's Destiny, COD or Battlefield in the crisp quality you only get from the crisp and true high definition of 4K? Whatever you're looking to do, dude, you need a 4K gaming monitor.
There's been a lot of excitement in recent months as the console world began switching over to 4K gaming, however, PC gamers have been able to play games through monitors serving a quality 3840 x 2160 for quite a while now. You simply needed a high-performance GPU and a monitor compatible with the resolution necessary.
While 4K gaming monitors may have been available for several years, they were incredibly expensive and were not considered to be particularly good value. In the last 12 months though, major changes have occurred that has seen the once steep prices dropping on these gaming monitors and the introduction of technology that is important to gamers who know what they want and why.
We're talking quicker pixel response times, more diverse refresh rates. 4k gaming monitors are still a pricey investment, but because the visual quality has improved a lot, they've become better value for money.
So, if you're in the market for a 4k gaming monitor, but don't fancy searching through the hundreds available to try and find the best one, let us do the hard work for you. In this post we 'll take you through what we feel are the best 4k monitors available right now.
Before we look at our shortlisted selection though, it's worth discussing some of the questions that many of you often have about gaming monitors.
What Common Problems Do External Gaming Monitors Suffer From?
By far the most common problem external gaming monitors suffer from is when the timing of your graphics card drawing a frame and your monitor refreshing to display it don't match up.
This causes tearing or frames that are only partially-drawn and visible on the screen.
For example, if you're using a gaming monitor that only has a 60Hz refresh rate and the GPU you're using missed drawing a frame in the necessary 1/60thh of a second, there will be a drop to 30fps, instead of the usual 57fps, until the monitor refreshes again.
Fortunately, technology such as AMD FreeSync and NVIDIA G-Sync help to counter these issues by eliminating the difference between the GPU in your computer or console frame rate and the monitor's refresh rate, so that you do not experience stuttering or tearing.
A Quick Guide on Gaming Monitor Jargon 
Although it can be fun and make you feel cool to use jargon, if you're not familiar with what this and that term means, you feel left out of the party. When it comes to gaming, not just for PCs but consoles too, there is a lot of jargon.
Perhaps you've been fine knowing simply that you can easily connect your Xbox via the HDMI connection port on your run-of-the-mill LCD TV in the past. What if you want to move on with the rest of the world and invest in one of the 4K gaming monitors we're going to discuss in this post? It may mean you have to learn some new phrases.
If you don't understand the jargon, more is at stake than not being at the same party as everyone else. When you don't understand jargon, particularly when it's related to technology like 4K gaming monitors, you'll find it harder to determine what's a good buy and what's not such a good buy.
Without a decent amount of information and understanding, therefore, you can make poor buying decisions and potentially waste money on systems and, in this situation, monitors that aren't what you need or compatible with your current gaming systems.
What is 4K?
There is a lot of misunderstanding over what 4K means, in terms of it being used as a name for the image technology and the visuals you get as a result. Simply put, 4K is the horizontal screen display resolution and is so-called because it consists of approximately 4,000 pixels.
The resolution is normally 3,840 on the horizontal and 2,160 on the vertical. The resulting display, therefore, has a resolution that is around 4 times higher than that of the traditional 1080p that is commonly used.
What Is UHD?
UHD is an abbreviation for Ultra High Definition. Although they are often banded around and considered to be one and the same thing, there are differences between 4K and UHD. This is where it gets interesting because 4K in its truest form has a resolution of 4096 x 2160, but this was first used in cinemas. UHD was normally the term given to the 3840 x 2160 resolution that people normally associate with 4K.
While this may be a little confusing, in general terms for you and I there is virtually no difference.
What Is Refresh Rate?
A TV or gaming monitor's refresh rate is the highest number of times the image being transmitted to the screen can be drawn or refreshed every second. This is measured in Hertz. You may also hear of the refresh rate being referred to as the vertical frequency, frequency, horizontal scan rate or simply the scan rate.
What is DisplayPort?
DisplayPort is a type of interface used to connect to digital displays such as computer gaming monitors. VESA (Video Electronics Standards Association) developed the high-performance interface as a replacement for older display modes including DVI and VGA.
DisplayPort benefits from using a technology similar to Ethernet and USB connections, transmitting packetized data. It's an extensible interface, is capable of working with higher resolutions than the other display modes noted above and is similar to HDMI in that it can simultaneously and individually transmit both audio and video data.
What Are the Best Gaming Monitor Brands?
As there are so many different brands and models out there in the world of gaming monitors, the above question is worth asking. For many, the answer won't necessarily be surprising, as Samsung and LG (as they do in the field of televisions and other electronic gadgets and devices) lead the gaming monitor industry.
That's not to say they are the only choices, because the computer giants Dell, Acer and Asus are also incredibly popular brands of 4K gaming monitors. Dell has a lot of history creating gaming computers that gamers still rant and rave about today.
While it's a similar story with Acer and ASUS, it's not a mere coincidence that there are several Asus gaming monitors featured on our list and only one apiece for Dell and Acer. (We dare you not to fall in love with the Acer Predator, because boy, is that thing a beast!)
BenQ is one of the dominating names in the more high-end, e-sports and professional gaming world. So, it could be that you think their monitors are a bit overkill for your modest setup at home, which is why we only featured one of their moderately priced models.
Although the names we've highlighted are the bigger names in this sector of the industry – now that you know a bit more about what you're looking for and understand the jargon a bit better – there is nothing to stop you invest in a more budget-friendly, less-known branded 4K gaming monitor, if you think it'll meet your needs and requirements.
However, and this is just in our humble opinion, the big-name brands are successful for good reasons; they generally make high quality, high-performance hardware and that is something that can't be ignored.
So, now it's time to dive right in and check out our favorite 4K gaming monitors. We just know you'll want to part with your hard-earned cash for one of these bad boys.
1) Samsung U28E590D (28 Inch)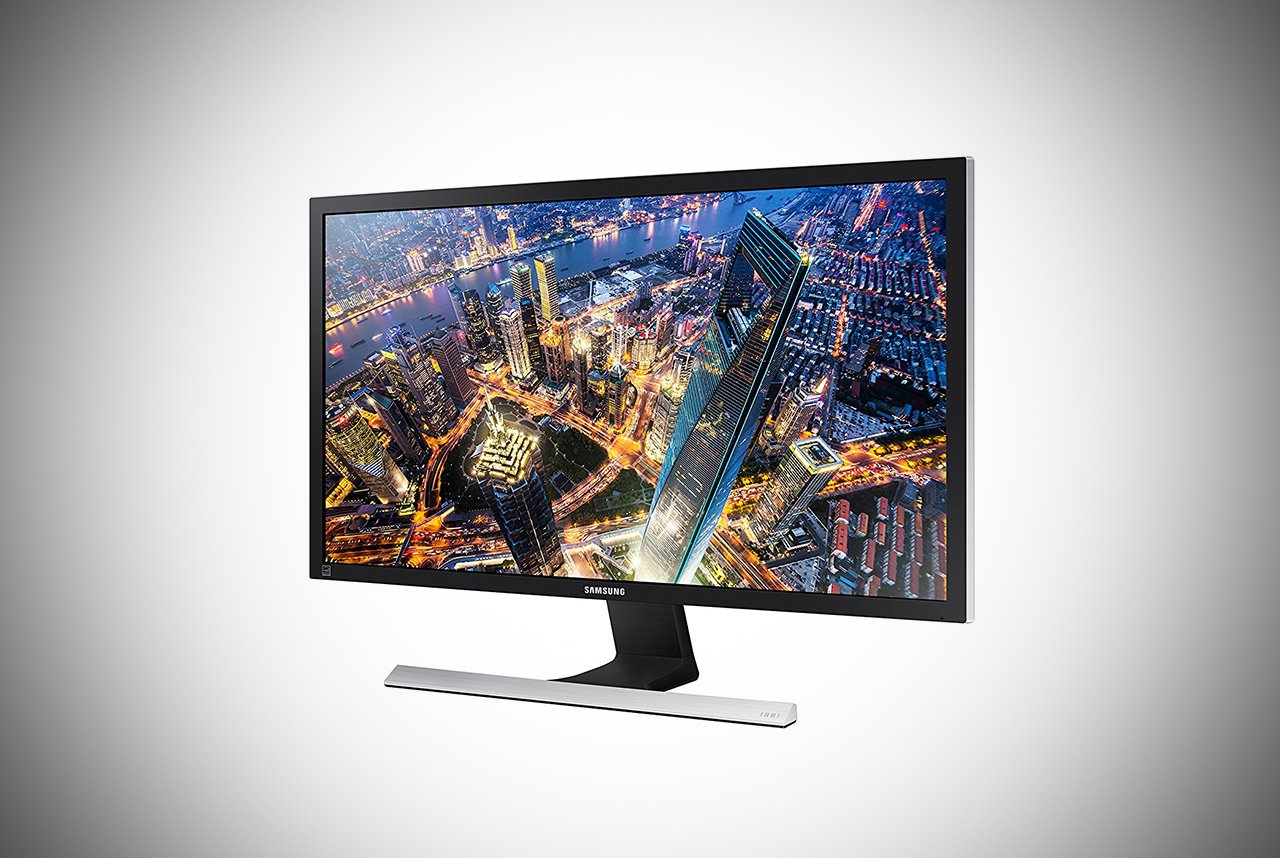 From the South Korean electronics giant Samsung comes the first 4K gaming monitor on our list. The Samsung U28E590D is as slick as you'd imagine from the Seoul-based company that aims to deliver a truly realistic picture quality and claims to offer 8 billion pixels.
It's not just the stunning number of colors that this beauty displays with an ease that is important for gamers, we understand. Which is why we feel you'll appreciate the fact that it features AMD FreeSync, a piece of tech that aims to dramatically reduce any image flickering/stuttering or tearing you're used to experiencing. It achieves this by syncing the refresh rate of the screen to the frame rate of your content, whatever that may be.
As an additional benefit, because this tech is capable of an incredible 1ms response time, you'll enjoy even the fastest action and movement on the screen with far less ghosting, judder or motion blur than before.
Samsung have always produced some of the most gorgeous electronics known to man and this monitor is no different. The aesthetics here though bring with them an emphasis on ensuring your focus is on your gaming and the action on the screen, not on the monitor itself.
At 28-inch it may not be the biggest screen ever, but as a dedicated gaming monitor, this model is perfect. It comes with one DisplayPort input and two HDMI inputs, so you're covered whatever your choice of gaming device is; there is even the easy-to-use PIP 2.0 tech that enables you to multitask several things at the same time through the screen.
Given its budget-friendly price and the tech behind it, we think it's a no-brainer why this monitor made our cut.
Check Product Price // Read More Reviews
2) LG 24UD58-B (24 Inch)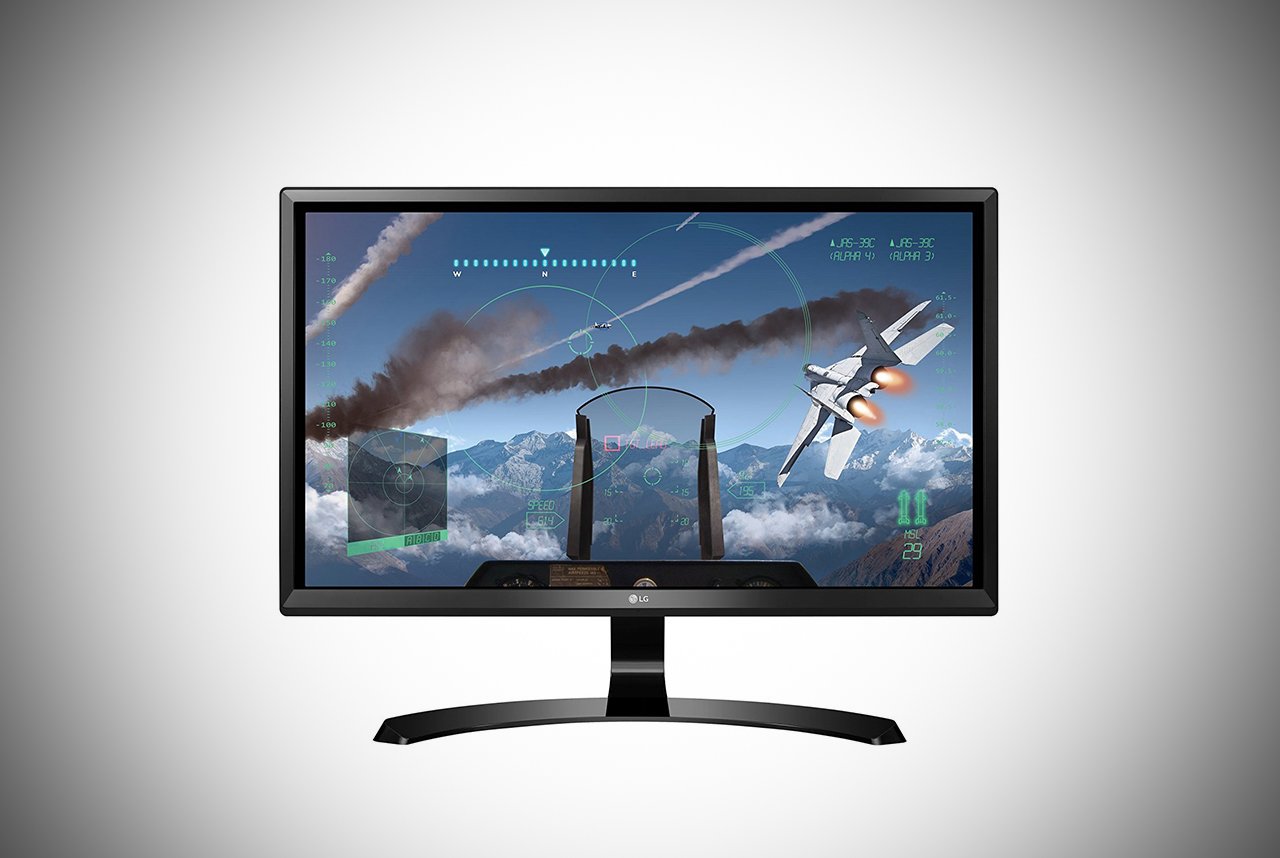 The LG 24UD58-B is a 24-inch 4K gaming monitor that is perfect for all your ultra-high definition gaming needs. Although it's smaller than the model above, it's still capable of producing the range of colors and in fact, LG claim it's capable of producing a resolution of over 8.3 million pixels in total.
It also shares and benefits from the same FreeSync technology that enables you to avoid the stuttering and tearing that can often occur thanks to the discrepancies between a monitor's refresh rate and your GPU frame rate. However, it's important to note that you'll only benefit from FreeSync if you use the DisplayPort connection.
LG have included some additional features just for gamers in this monitor with the option to set the Game Mode to offer a better gaming experience based on the what you're playing. There are three options for this – one RTS mode and two FPS modes.
As if that wasn't enough, you can also use a Black Stabilizer setting that provides enhanced details on darker in-game backgrounds, and the Dynamic Action Sync that gives you the additional guarantee of fluid, smooth action always.
Despite its smaller size, this monitor packs a punch in the value department.
Check Product Price // Read More Reviews
3) Asus VP28UQG (28 Inch)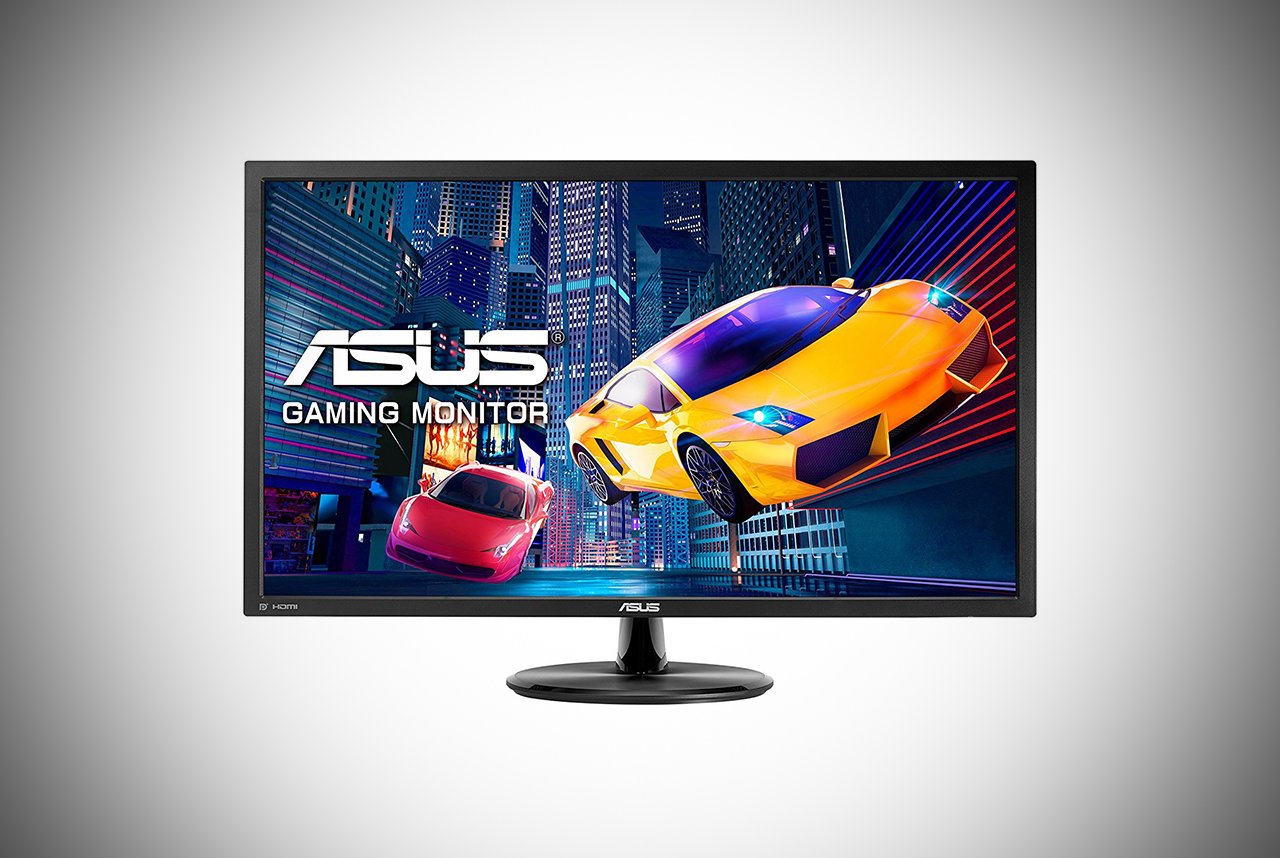 Asus are an electronics brand that has gone from strength to strength in the computing and gaming sector of the market, with many of their items providing the same high spec and performance of the bigger brands, at a fraction of their high-ticket prices.
This Asus 28-inch monitor is in many ways similar to the two above, in that it shares the same 4K resolution and the AMD FreeSync to offer crisp and clear visuals with an impressive response time of 1ms.
So, you're definitely not going to have any of those problems of the past where your GPU and monitor would fail to sync, stopping gameplay momentarily (or costing you strategically-crucial moments like when you and your squadron are about to get the better of your enemies in a sophisticated ambush, only to have everything freeze, alerting your enemies to what you're trying to do).
What additional features have Asus brought to the 4K monitor table then? The Asus Eye Care technology has been implemented in this model to decrease the level of blue light it emits and reduce flickering so that your eyes are not straining too much when you use it.
The Taiwanese company has also provided GameVisual and GamePlus settings to improve the control and performance of colors while you play. A handy 5-way joystick has been built onto the set to enable you to access all the necessary features easily.
Check Product Price // Read More Reviews
4) LG 32UD59-B ( 32 Inch)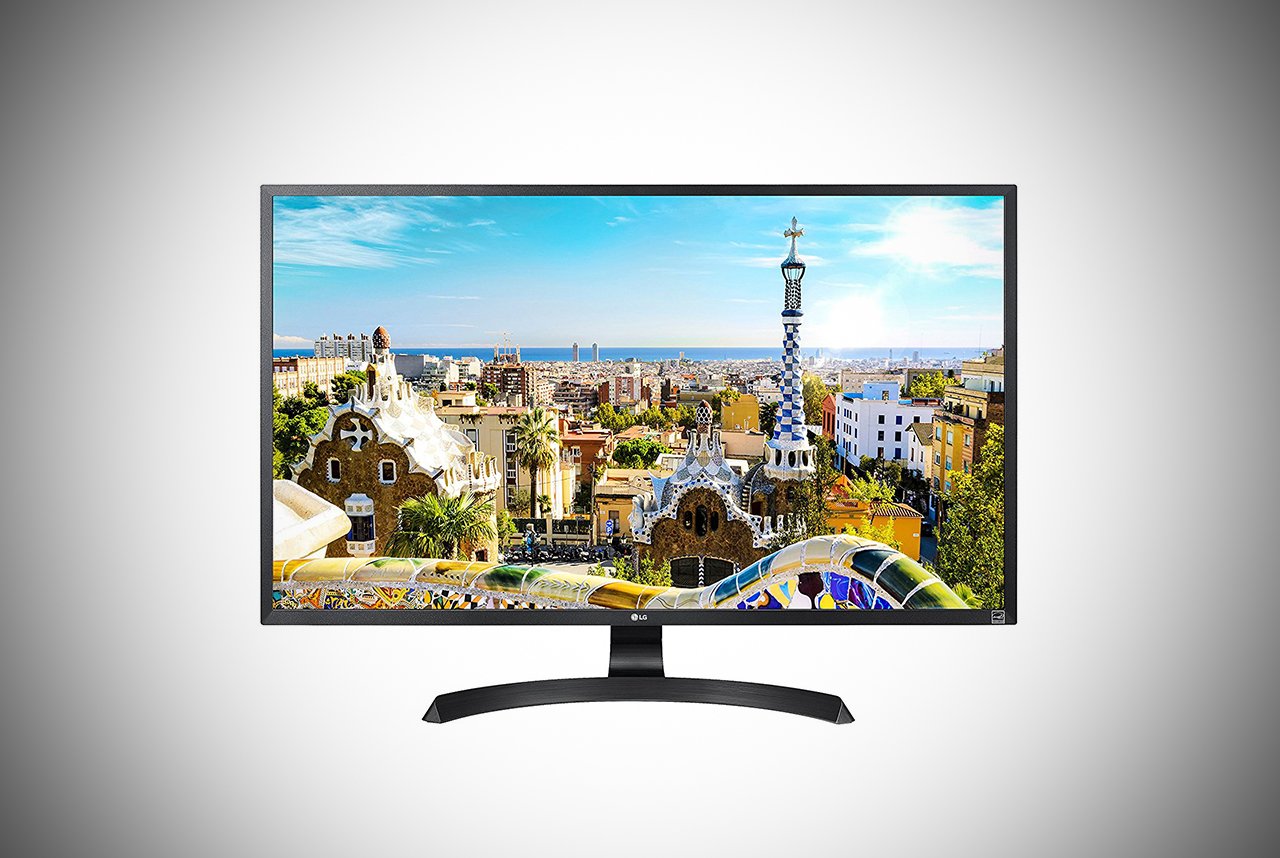 The next LG 4K gaming monitor on our list offers a superior size to the models above with 32″ of viewing real estate. 4K quality visuals really benefit on a wider, more expansive screen such as this one. Aside from the high performance, beautifully vivid resolution of this ultra-high definition monitor, what else have LG managed to squeeze into this model?
There are several key features worth highlighting. For starters, it's fully HDCP 2.2-compatible, so it'll display any 4K content, whether it's from streaming services, UHD Blu-Ray players or games consoles. It also covers the movie industry standard of DCI-P3 by 95% to give you the widest range of colors in your display possible.
As with all LG monitors, and most on this list, it has FreeSync technology to help decrease the amount of stuttering and tearing caused by the discrepancies there often are between monitor refresh rate and GPU frame rate.
Similarly, to the other LG model, it comes with the Black Stabilizer technology that senses when scenes are darker and brightens them up, so you never get taken by surprise by enemies hiding in corners.
Check Product Price // Read More Reviews
5) Dell Ultra P2715Q (27 Inch)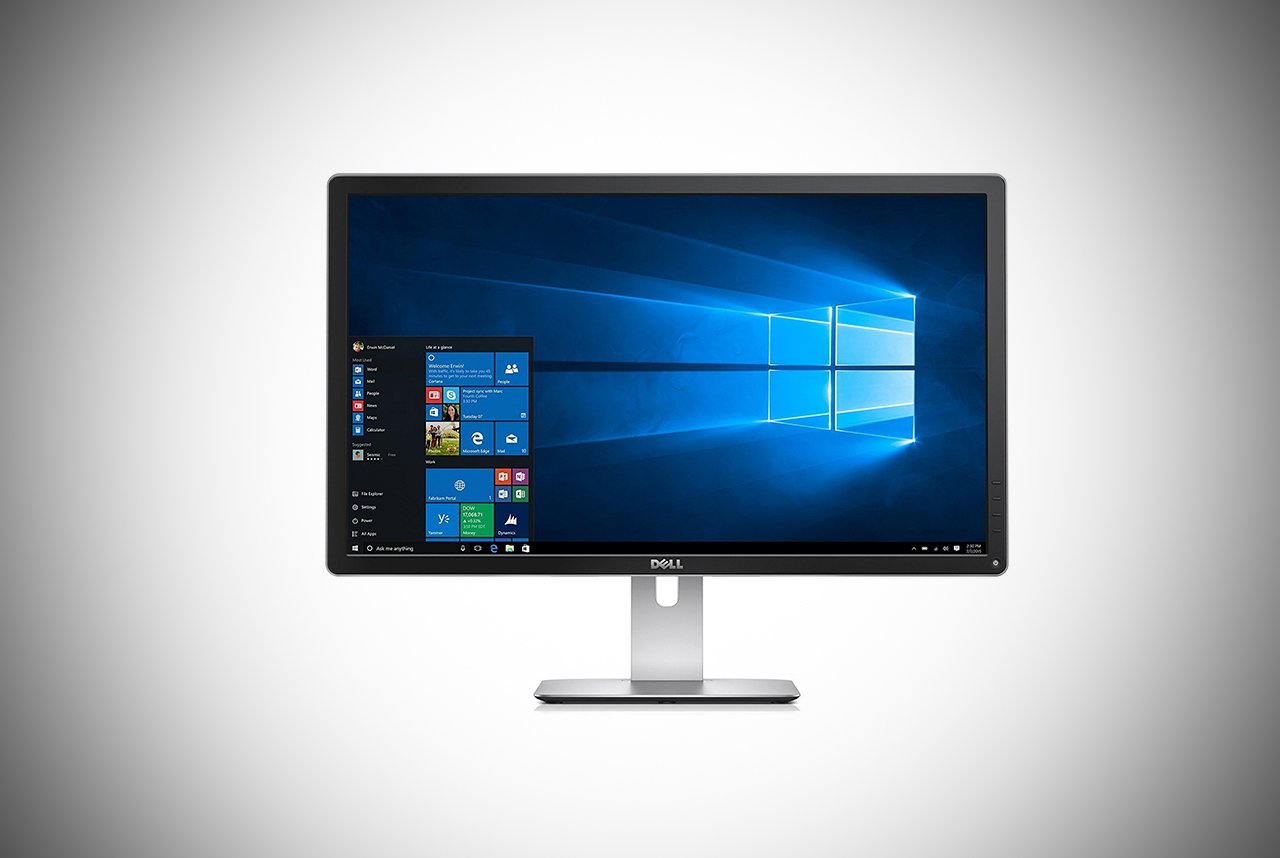 Dell are known for making high-end, high-performance computers and computing accessories, so it comes as no shock that this Ultra HD 27-inch screen is an ideal choice if you want to experience the clarity and beauty of more than 8 million pixels.
In addition to the above, the thing that really makes this monitor stand out from the crowd is the level of connectivity it offers. Using the DisplayPort 1.2 you can, for instance, link two monitors side by side, and there is USB and BC1.2 pots for all relevant devices. Dell have even ensured that it's easy to connect your tablet or smartphone that is compatible with MHL to display content directly on the screen easily and efficiently.
All the eco-conscious gamers of you out there reading this (we know you're there, put your hands up) will appreciate the Dell 27 Ultra's design. It meets the most up-to-date environmental regulations and is made from the highest quality materials but is free from BFR and PVC and consists of arsenic-free glass – the LED is free from mercury too.
Check Product Price // Read More Reviews
6) BenQ EL2870U (28 Inch)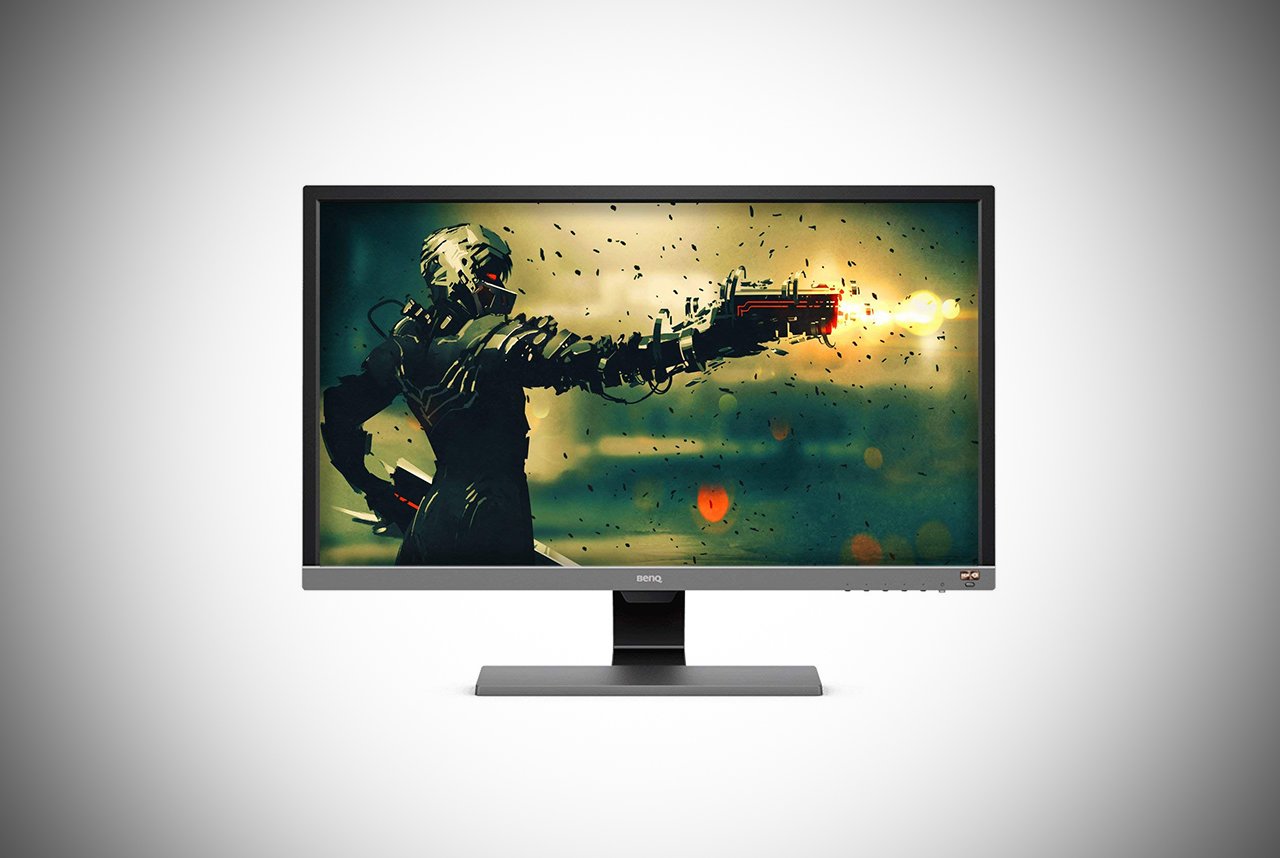 By far the biggest draw to this 4K gaming monitor from BenQ is the fact that it offers full HDR or High Dynamic Range support to offer a deeper contrast and more brilliant brightness than many of the similar priced monitors like the EL2870U.
The lightning fast 1ms GTG response time that this monitor offers prevents a lot of the motion smear you may have experienced in the past to give you a more easily-immersive and uninterrupted gameplay. Utilizing what by now has become the almost standard syncing technology for modern 4K monitors – AMD FreeSync – it means that your computer's GPU and this monitor will always be in sync.
The Brightness Intelligence Plus Technology is another noteworthy feature as this will automatically detect the ambient color temperature and brightness of your surroundings, adjusting the display settings so that you always have the best visuals for the time of day and location possible.
The ingenious Smart Focus feature allows you to have a selected area or window clearer, to help you concentrate better on the important details by virtually eliminating the distractions present in the background.
Check Product Price // Read More Reviews
7) Asus MG28UQ (28 Inch)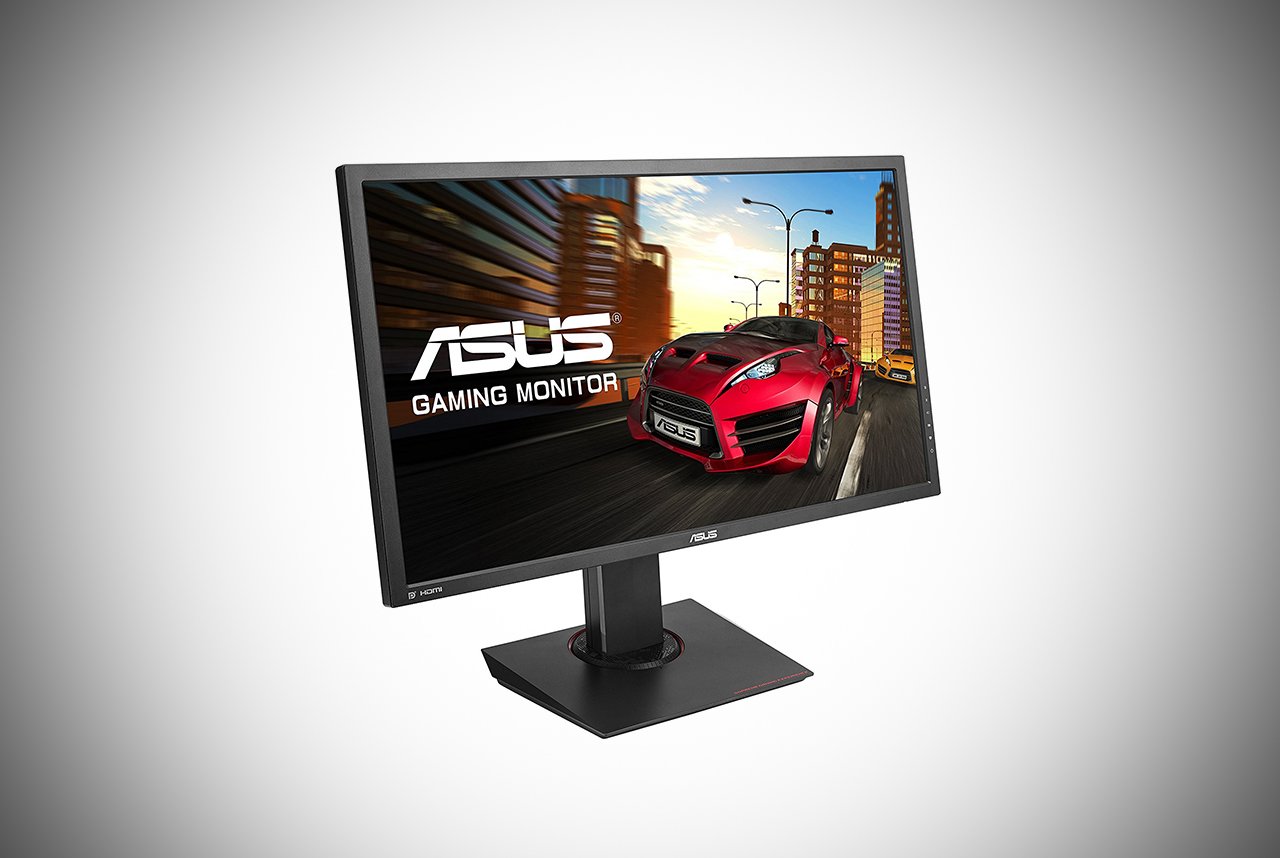 Another cracking 4K gaming monitor from Asus, this 28-inch FreeSync-enabled 4K model is around the same price point as others on the list and offers some great features and nice visuals.
Asus know how important smooth and slick playback is whether you're playing your favorite games or watching streamed video content. Therefore, it's no surprise that the MG28UQ features a range of connections, including a two USB 3.0 pot that means you can charge your smartphone quickly while you're knee deep in gameplay.
You can also control and command your phone through the monitor, making it perfect for when you don't want to leave your mouse or game controls alone to answer a call.
Designed specifically to be used as a gaming monitor, it includes the 1ms response time you expect from this kind of device using the FreeSync technology to its full capacity. Its ASUS game-focused features that really set this apart from many others on the market though, with the GameVisual and GamePlus options allowing you to switch your gaming experience up a notch.
We particularly love the Crosshair overlay with 4 to choose from, the on-screen timer and the FPS counter.
Check Product Price // Read More Reviews
8) ASUS PB287Q (28 Inch)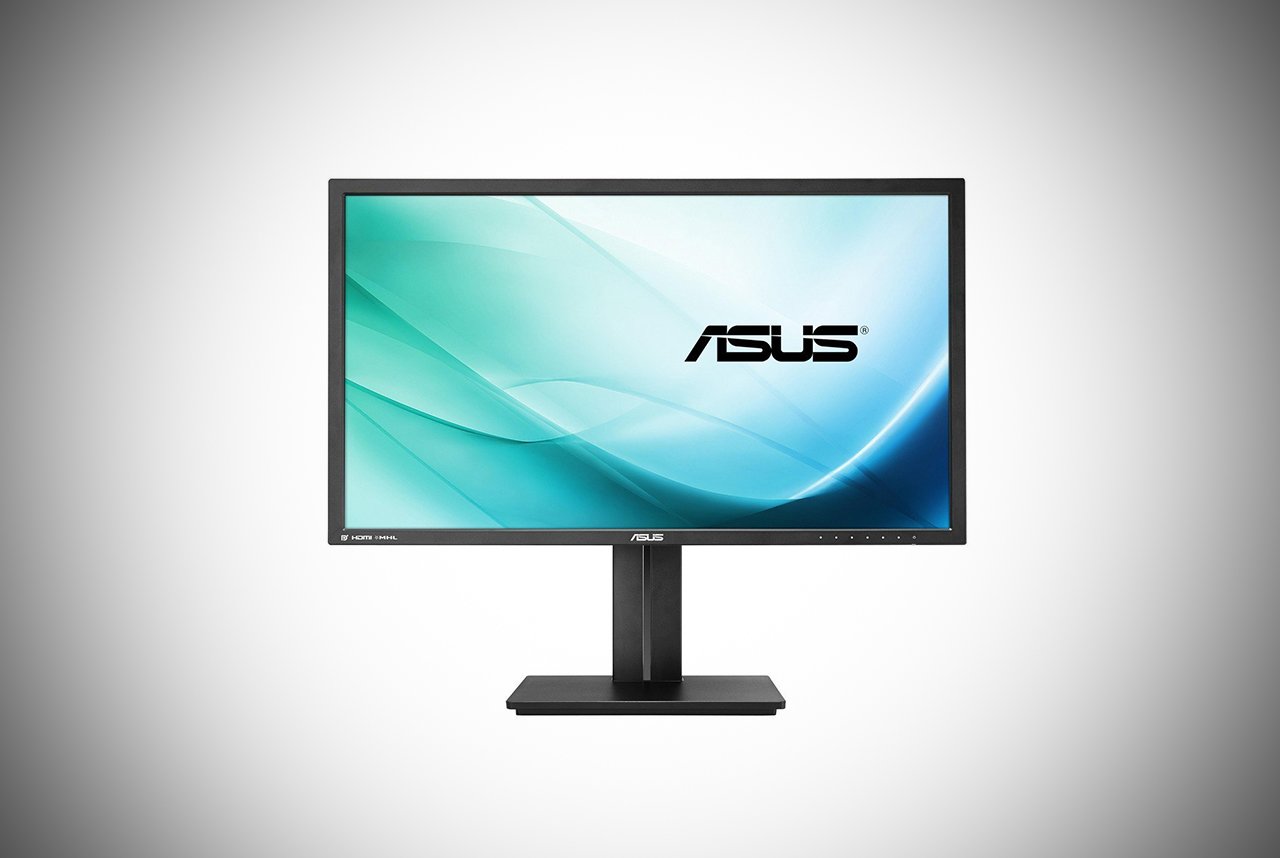 Compared to some of the other Asus models on our list, this 4K gaming monitor is designed with play and work in mind. So, if you switch between work or study and playing games, you only need this monitor. It offers the 8 million pixels we've all come to expect from modern 4K ultra high definition models and has a reasonably fast refresh rate of 60Hz and response time of 1ms.
As we noted, this is designed not merely for playing, but working too and features Picture-by-Picture and Picture-in-Picture functions that are ready to use out of the box. This means you can display your gameplay alongside emails or that Word or Excel document you're working on. Smoothly and efficiently without missing a beat on either.
The Asus EyeCare low blue light filter and flicker-free technology are ever-present in the PB287Q, so you know your eyes are not going to suffer too badly from using this monitor over prolonged periods of time.
The stand that comes with the PB287Q has also been given a lot of thought by the designers at Asus and is ergonomically constructed to help you find the best viewing angle no matter where you're. The monitor can be adjusted in terms of height, by pivoting, swiveling and even tilting.
Check Product Price // Read More Reviews
9) LG 27UK650-W (27 Inch)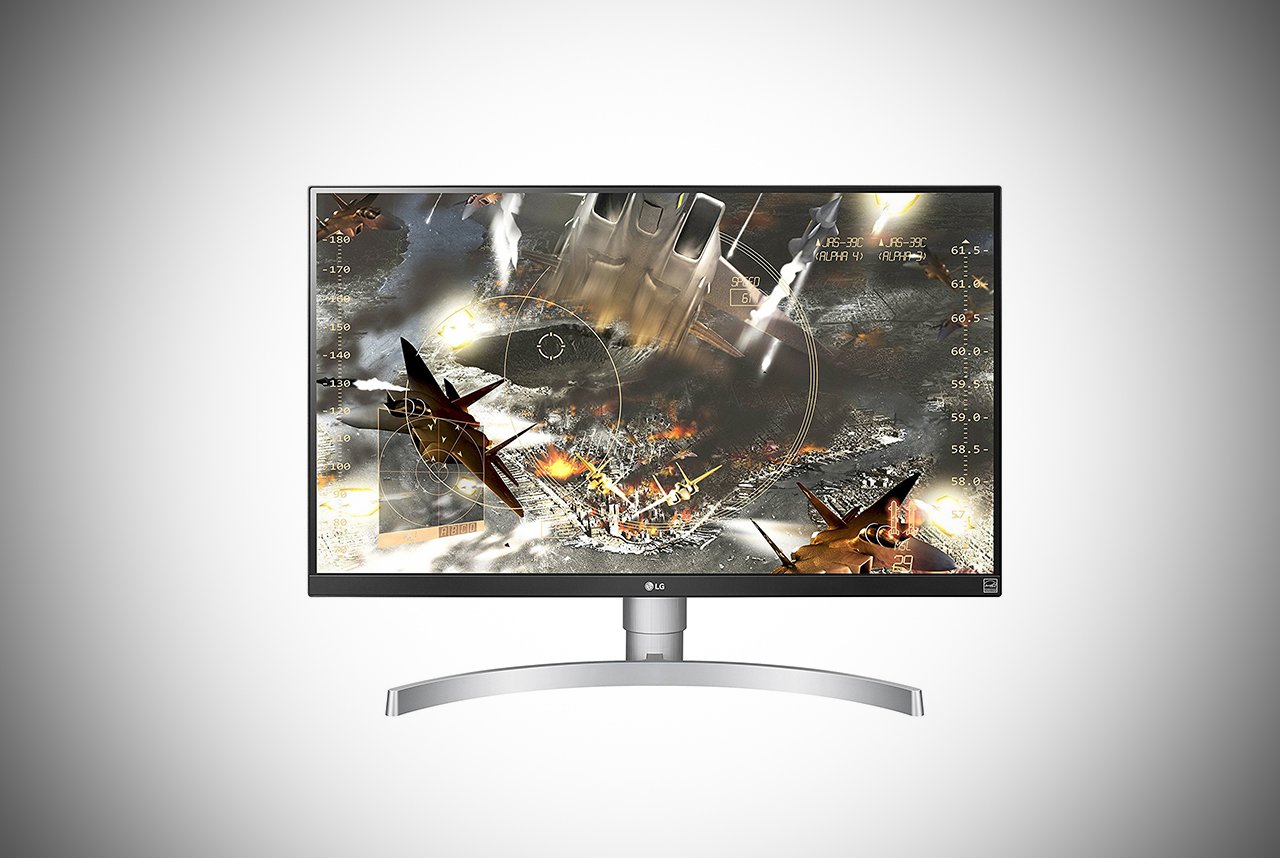 The 27UK650-W is another LG gaming monitor and one that offers UHD 4K with a 27-inch display that must be seen to be believed. It utilizes the same AMD FreeSync as many of most of the other monitors on this list, to ensure that the monitor and your computer or console GPU sync up to avoid ghosting or any stuttering that is known to occur.
Where this LG comes into its own is the HDR10 feature that provides greater depth of color and enhanced brightness and the sRGB 99% color Gamut, giving a more sophisticated range of colors that further improves the visual quality. There are also handy on-screen controls so that you don't always have to reach for the monitor to press buttons on the actual casing. It also gives the design a more minimalist look and feel.
In all modern monitors, particularly those like this model that are marketed to gamers, you'll find the exclusive and incredibly useful Black Stabilizer and Dynamic Action Sync features. These help to make your gaming experience richer and more detailed by highlighting details in the darker scenes and making gameplay smoother on screen respectively.
As it's HDCP 2.2 compatible, it means you can connect with real confidence that it'll display all the content and videos you want from your favorite 4K streaming services, Ultra High Definition Blu-ray discs and games consoles.
Check Product Price // Read More Reviews
10) ASUS Designo MX27UC (27 Inch)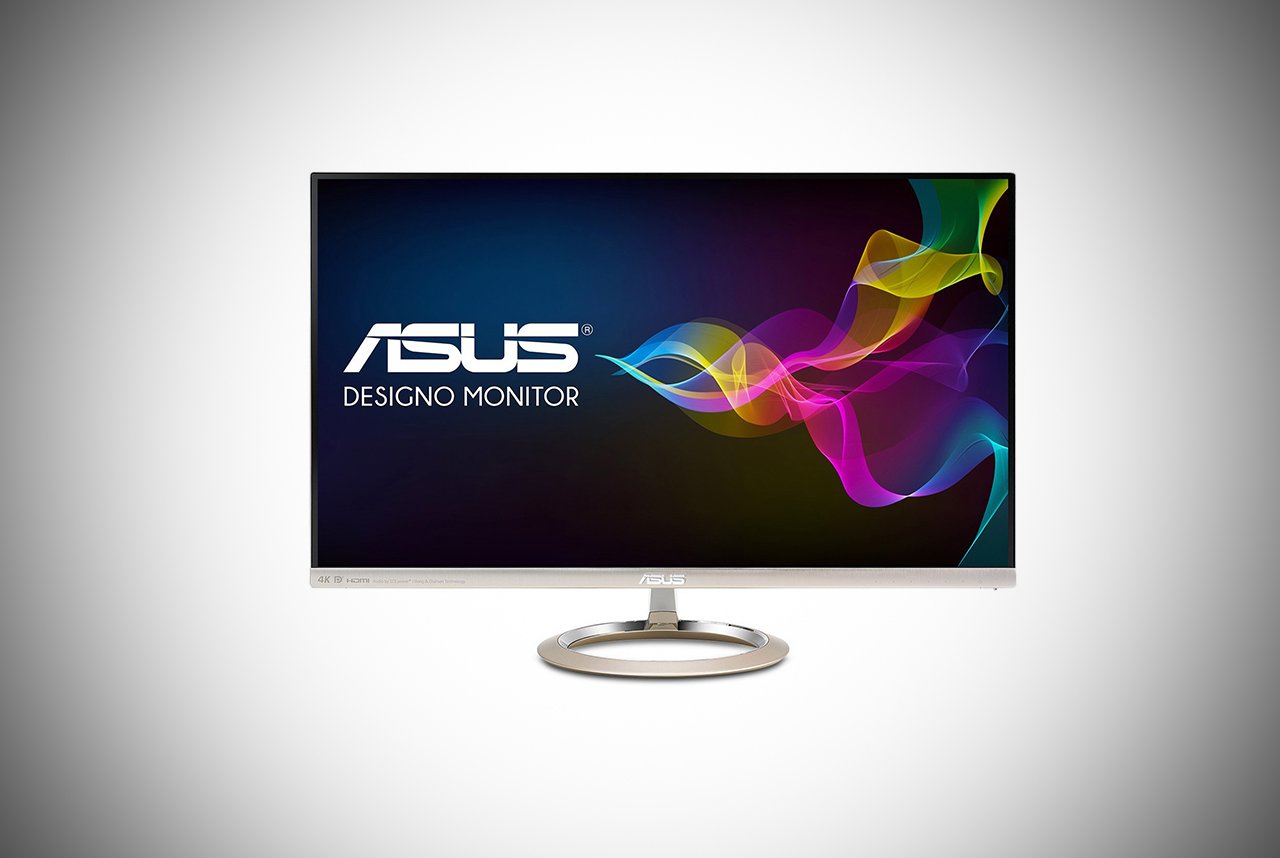 The next Asus model on our list is higher in price than many of the others but comes with additional features not present on the others, justifying the price point. The IPS or In-Plane Switching technology offers superior visuals and thanks to the Adaptive Sync provides a response time of 5ms.
Much of this monitor is like other Asus models featured in this post, but the thing that really sets this one apart is the addition of on-board stereo speakers that have been developed in collaboration with Bang & Olufsen. When operated in conjunction with Asus's own Sonic Master Audio Technology and the Audio Wizard, you have greater control over the quality and volume of the sound from this monitor. Which is worth noting as many don't even feature on-board speakers, let alone high-quality ones like these 3-watt output ones.
Asus are known for their slick and space-conscious designs and this MX27UC won awards for the frameless aspect and the base that is inspired of traditional sundials. It has a very aesthetically pleasing folded icicle, metallic finish.
As most of us have come to expect, Asus have included their excellent ASUS Eye Care technology with the addition of the TUV Rheinland-certified flicker-free backlighting and blue light filter. All these great safety features mean that you don't have to give up on your game if your company needs you, because your eyes will be just fine.
Check Product Price // Read More Reviews
11) Acer Predator XB281HK (28 Inches)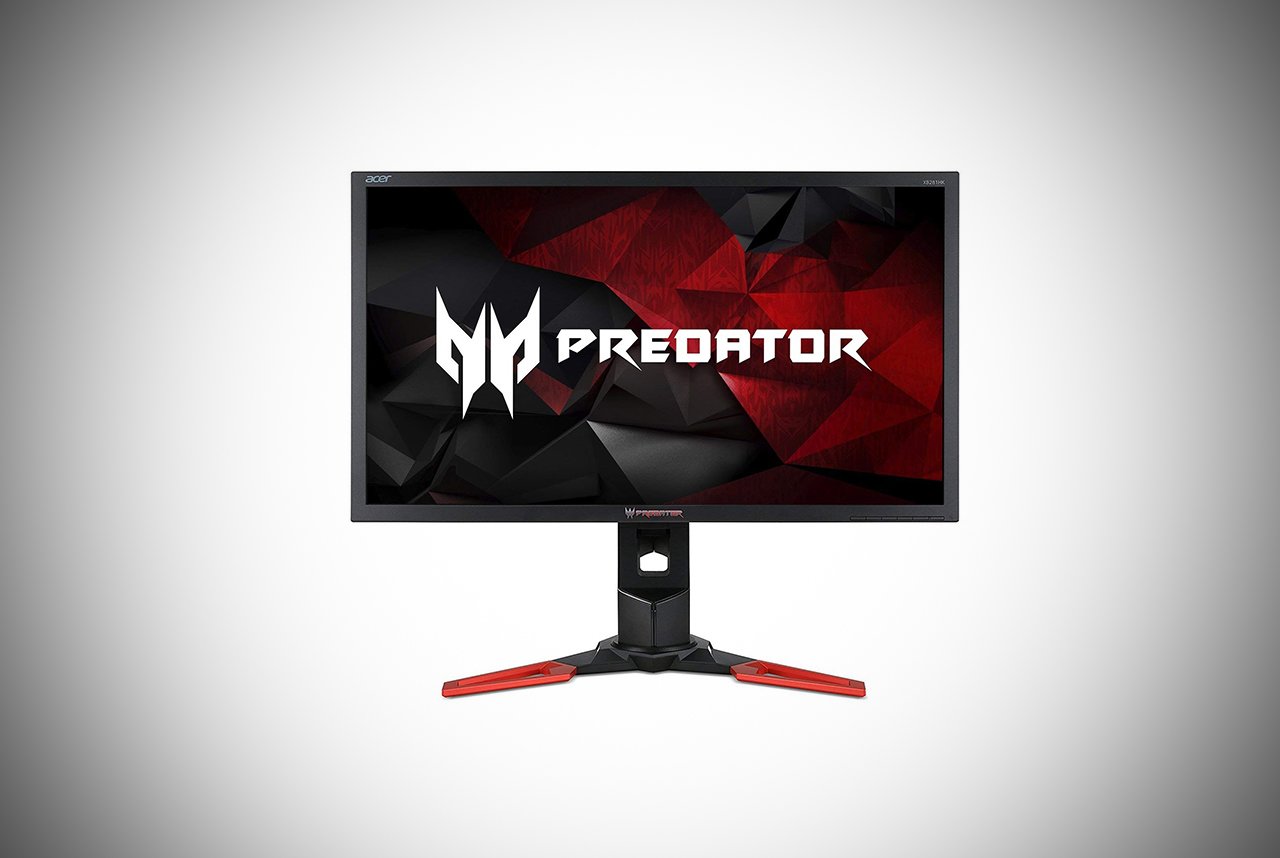 From the other huge Taiwanese electronics and hardware company highlighted on this list comes the Acer Predator, and boy is this bad boy well named. The company state that they want to turbocharge your gaming experience with this 4K gaming monitor and with some of the amazing specs it features, we wouldn't be surprised if it knocked you off your feet or out of your gaming chair.
Rather than utilizing the FreeSync from AMD that the other models do on this list, this machine makes use of the NVIDIA G-Sync technology for an even more precise and sophisticated elimination of screen tearing and stuttering. This means you'll no longer have those problems that stop you from achieving victory (well, that is, unless you're just a noob gamer in general).
Although it's not the biggest screen on our list, the quality achieved in terms of colors and brightness on this 28-inches more than makes up for it. You'll feel like you're actually in the game. This is aided by the fact that the ErgoStand from Acer allows you to position the monitor by pivoting it, tilting it, swiveling it and moving it up and down until you find that sweet viewing and gaming spot.
Don't you just hate when fatigue sets in and your eyes start to hurt when you've been on a long campaign? With the Acer you don't have that problem thanks to the EyeProtect Flicker-less feature. With this monitor you can stay firmly in the action of those deep-cut campaigns until completion without worrying about doing major damage to your blinkers.
Check Product Price // Read More Reviews
12) AOC U3277PWQU (32 Inches)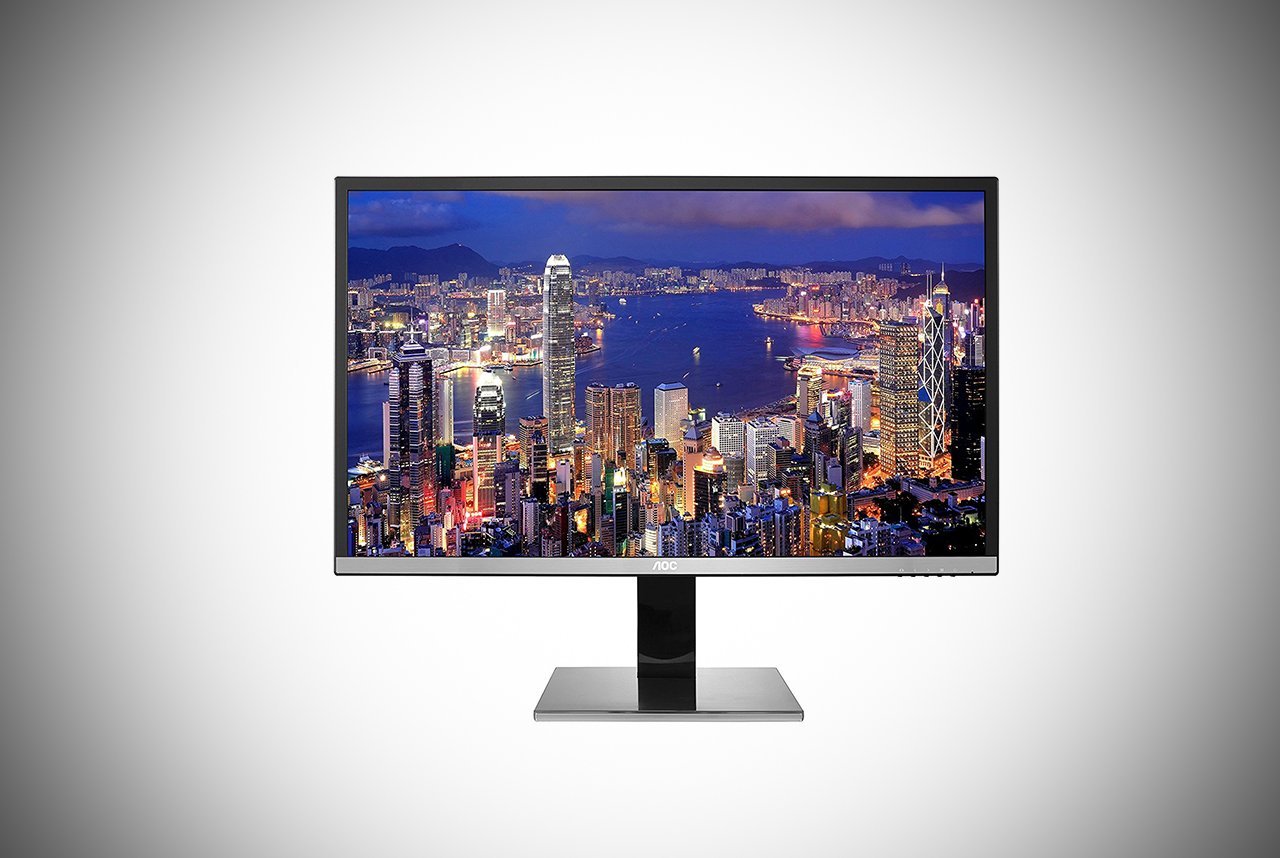 Although you may not have heard of AOC, they are a highly profitable and successful Taiwanese electronics company based in Taipei. They operate as subsidiary of TPV Technology and have actually been in business since 1967. They have had the spotlight more sharply focused on their products in recent years and it's not hard to see why with this 4K LED monitor.
The 32-inch screen allows you to submerge yourself in whatever world your online characters are inhabiting as you battle enemies and try to reach targets and achievements. In addition to the crisp representation of over 1 billion different colors, the AOC U3277PWQU uses the special Frame Rate Control (FRC) technology to enhance them further. The result is an offering of around 16.7 million more colors than on other displays, it offers you such a rich and rewarding gaming experience.
The reduced eye fatigue and flicker-free technology allow you to play using this monitor as long as you need to/want to. As if that wasn't enough though, AOC have also put a lot of work into the sound design and the monitor therefore comes with two reasonable quality 3-watt speakers.
It really doesn't matter if you're using this monitor for gaming, or for any of your other pursuits and interests or even work, if you need rich and vivid detail, AOC have you covered. They have even adorned this monitor with what we feel is the widest array of connection options of any on this list, with DisplayPort, HDMI-MHL, DVI and VGA inputs, as well as an audio line-in and headphone out. You can even hook up your MP3 player, smartphone or tablet, if they are compatible.
Check Product Price // Read More Reviews
SESSION OVER
So, guys, there you have it, our look at what we believe are the top 12 4K gaming monitors to buy in 2019. These are the monitors you should be spending your hard-earned salary on if you want to have a top-notch gaming experience this year.
Obviously, we would recommend that you look at the customer reviews of each monitor to get a clearer picture (we're definitely not apologizing for that screen-related pun and you shouldn't have to for laughing either) of what it's actually like to use these products.
You might prefer LG, Samsung or even Acer; that is why we tried to highlight a wide spectrum of different models at different price points that used different tech. Any favoritism towards Asus or LG is purely coincidental and even if we were, it's only because we believe their selection of gaming monitors suitable for the 4K experience were better than others we could have included.
Either way, we feel we've given you the best snapshot of what is available, so that even if you're a seasoned veteran user of gaming consoles or a complete newbie. If you're a gaming newbie, you can now shop with a better understanding of the technology involved. If you're a gaming veteran but 4K newb, you're better able to find that sweet gaming monitor that will offer you the fully immersive and jaw-droppingly awesome game experience you have always wet-dreamed about.
Either way, every gamer wins!