Pokemon GO addiction is taking over the planet. The game has cataclysmically taken hold of not just our phones, but our lives too – and its grip is only tightening. With this huge success, Niantic Labs enjoyed a historic month pocketing more than $200 million in the space of just one month.
No matter how beautiful or ugly the Pokemon is, people are desperate to get them. They want them all – or at least as many as possible.
Pokemon GO fans spend money on PokeCoins, which are then used to buy PokeBalls and get a slew of rarer items like Lucky Eggs and Lures. With its variety of in-game purchases, Niantic has successfully been able to profit from the most popular free app of all-time.
The game keeps people engaged with several opportunities, with most of the original 151 Pokemon and more than 700 of the catchable creatures featured in the game. Developer Niantic also promises to add new features like trading and battling.
While this obsession continues to grow – Niantic Labs is laughing all the way to the bank.
Pokemon GO Breaking Records
The location-based game Pokemon GO, which was released in early July this year, has reached the top of the revenue charts, crushing the records of Candy Crush Soda Saga from King and Supercell's Clash Royale – the two top grossing mobile games in terms of first-month cumulative revenue.
Candy Crush Soda Saga made more than $25 million in its first 30 days. Clash Royale earned about $125 million in its first month.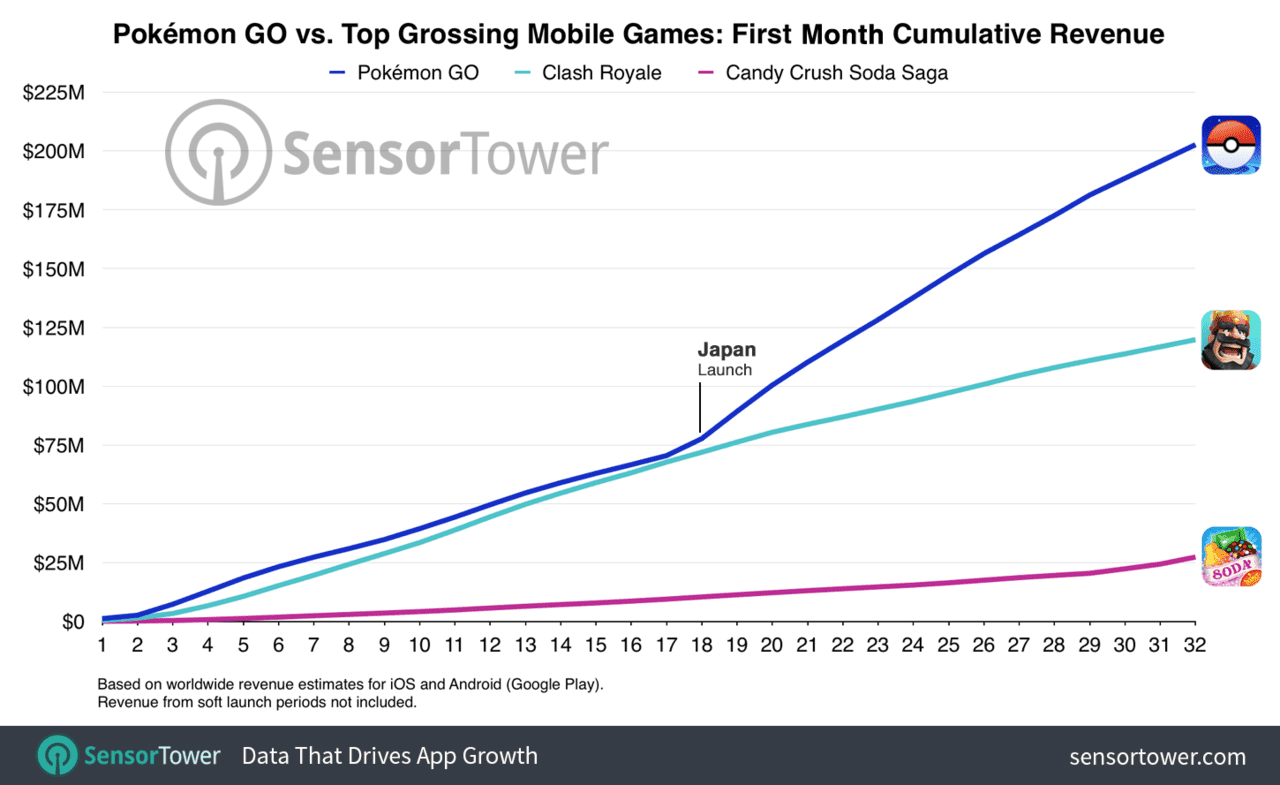 This infographic VIA SensorTower, the app intelligence company, shows that Pokemon GO is shooting upwards in Comparison to Clash Royale and Candy Crush Soda Saga. It shows the major impact, the game's launch in Japan had on the game's money making power.
According to SensorTower: "Pokémon GO earned more than seven times as much net revenue in its first month as King's hit puzzle game. This is not only a testament to Pokémon GO's unparalleled popularity, but, when viewed against Clash Royale's first month, also speaks to how the measure of a hit game's launch (at least from a revenue perspective) has changed in just two short years."
SensorTower reported on July 25 that Pokemon GO topped 50 million downloads on the Google Play Store in record time. The company also confirmed that the combined iOS and Android downloads for the game reached 75 million within 19 days.
Apple reported in July that Pokemon GO set a new App Store record for the most downloads in the first week than any other app in history.
If Niantic Labs can make a whopping $200 million in a single month, it doesn't take a genius to figure out what they could make in a year.
Wondering what Nintendo gets from all this? Nintendo owns a 32% stake in Pokemon Co., and also owns a number of Niantic shares (we don't have a figure), which means Nintendo will get some share of the profits.
Nintendo is also developing a $35 wearable device named Pokemon Go Plus, which they say will help players stay safe while playing Pokemon GO.
30 Days of Pokemon GO
Pokemon GO first launched on July 6 and was initially only available in the U.S., Australia and New Zealand. The game's European release began on July 13.
Pokemon's birthplace Japan had to wait for a couple of weeks more after the U.S. launch, due to server issues. It was finally launched on July 22.
Asian countries like Singapore, Malaysia, Thailand, Indonesia and others had to wait until early August this year to play the by-then world-famous Pokemon GO game.
And all it took is 30 days for the game to gain immense popularity and make Niantic Labs more than $200 million.
Have you read about the Japanese Olympic gymnast Kohei Uchimua, who spent $5,000 playing Pokemon GO?
Okay, so, he didn't spend the money buying PokeCoins; he racked up that bill playing Pokemon GO constantly while touring and training. Apparently, he isn't familiar with how roaming charges and data plans work on mobile devices.
What about you? Have you spent money on Pokemon GO?(We're not talking about mobile bills here)