PokeDates is a new dating service that matches Pokemon GO players and sends them to a certain location for a date or to catch Pokemon together.
This was bound to happen eventually, and it has. The world's very first Pokemon GO dating service for the single Pokemon hunters. Why should you be alone when chasing a Charizard? Wouldn't it be better to do it with your soul mate?
PokeDates: A Pokemon GO Dating Service
The new PokeDates dating services works just like any other regular dating service. You sign up on their website with your details and what you want from a partner. Then you answer some questions, give the site your free timings, and you're done.
Once you've signed up, you can go about searching for Pokemon and when a good match is found, you'll get a message from PokeDates about where to go. A time and location will be sent to the matched applicants and then you can go play Pokemon GO together. Or do other stuff, such as, go out, have coffee, lunch, talk, etc. The meeting place will either be a Pokestop or a Gym.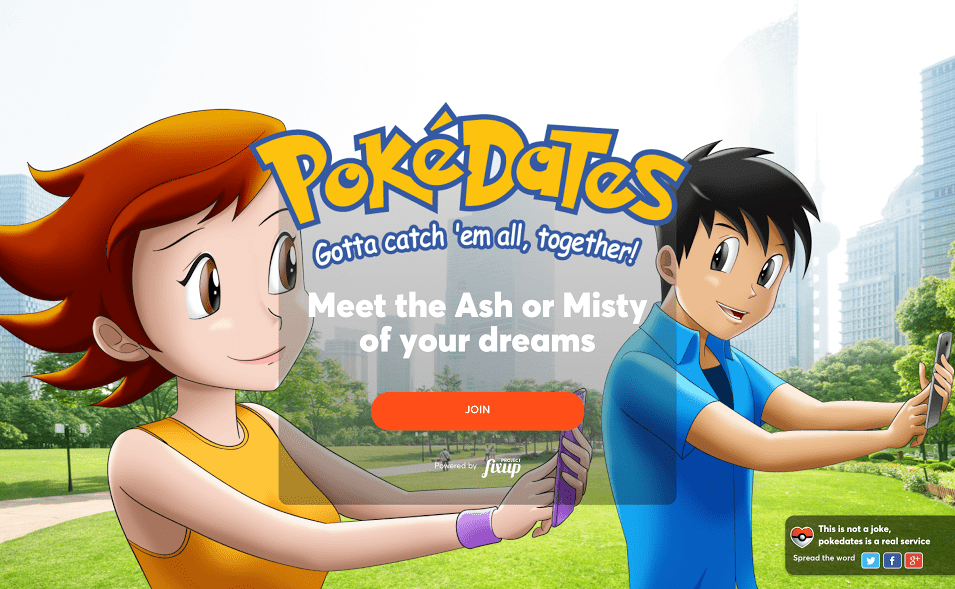 The dating service is part of another new site known as Project Fixup. This is another dating service that was launched in 2012 and uses real humans to match people. No algorithms or computer matchmaking is involved.
PokeDates will also use real people to match potential players, and it doesn't matter which team you belong too.
Should You Use PokeDates?
Are you okay with paying $20 to meet someone who shares the same interests as you and plays Pokemon GO? Well, that's how much you'll have to pay to meet someone. The first meet is free, but after that, it's chargeable.
According to Project Fixup, this new service will make finding the perfect partner very quick. You simply go out on a date with another Pokemon GO player, who is into the same things that you are.
The PokeDates site is now live and accepting applications, in case you want to give it a shot. Who knows, you might actually find the Misty of your dreams. Or Dawn, May, Iris, Serena, or Bonnie.