The HP Powerup Backpack is a smart backpack that has an inbuilt battery pack to charge your laptop, smartphone and tablet device while you're on the move.
With the new Powerup Backpack from HP, you can charge your HP laptop, Android or iOS smartphone, tablet, and anything that uses a microUSB port for charging. That's pretty cool, don't you think? A backpack that can charge all your gadgets.
HP Powerup Backpack Details
Here's what the HP Powerup Backpack consists of. Hidden inside the backpack is a humongous 22,400 mAh battery. This battery can be used to charge up to three devices at the same time. You can charge your laptop, tablet, and smartphone at the same time.
According to HP, you can charge your smartphone up to 10 times, tablet up to 3 times, and the laptop one, all simultaneously. If you simply want to charge your smartphone, say an iPhone 6s, you can do that about 13 times.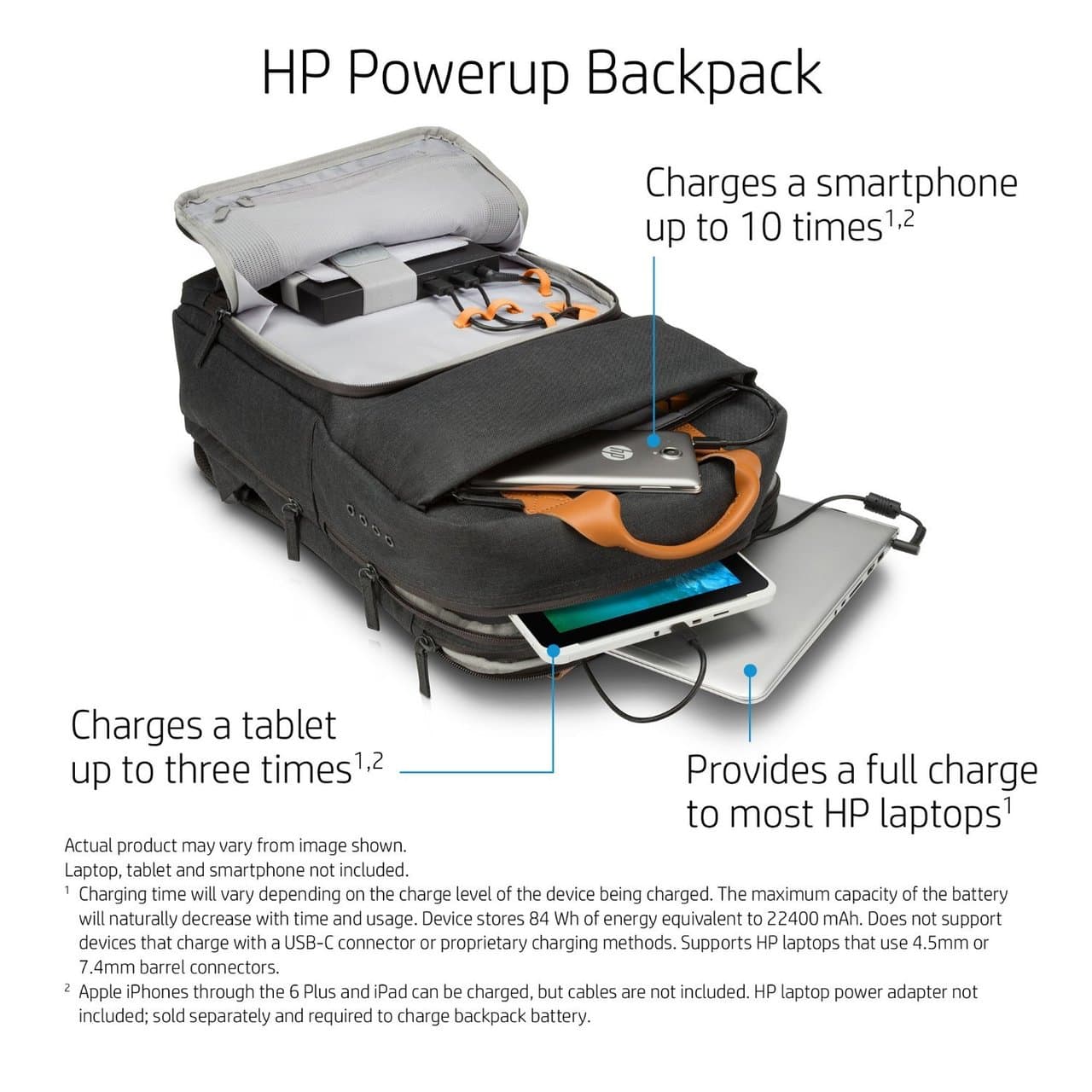 The backpack can fit a 17.3 inch laptop and because it's from HP, it only supports HP laptops. However, you can purchase adapters that'll support your laptop as well, probably not a MacBook though. The kit also includes 2 microUSB cables, a laptop cable, and two laptop power adapters.

How is this a smart backpack, you ask? Well, there's a temperature sensor inside that turns off the battery when it gets too hot. The backpack also lets you configure which device gets the highest priority for charging. It also comes with a raincoat, meets in-flight security requirements and is said to be very durable.

[youtube id="fA0I5HhNzbc" align="center" maxwidth="849″]
Price and Availability
The HP Powerup Backpack isn't cheap, and will cost you $199.99 from Amazon. As for the availability, the backpack will be up for sale on October 1st.
You can, however, pre-order the backpack right now on Amazon. Apart from the price, we believe this backpack can be really useful when travelling. Specially if you like to carry all your gadgets wherever you go.
Pre-order on Amazon