The Best Cold Weather Bow Hunting Clothing
Hunting in the late months of Winter brings on extremely cold temperatures and harsh winds mixed with snow biting at any pieces of your exposed skin. As hunters, we have to equip ourselves with many layers just to be able to feel a little bit of warmth in the coldest of Winters days. This article will give you a rundown of everything you need to look for when shopping for the best cold weather bow hunting clothing. As well as my personal recommendations for the best cold weather bow hunting clothing you'll be wearing for your Winter hunts.
First things first,
What Are We Looking For?
With each different layer you wear you'll be looking for different things from said layer. It's not enough to just say "Well, I want warmth." Of course you want to be warm but, as an example, you need to make sure your outer layer is waterproof and your body free from sweat.
This is why we need to make sure each of our layers are doing the task they should be. The best cold weather bow hunting clothing here is able provide the basic requirements your layers should have and then some.
Here's the deal:
I've helped you out by giving you a rundown on what the functions of each layer in the 3-layer system are. Below, each title will tell you what you should be keeping an eye out for.  The recommended best cold weather bow hunting clothing provided has the specifications you should look for already included. Now let's get started!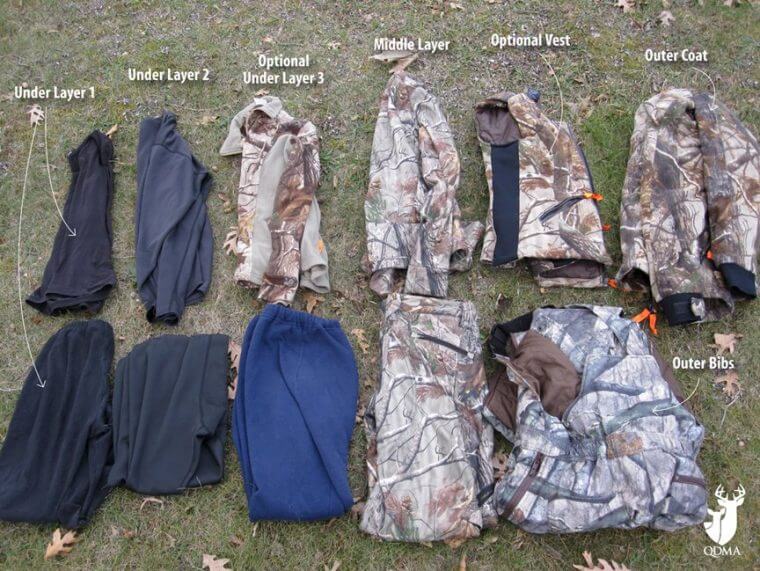 Base Layer
Your base layer is by far and wide, your most important layer. This is because its the first layer that's going to keep you warm in two ways. The first way the base layer is going to keep you warm is by maintaining a decent body temperature by retaining the heat your body emits.
The second way your base layer keeps you warm is by absorbing up any sweat your body may produce while wrapped in its many layers. This is vital because when your body starts to sweat, if that sweat comes in contact with cold winds it will turn that sweat very cold, very quickly. Having your skin in direct contact with that cold water will lower your overall body temperature.
So having your base layer absorbing up any excess moisture your body produces will save you from this problem. It's important to note that not all base layers absorb excess moisture from your body as only certain fabrics are capable of this. The base layers recommended in this article for the best cold weather bow hunting clothing do absorb excess moisture so don't worry!
So What's The Best Fabric For My Base Layer?
The fabric I recommend for you to look for when buying a base layer is merino wool.
Merino wool is a material well known within the hunting community for its ability to keep you warm and also absorb any sweat our body produces. The products recommended here are all made from Merino wool so not something you need to be worried about!
Why Merino Wool?
Merino wool is an extremely comfortable and non-irritating material, it'll never feel scratchy on your skin.
Merino wool is naturally antibacterial, meaning that no treatment is needed to maintain its odor resistance. The importance of this odor resistance in this wool is that game won't be able to smell you and run, ruining your hunt.
As mentioned in the previous paragraph, merino wool is the best base layer for absorbing moisture off of the body, it can absorb up to 30% of its own weight in moisture, preventing any sweat from going cold on your skin.
Merino wool is UV absorbent, so instead of reflecting any UV rays like a normal UV resistant does it instead absorbs the rays and eliminates them, preventing any shine from coming off of you at all.
How Should My Base Layer Fit?
In order for the base layer to be able to wick away moisture from your body, the fabric needs to be laying on the skin constantly. So because of this it is strongly recommended (by myself and many others) that the base layer should fit snugly to your skin. If you've ever seen athletes wear Under Armour – that's the look we're going for with our base layer.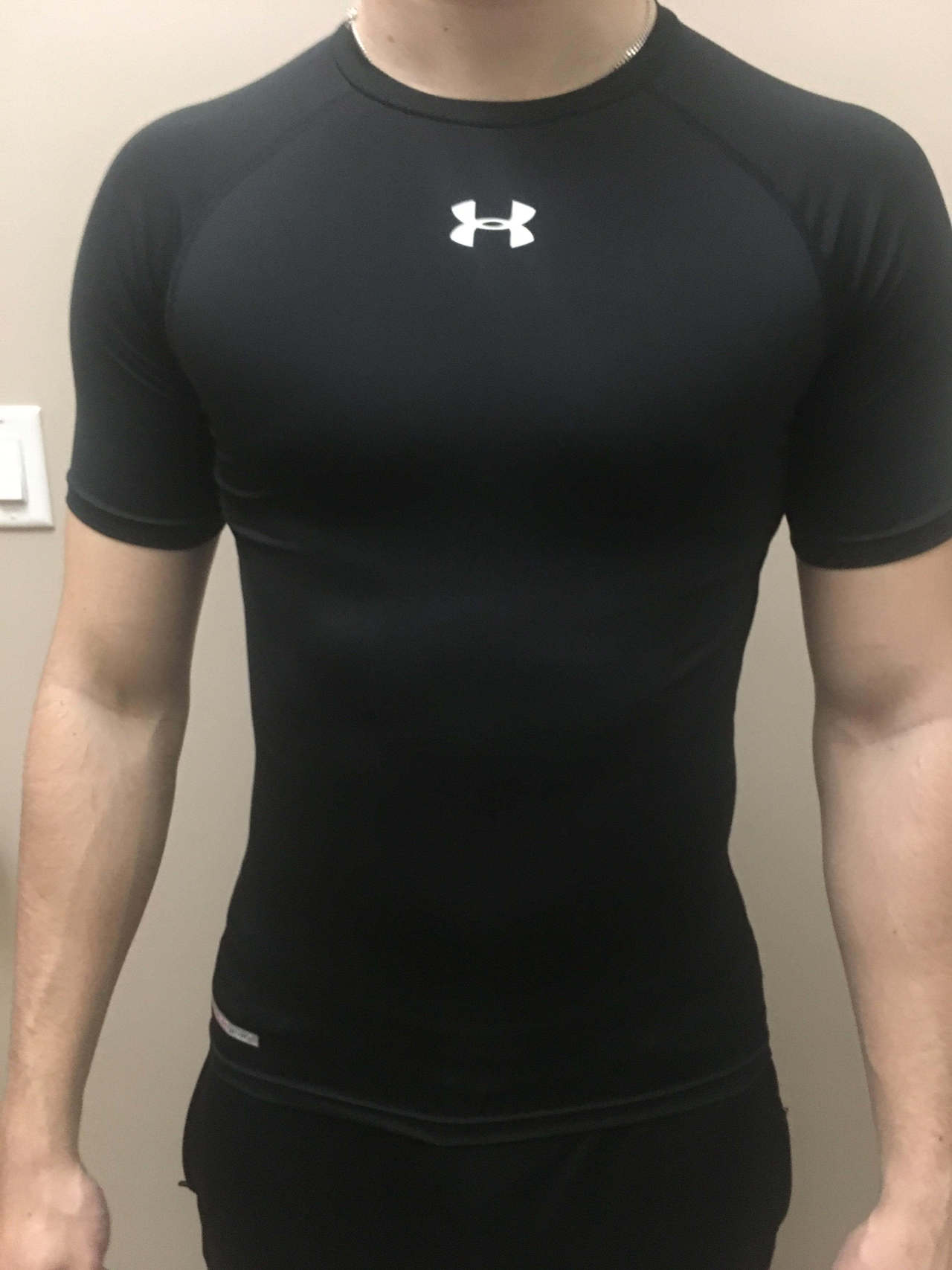 Best Pick
FirstLite Llano Merino Wool Crew Top Long Sleeve & Full Length Bottoms

Micron – 17.5
Weight – 170g/m²
Temperature – -20°F/-29°C
Shop for FirstLite Llano Merino Wool Long Sleeve now at Amazon.com

Shop for FirstLite Llano Merino Wool Bottoms now at Amazon.com

The FirstLite merino wool long sleeve and full length pants are the highest quality base layer around. FirstLite's Llano merino wool is made with 17.5 micron pure 100% merino wool. (A micron is the measurement unit that expresses the diameter of a wool fiber. Lower micron = Finer wool). It's extremely stretchable and comfortable due to its low micron.
You can wear FirstLite's clothing for days straight and it will emit no odor. (Although from a hygiene perspective – wash it at some point.)
FirstLite's Merino Wool weighs in at 170g per squared meter, which is extremely lightweight, especially for the intense warmth it provides.
The Llano Merino Wool from FirstLite is able to provide great warmth in -20 degree fahrenheit weather, which is well below freezing temperatures. Compared to its competitors, FirstLite's Llano merino wool clothing is a step above the rest.
Pros
Cons
- Absorbs moisture
- Antibacterial
- Odorless
- Flexible
- Breathable
- Fits true to size
- Higher price compared to competitors
Firstlite Merino Wool Long Sleeve –

Firstlite Merino Wool Bottoms –

Value Pick
MERIWOOL Merino Wool Midweight Thermal Top & Bottoms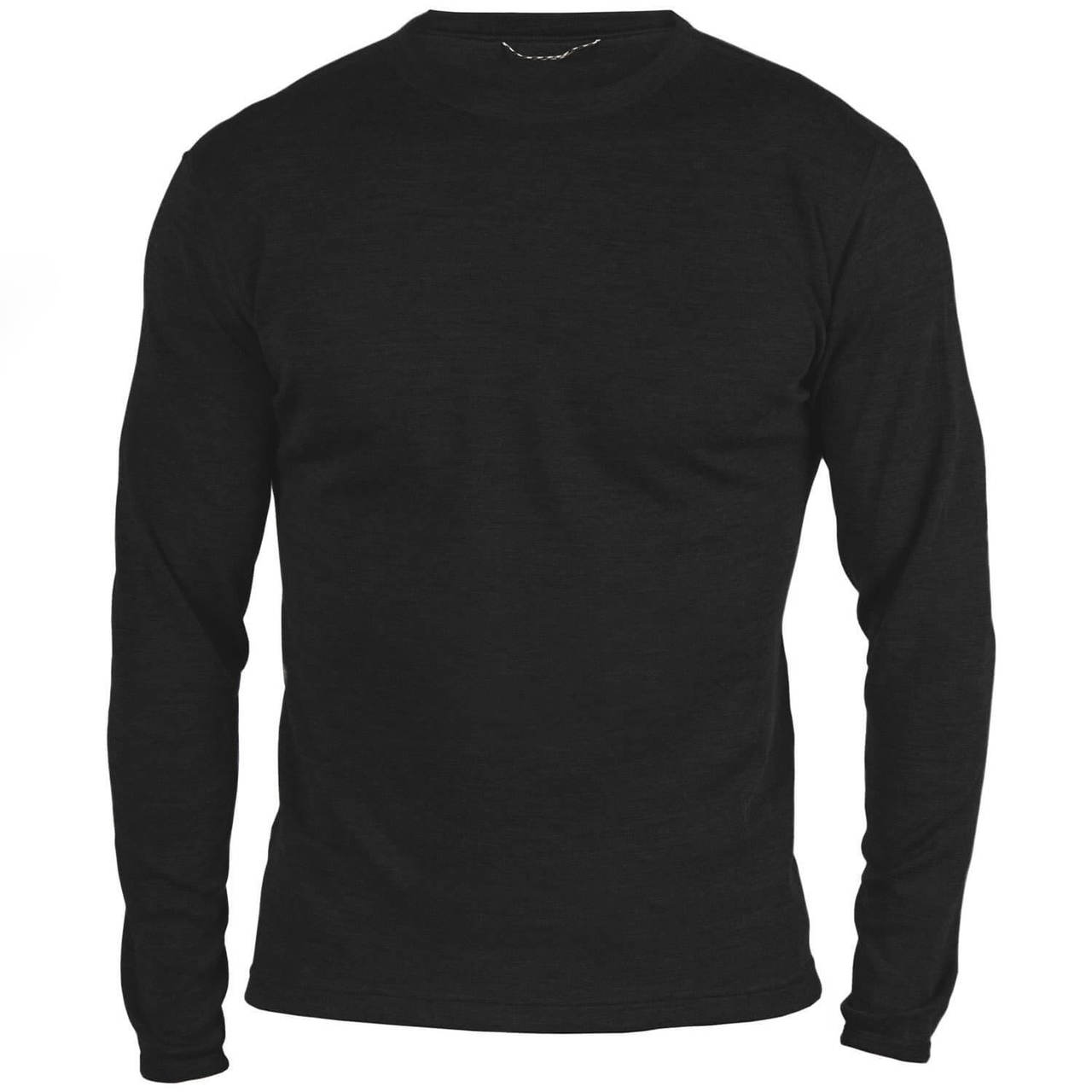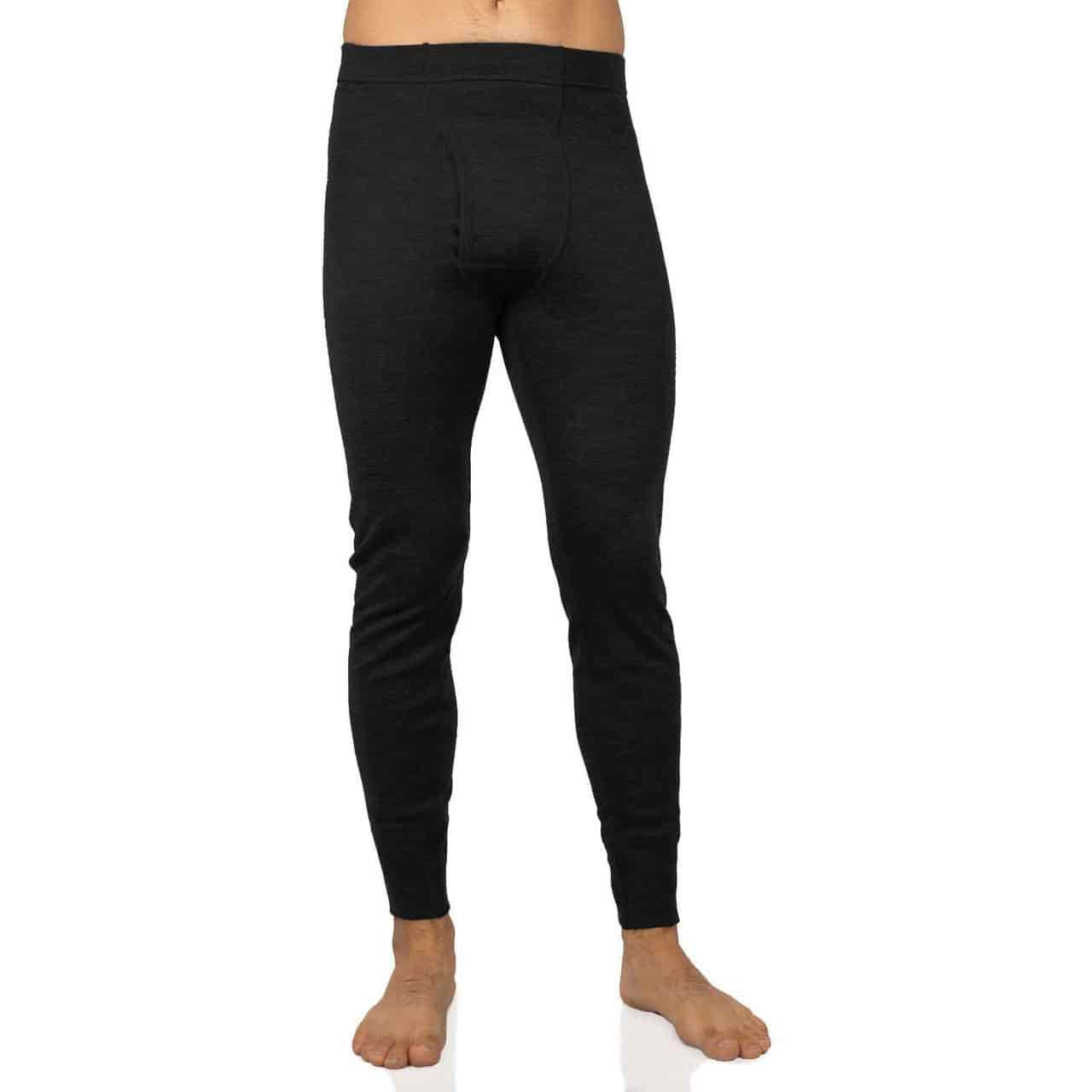 Micron – 18.5
Weight – 250g/m²
Temperature – 32°F/0°C
Shop for MERIWOOL Merino Wool Thermal Top now at Amazon.com

Shop for MERIWOOL Merino Wool Thermal Bottoms now at Amazon.com

MERIWOOL Merino midweight thermal tops and bottom are a great quality base layer for their price. You'll be sacrificing a small amount of quality opting for this rather than FirstLite, but MERIWOOL is offered for a much more affordable price.
MERIWOOL's base layer clothing is made from 18.5 Micron 100% merino wool. MERIWOOL's midweight layer weighs in at 250 grams per squared meter, which is slightly heaver than FirstLite's. Since their clothing is made from Merino wool, it too is antibacterial and odor-resistant.
MERIWOOL's base layer can (according to their infographic on Amazon) only handle temperatures that are just above freezing temperatures. This is a noticeable disadvantage compared to FirstLite's base layer which is able to keep you warm well in to sub-zero temperatures.
MERIWOOL Merino Wool Thermal Top

MERIWOOL Merino Wool Thermal Bottoms

Buyer's Notice: Unfortunately, MERIWOOL has an issue with sizing, so if you are a taller individual than you should be going a size up from what you'd normally wear as the length of this product is a common problem many people point out, often saying the length doesn't even go below their belt.
The problem with sizing up is that the fit may not be skin-tight. The skin-tight fit should be your first priority as it is vital for insulating yourself as well as moisture absorption. This is my only problem with MERIWOOL's base layer, however if you are shopping on a budget, then I'd still recommend their products with confidence.
Taking Care of Your Merino Wool Base Layer
I found this clean, concise image highlighting exactly how you should be taking care of your merino wool clothing to ensure you'll be using it for a long time! Image provided by Elementex.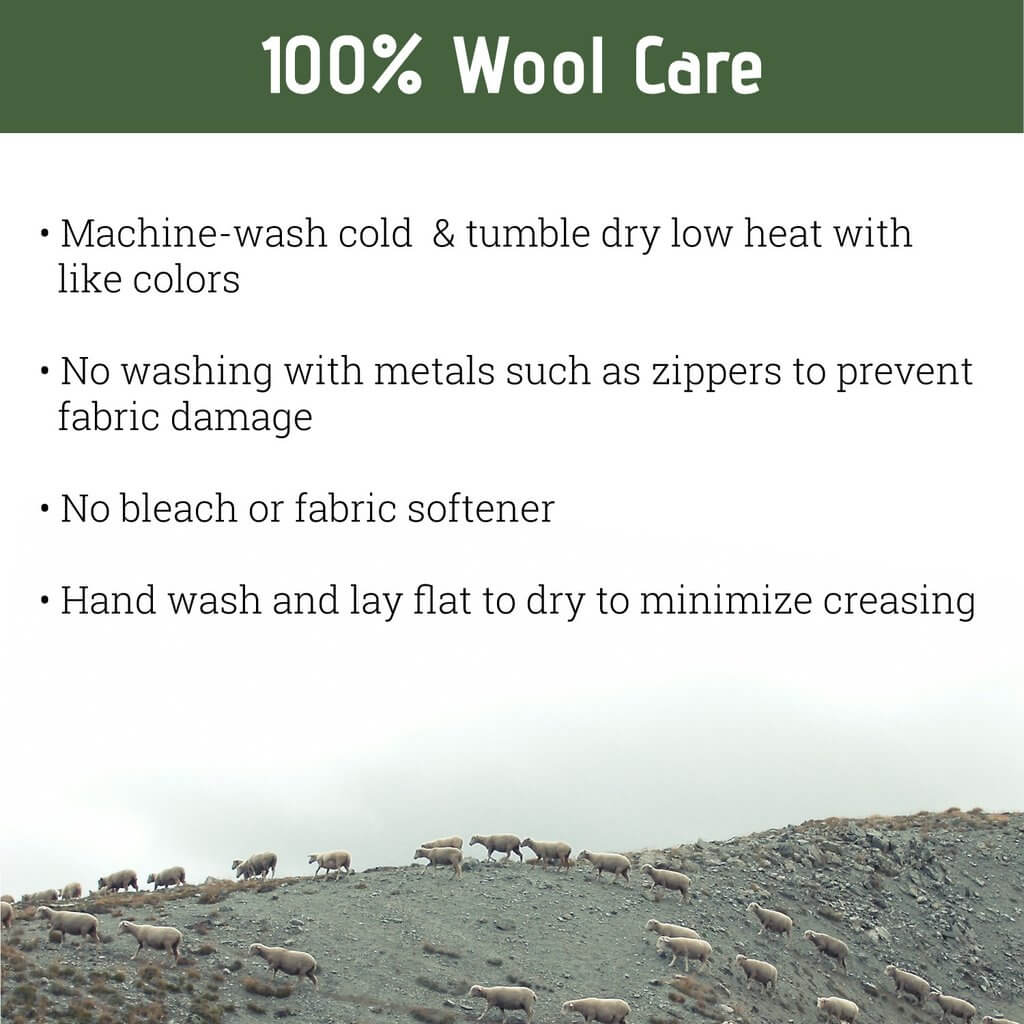 Insulating Layer (Middle Layer)
The middle layer is the layer that has the most control over whether you're going to stay warm or not. Like the name of the layer says, its job is to be the insulator for your body heat.
This is done by creating what is called a dead air space between your base layer and your insulating layer.
A dead air space is an unventilated pocket (or gap) of air. By maintaining this dead air space you will be recirculating the heat emitting from your body. Keeping you surrounded in your own body heat and keeping you warm. This dead air space is also part of the reason why your insulating layers fit is important (just like your base layer). I'll talk about how it should fit a little bit further down.
Note: Even though, I recommend insulating layers in this article for best cold weather bow hunting clothing that do their job, they can't do their job well if you don't find the proper size. Further below I've tried to help you figure out the best fit but make sure you're looking at the brand's sizing chart as well!
The middle layer is also the layer that varies the most between hunters. This is due to a hunter's preference, some hunters may prefer to bundle up and wear 1-3 middle layers, where as others may prefer just one effective middle layer.
One effective layer is much better as my layer is just as good as 3 average quality layers. By only wearing one layer your mobility doesn't suffer because of it. This guide for best cold weather bow hunting clothing will be running off the assumption you too will be only wearing one layer as well. The middle layers I recommend here will be good enough to be the only middle layer you'll need.
How Should My Insulating Layer Fit?
Since your insulating layer's function is insulating you with that dead air space, the fit is important so it can do what it's meant to do.
Your insulating layer should be a slim fit over your base layer.
Tight enough so that it will hug the figure of your body, but with just enough breathing room. If you're having a hard time picturing the fit, think of when you wear an everyday long sleeve shirt and then have it fit a little tighter than that.
But here's what's important:
Be sure that it fits this way on your whole upper body. If its tight on the arms but super baggy around your stomach – too bad, find another better fitting one. This might be a vague description so I've decided to take some pictures to better describe the fit you should be aiming for when buying an insulating layer.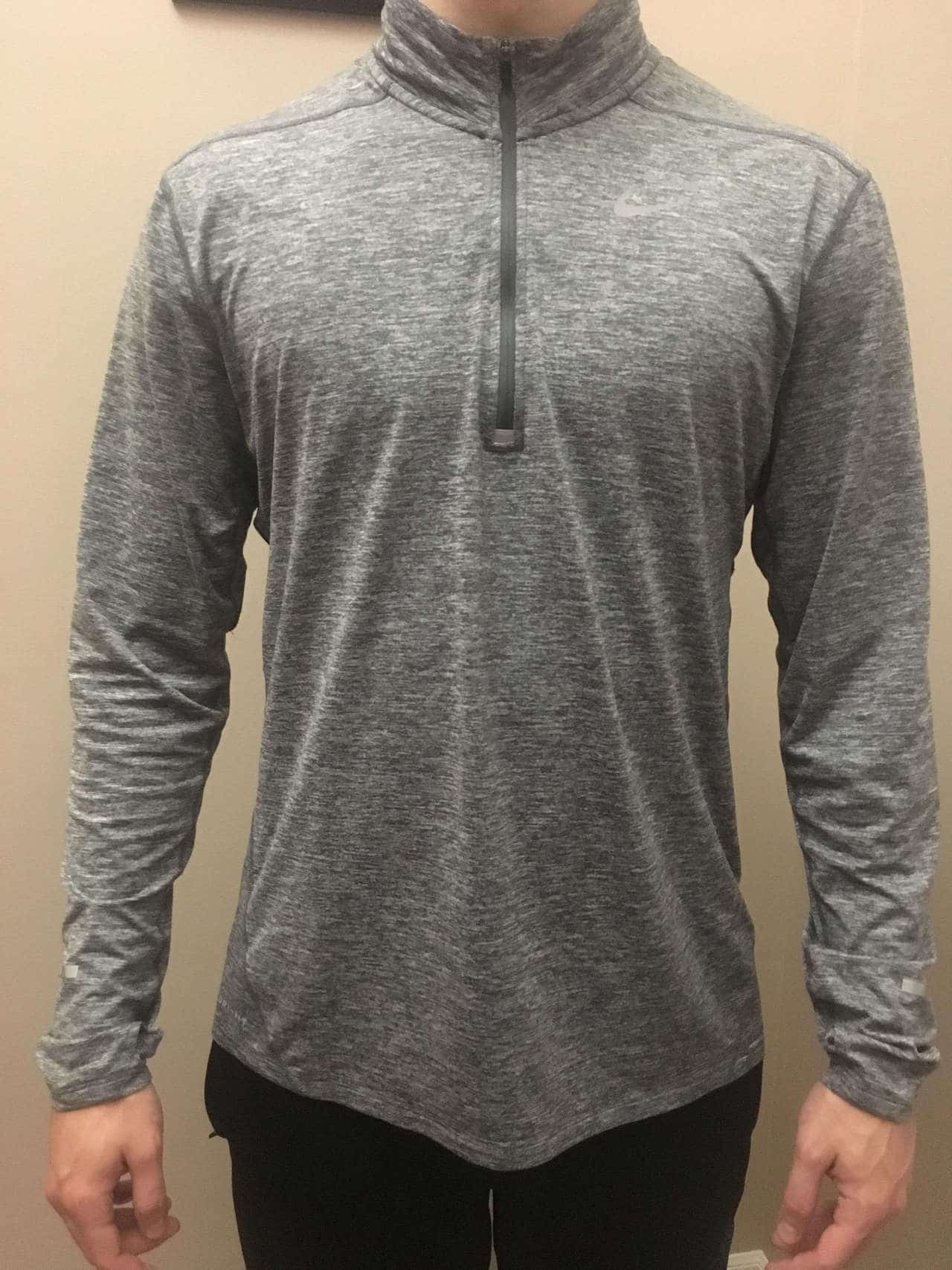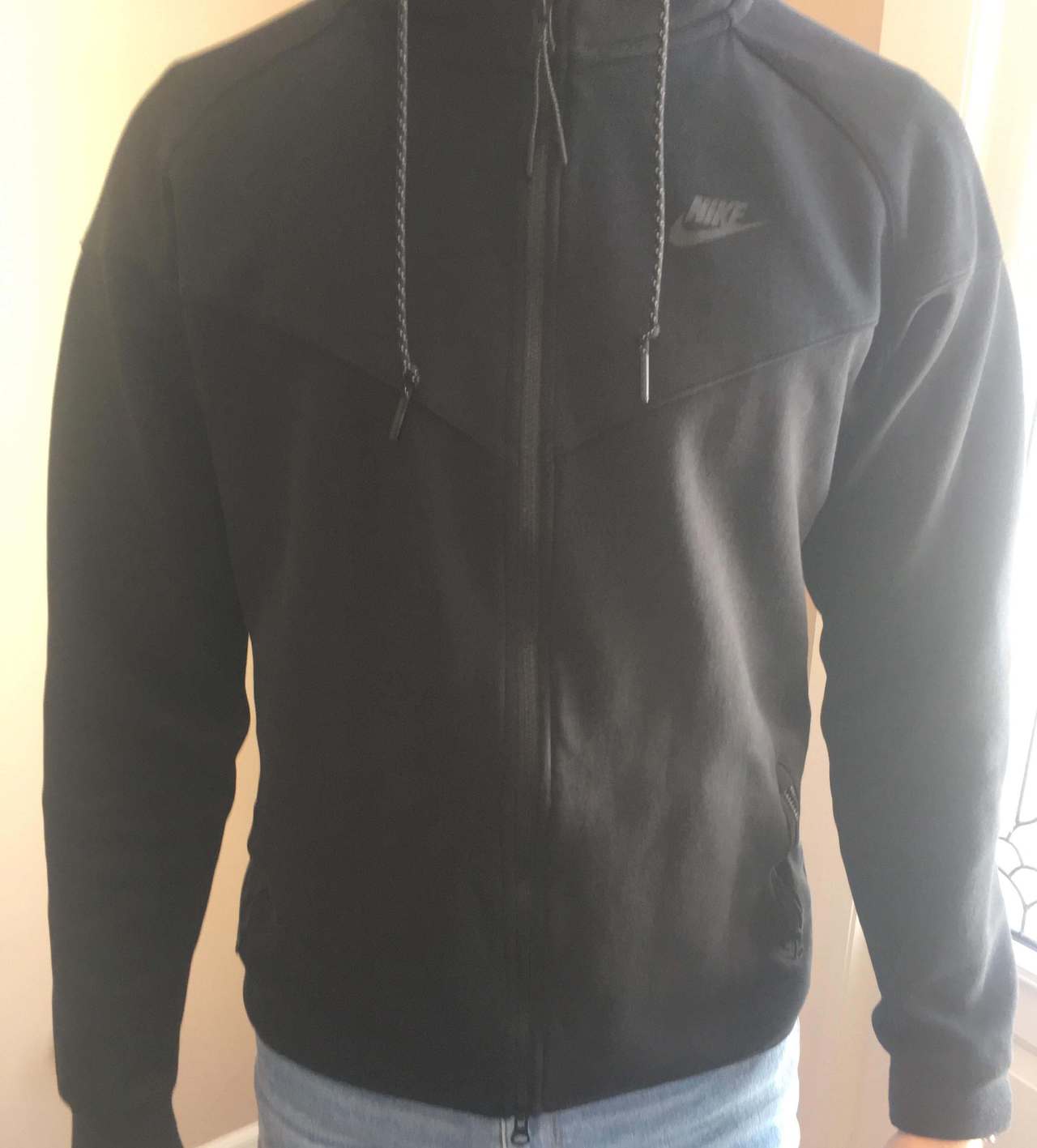 Best Pick
Sitka Gear Kelvin Jacket

Shell – 20 Denier Nylon Ripstop with DWR Finish
Insulating Fabric – Polartec Alpha Synthetic Insulation
Fabric Weight – 80g/m²
Product Weight – 13.7 oz
Temperature – ~ 5°F/-15°C
Shop Sitka Kelvin Jacket now at Amazon.com

The Sitka Kelvin Active jacket is what I like to call "the ultimate piece of mind insulating jacket."  It's insulating layer is made from Polartec Alpha synthetic which was originally developed for U.S. Special Forces when they required a more advanced insulating material.
The outer shell is made from 20 Denier Nylon Ripstop which means it is sheer. The benefit of it being nylon is that it is quiet during movement. The only downside of the shell is that nylon is a very easy to tear fabric. This problem is completely avoided as long as you use it as recommended: an insulating layer.
The shell and inside are coated in durable water resistant finish to prevent rain from soaking into the jacket. The inside is also sprayed with Polygiene, which is a spray that permanently prevents odors from getting into the clothing's fabric.
It gets better
The Kelvin jacket is also extremely lightweight for the warmth it provides. Weighing less than a pound and still being able to keep you well warm below 0°F is astounding.
The included nifty features on this jacket are:
A waist draw chord to maintain a good fit around the midsection.
A fleece lined hand pocket to keep your hands warm.
An exterior chest pocket for any loose items you might bring to your stand.
These features combined with its military-grade insulating layer puts it at the top, above all other insulating layers for the best cold weather bow hunting clothing.
| Picture | Name | Rating | Product Link |
| --- | --- | --- | --- |
| | Crosman M4 .177 Pump Air Rifle | 3.7/5 | |
| | Aim Sport 4x32 Compact Military Dot Scope with Rings | 3.5/5 | |

Why should I pick this Sitka Kelvin vs the Sitka Kelvin with down?
So there is a model of the Sitka Kelvin that does use 70% Down and 30% Polartec Alpha Synthetic Insulation as its insulating layer, and I'm sure you know down is a very warm insulator.
The reason I recommend this Sitka Kelvin over the down version is because down has a much harder time absorbing excess moisture and since that is a huge factor in the cold winter we prioritize the wicking capabilities of this Kelvin over the down one. After all, this is supposed to be the best cold weather bow hunting clothing!
Value Pick
Sitka Gear Fanatic Hoodie

Shell – Polyester
Insulating Fabric – 100% Polyester
Fabric Weight – N/A
Product Weight – 16.8 oz
Temperature – 20°F/-7°C
Shop Sitka Fanatic Hoodie now at Amazon.com

Looks like Sitka is dominating the insulating layers! The Sitka Fanatic Hoodie is an excellent pick for its price. It comes with many of the features the Kelvin has but at a more reasonable price.
The form-fitting hoodie is made from and insulated with strictly polyester, so it may not be able to keep you as warm as the Kelvin does in the colder temperatures, but it still does a great job. It's also sprayed with Polygiene just like the Kelvin, making it odor proof as well.
This features in this hoodie are what really make it great.
It comes with:
A fleece kangaroo pocket for your hands.
A chest pocket for any essentials.
Flip over hand mitts (as if the kangaroo pocket wasn't great enough!)
A form-fitting hood with face mask! The hood is very well designed. Sitka have cut it perfectly so that you can still have maximum peripheral vision while it's on – as showcased by the picture below.
The Kelvin can also double as an outer layer during the late spring/early fall season when paired with a good wicking base layer. (Did someone say merino wool?) Since it is made from a light material, it is prone to easy tearing. Proceed with caution if you choose to do so.
While you do lose out a little bit on insulation, the utility of the Sitka Kelvin for its price makes this the best cold weather bow hunting clothing insulating layer pick on a budget.
Pros
Cons
- Form-fitting (Fits true to size)
- Quiet during movements
- Odorless
- Lightweight
- Excellent design features
- Prone to tearing if used as outer layer.

Shell Layer (Outer Layer)
Your shell layer is your protector. In the middle of harsh winter weather your shell layer puts itself between you and the elements. Since our shell layer is protecting us from rain, snow, slush, and cold winds we need to make sure we're choosing something that can withstand all of it.
Here's the deal:
Since the shell layer is the layer vital to your survival (literally), it comes at a price. Unfortunately, the shell layer can be the most expensive, but it's also important to buy the right one.
BUT
I've tried to help you guys out when searching for the best bow hunting jacket.
The two best cold weather bow hunting clothing shell layers I've picked are quality. The absolute best one on the market which costs a pretty penny. And the other, which is much more affordable and still quite great. I don't want anyone having a bad stand out in the winter because their shell layer couldn't withstand the harsh weather. But before we get into the shell layer recommendations…
How Should My Shell Layer Fit?
The two big things that you should be looking for when fitting your shell layer are:
1 – Making sure that your shell layer is big enough so that it can fit the other layers underneath. I know this sounds obvious but you need to be able to fit your other two layers underneath your shell. This is the only area where the suggested fit of the shell shouldn't be form-fitting like the other layers. This layer should be a little bigger than what you normally wear. This is because it helps with #2, which is…
2 – Your shell layer should never be restricting your movement. If your shell layer is restricting your movement – how are you going to set yourself on your stand or prep yourself for a shot? That's why it's important to have a little extra space in your shell layer.
As you can see these two priorities go hand in hand. You can't have one without the other so be sure you have both.
Best Bow Hunting Jacket for Cold Weather
Sitka Incinerator Jacket 

Shell Fabric – GORE-TEX & Brushed Polyester
Insulating Fabric – 40% Primaloft Down / 60% 650 Fill Water-Resistant Duck Down
Insulating Fabric Weight – 162g per 5.7 oz of Fill Weight
Product Weight – 44 oz
Temperature – Any
Shop Sitka Incinerator Jacket now at Amazon.com

The Sitka Incinerator Jacket is hands down the best jacket in this whole post for the best cold weather bow hunting clothing. This jacket is known to be indisputably the warmest jacket on the market, and in this post for best cold weather bow hunting clothing, it stands a tier above the rest.
If you could only buy two things from this whole list I'd tell you to buy this and a merino wool base layer, because it'd be all you need.
Seriously, other hunters have gone out with a good wicking base layer (Merino wool) and just the Incinerator and said that they were perfectly warm, even well into negative temperatures. This jacket really earns its name – Incinerator.
The Sitka Incinerator's shell is made from GORE-TEX. A material that is manufactured to be 100% waterproof and windproof. Polyester is the second material used on the shell layer. This is good because it ensure that you stay silent when making any movements for your next shot.
The jacket is insulated with 7.1 ounces of Primaloft Down blend. Which is a down mixed with a synthetic hybrid that will keep you warm while the material is wet. This jacket also has internal cuffs to ensure no heat escapes out of it.
The Incinerator is meant to fit as if you had no additional layers underneath besides a wicking base layer. If you do decide to go with a 3 layer system like I've suggested throughout this post, (even though it's not needed when it comes to this beast of a jacket) look to size up in the Incinerator so that you have enough room to fit an insulating layer and still maintain free, unrestricted movement.
If you plan on wearing just a base layer underneath this – stick to your normal size.
Pros
Cons
- Affordable
- Antibacterial
- Odorless
- Flexible
- Breathable
- Comfortable

- Sizing issues (May need to size up)
- Isn't warm enough for below 32°F/0°C

Value Pick
Cabela's MT050 Whitetail Extreme Parka
Shell Fabric – GORE-TEX
Insulating Fabric – Thinsulate
Insulating Fabric Weight – 200g in body / 100g in hood / 150g in sleeves / 120g in armpits
Product Weight – N/A
Temperature – Any
Shop Cabela's MT050 Parka now at Cabela's
Cabela's MT050 is budget goodness. The concept behind the jacket is well thought out and the execution is even better. This jacket was made to do two things really well
Keep you warm.
Keep you mobile.
Cabela's delivered on both.
The MT050 shell is made from a fleece-like material over top, with the well known GORE-TEX layering underneath it. The GORE-TEX, as we know from some of the other previous products – makes this jacket both windproof and waterproof.
The MT050s placement of Thinsulate across the jacket is a very unique and well thought out idea by Cabela's. Adjusting the amount of Thinsulate used across the jacket (the exact numbers in each area listed above) ensures you're still warm while allowing for more mobility and less bulk from the jacket.
Cabela's uses a different Thinsulate called Flex Insulation in areas of high movement as well. This will help you retain your mobility in the MT050. The Thinsulate in the armpits of this jacket also have odor control built into them.
It's important to note that this is simply odor control and not odor resistance or absorbing. The armpit area will have scents diminished. The jacket as a whole will not be able to prevent you from emitting odors.
The MT050 includes some nifty little features like:
Upper chest handwarmer pockets
Two internal pockets
Adjustable elastic cuffs
Waist and lower drawstring to maintain a good fit
Four-piece adjustable hood with drawstring
Internal snow skirt
Overall, the MT050 is a great jacket that is full of top quality material and convenient features that help you stay warm and mobile. Achieving this at a great price compared to other shell layer jackets on the market. If you're not looking to splash a crazy amount on a shell layer, I would recommend the MT050. You won't be disappointed by it.
Pros
Cons
- Sheer
- Form-fitting (True to size fit)
- Quiet during movements
- Water resistant
- Odorless
- Very lightweight
- Waist chord ensures good fit
- Works well into freezing temperatures
- Folds into itself for easy carrying
- Prone to tearing when used as outer layer
(This is easily avoided by using it as intended - a middle layer)
Shop Cabela's MT050 Parka now at Cabela's
Bibs
Reviews of the best hunting bibs for cold weather and can be found in this article!
Gloves
Article coming soon!
Boots
Article coming soon!