Luxury bicycles today flaunt expensive materials and advanced technologies to justify their steep prices. But there was a time when even the most basic bike was a luxury item and people would feel just as special for owning one in the early 1800s as we do today for owning a really awesome supercar.
While most bicycles today are affordable and mainly focused on functionality, some manufacturers have taken things one step further and transformed their creations into objects of desire. Here's a selection of some of the world's most expensive bikes, both old and new.
Tiffany & Co. Silver-Mounted Ladies' Bicycle
Tiffany & Co. is mainly known for its fabulous jewelry designs today, but there was a time in the 19th century when it also created various quirky objects, and this vintage silver-mounted ladies' bicycle is one of them. Manufactured in the late 1890s, it features carved ivory handle grips, and silver details, making it highly covetable among luxury seekers.
Only a handful of these bicycles were ever manufactured, one of which was commissioned for beautiful singer and actress Lillian Russell. When this example hit the auction block in 2008, it sold for $57,000, becoming one of the priciest bikes in the world.
Tiffany & Co. Silver-Mounted Ladies' Bicycle (Source)
Aston Martin One-77 Bike
About as expensive as three brand new cars, the limited edition Aston Martin One-77 bicycle is a stunner indeed. It looks pretty much like a regular, albeit fancier-looking bike at first glance, but as with all awesome things, there is more to it than meets the eye. When it hit the market in 2012, it was deemed the world's most technologically advanced bicycle.
It features an integrated computer that keeps track of loads of measurements with help from numerous sensors. You can be instantly informed of as many as 100 different things, including leg power, crank force, crank torque, wasted leg power, rate of ascent, rear wheel speed, and obviously speed, distance and acceleration. The bike will even feed you real-time information about your vitals for the sake of safety.
Inspired by the One-77 supercar, the bike flaunts carbon fiber frame, handlebars, and fork. It also features high-intensity front and rear LED lights that ensure perfectly safe nighttime rides. The tiny battery that powers the computer and sensors offers up to 14 hours of juice, storing enough power to start a car engine. Only 77 examples were ever produced by Factor Bikes for Aston Martin, each one with a prohibitively high price: $39,000.
Aston Martin One-77 Bike (Source)
Aurumania Gold Bike Crystal Edition
At €80,000, this is – believe it or not – actually not the priciest bicycle in the world. It was manufactured by a company that specializes in plating things in 24K gold, and for this particular project they've also thrown some 600 Swarovski crystals into the mix.
Every metal part of the bicycle is covered in gold, which is why it is much wiser to display it on a wall instead of actually riding it through town. The plush design is finished off with a classic molded Brooks brown leather saddle and matching hand-sewn leather handle grips. Limited to only ten examples, the Aurumania Gold Bike Crystal Edition perfectly embodies the company's philosophy of creating "the very best for the very few". A no-questions-asked ten-year guarantee makes the deal even more appealing.
Butterfly Trek Madone Bike
A piece of functional art, the iconic Butterfly Trek Madone was customized by English artist Damien Hirst to celebrate Lance Armstrong's return to bicycle racing in 2009. Its most remarkable feature is also the most controversial one: real butterfly wigs decorate the entire frame and rims. PETA and other animal rights activists were not very happy about it, calling the work of art "barbaric".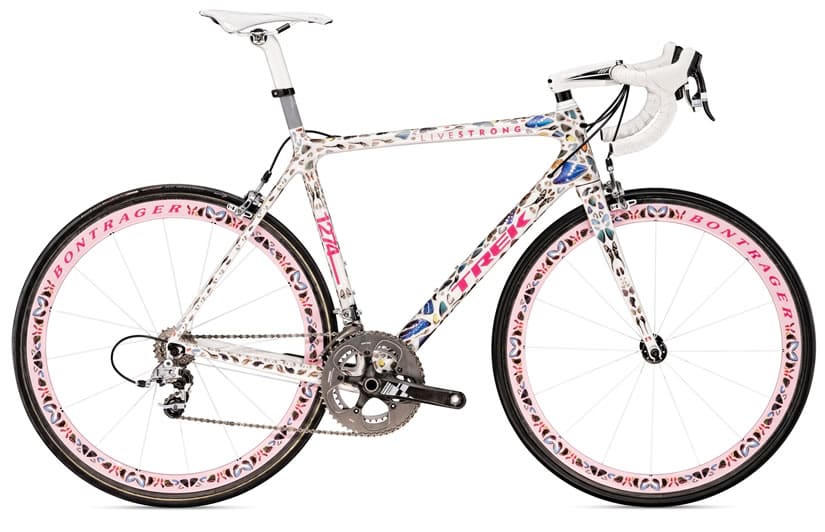 That didn't stop it from becoming the most expensive bike in the world, though. At a 2009 Sotheby's auction it fetched the mind-boggling sum of $500,000! The event was held to benefit the Livestrong Foundation and it ended up raising about $1.25 million. It's hard to imagine how the half-a-million-dollars record price will be surpassed, but every record is there to be broken, isn't it?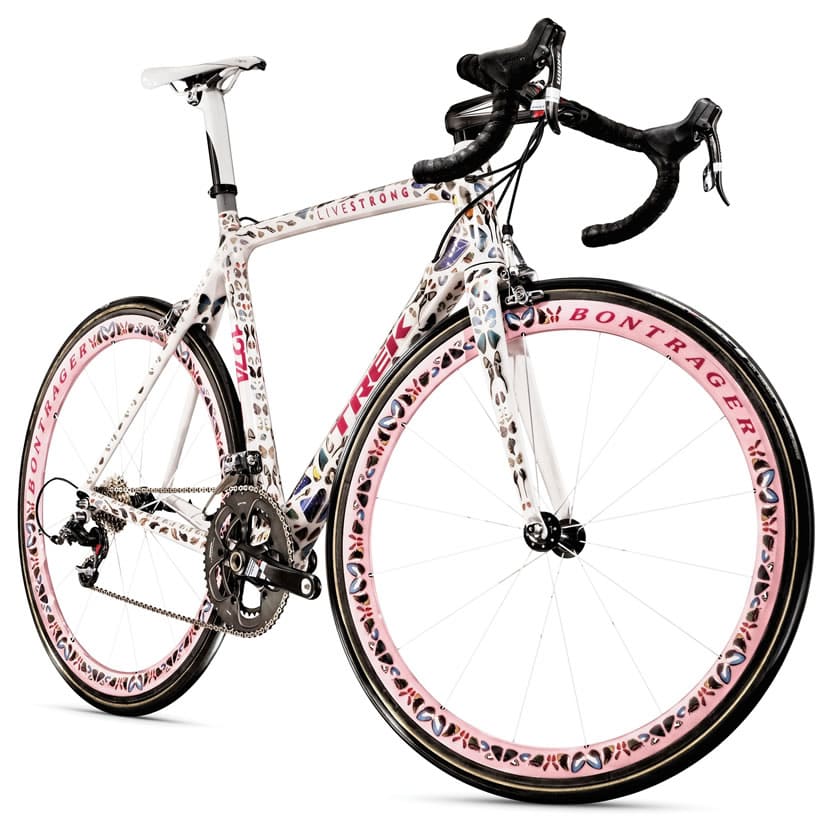 The House of Solid Gold 24K Gold Extreme Mountain Bike
Not exactly the most practical model in the world, this opulent Mountain Bike is coated with 24K solid gold. The House of Solid Gold is famous for "creating outrageous objects of art", and this bicycle fits the bill perfectly.
Each unit requires about 750 hours of work, and the company only offers 13 totally customizable examples worldwide. The frame emblem is adorned with sapphires and diamonds, which adds to its opulent factor, while also making it a very bad idea to actually ride it on the street. The seat is wrapped in brown alligator skin, and the design is finished off with a gold water bottle flaunting brown stingray details.
All this adds up to the staggering price of $495,000. Only $5,000 cheaper than the stunning Butterfly Trek Madone, this is the most expensive gold bike in the world.
Most Expensive Gold Bike In The World (Source)