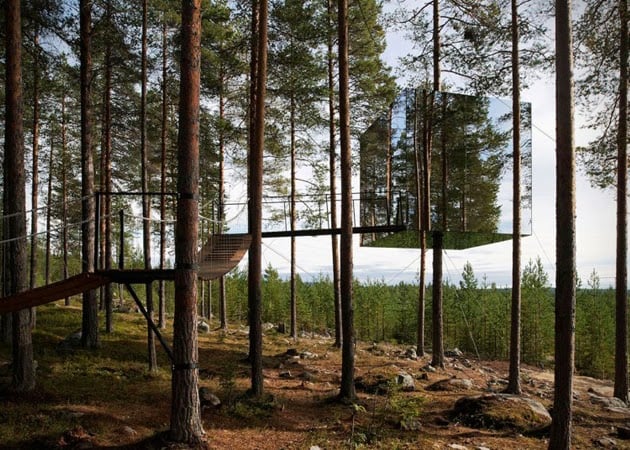 We have seen plenty of tree house hotels; in fact they are pretty common in jungle resorts in Asia, Africa, and South America. While we appreciate these hotels, to really get us interested we need to see something new, and boy the Mirrorcube Tree Hotel in Sweden is just that.
Forget about hotels, we have not seen any building like this before, it is utterly beautiful and compelling, a futuristic vision that is yet at one with its surroundings. The

Mirrorcube Tree Hotel

hangs from a series of trees in Harads, Sweden. Designed by Tham & Videgard architects, this hotel is covered in glass mirrors that reflect the surrounding scenery.
The effect as you can see is dazzling, making the hotel look almost invisible. Costing between $300 and $400 a night, things on the inside are pretty special too, with accommodation for two and such amenities as a kitchen, bath, living room, and a double bed.