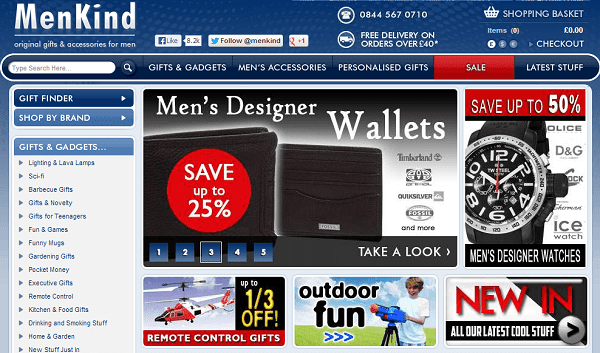 We bring you plenty of cool things here at MensGear, but you can think of us merely as a messenger, a conduit for you to find your inner man cool and learn about just how many kick ass products for us guys are out there.
On our travels around the World Wide Web we are always looking for places where you can get great items that you may not need, but you just have to, well have. One place you simply must check out is www.menkind.co.uk an online store that will become a haven for your entire gadget, cool stuff, talking pieces needs!
Before we get onto the products it is worth saying that the Menkind website is a slick interface, intuitive and functional, exactly what you need from a shopping site. On top of that, a test of the customer service I conducted revealed the company to be helpful even to my most anal questions.
Okay, now all that stuff is out of the way, what does Menkind sell? Do you remember those huge toy stores like Toys R' Us when you were younger? I bet you strolled around and just wanted everything! Menkind is like that, but for men! You will browse the huge product list and be saying "want that" at every click of the mouse.
Wallets, gifts, jewelry, clothes, watches, gadgets, travel gifts, technology, food, and much more, the truth is that just about everything is covered.