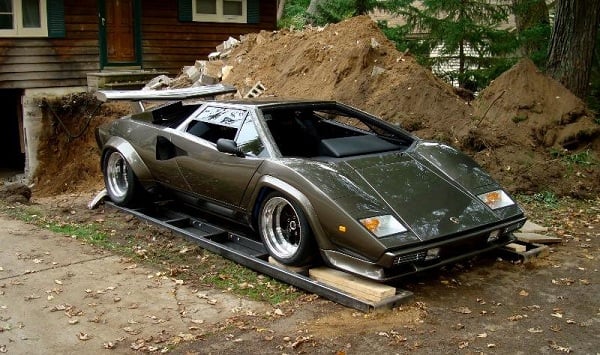 Regular readers of our fine website will already know that in the MensGear offices we love Lamborghini's; whether they are new or old, we just love the vibrant designs and ferocious power that we always get from the Italian supercar maker.
However, one car enthusiast has decided to show that a Lamborghini can actually be built quite easily in his garage, and he picked one of the all-time classic cars to show off with. Lamborghini fan, man with too much spare time, and we presume professional mad man Ken Imhoff decided to do the ultimate kit car in his basement by building from scratch his own Lamborghini Countach.
The Countach is perhaps the most iconic of all Lamborghini's, and of course its bold styling's have proved the inspiration for supercars ever since its late 1970s release. Ken took 17 years to complete the project that consists of a chassis made of plywood, and custom machined wheels. Now Mr Imhoff probably thought he would never complete his project, which is why he built it in his basement, as in underground.
When he DID complete the project, Ken had a new problem, how to get the Lamborghini out! Not wanting to spend another 17 years building a door for his basement, Imhoff excavated the car true Indiana Jones style and now his Lamborghini Countach custom is on the streets.