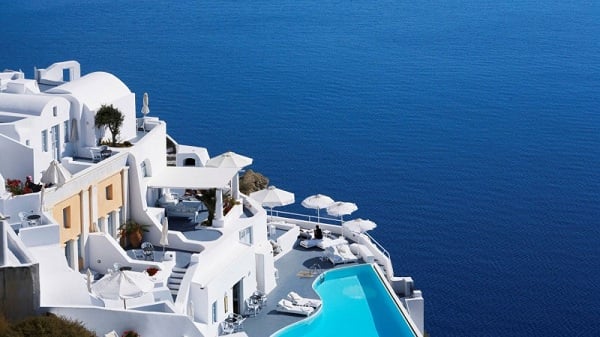 If you are going on a luxury holiday to Greece, you probably do not want to stay in a hotel that could be a resort in any country. Surely instead you want some tradition, you want to feel the Greek experience in full. For doing Greece the Greek way the

Katikies Hotel in Oia

is the perfect place to stay and relax.
This splendid hotel looks like a traditional Greek village, sitting pretty as it straddles the side of a rocky hill. The white walled buildings starkly standout in the sun, while the views from the patios and pools are truly sumptuous. Décor in the rooms is entirely white, and the effect is dazzling, while you may think a totally white rooms would seem clinical, the rooms in the Katikies Hotel in Oia are comfortable, clean, warm, and fresh.