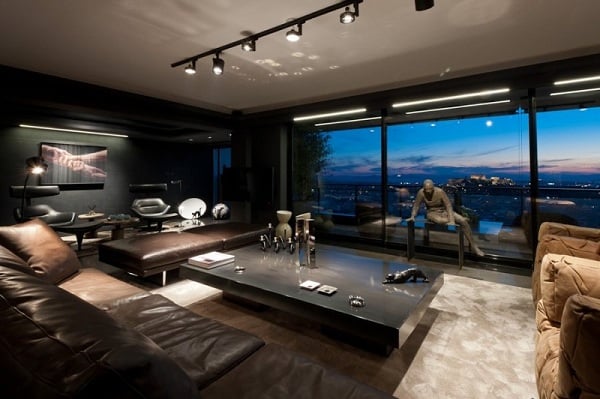 Confession time, I have seen the James Bond movie Skyfall, good film it was too, but I do no remember too much about it right now. On that note I am not at all sure whether this apartment is inspired by the movie or just happens to carry the name Skyfall. Luckily it does not matter one little bit because either way this is a splendid living space.
Located in Athens Greece, the Skyfall Apartment by

Studio Omerta

is one of the most homely designs we have seen in a while. Studio Omerta has managed to blend traditional furnishing ideas with art, and this being Athens there is lots of art on show. Overlooking the ancient Acropolis in Athens, the Skyfall Apartment boasts some beautiful statues and decorative pieces that just seem to match this great city.
We see a hint of the gentleman's club in the décor, albeit completely modernized in a contemporary look. Browns and dark shades would typically seem depressing, but that flood of light from the balcony window makes the Skyfall apartment a stunning place to live.