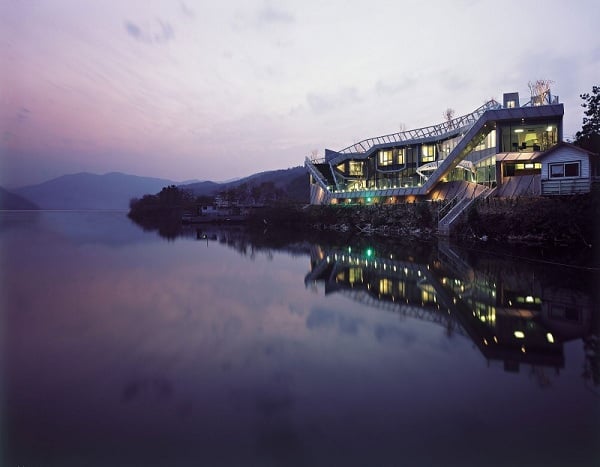 Placing a 6,759 square foot contemporary home on the shores of a lake in South Korea that is surrounded by modest homes and a traditional feel may seem a mistake. And while at first glance the

IslandHouse by Iroje KHM Architects

may seem a little out of place, when you take the time to look past the light emanating from it you will see a quite fitting home, even for the locale.
Situated in Gapyunggun, Gyeounggi-do, South Korea the Island House is exquisite in its almost industrial design. In fact the more we look at this home the more we think it looks like a ship, which of course is totally fitting considering the waterfront location.
The angular building boasts a wall of glass that opens up that frankly breath taking view and gives the home's occupants a truly back to nature place to live. The swimming pool hot-tub is among the best we have seen and that minimal and clean interior gives plenty of space for an owner to add a personal touch.