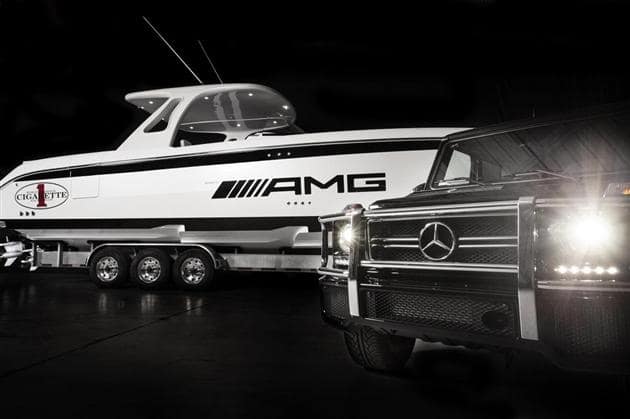 We all know Mercedes-Benz as one of the premier auto manufacturers, but what happens when the German company tries its hand at making boats? With the Cigarette 42' Huntress Boat, Mercedes through its AMG division has once again teamed up with Cigarette Racing for the second collaboration between the companies.
Last year we were introduced to the

Black Series 50' Marauder Boat

, but this year we are getting the 42 foot Huntress. Inspired by the G63 sports utility vehicle, the Huntress is a vision of luxury, beautiful design, and raw speed. The five Mercury Racing Verado 350SCi outboard motors ensure that you can put 1,750 horsepower onto the water, and reach huge speeds of 80mph (trust us, that is fast when skimming the waves). Making its debut at the Miami International Boat Show next week; we expect the 42' Huntress to be pretty expensive.